'Telemedicine virtual visits toolkit': Virtual visits tool in Ontario for long-term care homes, staff training, Wi-Fi setup, IT support service, IT consultation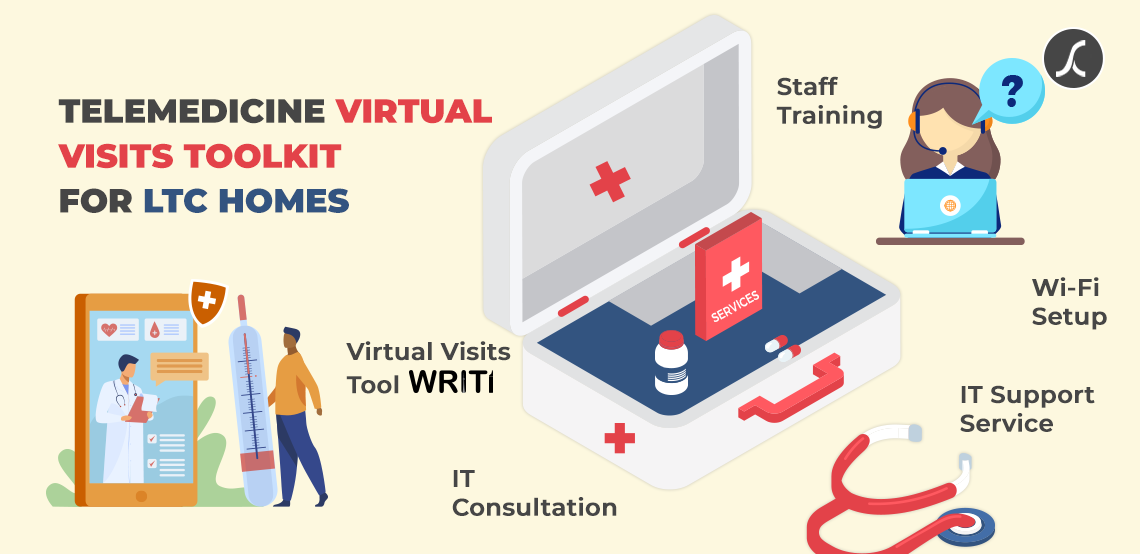 3 years ago
It has been a tough time for all of us. However, those who are living in long-term care homes have been facing more physical and mental challenges than any of us. 
During this challenging time, residents require timely access to healthcare services and a medium to minimize the loneliness. Though the Ontario government's decision to ban visitors from visiting long-term care homes is the step that has been taken to stop the spread of coronavirus in LTC homes, it makes the mental health of residents awful. Because they now cannot meet their family members regularly. 
However, by quickly adopting the technology, long-term care homes can provide timely access to healthcare services to residents and also ensure the good mental health of them by letting them talk to their family members and physicians through virtual visits. Yes, we are talking about the virtual visits tool in Ontario for long-term care homes. 
What is the virtual visits tool in Ontario for long-term care homes?
Virtual visits tool is the PHIPA compliant mobile app or computer software that you can run on your mobile phones, tablets or even on computers to arrange virtual visits of residents with physicians and family members of residents. 
However, virtual visits tools should not be limited to only virtual visits. There are many virtual visit tools available in Canada which bring all clinicians working in LTC homes such as RN, RPN, DOC, physicians, and even pharmacies under the same roof, virtually and eliminate all paper-based processes of senior care. 
A feature-packed virtual visits tool stores residents' medical history in digital bundles. It allows physicians to write e-prescriptions, sends written prescriptions automatically to pharmacies as eFax, and lets DOC validate senior care tasks completed by nurses and physicians. 
We, SyS Creations, have developed our own virtual visits tool in Ontario named Writi for long-term care homes in Canada. Our tool accommodates all features we just have discussed. It is also PHIPA and PIPEDA compliant and equipped with many other security features such as encryption and two-way authentication. 
However, unlike other companies, we do not only provide our virtual visits tool, but we also provide our other IT services or resources such as Wi-Fi assessment & set up, the virtual visits tool itself, training for staff members on how to navigate technology, IT consultation, and IT support services. We have put all of these under one supreme source: 'Telemedicine virtual visits toolkit'. 
What is our 'telemedicine virtual visits toolkit'? 
By deploying only a virtual visits tool, long-term care homes cannot ease senior care operations effectively. They need to look after many other areas such as Internet access, staff's feasibility to work with new technology, and quick response to downtime. Thus, we've covered everything in our 'telemedicine virtual visits toolkit'.  
What are the resources our 'telemedicine virtual visits toolkit' includes?
Our telemedicine virtual visits toolkit includes, 
Now, let's discuss briefly each of these.
'Telemedicine virtual visits toolkit' resource 1 - Virtual visits tool in Ontario (Writi) 
Writi is our virtual visit tool. In addition to a feature that actualizes virtual visits between residents, their family members, and physicians, our virtual visit tool is equipped with many other features for DOC, RN, RPN, physicians, and pharmacies. 
Features of Writi - the best virtual visits tool in Ontario, Canada
Nurses can add residents' details manually or automatically. 

Nurses can arrange video calls of a resident with his family members or physicians.

Nurses can view prescriptions of all residents. 

Physicians can write e-prescriptions. 

The tool automatically sends e-prescriptions to LTC pharmacies. 

DOC can view all completed tasks of the nurses and physicians.  

Writi supports the OHIP billing codes. 
To know more about Writi, you can
read our dedicated blog.

'Telemedicine virtual visits toolkit' resource 2 - Wi-Fi assessment and setup
Long-term care homes need a fast Internet connection throughout their facility to enable fast and user-friendly virtual visits.
To put an end to slow Internet access or slow Internet access in particular rooms or corners of the LTC homes, we analyze your current wireless installation. To analyze the current wireless installation, we look at specific environmental, architectural, and configuration factors that impact the performance and functionality of your system. 
Once we find the factors which influence Internet speed or Internet access, we prepare the report and suggest the solutions. We even implement the solutions. 
Not only this, but our teams of Network Engineers set up the robust wireless network from scratch. Our Network Engineers can satisfy your following needs: 
Routers

Desktop style server 

Phone system 

PA system 

Security camera 

Wiring 

Firewall with content filtering 

WiFi 

WiFi Guest Access 

Site-to-site VPN or Remote Access VPN
'Telemedicine virtual visits toolkit' resource 3: Staff training to work with new technology
It is very important that staff members and healthcare professionals working together in long-term care facilities should have basic knowledge of the virtual visits tool, its features, and ways to get everything out of it. If they use the virtual visits tool properly, long-term care homes can start deriving benefits instantly. Thus, SyS Creations provide intensive staff training so that LTC home staff can work with new technology very effectively. 
'Telemedicine virtual visits toolkit' resource 4: IT support service to avoid downtime
We follow best practices to deploy the virtual visits tool and to set up the wireless network. But if system errors emerge, we make sure to solve hardware or software errors at a surprisingly fast pace.  
We form a dedicated support team.

A team accommodates many specialists.

A support team is just a call away.

The support team is well-aware of your business operations.

The support team is well-equipped with support tools.

The support team is authorized to fly to your location to provide on-premises support. 
'Telemedicine virtual visits toolkit' resource 5: Insightful IT consultation
Due to the unsettled situation caused by the coronavirus outbreak, if you want to modernize your long-term care home by implementing IT solutions and IT services, but you lack the basic or even advanced understanding of technologies, we've got you back. Our IT consultants are well-versed and they have the answers to all your questions related to data security, cloud set up, government regulations, healthcare technologies, COVID-19 tools. 
A dedicated consultation team, having many years of industry experience

A result-oriented consultation for most workable strategies and technologies

A goal-centric consultation to meet your different goals

A data-driven consultation to combat the healthcare crisis like COVID-19

We make you familiar with the outcome before executing strategies
In the nutshell: Schedule a one-on-one virtual meeting with our expert
SyS Creations clearly understands the fact that long-term care homes require more than just a virtual healthcare solution to support residents. Thus, we have added 5 game-changing and very purposeful resources under our 'telemedicine virtual visits toolkit'. By adopting this toolkit, you will be able to solve every challenge you are facing right now at your long-term care homes through only one service provider. (It saves your time and money!) 
To validate our credibility, you can read a dedicated blog where we have described how we have modernized a coronavirus testing and care unit deployed by the authorities in Canada. 
So, now if you want to know more about our toolkit, discuss your requirements, get a consultation, or even to get the instant quote, feel free to schedule a one-on-one meeting with our expert.