A Pocket Guide to Telehealth Usage & Business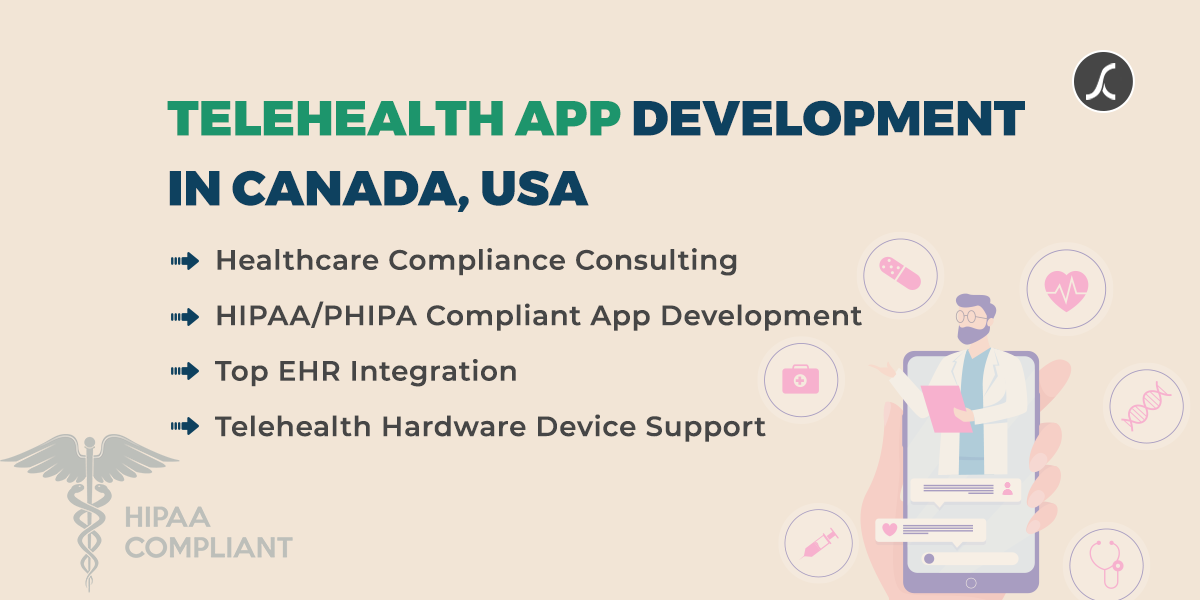 3 years ago
Why are we writing this blog?
For the last three months, we have been working closely with many healthcare entities including LTC homes to combat COVID-19 using cutting-edge healthcare technologies. Surprisingly, we've been asked many questions related to the most useful and trending technology - telehealth.
All of those questions along with their answers are listed below.
Question 1: What is telehealth?





Question 2: How to provide telehealth?
In order to provide telehealth, doctors and patients both need a computer device or mobile device along with a telehealth tool installed on both devices. Telehealth tool or app works on telecommunication technologies and enables doctors and patients to talk via video call or voice call.
A telehealth app or tool is equipped with a digital doctor toolkit that lets doctors provide in-house experience to the patients. With the digital doctor toolkit, doctors can write the prescriptions and even the sick note.
Needless to say that the internet connection is a basic requirement to provide telehealth.
Question 3: Who can provide telehealth?
Hospitals:

Hospitals can

develop telehealth app

or deploy publicly available telehealth tools to provide telehealth to patients.
Read this case study to know the real benefits of the telehealth tool in healthcare entities.
Individual Doctors:

Doctors can register themselves on top telehealth apps like Maple, Babylon by TELUS Health to provide telehealth services to the users of these

top telehealth apps in Ontario

.
Entrepreneurs:

Entrepreneurs can develop telehealth app and earn money from patients seeking telehealth services from registered doctors.
Question 4: How can we help you?
1) Hospitals:
We help hospitals, LTC homes, retirement homes,
To develop its own telehealth app

To deploy telehealth tool

To install and maintain telehealth hardware devices

To set up the wired or wireless network

To keep the system running uninterrupted
2) Individual Doctors:
To develop your own telehealth app

To deploy publicly available telehealth tool at your clinics

To install and maintain telehealth hardware devices

To meet government regulations

To set up Wi-Fi
3) Entrepreneurs:
To carry out market analysis

To develop the MVP version of telehealth app

To develop the full-fledged telehealth app

To build a strong user base

To meet

healthcare compliance
Read this case study to validate our mastership in healthcare laws.

Question 5: How does telehealth improve patient care?
Direct Benefits:
Rapid Care:

With telehealth, patients do not need to wait for the day of the appointment or wait in the queue at the hospital. It facilitates them to instantly talk to doctors without leaving home.
Remote Care:

People living in remote areas can talk to healthcare professionals much quicker than driving all the way to a nearby hospital.
Effective Care:

Doctors can easily get the medical history of the patients from the app itself which helps doctors to write very effective prescriptions while keeping allergies of patients and their previous treatments in the mind.
Indirect Benefits:
Less Burdened Staff:

Telehealth app reduces administrative burdens that enables staff to focus more on patient care. This practice ultimately improves patient outcomes.
Fewer Errors:

Telehealth app automates many important processes such as sending prescriptions to the pharmacy. The end result of process automation is fewer transcription errors.
Easy Collaboration:

Using the telehealth app, doctors in different departments can collaborate seamlessly and talk about the medical condition of the patient by sharing his medical reports and prescriptions. Such an easy practice of knowledge sharing saves someone's life!
Question 6: Is telehealth free?
For users:
If you belong to the province like Ontario and British Columbia where telehealth is covered by the health plan, you don't have to pay for the telehealth services.
If you aren't covered under any health plan, you have to pay. Generally, telehealth service providers charge you somewhere around $70 per visit. But it largely depends on the time and on which day you utilize the telehealth service.
For telehealth provider:
If a patient is covered by the health plan in a province like Ontario, the government pays you for the telehealth service. But to get the visit fee, the telehealth provider should claim the visit fee using the OHIP billing code. Each fee code corresponds to a specific dollar amount.
Question 7: When to use telehealth?
It is worth mentioning that you should use telehealth only for primary care. In case of any healthcare emergency, you should visit the nearby healthcare centre or dial an emergency number.
(Use of telehealth for acute care, chronic care, mental health and women's/men's health is preferable.)
Question 8: What is telehealth physical therapy?
Telehealth physical therapy is a great help to physical therapists. Telehealth physical therapy is nothing but physical therapy delivered through a telehealth platform by physical therapists. In other words, telehealth physical therapy is a live, one-on-one video appointment with a physical therapist.
Benefits of telehealth physical therapy are accessibility, home safety, personalized care, success rates, time savings, and transportation.
Question 9: What is telehealth monitoring?
Doctors cannot know the real-time biometric data (heart rate, oxygen level, glucose level) of the patients is the major limitation of telehealth. However, there is a workable solution to this limitation.
Using IoT medical devices to measure and collect biometric data of patients and integrating those IoT devices with telehealth tools wirelessly, doctors can know the real-time biometric data of patients without visiting the patients.
This practice of getting real-time biometric information of patients on the telehealth app is called telehealth monitoring.

Question 10: Why should we select you as a technology partner?
This is the most asked question.
And this is the most satisfying answer!