How to Start Women's Health eCommerce With Mobile & Web App?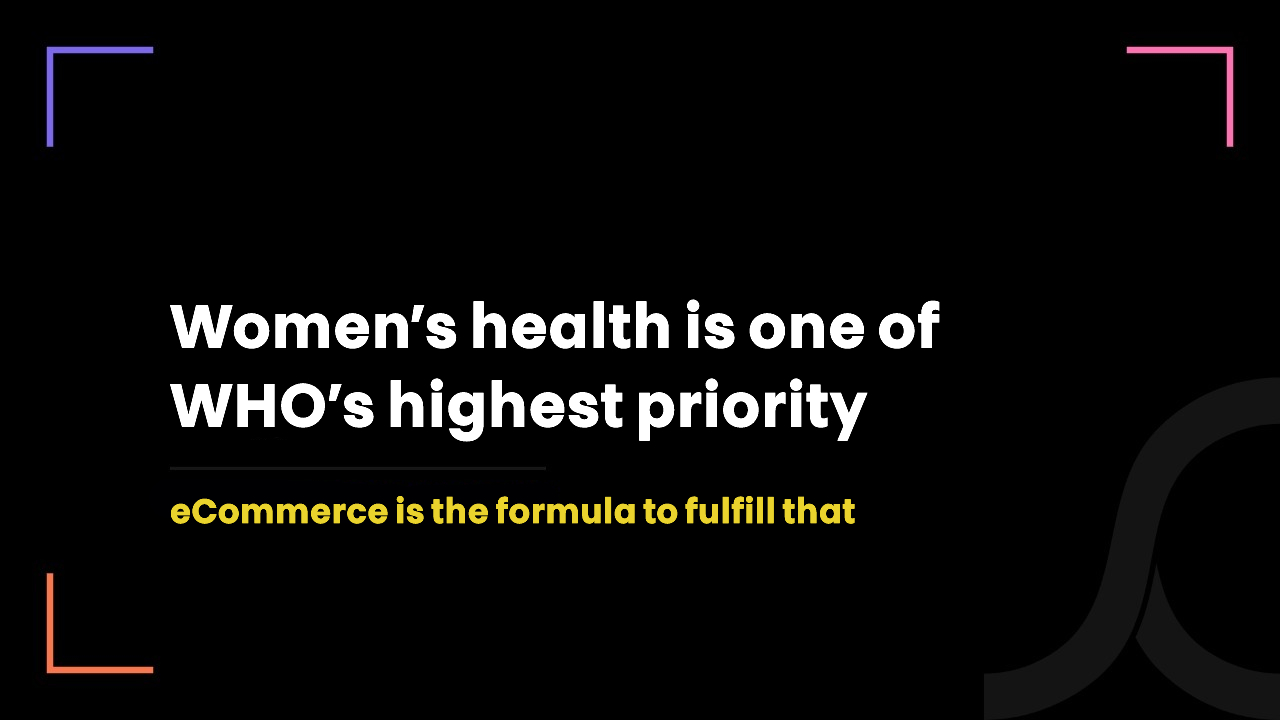 1 year ago
Let's start this blog with women's health eCommerce market potential.
"Global Women's Health and Beauty Supplements Market Set to Reach $206,885.20 Million by 2030".
"In 2021, store-based global health and beauty sales were estimated to have a value of 832.7 billion U.S. dollars and forecast to increase by around 150 billion U.S. dollars by 2026".
"The Women's Health Market was valued at USD 31.04 Billion in 2019 and is projected to reach USD 45.31 Billion by 2027".
As you can see, the future of the women's health eCommerce business is optimistic as self-care is becoming a new norm for women, especially after the COVID-19 pandemic.
So, in this blog, we'll guide you on how to start a successful and profitable women's health eCommerce in Canada and the USA.
Explore the most promising way to start a women's health eCommerce business
It's challenging to start an eCommerce business that only targets one gender, such as women.
Also, there is a high possibility of facing a lot of obstacles in the journey, especially if you aren't familiar with the women's health and wellness needs.
So, here are the three most valuable aspects you must consider before starting an eCommerce for women's health.
For better understanding, you must explore the below image.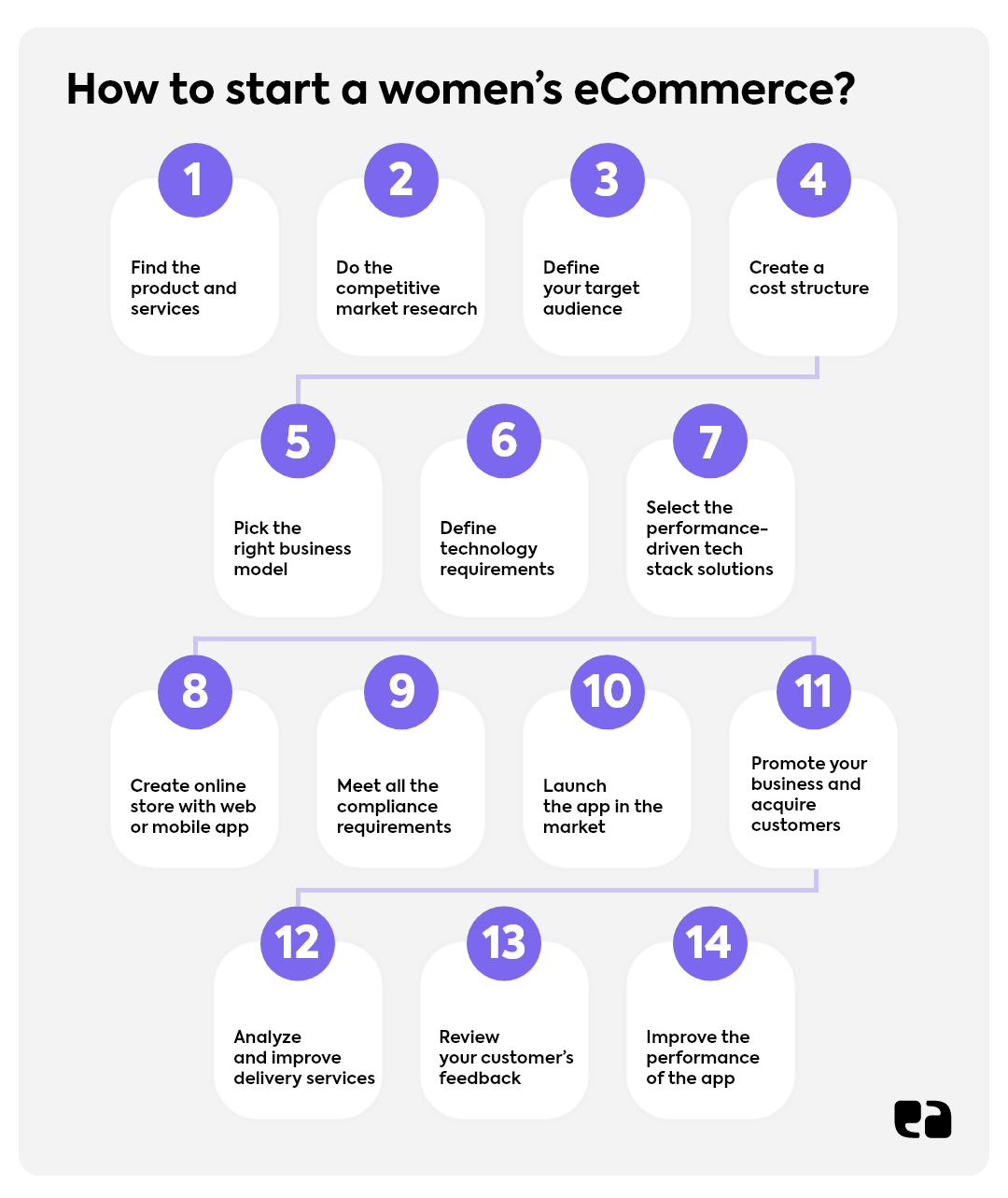 A complete business strategy for women's health eCommerce
The demands and complications are vastly different in women's health compared to men's health.
So, here is the entire strategy to not create a mess in your eCommerce for women's health.
Step #1: Offer complete women's health and wellness solutions in your eCommerce platform
However, offering telemedicine solutions is also essential if you want to generate more revenue along with meeting the real-time health and wellness needs of women.
For instance, you can guide the women in maintaining a healthy lifestyle via chat, voice calls, and video conferencing.
Step #2: Sell the products in the most efficient way
There are mainly two methods for that.
Prescription-based solutions:
In many cases, women must have to submit a prescription note to purchase certain health and wellness products.
So, if you offer telemedicine solutions in your eCommerce platform, women don't have to go elsewhere for the prescription note as they can seamlessly connect with the women's healthcare specialist for the same and beyond.
Non-prescription solutions:
For this, the women don't need to show or upload the prescription note for purchasing a health or wellness product.
Step #3: Choose an adequate and profitable business model for the women's health eCommerce platform.
To drive a successful eCommerce for women's health, selecting the business model is the most essential task for you. So, with our comprehensive market analysis, we have uncovered the most promising business model for you.
1. For products:
Subscription box solutions:
It is the best business model for you as it enables your potential customers to stay connected with your eCommerce business.
Under this model, women need to pay for certain health and wellness products on a monthly or yearly basis.
Non-subscription box solutions:
In this business model, women need to pay whenever they purchase products from your health and wellness eCommerce platform.
2. For telemedicine services:
From telemedicine solutions, you can generate revenue in two ways.
Monthly or yearly subscription
Prefer the powerful and effective technology solutions for women's health eCommerce
Developing an eCommerce platform for women's health eCommerce is not everyone's cup of tea as it needs an interactive user interface and highly scalable back-end solutions.
In short, healthcare-specific developers are required to build a performance-driven eCommerce web or mobile app for women's health.
As a healthcare-focused IT company, we have a dedicated team for front-end and back-end solutions so that you can get flexible and highly scalable eCommerce apps for women's health.
Explore our multiple app development solutions for the same.
MVP web and mobile app development:
MVP is vastly famous among health tech startups as it requires low investment capital and enables them to launch the app in the market in a fraction of time.
In this app development approach, we first build the most common features for your early-stage users who can then provide us valuable feedback so that we can improve app features as per the users' requirements.
This approach makes your eCommerce platform user-friendly and gives you a competitive edge in this rapidly growing market.
Native mobile app development:
For native app development, developers need to write a separate codebase for the different mobile operating systems such as Android and iOS. This means, it requires large investment capital and takes a long time for the development process.
However, the native app gives high-performance and flexibility along with the interactive user interface compared to other development processes.
As a healthcare IT company, we use Swift programming language for iOS and Flutter for Android app development.
Cross-platform app development:
Under this development process, developers don't need to write a separate codebase for iOS and Android apps as the single codebase is enough to run both operating systems.
In short, the development process takes less time and requires a low investment capital for the same.
And for cross-platform app development, we use the Kotlin programming language.
Meet the compliance requirements to not mess up your women's health and wellness eCommerce reputation
Healthcare or mHealth apps attract cyber criminals as it contains critical patients' medical data including financial and personal information.
Hence, you need to make sure that your eCommerce app for women's health has no vulnerabilities and security loopholes that might put patient data privacy at risk.
To achieve that, your web or mobile app needs to be fully compliant with data privacy laws. However, these compliance laws vary as per the province and country.
For instance,
PHIPA applies in Ontario region
GDPR is for the United Kingdom
As a healthcare IT company, we also have compliance experts who are completely familiar with the consequences of data breaches.
Thus, we perform a vulnerability test in every stage of the development process so you can avoid hefty fines.
Why not use Shopify for your women's health eCommerce web app?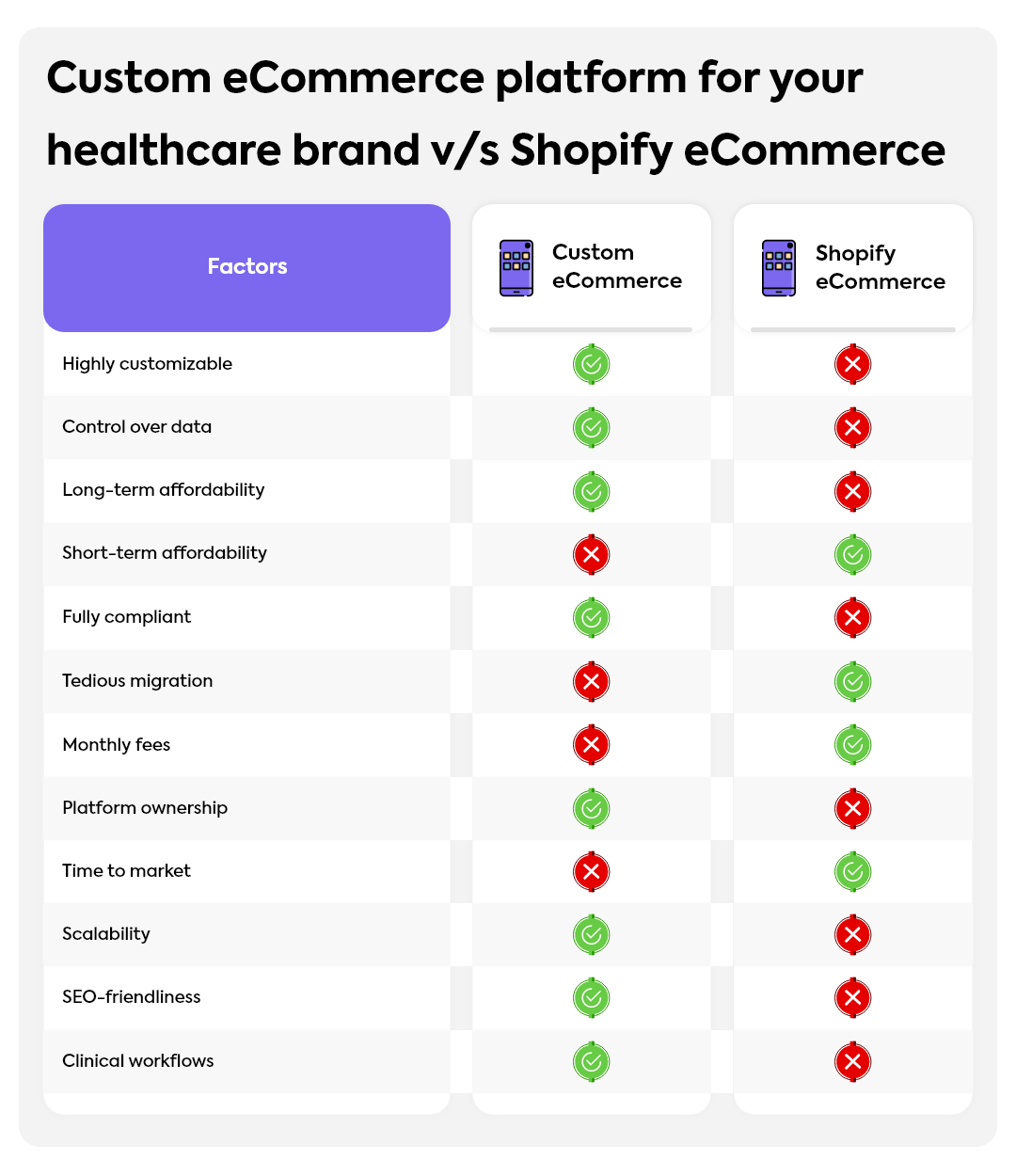 Shopify is a well-known eCommerce company that offers ready-made eCommerce solutions in the form of a web app.
However, it is not the best solution for starting a women's health eCommerce with Shopify as it has a number of flaws such as,
You need to pay on a monthly and yearly basis even for a small improvement which is the biggest drawback of Shopify.
You aren't a complete owner of your eCommerce business.
Shopify offers a less number of customization options
It does not give you full control over data management.
There is a high possibility of patient data breaches with Shopify as it is not flexible with every compliance law.
Need to pay hefty fines for breaking some rules
Themes are highly expensive
Shopify uses a "Liquid" programming language which is not easy for the developers to understand
In simple terms, starting an eCommerce for women's health with Shopify is like messing up your enterprise goals along with the less profitable business.
Shopify has a SERIOUS performance problem.

Because of which you are losing thousands of dollars (or maybe more) and you don't even know this yet.

So let me demonstrate how Shopify's poor performance is impacting your D2C brand's revenues (and many other things).

— Subhash Choudhary (@subhashchy) June 14, 2022
So, if you want to build a custom women's health eCommerce web and mobile app platform just like Hers and Musely that is flexible, scalable, and fully compliant with the data privacy laws, you're in the right place!
Because we have ultimate expertise in the same!
We inspire the healthcare industry to deliver greatness with our robust healthcare IT solutions
We are an Ontario-based healthcare IT company.
We choose to become healthcare IT experts against all odds as we have a solid vision to make healthcare accessible for everyone.
With the same mindset, we've been decoding the complex health tech needs of healthcare enterprises, startups, organizations, and individuals for over the past 7+ years.
To accomplish that, we're fully equipped with our healthcare business, technical, and compliance experts that include – app developers, UI/UX designers, compliance specialists, business analysts, QA engineers, and AI & ML experts.
We aren't claiming to be the best but we can proudly say that we deliver clinical value along with our healthcare IT solutions that no one else can do.
So, if you want a competitive edge in this rapidly changing health tech industry, let's give us a chance to put our healthcare IT passion, dedication, and understanding into your healthcare business vision!
You must also read: How to start men's health eCommerce? Top FAQs