Build Medical App for Doctors: Types, Ideas, Benefits, Cost, Time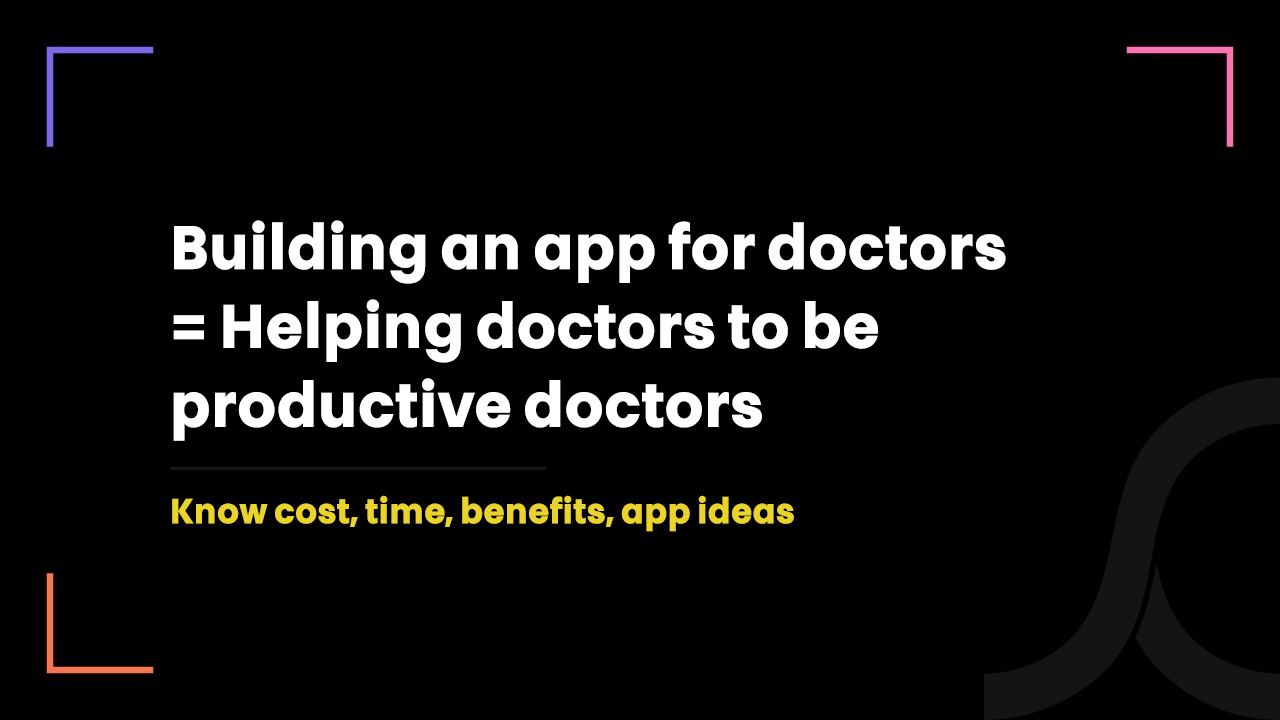 2 years ago
Even if you're from the healthcare industry, you must have a very valid question before investing in doctor app development.
And the question is, do doctors use mobile apps?
We won't answer your question. Let the top doctor app itself answer it.
According to Doximity, a social networking app for doctors, 70% of physicians in the USA are using the Doximity app.
For your context, it is more than the total members of the American Medical Association!
Meaning, if your app offers value and addresses the basic needs of the doctors, it will surely go successful.
Which benefits does an app for doctors provides?
The use of mobile apps has revolutionized many aspects of clinical practice including care delivery approach, diagnosis and clinical decision-making.
Healthcare startups, be it Doximity, PocketPills, Ro Health, Maple or Teladoc, are raising millions for their mobile apps.
Doctors are adopting mobile apps on such a large scale that there is a mobile app available for any clinical and administrative needs of the doctors.
The following are the top ways doctors are using mobile apps and streamlining their clinical and administrative workflows.
1. Patient information management
It is easier than ever to manage patient data coming from multiple sources on a single dashboard with a mobile app. Mobile apps compliant with data privacy laws ensure ePHI privacy.
Write notes
Record audio
Record clinical data
Take photos and videos
2. Time management
Doctors can schedule appointments, reschedule them and manage their entire day from a single app window. Automatic reminders make sure that they never miss an appointment.
Schedule and manage appointments
Plan a day
Automatic reminders
3. Health record maintenance and access
Doctors have easy access to all clinical data of patients thanks to EMR/EHR integration with the mobile app. Having easy access to clinical data enhances patient outcomes.
Access EHRs and EMRs
Access images and scans
Electronic prescribing
Coding and billing
4. Communication and consulting
Where doctors face most challenges is communication with both team members and patients. A mobile app facilitates doctors to virtually connect with anybody within seconds for either clinical or administrative purposes.
Voice and video calling
Secure text messaging
Multimedia messaging
Social networking
Clinical collaboration
5. Clinical information gathering
Using mobile apps, doctors can keep themselves informed of all of the clinical news. They can also build their professional network on mobile apps the way we build on LinkedIn to share and gather useful information.
Medical News
Literature search portal
Drug reference guide
Medical journals
Medical networking
6. Clinical decision making
It is vitally important to not mess up with clinical decisions. Because a wrong decision can end up in a life-threatening situation on the patient side. But with mobile apps working on AI and machine learning technology, doctors can validate their decisions and even receive help from sophisticated algorithms.
Clinical decision support system
Clinical treatment guideline
Medical calculators
Medical exams
Diseases diagnosis aids
7. Patient monitoring
It is practically not feasible to keep an eye on patients all the time. But with mobile apps working on IoT technology, clinicians can read the vital body signs of patients anytime from anywhere.
Monitor patient health
Monitor patient location
Collect clinical data
Receive alerts
Monitor heart function
Track vital body signs of previous days
Top mobile apps for doctors ideas you should consider before investing in doctor app development
A doctor has several clinical and administrative tasks to perform. Each of his tasks is tedious, time-consuming and error-prone. You can leverage this.
All you need to do is, identify where doctors are struggling and help them to end their struggle with a mobile app!
Following are the top mobile apps for doctors our business analysts suggest if you're planning to go for app development for doctors.
Appointment booking and management app
A most basic app for doctors. But serves a very important purpose. It helps doctors to manage all of their appointments from a single dashboard. Doctors can also share this app with their patients to let them book appointments without calling anyone.
You must read: Innovative appointment booking app ideas for doctors
With the telemedicine app, doctors can treat their patients from anywhere in the world. But you must aim to build a telemedicine app to streamline the entire patient care cycle rather than just medical consultation.
Business possibilities with a telemedicine platform are endless as you can acquire it for your own clinic or acquire it to offer it under the SaaS model to other clinicians.
You must read: White-label telemedicine app (real screenshots)
Engaging patients in their clinical journey is a major challenge for patients. But with the patient engagement app, doctors can share every possible thing related to patients' health such as care plan, medication plan, self-care plan, diet plan and next appointment easily with patients.
You must read: Why not choose a 3rd party patient engagement platform?
Clinical collaboration app
Enable doctors to collaborate with other clinicians in real-time to discuss care plans and diagnosis results. Here, you must integrate EMR/EHR with the app to let clinicians share clinical data of patients with other clinicians while collaborating.
You must read: Build your own clinical collaboration platform
Remote patient monitoring app
Leveraging the IoT technology, build a patient monitoring app that connects to medical devices and records the vital body signs of patients in real-time. Doctors can anytime from anywhere know the current heart rate or glucose level of patients. They even receive alerts if any vital body sign of patients falls under a certain limit.
You must read: Role of remote patient monitoring in enhancing patient outcomes
Mobile apps to manage chronic diseases
Patients having chronic illnesses need to visit the clinic every few weeks and take medication on time. They also need to look after themselves and keep track of their health proactively.
With a mobile app for chronic diseases, patients can execute self-care in a well-organized manner and doctors can also offer quality, data-driven and rapid care to those patients.
You must read: Chronic care app use cases
Social media or networking apps for doctors
Doctors want to keep connected with their patients. They want to share their both clinical and non-clinical experience with their patients. They want to build a professional network. They want to build good relations with their patients. All such motives of the doctors can be achieved easily with a social media app for doctors.
You must read: Build LinkedIn for doctors
Doctor apps working on these technologies will assure you success
No matter how great a doctor app idea you have, if your tech partner does not achieve it properly, all of your efforts will go in vain.
Thus, it is critical to ensure top technologies are being used to actually deliver value to users.
These are the top 3 technologies that are capable of drawing a line between successful and failed mobile apps.
Patients want to receive a personalized experience. They only want to know what they are interested in. But how does an app know what suits patients' interests? Well, here comes the AI and machine learning technologies in the picture.
App working on AI and ML understands the preferences of the patients and always makes sure to deliver what an individual patient is interested in or what matters to him.
Computer vision is nothing but the field of artificial intelligence that trains mobile apps to derive meaningful information from pictures and videos.
For example, an app working on computer vision technology can easily analyze the uploaded picture of the wound and tell clinicians what is the size, depth and width of that wound and how it is healing over the period of time.
Using IoT technology, we can connect medical hardware to medical software (mobile app) for real-time data gathering collected by the medical hardware. There are also possibilities for the bidirectional connection between hardware and software. Meaning, we can also give commands to medical devices from the mobile app to perform a specific task.
Two major challenges associated with doctor app development you must be aware of
We would not have lengthened the blog if these two challenges weren't significant.
A healthcare mobile app deals with the very crucial personal data of patients. To ensure all data stored by mobile apps and other digital mediums is secure and private, authorities have imposed several data privacy laws.
The only aim of these data privacy laws is to define a framework for an adequate number of data safety and privacy measures in place and govern the data collection, storing and sharing.
In Canada, there is one federal law and several other provincial laws. Each of these laws has different technical and administrative requirements.
To make your app compliant with these data privacy laws, you must make sure that your app is only handling the data as per the laws.
If your app violates any regulation, you can become liable for a hefty fine by privacy commissioners.
Without clinical data, there is no good use of almost all mobile apps for doctors. Because, without having easy access to the clinical data of patients, doctors can't provide quality care.
Thus, you must integrate EMR/EHR with your healthcare app for doctors to access all clinical data stored by those EMRs and EHRs from your app itself.
However, integrating EMR/EHR with an app isn't a piece of cake due to interoperability issues.
In case you are wondering, there are by default several interoperability issues as your app and EMR/EHR aren't made for each other. By only following the interoperability standards while integrating, you can eliminate all interoperability issues.
How much does it cost to build an app for doctors? And how long does it take?
We're an Ontario-based healthcare-focused app development company. When it comes to the cost of development, we keep it simple. You share your requirements, we assess and share a personalized quote. Why not now?
Because we know it is not feasible to estimate the cost without knowing your requirements. More importantly, we don't want to give you a false idea by sharing any random number.
Talking about app delivery time, it depends on you. Yes, you heard it right.
Toyota makes 165000 cars a day. Whereas, Rolls Royce takes 3 months to build a single car.
We can deliver you both. It is up to you what you want.
Additionally, app development isn't just about coding.
It is in fact 20% of coding and 80% of workflows, documentation, UI/UX, prototype, QA, compliance and launch.
You may find this strange, but this is the reality of the app development world.
What we can at least promise you is Canadian quality of work and American standard of innovation!
Because we're a healthcare-specific app agency. We only entertain healthcare IT projects and that's what makes us the only choice of our 200+ healthcare clients of Canada and the USA.