Get Insight into Best Healthcare IT Company Before You Hire One for Your Healthcare Project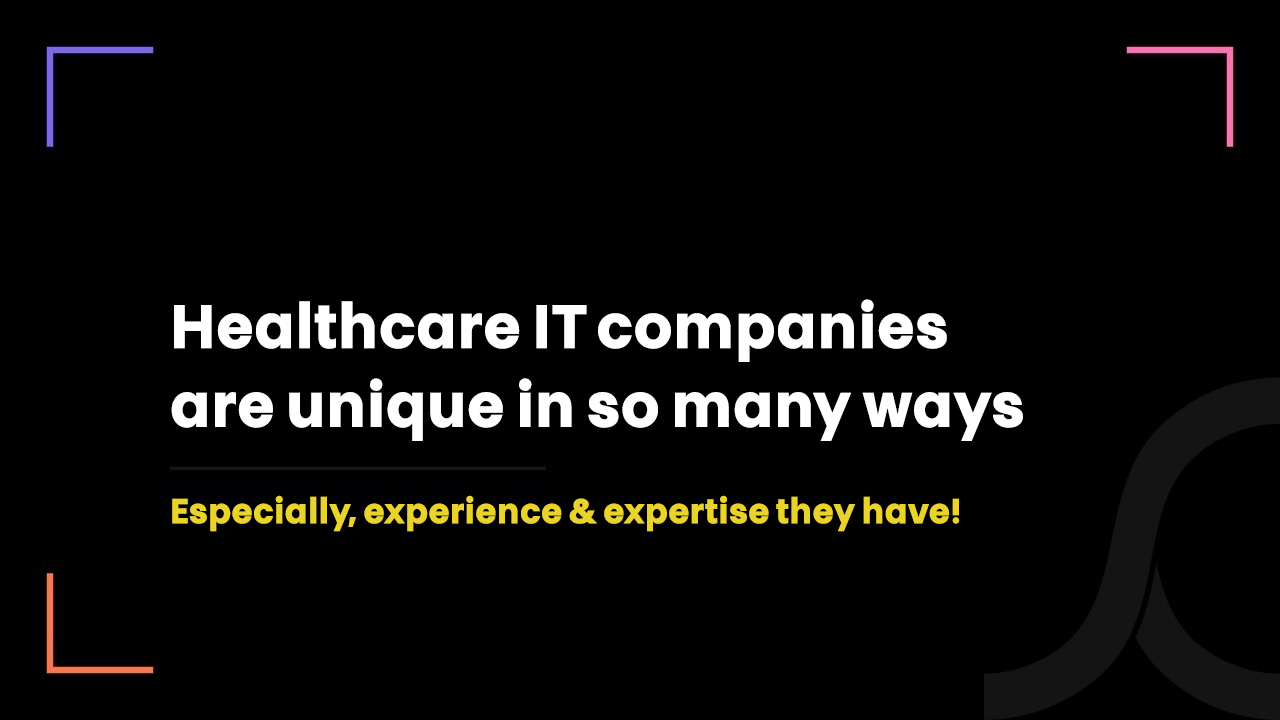 2 years ago
Let's be realistic.
Be it a startup, clinic or hospital, running a healthcare organization without IT solutions and technologies is undoubtedly very difficult.
And it will be even more difficult in post-pandemic time.
In the worst-case scenario, patients would be completely avoiding a healthcare entity that provides care in the traditional ways.
We have already noticed similar patient behaviour in certain patient groups such as working people and millennials who prefer to seek care via online mediums rather than visiting clinics in person.
Thus, if healthcare organizations don't consider digital transformation anytime soon, they will end up losing all their existing patients and failing to acquire new patients.
A healthcare IT company plays a major role to empower a healthcare organization with patient-focused tools and technologies and digitally transform its clinical practice.
In case you don't know, a healthcare IT company works differently with different targets as compared to other IT companies.
The differences between a healthcare IT company and other IT companies
The reason we are discussing this difference is that a healthcare-focused IT company can deliver more value and success to healthcare organizations than a general-purpose IT company.
But unfortunately, people don't acknowledge this difference! Anyway, being the best healthcare IT company in Canada, we feel we should address this.
One of the top differences between healthcare IT companies and other IT companies is majorly seen in their experience and expertise.
A healthcare-focused IT company only entertains healthcare projects and thus, they have industry-specific knowledge and experience.
They either build their own healthcare IT products and sell them as SaaS products or help healthcare providers, startups and entities to build custom healthcare solutions.
They have the ultimate expertise to deal with any healthcare issue with IT solutions and technologies.
They utilize all cutting-edge technologies for healthcare product development purposes only.
They bring innovation in the healthcare business model and care delivery.
They give the highest priority to healthcare data privacy laws or compliance.
They master healthcare interoperability standards to enable seamless and secure clinical data transfer between multiple healthcare systems.
They understand the clinical workflows and aim to optimize each clinical workflow with the help of healthcare IT solutions.
They are keen to reduce wait time and make healthcare accessible to everyone.
They design, code and test only healthcare mobile apps and software.
They speak the clinical language and understand clinical protocols.
They save several clinical hours by freeing healthcare professionals from tedious and time-consuming administrative tasks.
Overall, they work relentlessly and utilize all of their expertise for only the healthcare ecosystem, patients and healthcare providers.
In other words, they don't accept projects outside of the healthcare industry. Because what they are most comfortable and confident working at is healthcare!
So, what's the big deal with healthcare IT companies?
Well, you can clearly imagine how good you would become at work if you had been doing the same work every day for years!
A healthcare-focused IT company only works in the healthcare industry. Thus, it has all the knowledge and skills useful enough to execute a healthcare project - unlike general-purpose IT companies which entertain all the industries and don't have industry-specific skills.
Industry-specific skills make a huge difference because what works best in the mobility industry does not work well for the healthcare industry!
Team structure in any healthcare IT company
When you approach any healthcare tech company for your IT requirements, they first understand your requirements, give you the quote and then form a dedicated team for your project.
That team has the following team members and each member has different roles.
Healthcare app/software developers
They have experience in building secure and compliant healthcare app or software. They are well aware of different ways to address each technical requirement of applicable privacy laws. They also are healthcare interoperability experts.
You should read: How to hire healthcare developers in Canada?
Healthcare app/software designers
They put all best practices of UI/UX to good use and design healthcare app or software with a patient-centric approach. Considering the users who use healthcare apps and the purpose they use for, designing a healthcare app isn't as easy as designing any other app.
They have a very important role. They prepare the compliance strategy and document everything related to compliance. They find privacy vulnerabilities of the app and software and suggest the most efficient way to developers for eliminating those privacy vulnerabilities. They also run regular compliance audit to find any newly emerged privacy issues.
Useful resource: Why should you hire healthcare compliance consultants?
They test healthcare digital products in several different environments and on different devices to find the bug. They then prepare the bug report and send it to the development team.
Healthcare IT consultants
People active in the healthcare industry are most likely to have very little hands-on experience with healthcare IT things. They are unaware of IT budget, IT solutions, technologies, compliance etc. So, healthcare IT consultants provide them with a proactive consulting service to clear all of their technical and compliance doubts.
Healthcare IT support engineers
The Healthcare IT support team always remains on standby to solve any unprecedented error in any of the IT systems of IT infrastructure. They either provide on-site support or remote support to keep system uptime very high.
A client success manager is responsible for your success. He/she solves all difficulties that restrict the overall success of your healthcare project. He/she also keeps everyone on the same page and makes sure that the project is going to be delivered on time and within budget.
Top technologies healthcare tech companies work on
Technologies are in their DNA. They are capable of achieving anything with technology. The following are top technologies they spend every day 8 hours working on!
Medical use cases of IoT technology have been growing at a rapid speed. Its major use case is remote patient monitoring which enables healthcare providers to monitor patients remotely from their smartphones.
Healthcare tech companies build software products to interact with the IoT medical devices patients are wearing and read the data collected by those devices. Here, the most complex task for them is to eliminate all compatibility issues between software and IoT hardware.
Using AI and machine learning technologies, healthcare IT companies turn unstructured and raw clinical data into actionable data that helps healthcare providers to make accurate clinical decisions and define patient care plans.
Data privacy and security has been the major challenge in the healthcare ecosystem. Healthcare IT companies solve it by utilizing blockchain technology to store data securely.
Healthcare IT companies leverage video and voice communication technology to connect patients with healthcare providers remotely and virtually.
A chatbot allows healthcare entities to offer round-the-clock customer service to patients without hiring anyone. A chatbot is also very purposeful to solve basic clinical queries of the patients around their medication plan, post-hospital discharge, diet plan, etc.
You should read this too: Healthcare chatbot use cases
What makes us the best healthcare IT company in Canada?
We're an Ontario-based healthcare-focused IT consulting, management and development firm.
We've been investing our 8 hours every day for the past 7 years to change the boring ways healthcare is being delivered.
Be it healthcare product development, healthcare tech consulting, IT support or healthcare compliance consulting, we solve all challenges of healthcare entities and make their way clear to success.
What extra we provide is peace of mind as healthcare entities find it very frustrating to deal with technology.
We've saved thousands of clinical hours and medication errors of healthcare providers by empowering them with personalized healthcare solutions working as per their clinical workflows.
We bridge the gap between healthcare providers, patients, government and insurers with game-changing software that promotes transparency and collaboration.
What we are most proud of is our healthcare-focused team which feels thrilled to work on healthcare projects!