How to Hire Healthcare App Developers Within Hours Without Regretting the Decision?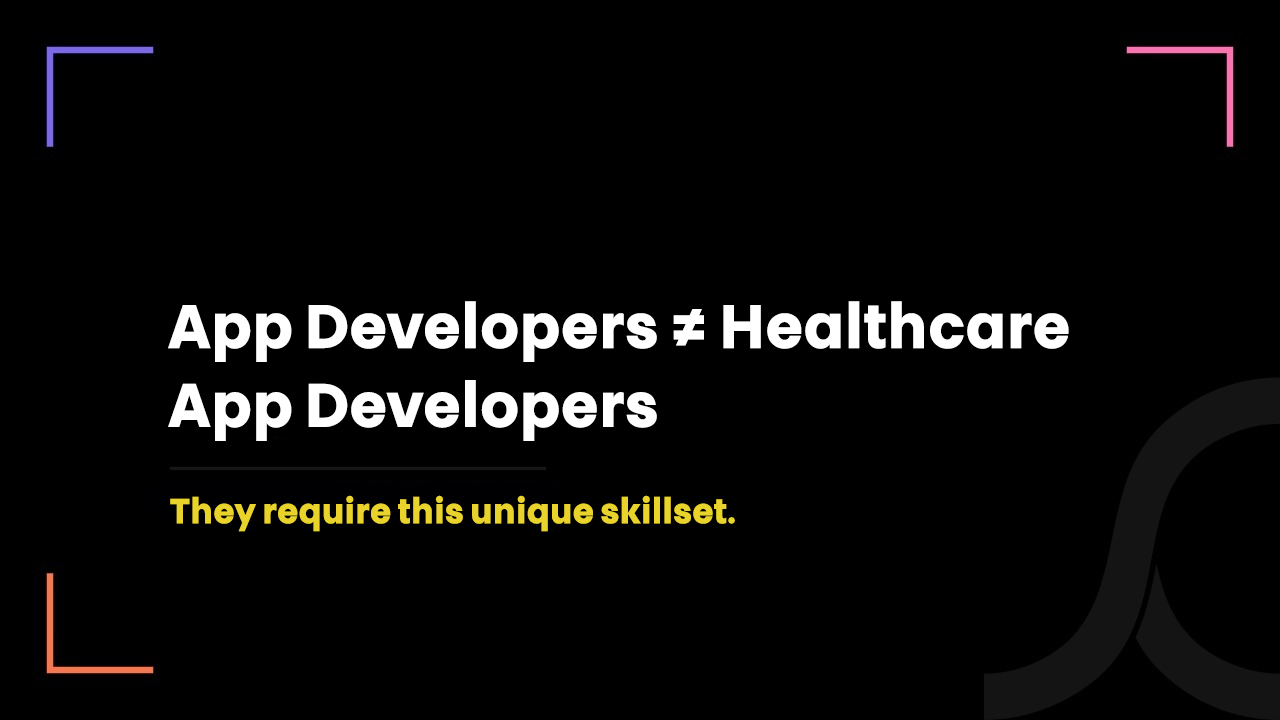 1 year ago
I have been running a healthcare-focused IT company for 7 years.
And one thing I want to tell everybody that,
Knowing some of the programming languages is what makes him a developer, but it does not make him a healthcare app developer!
Because a healthcare app or software is not just about code using some of the programming languages. It is way beyond that.
It is about integration, interoperability and compliance which require dedicated skills and expertise.
So, let's talk in brief.
Our other very useful resources you should not miss out:
Skills you should look into healthcare app developers before hiring them
It must be your million-dollar project - or a dream project. So be very conscious while choosing your idea execution partner.
A wrong decision may lead you, your project and your dream to a dead-end - instantly or after a few years of market launch.
Thus, always look into the following skills a healthcare app developer has before hiring them.
1) EHR/EMR Integration
Both EHR and EMR are very significant digital solutions of the Canadian healthcare system.
An EHR collects and saves multiple data of patients from several healthcare providers whereas the EMR stores all data of patients belonging to a single healthcare provider within its healthcare facility.
Without these data, any mobile app or software cannot offer some useful use cases and without useful use cases, nobody is going to use the app.
That means the only solution you have is EHR/EMR integration with your healthcare mobile app or software.
It enables your mobile app/software to fetch all patient data securely and in real-time from EHR/EMR.
However, to integrate EHR and EMR into any healthcare app/software securely, the developer should follow FHIR and HL7 standards.
Many of these are technical standards that require prior experience and skillset.
Meaning, you should evaluate, whether the healthcare app developers are clever enough to integrate EHR/EMR into your mobile app or software.
2) Third-Party Software Integration Such as Kroll
The digital healthcare ecosystem is complex. There are many third-party very popular healthcare software people and organizations are using.
Making the situation complex, these software are industry-specific.
For instance, Kroll Pharmacy Management is the most popular software among pharmacies in Canada.
This way, if you are planning to develop a pharmacy app or anything related to it, you must integrate Kroll software into it.
Because your target audience is highly influenced by Kroll and developing similar software from scratch isn't a financially feasible solution for you.
And eventually, this leaves you with no choice but Kroll integration.
Thus, you should evaluate whether the healthcare app developers are clever enough to integrate third-party software into your mobile app or software.
3) Data Privacy Laws or Compliance
Healthcare - especially in North America - is one of the highly regulated industries.
There are multiple data privacy laws governing the way an app handles data.

The fact which makes the situation complex is that there are different healthcare privacy laws at federal and provincial levels.
In the case of any law violation, you not only lose reputation but find yourself in a legal battle with government watchdog groups and privacy commissioners.
Any violation is also subject to a fine of many thousand dollars.
Thus, it is vitally important to develop an app compliant with all healthcare laws.
However, it requires in-depth knowledge of each and every applicable law and its multiple technical requirements or regulations.
Thus, you should evaluate whether the healthcare app developers are clever enough to develop healthcare laws compliant mobile app or software.
4) IoT, AI and Machine Learning Technologies
The healthcare app market is overly intensified. There are many players already dominating the market.
To survive in such a competitive market, your app should have unique features that offer a personalized user experience and provide rapid and quality care to users.
You may also be planning to develop an IoT-based healthcare app - or a connected app with physical medical devices.
In such cases, the developers must have prior experience working with IoT, AI and machine learning technologies.
Otherwise, he would end up developing a mobile app with many compatibility issues.
Thus, you should evaluate whether the healthcare app developers are clever enough to work on IoT, AI and machine learning technologies.
Hiring freelance developers vs hiring developers through app agency
This is the most crucial decision you have to make which directly influences the success of your mobile app.
It is so crucial that it decides the fate of your investment, efforts and time.
Thus, the following is our small effort to help you make the decision easily.
| | | |
| --- | --- | --- |
| | Freelance Developers | App Developers from App Agency |
| Accountability | They are accountable only for the mobile app. You give them the assignment, they complete it. They don't help you with the business, market and legal things. | They are accountable for your entire business journey - from app ideation to execution and support. They even help you solve market, business and legal challenges. They suggest what is right for you and what is not. |
| Healthcare Compliance | Many of them lack compliance knowledge which requires you to hire dedicated compliance consultants. | They have in-house compliance consultants who work with app developers to develop a compliant mobile app. |
| Cost | They charge you less as they only need to code the app. | They charge you more as they become your business strategic partner and help you with many other things beyond mobile apps. |
| Quality | Not all of them are professionals and familiar with the Canadian healthcare industry or user persona. | They are professionals, they work with the highest level of quality and there are no chances of fraud. |
| Problem Resolution | In case of any query, you have to deal with the same individual app developers who do not belong to any registered company. | In case of any query, you can contact their executive team who is always ready to help you. Because they believe in client relations and care about company reputation. |
Don't hire healthcare app developers without asking these questions
You are giving the responsibility of turning your idea into reality to the developers.
So, don't hesitate to throw hundreds of questions at them before hiring them.
How will you keep me updated on the app development process?

Who will own the code?

How much should I pay in advance?

How will you test the app?

Will you make it live on Apple App Store and Google Play Store?

Will you provide me post-app-launch support?

Are you aware of privacy laws?

Will you integrate the EMR/EHR of my choice?
How can you hire healthcare app developers within hours?
We are an Ontario-based healthcare-focused IT company.
We accommodate app developers, app designers, business experts and compliance consultants.
We have been working with Canadian healthcare startups and organizations for more than 7 years and solving their all technical, compliance and business issues.
Our developers are armed with outstanding knowledge and experience of healthcare app development with EHR/EMR integration, compliance and IoT, AI & ML technologies.
We are also clever enough to work with HL7 and FHIR standards. We will work as your dedicated team and solve all of your challenges as if it is our own!
You can hire our healthcare developers by simply contacting us.
The lead developer or executive team member will get back to you within a matter of a few hours and give you a free consultation.