Everything You Need to Know to Build Website for Pharmacy: Types, Features, Cost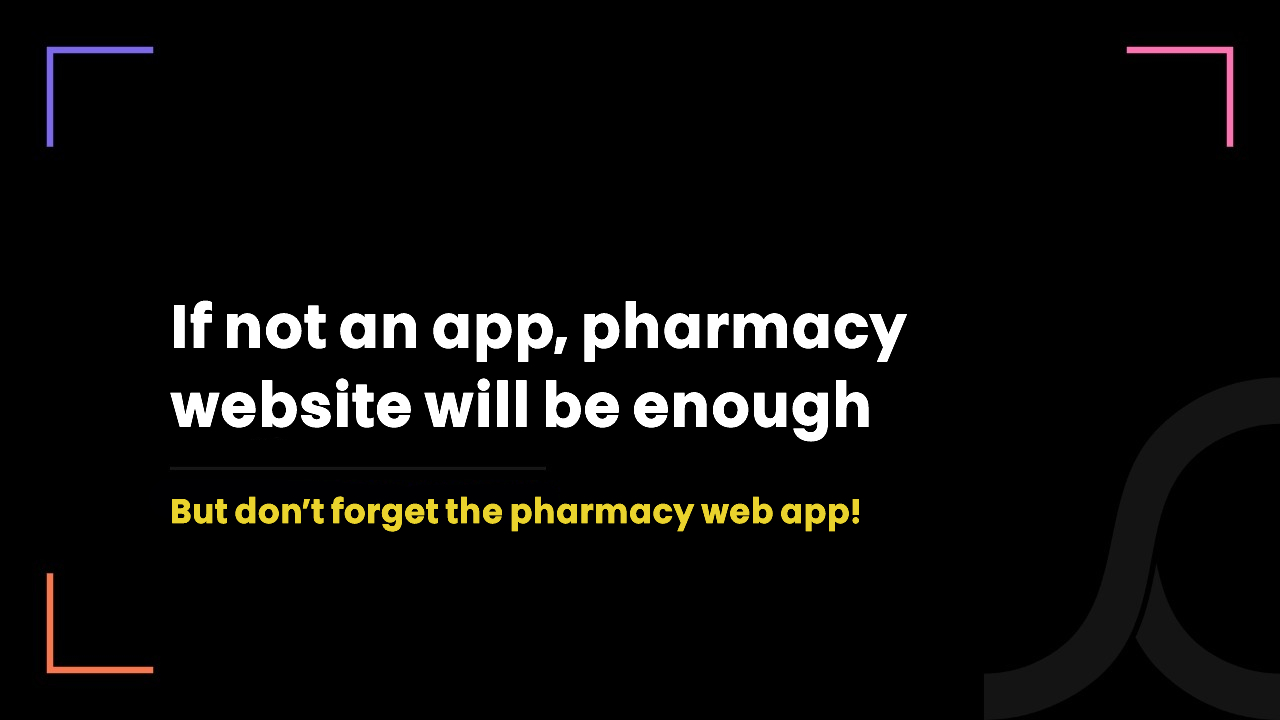 2 years ago
Brace for the eye-opening experience.
Because trust me, you are aware of only 1% of pharmacy website development.
Yes, we know this is a bold statement. But that's what an honest blog intro is called!
How does a website for your pharmacy benefit your business?
You must already have an idea. So, we are keeping this short and straightforward.
Online presence 24/7
Information sharing (opening hours, contact details, services etc)
Marketing for your pharmacy
Advertising
Competitive edge
Market expansion
Business credibility
Increased sales
But what actually is a website and how does it work?
I know this is a bit technical, but if you're planning to build a pharmacy website, you must have basic knowledge of its working and other technical things.
A website is a bundle of web pages that users can access via any web and mobile browser but only when their devices are connected to the internet.
To let users access your pharmacy website, you need to host it on the server via any hosting service provider. (You can also host it on your own server, but it costs you a lot.)
Each website has an address which is called a domain name. For example, www.yourpharmacyname.ca.
You need to purchase this domain via any of the domain name providers. The best example here is, GoDaddy.
So, if we conclude, your pharmacy website needs a domain name and you need to host your website on a server via a hosting service provider to make it discoverable on the internet.
Now, when any reader types your domain name (yourpharmacyname.ca) on any browser or clicks on the result shown by search engines, the browser sends a request to the server on which your website has been hosted.
The server processes the request and shows the HTML code in the webpage format on the browser to the user or reader.
Top use cases of pharmacy website
Well, a website serves several purposes. If you create a website for your pharmacy to satisfy any of these purposes or use cases, we can guarantee you a high ROI.
Sharing information of your pharmacy services and offerings
Sharing information around your pharmacy such as timing, location, contact etc
Getting new customers who are searching for nearby pharmacies online
Sharing resources and content with your customers and readers
Cost to build a website for your pharmacy
There are several free pharmacy website templates and readymade websites you can buy online. But we are not talking about such types of websites as they do not deliver any value.
We are talking about a professional website, built dedicatedly for your pharmacy by experts.
So, to build such a custom and premium website for your pharmacy, it costs as low as $5K and as high as $50K - depending hugely on your requirements.
Yes, the difference is huge, but that's the most practical way the global development industry works.
If you want to add advanced features to your website with a feature-rich admin panel, developers need to invest more hours which of course increases the cost.
And if you want to own only a basic website, it is very pocket-friendly.
If you're already planning to make a pharmacy website, you must think of a pharmacy web app
What is a pharmacy web app?
A web app is an advanced version of a website.
It is either an entire software or piece of software which is accessible via web browsers.
Unlike websites, a web app can support more advanced features such as,
User authentication/user sign up
User profiles
Prescription order
Prescription renewal request
Tele consulting
Online chat
Rating and review
Kroll or any other PMS integration
You must read: Difference between healthcare website & web app (Detailed Guide)
What you can do with a pharmacy web app which you can't do with a website?
You can solve any age-old challenge of the pharma industry
You can actually deliver your pharmacy services online
You can accept new prescriptions order online directly from doctor or patient
You can accept prescription renewal requests online
You can virtually connect pharmacists and patients via chat, voice call and video call
You can streamline entire pharmacy management workflows
You can add new prescriptions details directly to Kroll or any PMS due to Kroll integration with your web app
You can save a lot of time and deliver an outstanding experience to your patients
We're local Canadians, build both pharmacy websites & web apps with our 7 years-old healthcare IT experience
Why are we bizarre in a good sense …
Because we only serve the healthcare IT industry.
Because, our developers, designers and business analysts have only been working on healthcare projects since the first day of their professional careers.
Because, we accommodate dedicated healthcare compliance specialists.
Because, we solve technical as well as business and compliance challenges of healthcare providers, startups and organizations.
Because, we have an on-ground understanding of how healthcare, billing, compliance works in Canada and the USA.
Because we always deliver peace of mind as extra project deliverables!