A Detailed Breakdown of How to & Cost to Start a Mental Health Startup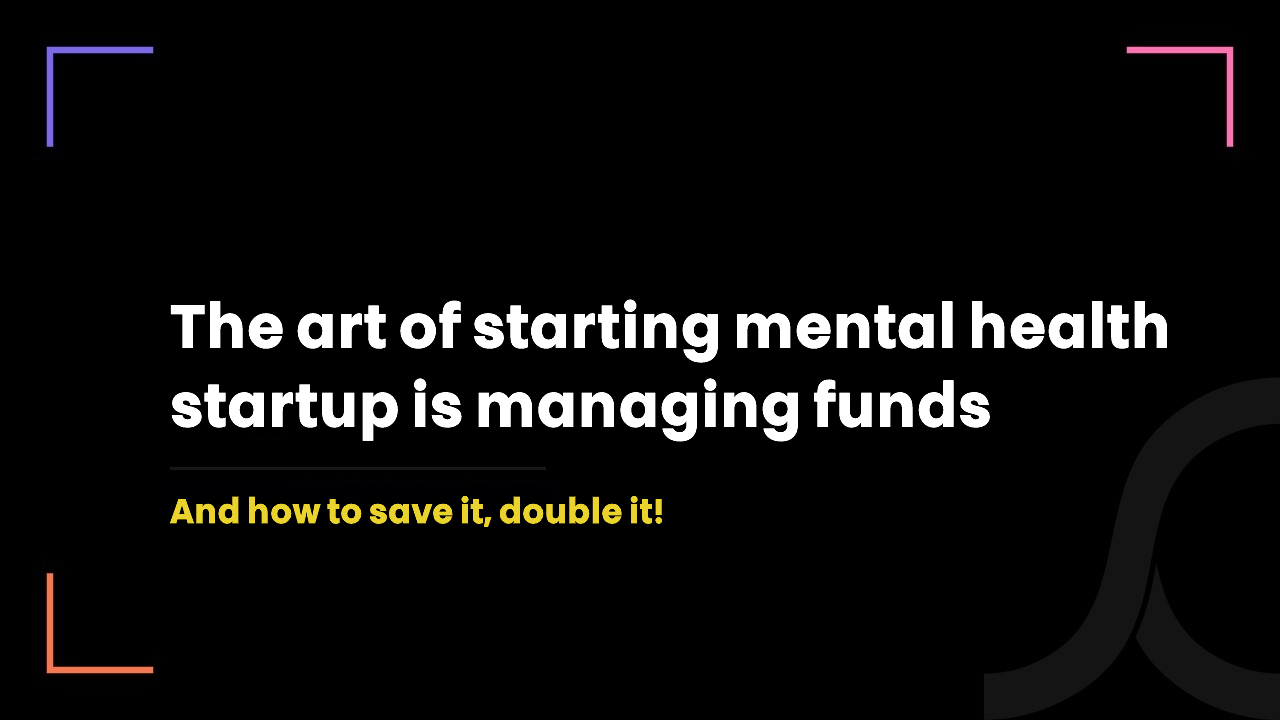 2 years ago
As per the official reports, a US-based mental health startup named Cerebral which offers online depression treatment raised a whopping $300 million at a valuation of $4.8 billion.
The startup was launched just 2 years ago. But fueled by the pandemic, Cerebral has so far raised around $500 million from investors including Prysm Capital, Access Industries, WestCap Group and Artis Ventures.
Its top services and revenue streams include counselling, therapy & medication delivery and online management for mental and behavioural health conditions.
So, if you are also planning to start a mental health startup in the USA or Canada like Cerebral to offer online depression treatment, this blog guides you through the capital cost you would require.
About Cerebral mental health program: How does it work and how to get started?
Step #1: A user needs to fill out an online form which contains basic questions about the symptoms of the user.
Step #2: A user can now have a video call or chat with a prescriber.
Step #3: A user can also have contact with his care counsellor who supports the user throughout his journey.
Step #4: The user receives monthly medication at his doorstep.
Cerebral offers multiple membership plans based on the user's needs.
Plan #1: Medication + care Counselling ($30 per month)
Plan #2: Medication + coaching ($79 per month)
Plan #3: Coaching ($59 per month)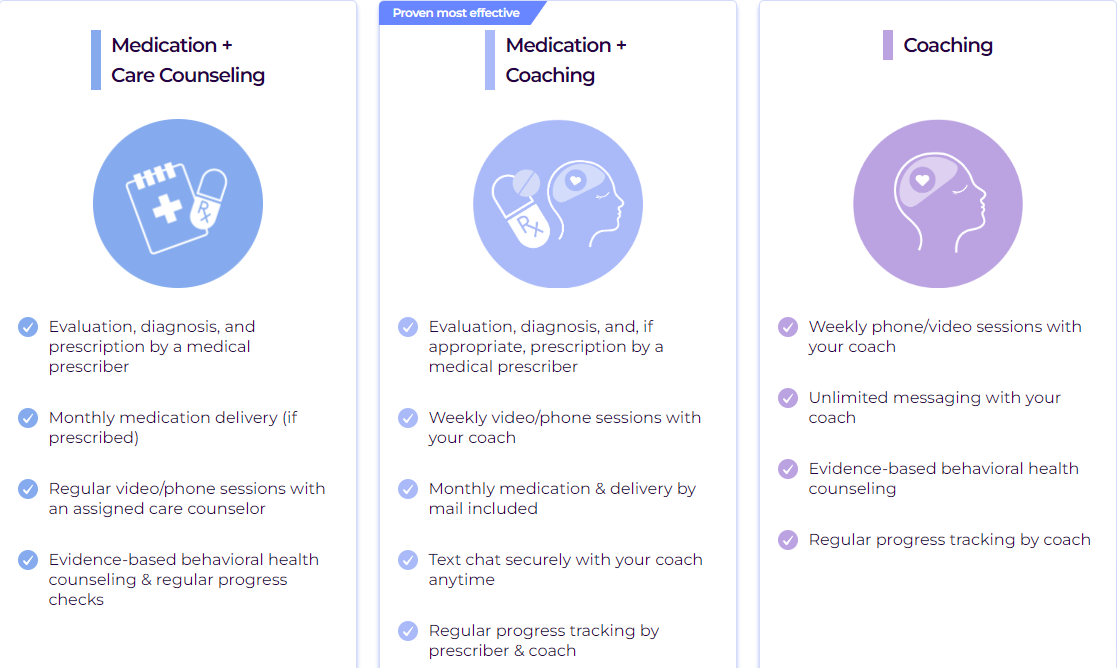 Different resources you would require to start mental health startup and the cost of each resource
Mental health had been very underrated for a very long period of time. But thanks to the pandemic, it is now more urgent than ever for individuals and governments.
In the last few months, people have developed more awareness about mental health than what they had developed in the last few decades combined.
And no. This is not a trend that survives only for a while. This is a revolution that lasts longer than ever!
Since all market indicators are in your favour, you're most likely to get success with your mental health startup in the USA and Canada.
However, you are liable to challenges when it comes to budget or capital cost requirements as launching a startup that is too capable of dominating the market is a resource-sensitive 'business'.
Thus, we are here to not only share the money you would require but also help you save money and make more with less investment.
1) Mental health mobile app
This is the most basic resource you would require. A mobile app for your mental health startup enables patients or users to access your mental health services such as online depression treatment.
In other words, your mobile app would be the gateway for your users to engage in your sales lifecycle.
Leveraging different features of your mobile app, your users will achieve their mental health goals and in return, pay you a subscription fee or fee per service.
Cerebral also offers a very feature-rich mobile app to let users book appointments with therapists, order medicines, track progress, achieve goals etc.
Cost of mental health app development:
We're sure you can't grab this. So, let us clear things for you with an example of a car and race track.
Suppose you want to win a race with a car (mobile app) on a race track (market).
You have two challenges. 1. You don't have a car (app). 2. Your all competitors have the best super cars (advanced apps).
You in any case want to win or at least compete well in the race (market). So, you decide to build your own car (app).
For that, you hire a company that can build a car (app) for you.
That company can build both Toyota (basic app) and Lamborghini (advanced app) for you.
Of course, building Toyota costs very little. And building Lamborghini costs you high.
But the ROI of building a Lamborghini (advanced app) is winning performance in a race (market).
While the ROI of building Toyota is just participating in the race.
The choice is yours. Do you want to win the market, or just end up being another mental health startup in the market?
If you want to win it, you have to build an advanced app that costs you more. And if not, you can settle with a basic and affordable app.
Because, we can build both - as per your needs.
We hope you now also understand that estimating the cost of mental health app development is not feasible for us without knowing your requirements.
But to not disappoint you, let us give you an average number. In North America, it costs at least $40000+ to build a mental health app.
Why a minimum of $40000? Because app development is not just about coding. It involves other resources too such as compliance specialists, UI/UX designers, business analysts and QA engineers.
In case you still can't believe us, see the following our 17-step app development process.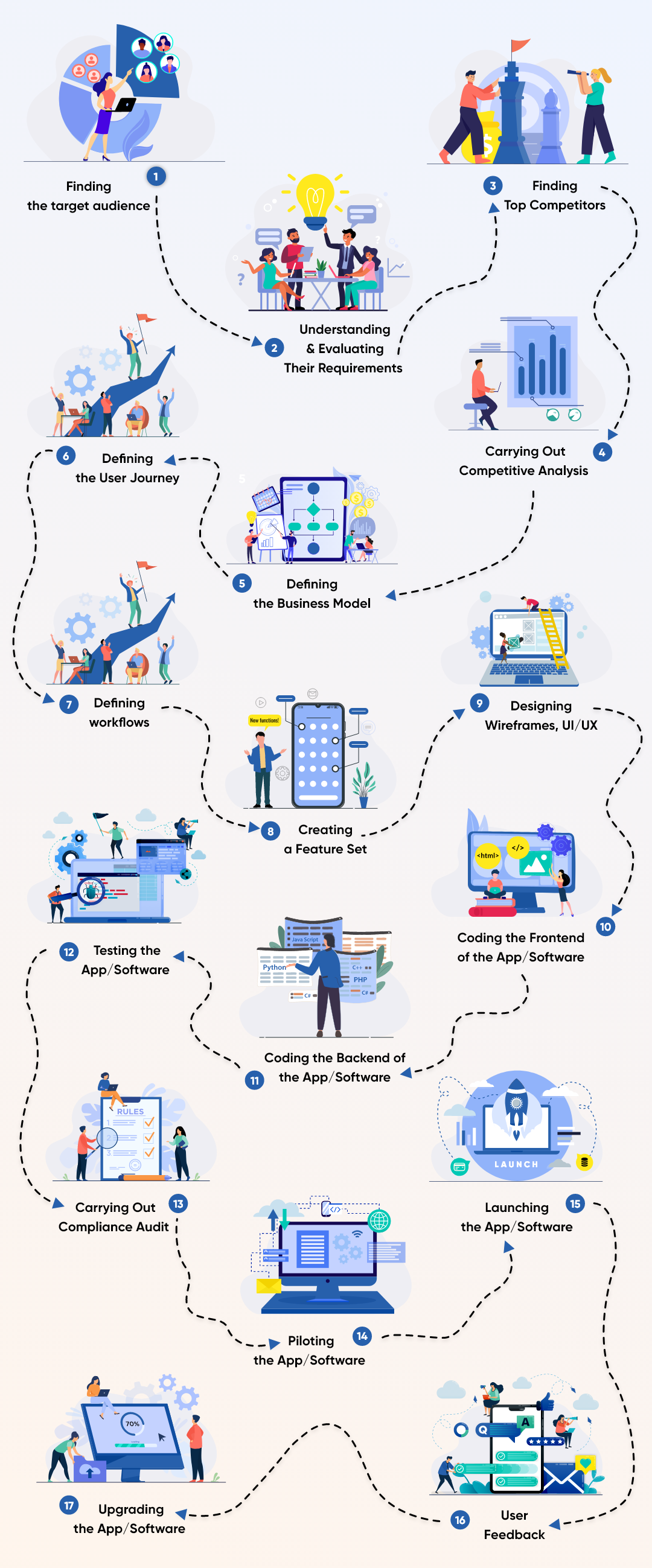 Yes, we know $40000 is not an investment cap all startups can afford. If you're among them, you can choose any one of these best and most affordable alternatives to the mobile app.

Afforable mental health app development options:
You can consider building an MVP app. An MVP app accommodates only basic and useful features. Thus, it costs really affordable. And once you test it in the market, make some money or get funds, you can upgrade it by adding new features.
You can consider building a cross-platform app. Unlike a native app, a cross-platform app works both on iOS and Android with a single codebase. Meaning, developers have to write code for a single time which automatically reduces the development cost.
You can also consider building a progressive web app that has the same features as a mobile app but runs on web and mobile browsers only. Building a PWA costs almost 30 to 40% less than a mobile app. However, nothing can beat the user experience that a mobile app delivers.
If you still have doubts about choosing between a mobile app and a web app, the following table can help you select the most suitable one for you.
Read our complete guide on: Mental health app development
2) Building a team
It is very obvious that you can't offer online depression treatment without a team.
But what is special about launching and running a mental health startup is that the team must have clinicians on board.
Because, without clinicians, how can you offer mental health services to users - even online!
However, you have a choice. You can either hire clinicians or let individual clinicians register on your platform on a commission-based model.
In addition to clinicians, you would also require customer service executives as your users will have several doubts and queries around services, fees, payment etc.
You would also require a sales and marketing team as well.
How to save team expenses with technology?
You can add a custom chatbot to your mobile app or web app. A chatbot answers all questions of users within seconds without any human intervention.

You can reduce your dependency on the team by adopting RPA technology for back-office tasks. RPA automates back-office data entry and reporting tasks and lets you run your startup with only a few team members.
3) Data security and compliance
It is legally mandatory for all healthcare startups that are handling patient data to address data privacy laws imposed by the federal and provincial governments.
The only goal of healthcare data privacy laws is to ensure healthcare startups have an adequate number of security measures in place and handle patient data as per government regulations.
Each of these data privacy laws has several administrative and technical requirements which you might struggle to understand and implement.
This is why you leave with no choice but to hire dedicated healthcare compliance consultants to guide you and your technical teams through all administrative and technical requirements of applicable data privacy laws.
And since ensuring compliance readiness is an ongoing process and responsibility, you have to hire compliance consultants for the long term.
To just give you a basic idea, healthcare compliance consultants either charge you a fixed price per project or on an hourly basis. In most cases, they charge $150+ per hour for compliance consulting.
How to save data security and compliance cost?
The best and most practical way to save data security and compliance costs is to hire an IT company that accommodates healthcare compliance consultants in addition to other healthcare tech professionals.
This will not only save your compliance cost but also establish a good collaboration between technical, business and compliance teams as all teams are from the same IT company.
4) Marketing
After mental health app development cost, marketing is what contributes most to the capital cost requirement.
Marketing is crucial for your startup to get noticed by its target audience while it is in its early stage.
To market your mental health startup with an outcome-driven strategy, you would require a dedicated team and a big budget as traditional marketing tactics no longer work in the startup ecosystem.
You would also require a separate marketing budget for post-app-launch and pre-app-launch.
On average, healthcare startups have to spend around $10000 during the pre-app-launch period and 5 to 15% on total revenue once the app is launched to grab good market potential.
How to save marketing costs?
Well, we aren't marketing experts. So, what we can only tell you is to make your 'product' so user-specific, user-friendly and an answer to all challenges of your users that you don't need marketing.
Because good products sell by themselves!
You invest money, we invest our healthcare tech, business & compliance expertise to make you claim high ROI
We're an Ontario-based healthcare-focused IT company. In other words, we only entertain healthcare IT projects.
Why? Well, being specific to one industry is the most basic requirement to earn knowledge that is capable of not only delivering projects but revolutionizing that industry.
We built some of the game-changing mobile apps, web apps and software for healthcare providers and startups. We built medical and mental health chatbots, deployed RPA at clinics, leveraged voice technology for seniors and made AI, ML accessible for pharmacies.
What we always aim for is to save clinical hours of healthcare professionals and empower individuals to achieve their physical and mental health goals with the power of technology.
Our team includes healthcare app developers, UI/UX designers, business analysts, QA engineers and compliance specialists.
Meaning, you will get answers to all your requirements in one place. We also run the investment program to fund your mental health startup idea if it delivers real value.
In essence, we are consultants, developers, designers, legal professionals, QA experts and investors too. Contacting us = exploring all these opportunities in one place!
Explore our best solution on: Mental health practice management software