Build Period Tracker App or Women Wellness App like Flo: Strategy & Planning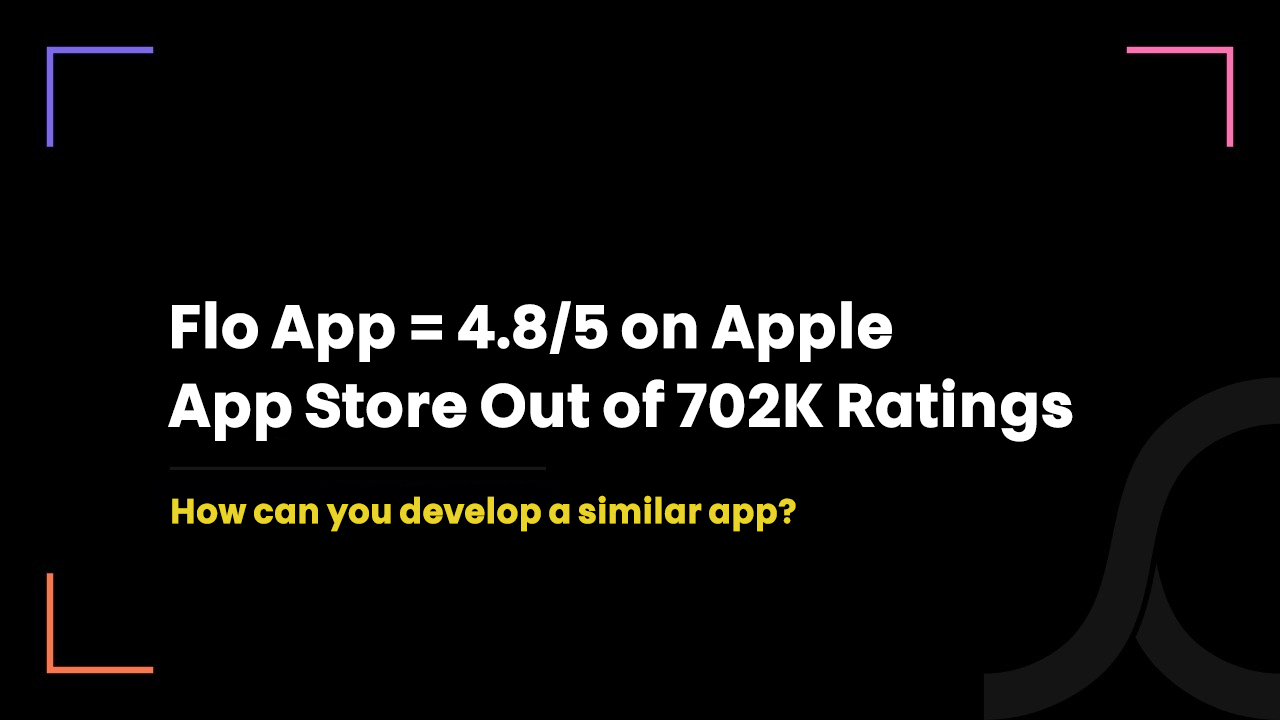 2 years ago
A single mobile app used by 150 million women around the world!
Isn't this something every entrepreneur dreams of?
Flo is that app.
It targets the real pain of a specific user group - women!
Flo promotes itself as the period tracker and ovulation tracker app.
But when we explored its features, we found it is the most feature-rich and the best healthcare app we have ever seen.
With its unique and useful features solving each challenge of women, it acts as the complete female wellness app.
Recently, Flo app launched period emojis for Slack.
If you are planning to develop a women wellness app like Flo, we will make you aware of all features of the Flo app that you should also consider for your app.
After all, features are the only thing that fuels the success of the Flo app!
Other valuable resources for you:
Features that Flo app have and women are finding it very useful
First of all, a feature is nothing but the solution to the users' problem.
For instance, if a user has the challenge to make an online payment, you would integrate a payment feature.
Or a user has the challenge to search products online, you would integrate a search feature with filters.
Meaning, the more problems you want to solve, the more features you would require.
Talking about Flo, it solves all the problems of women related to self-care with some of the greatest yet simple features of the healthcare industry.
You should also read: Femtech app development opportunities for Canada
1) A Goal-Based Personalized User Experience
There was user experience. Then it came to a personalized user experience. And now there is a goal-based personalized user experience.
Here, in a goal-based personalized user experience, the app asks the goal of the user for using the app.
Based on the user's selected goal, it optimizes the content, features and UI of the blog for a personalized user experience.
For instance,
When a user opens the Flo app for the first time, the app asks the user to select one from three goals.
From these 3 goals, if a user selects goal 1, the Flo app shows only goal-related information and features to the user such as,
By doing so, the Flo app makes sure that a user does not get engaged in unnecessary information & tasks and gets frustrated by not finding what she is looking for.
2) Change Goal Any Time
The Flo app offers a great level of flexibility. It lets users change the goal anytime by just opening the sidebar and selecting the new goal.
As soon as the user selects the new goal, the app presents only that new goal-related content and features to the users.
3) Multi-Purpose Home Screen or Dashboard
The best home screen or dashboard is one that contains maximum useful information for that user only without making the home screen congested.
Flo's home screen has been designed very intelligently. A single screen solves multiple purposes of the users.
Here is how:
Users can find all notifications from this home screen.
Users can track ovulation and know the chances of getting pregnant.
Users can add their symptoms for today.
Users can track weight, sleep and water consumption.
From the home screen only, users can find different learning resources.
Users can even jump into a secret chat feature to get or read answers related to female health.
4) Learning Resources
Every woman would love to learn more and more about the different ways to carry out self-care with minimal effect and within budget.
Flo app has a dedicated feature for learning resources.
Here, users can read blogs, small articles, watch videos and even listen to podcasts on different topics related to women's wellness.
The reason why this feature is very significant for Flo is because it is a revenue source for Flo.
Flo follows the freemium model and only offers a limited number of features and resources free of cost.
To read, listen and watch all resources, the user should buy a subscription to Flo.
#LearningForYou
While deciding the feature set, you should decide which features are so useful and unique that people would be interested in subscribing to.
This will create a revenue source for your app!

5) Secret Chat (in the true sense)
It is always great to get answers from multiple other people going through the same situation.
Flo app allows users to answer and read others' questions anonymously.
Users can also follow interesting topics to keep updated with all questions and answers related to that topic only.
6) Graphs and Reports
Everyone loves to see data into a graphical representation.
Also, when there is multiple data of multiple days, only a graph justifies its clean and understandable representation.
Flo app lets users see graphs and reports of several different factors such as weight, nutrition, activity, sleep duration, water etc in a very clean format.
This way, the Flo app does not limit to only the period tracker app, but it is a complete women wellness app solution.
How much does it cost to develop a women wellness app or period tracker app like Flo in North America?
Generally, developers around the globe charge on an hourly basis.
And the features you select to add to the app influence the development hours greatly.
Meaning, the features you want to add to the app = the budget you require!
But there is one more factor that influences your budget and it is the region where you outsource your project.
In many Asian countries, developers charge a very nominal hourly fee and thus, the budget you require is just under $15000.
However, many developers from Asian countries lack knowledge of the North American healthcare system and most importantly healthcare compliance.
Many of them (not all) also do not concern themselves with quality work.
Additionally, they fail to understand the North American market and user persona.
As a result, you would receive an app with bugs, poor UI, and privacy & security issues - if you end up hiring an inexperienced app agency.
Thus, it is always advisable to hire North America-based developers to develop the app for people belonging to North America.
They will charge a slightly higher fee which requires a budget of $30000+.
But they will work with Canadian standards of quality and always prefer to develop a compliant mobile app while addressing all data privacy laws.
A few more women wellness app ideas to build
Targeting women's wellness and healthcare challenges with an app is the best thing you can do for women in this modern world - while also making money!
So, here sharing some more epic women's wellness app ideas.
Women-specific wellness eCommerce app
Women-specific weight management app
Women-specific mental health app
Women-specific yoga app
Pregancy tracker app
Women-specific virtual primary care app
Telehealth app for birth control
Women health tracking app
We follow a 17-step approach to develop the best women health app like Flo
We are an Ontario, Canada-based team of app developers, app designers, business experts and even compliance consultants.
We spend 8 hours each day working on game-changing healthcare technologies and bringing them within the budget of our clients.
We have worked with 100+ healthcare providers, startups and organizations.
With our unique 17-step app development approach, we develop the app Canadians have never used before!
We strongly believe a great idea is just an unfulfilled dream without perfect execution.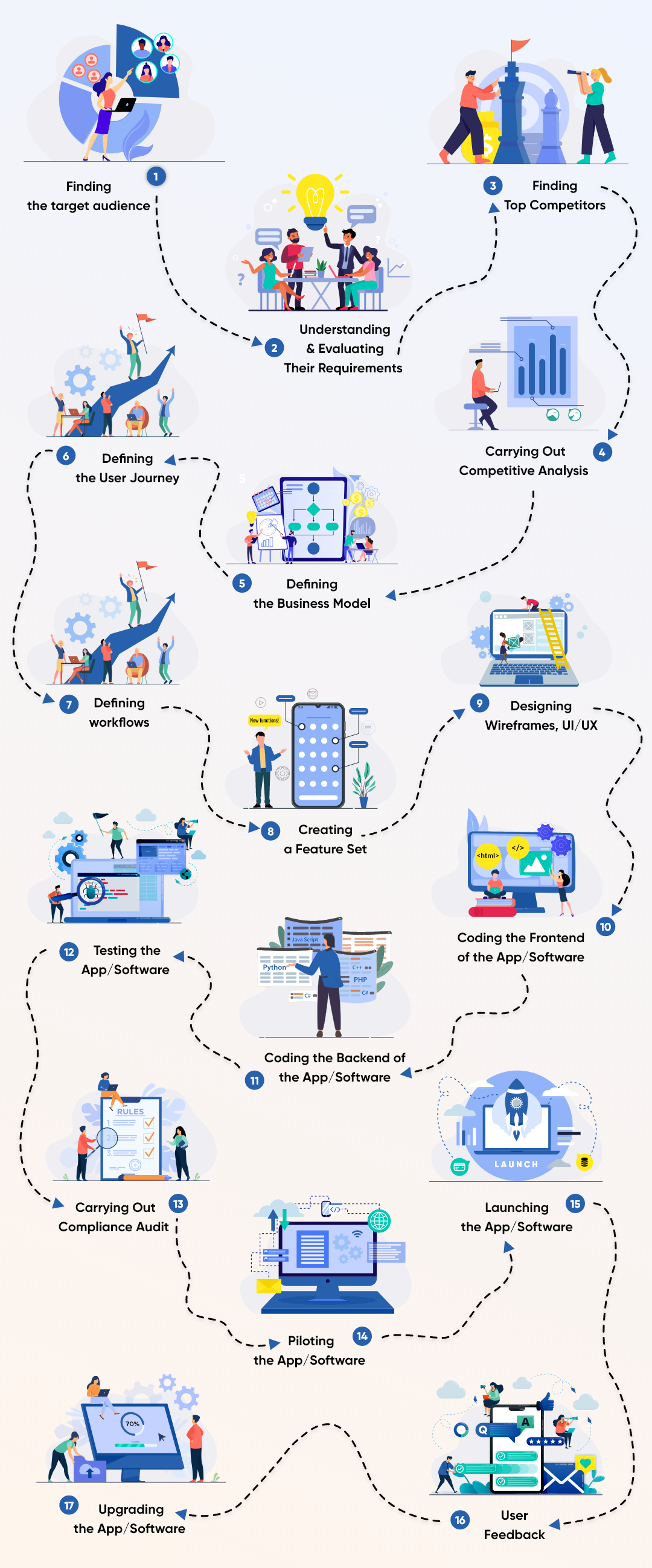 So, let's talk about your idea and in return, we'll take responsibility to execute it with Canadian standards of work!