How to Build Women Health App? Explore Women Health App Development Opportunities for Canada and USA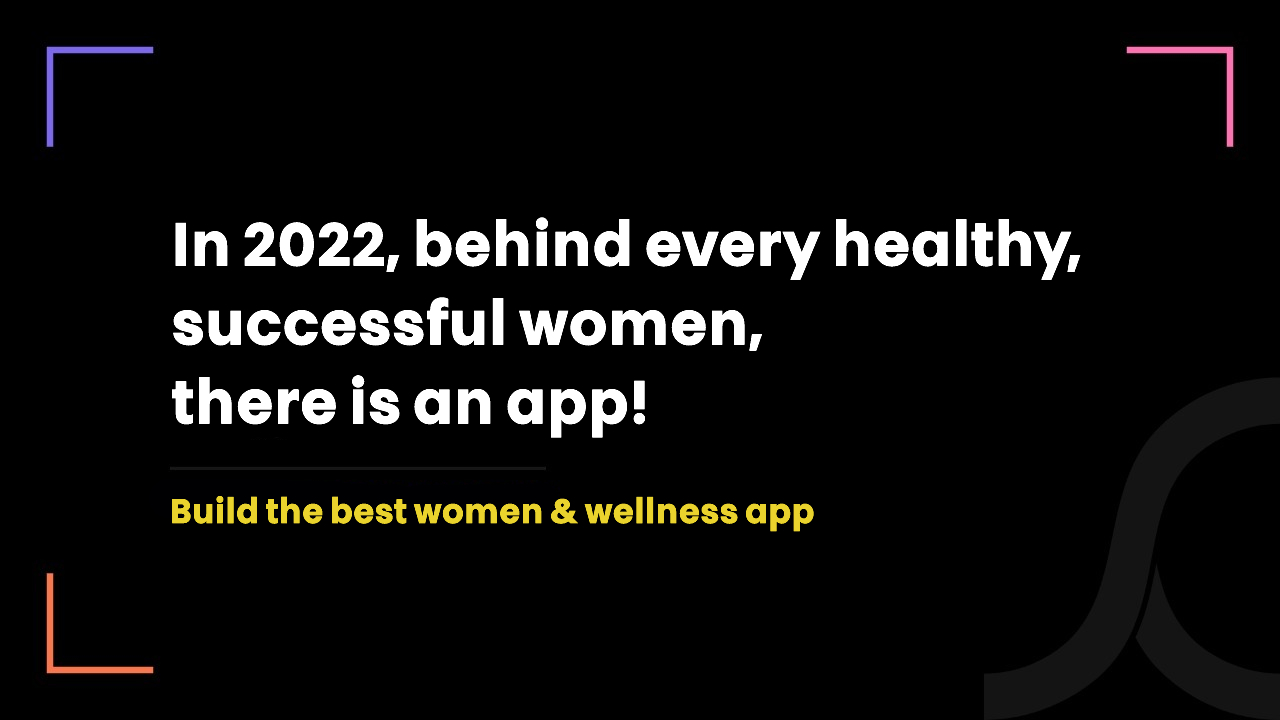 1 year ago
When it comes to health and wellness, there are gender-specific complications and needs.
In other words, with a general-purpose mobile app or platform, you can't address challenges a specific gender is facing.
Thus, let's aim to address women's health and wellness challenges with a women health mobile app development!
Pandemic was the culprit for inferior women's health
During the pandemic, physicians in the USA and Canada have reported fewer visits of patients who are fearful of getting infected by the deadly coronavirus from the clinic.
A large percentage of women patients skipped regular medical consultations for the same reason.
In fact, many women diagnosed with breast cancer also missed very critical cancer screenings as there had already been a long wait time and the pandemic made it worse.
Furthermore, many developing countries and even in some poor regions of developed countries, a very high COVID-19 mortality rate among pregnant women has been reported.
On April 2, 2021, CTV News published a finding based on 40 studies. Rates of stillbirth and maternal deaths increased by around a third during the pandemic as a result of worse pregnancy outcomes for both babies and mothers.
Lack of access to birth control and fertility treatment has also been causing several unwanted healthcare and wellness complications to women during the pandemic time.
The Pandemic also left several women unemployed. This resulted in awful mental health among a group of women who are responsible for the survival of their kids.
Overall, from physical health to mental health and wellness to finance, the pandemic has poorly impacted women on a larger scale.
However, several women's health startups have been helping women to overcome all challenges with the help of women health app development.
Using women health mobile apps of different categories such as,
Sexual health
Wellness
Reproductive health
Nursing care
Mental health
Personal health
These apps enable women to seek medical consultation virtually without stepping out of the home.
As a result, women can effortlessly live a healthy and peaceful life without any hassle.
Why do women prefer to use apps to manage their health and wellness?
If you are wondering, women's health is a billion-dollar industry with millions of women using mHealth apps to manage their health and wellness on the go.
As per the Globe News Wire, "The Global Women's Digital Health Market size was estimated at USD 4,291.22 million in 2021 and expected to reach USD 4,809.18 million in 2022".
Following are the top reasons why women opt in more for mhealth apps and why you should opt it for women health app development.
Many women do not feel comfortable while having in-person medical consultation with a clinician for a sexual health and wellness complication.
But a mobile app enables women to seek medical consultation with a clinician privately through chat and voice call options.
Several apps even offer flexibility to women to not reveal their identity at all.
The majority of all femtech mobile apps working as women health tracking app allow women to record and track every parameter of their health & wellness from menstruation cycle to diet, workout, and pregnancy period.
Affordable and rapid care
Femtech mobile apps facilitate women to talk to clinicians within minutes without traveling to the clinic and waiting in a queue. This not only saves time for women patients but also saves their traveling costs.
Femtech mobile apps equipped with sophisticated AI technology understand the health & wellness goal of a female user and guide her with the personalized care plan and resources so that she achieves what she wants to!
Top women health app development opportunities for Canada in 2022
Are you planning to go for women health app development, but not sure which type of femtech app will work best in Canada and other North American markets? Then, the below list is specially curated for you.
Period and ovulation tracker app
Several women prefer to use period and ovulation tracker apps as it influences their wellness to a great extent.
Based on user goals, the app suggests several steps to ensure women are able to track their period and ovulation cycle not to just keep a record but to either avoid pregnancy or embrace pregnancy.
Flo is the most popular period and ovulation tracker app - being used by more than 150 million women around the world!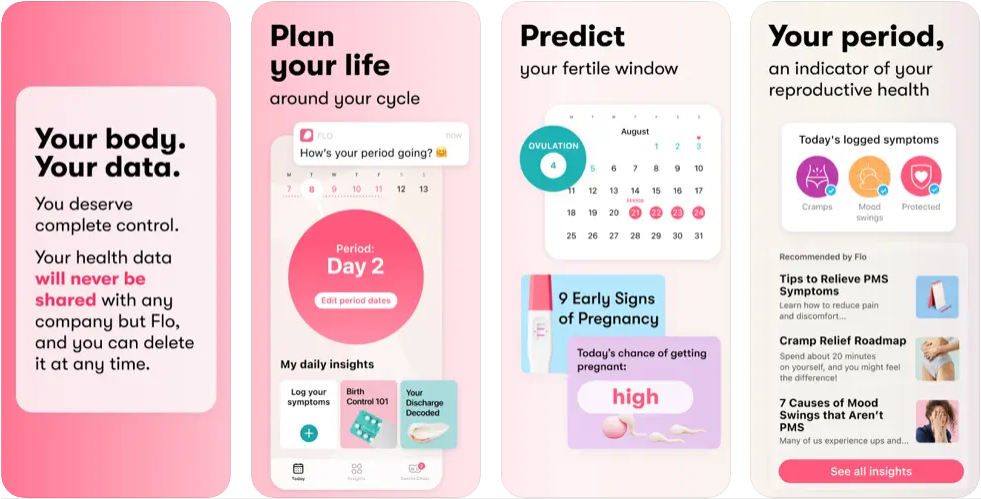 You should read this: Develop women wellness app like Flo
Women going through pregnancy experience several physical health, mental health, and wellness-related challenges.
With a pregnancy mobile app, you can empower pregnant women with the right tools to let them enjoy all the extras of a great pregnancy period.
By integrating telemedicine capabilities, you can also allow them to talk to their clinical team remotely for regular medical consultations throughout the pregnancy period.
Sprout Pregnancy is the most popular pregnancy app. It is equipped with several unique features.
For instance, pregnant women can see lifelike interactive movements, kicks, and heartbeats of what's happening right inside that growing belly.
Another useful feature is a journal in which women can record photos, thoughts, and every other pregnancy moment.
Personal care app (skin & hair care)
What all women are most concerned about are their skin and hair.
With a mobile app, you can let women look after their skin and hair in a modern way.
Hers Health is a USA-based unicorn startup - doing exactly the same. It facilitates women to receive skin care and hair care easily from its intuitive online platform.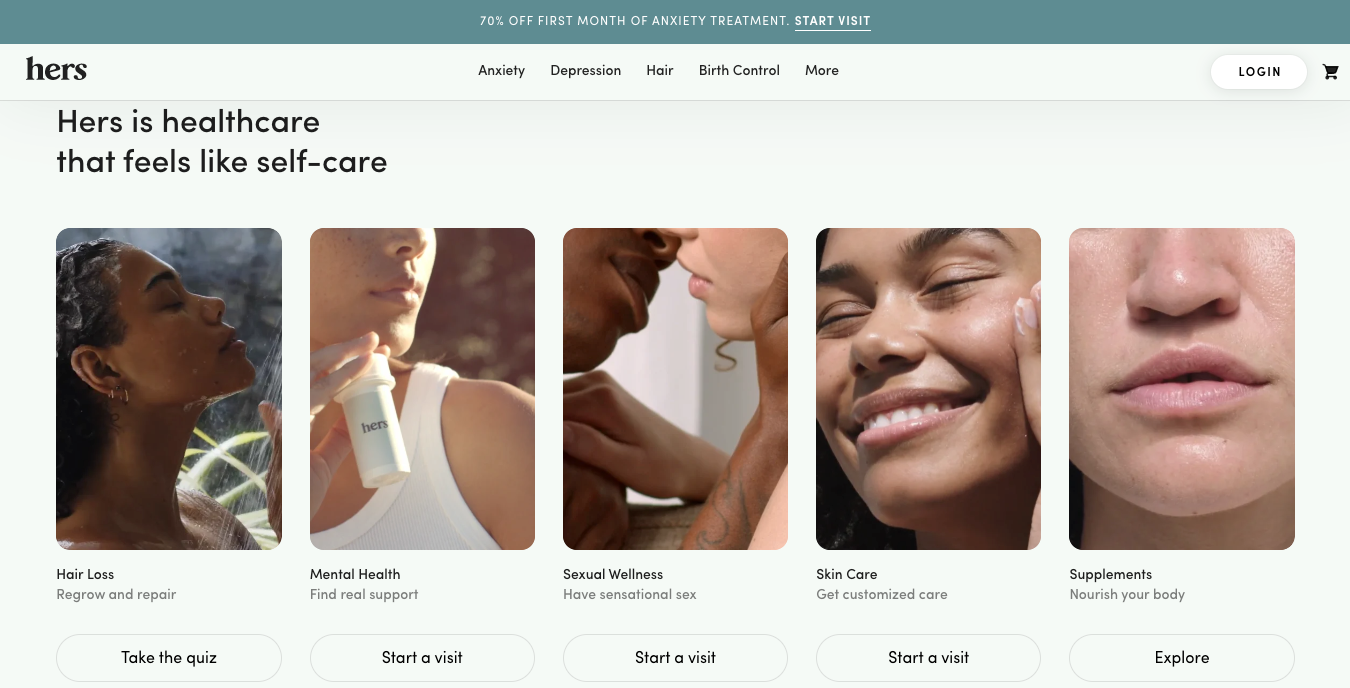 It also sells skin care and hair care products through its online platform and even lets women talk to medical specialists for more specialized hair and skin care.
One in five women experiences a common mental health illness (such as anxiety, trauma, or depression), compared with one in eight men.
Poor mental health is a big concern in women.
And a low-grade and hard to access healthcare ecosystem restricts women to get the ideal and outcome-driven mental health care solutions as per their needs.
But with women health app development, you can shatter all the roadblocks with ease.
Mental health app enables women to connect with a psychiatrist at any time from anywhere.
Moreover, AI and IoT-enabled apps allow females to analyze the progress and can share the data with healthcare professionals in order to get the best outcome.
Birth control pills delivery app
A mobile app makes it very easy for users to order FDA-approved birth control pills from the comfort of their homes.
Features like birth control suggestions, online live tracking, easy online payment, and ePrescription make the customer experience more personalized and private.
You can also tie up with insurers to benefit users financially without losing anything from your pocket.
Pill Club is a game-changing birth control delivery startup that recently raised $42 million.
The most popular business model of women health app development
If you are planning to go for women health app development to build a women wellness app or to build a women health tracking app, you must be worried about your revenue.
So, let us show you the profitable ways all popular femtech apps are making money.
This is the most tested and trusted way to make money with any type of app.
Under the freemium model, you allow your users to use a certain number of basic features for free and to use all features including advanced features, your users need to pay a fixed monthly or annual fee.
Almost all femtech apps allowing women to virtually talk to clinicians charge them a fixed amount for each virtual visit.
Many charges a lower amount for follow-up visits. Many charge a higher amount for virtual visits after midnight and on weekends & holidays.
To offer more value to your users at the lowest possible price, you can launch several subscription plans for different user groups.
For instance, you can launch a skin & hair care subscription plan under which users receive products according to their skin and hair care goals on a regular basis.
How do we build the best women healthcare and wellness app that users have never used before?
We are an Ontario-based healthcare-focused IT company - aiming to solve all technical and compliance challenges of healthcare organizations and startups.
With our most resourceful team of healthcare developers, designers, business experts, and compliance specialists, we build a feature-rich and future-ready femtech app compliant with all data privacy laws.
Compliance has always been our major priority as it is legally mandatory and helps app owners record unbelievable growth with no legal challenges.
We're healthcare-specific and do not entertain other industries. Yes, it does restrict our revenue. But we are more focused on delivering value to our healthcare clients with our healthcare-specific knowledge.
What we can offer you exclusively is peace of mind as we believe to execute a client's project as if it is our own dream project.
Due to this 'we philosophy', we consider your gain as our gain and attempt resiliently to ensure your gain is skyrocketed.
Here giving you a small glimpse of our mindset with a quote we live by …
Client profit lies outside of contract terms. So, always deliver more than expected.