EMR Integration Service: Integrate PS Suite, Accuro, Oscar EMR Into Any System or App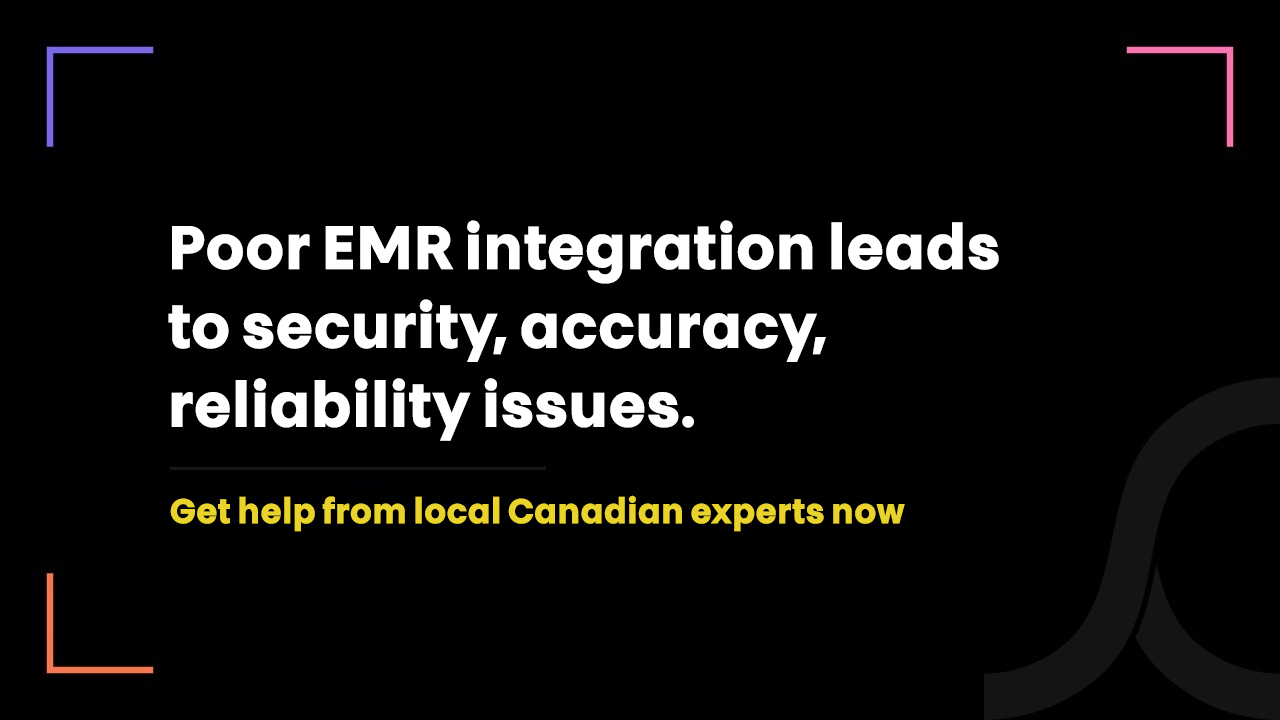 1 year ago
Let's skip the fancy intro and talk only about the real things.
What is an EMR integration service?
EMR is nothing but software that stores a range of crucial patient data such as demographics, medical history, medication, allergies, immunization status, laboratory test results, radiology images, vital signs, personal statistics like age and weight, and billing information.
Without this data, healthcare software, app, website or any system cannot enable physicians to provide quality care to patients.
So, to get patient data provided by EMR on your healthcare app or platform, you have to integrate an EMR into your digital health product.
With successful integration, your digital health product is now able to fetch all patient data from the EMR system.
Ultrasound salesman: Our machines provides state of the art image quality, with ingenious learning algorithms and amazing EMR integration!

Me: Do they trip over their own damn shoelaces??? Isn't it 2019?! pic.twitter.com/JP6zU53EbT

— Adam Nevel, MD MBA (@HoosierMD) September 21, 2019
When should you consider EMR integration services?
The purpose of EMR integration is to enable healthcare professionals to provide a patient-centric care approach in a faster and more efficient way.
Here are some cases in which you must consider EMR integration with other health tech systems.
Want seamless patient data exchange
Want to same clinical hours
Want to reduce the hassle of the data entry
Want real-time patient data access at the point of the care
Want to eliminate the human errors
Want to speed up the care approach
What are the benefits of EMR integration?
EMR integration helps you open numerous possibilities to thrive in the healthcare ecosystem.
And here are some of the top benefits of EMR integration.
Faster and easy access to the patient data
Streamlines the clinical workflows that save time and operating costs
Reduces medical errors that directly improve patient safety
Improves patient care experience and outcomes
Enhance the coordination and collaboration in the ecosystem
Ensure operational efficiency
Up-to-date and accurate documentation and information
What are the major obstacles in the EMR integration process?
It's not easy to integrate EMR with other healthcare IT systems as both technologies hold different functionality and usability.
Thus, challenges arise while integrating EMR into the existing tech solutions.
For instance,
Achieving interoperability is a headache
Compatibility with the existing technologies
Need to create a sufficient data migration process
Integration of the third-party technologies needs close attention as it comes with the data security loopholes
Last but not least, while integrating EMR, the technical experts must adhere to all technical & operational standards and Canadian data privacy laws.
Which are EMR integration standards?
Interoperability - The ability of EMR and your healthcare system to exchange and make use of information - has been the major challenge while integrating EMR.
If we achieve interoperability in a poor way, EMR cannot exchange information with your digital health products securely, accurately and efficiently.
Thus, there is a standard set for achieving interoperability. It is known as FHIR (Fast Healthcare Interoperability Resources).
While carrying out EMR integration, the technical experts must write code according to the standards provided by FHIR.
The following is one of the standards of FHIR.
All exchangeable data must have,
For interoperating between two applications, FHIR also provides several RESTful APIs.
If you're wondering, an API is a pre-defined code that allows two software programs to communicate with each other.
You might have already understood that due to interoperability challenges and FHIR standards, only experts can integrate EMR successfully.
Know how we have ultimate expertise in HL7 consulting and development
Check out these top EMR vendors in Canada
This is one of the most popular EMRs in Canada. It is an easy-to-use and customizable EMR that captures, organizes and displays patient information.
It also lets healthcare providers view healthcare trends over time.
The best feature PS Suite EMR offers is add-on services that allow you to further push the capabilities of EMR.
We've already earned core technical expertise to carry out PS Suite integration exceptionally well.
Canada's third-largest EMR provider - Well EMR Group - provides Oscar EMR known as OSCAR McMaster or OSCAR Pro.
More than 2000 clinics have deployed Oscar EMR and more than 10000 practitioners are using it.
It streamlines clinical workflows and gives access to proven clinical tools. The pricing starts from $199/month.
We accommodate a dedicated team of experienced developers, software engineers and compliance experts who can integrate Oscar EMR while addressing all privacy laws.
This is another very popular EMR in Canada. More than 16000 healthcare providers are using Accuro EMR to get crucial patient data accurately and securely.
The major features of Accuro EMR include patient charts, billing, appointment scheduling, labs and images, forms, ePrescribing, waitlist and clinic reporting.
We also have a mastership to carry out Accuro integration.
How to select the best EMR integration service provider in Canada?
Needless to say that due to technical limitations and complexity, you should hire experts to execute PS Suite integration or Oscar integration.
But before hiring any experts for integration, you should evaluate them based on the following criteria.
Do they help you with database mergers and splits?
Do they test the integrated EMR in real environments?
Do they provide you with basic EMR training?
Do they have prior experience working with a specific EMR?
Do they have expertise with healthcare compliance laws and regulations?
Do they consider FHIP standards while integrating EMR?
Do they provide you with a consultation to select the most appropriate EMR and save costs?
Exclusive insight into how we will execute your project
We're an Ontario-based healthcare-focused technology company.
We've been working with healthcare providers to eliminate their technical and compliance-related challenges.
We have already worked with almost all popular EMRs and integrated them into several digital health products including mobile apps such as telehealth.
The following is the exclusive insight into how we integrate EHR and EMR.
We understand the exact client requirements.
We understand the technical architecture or components of the client's product.
We provide clients with a free EMR consulting service.
We allocate a dedicated technical team - led by any of our executives.
The technical team integrates the EHR/EMR while addressing all compliance requirements and standards.
The QA team tests it in real environments.
Once approved by our QA team, the technical team makes it live.
The support team provides post-implementation support.
So, whether you're looking for PS Suite integration, Oscar integration, Accuro EMR integration or integration of any other EMR, we are here to help you with our technical expertise.