Healthcare App Development: Things to Consider for Developing a Healthcare App in Ontario, Canada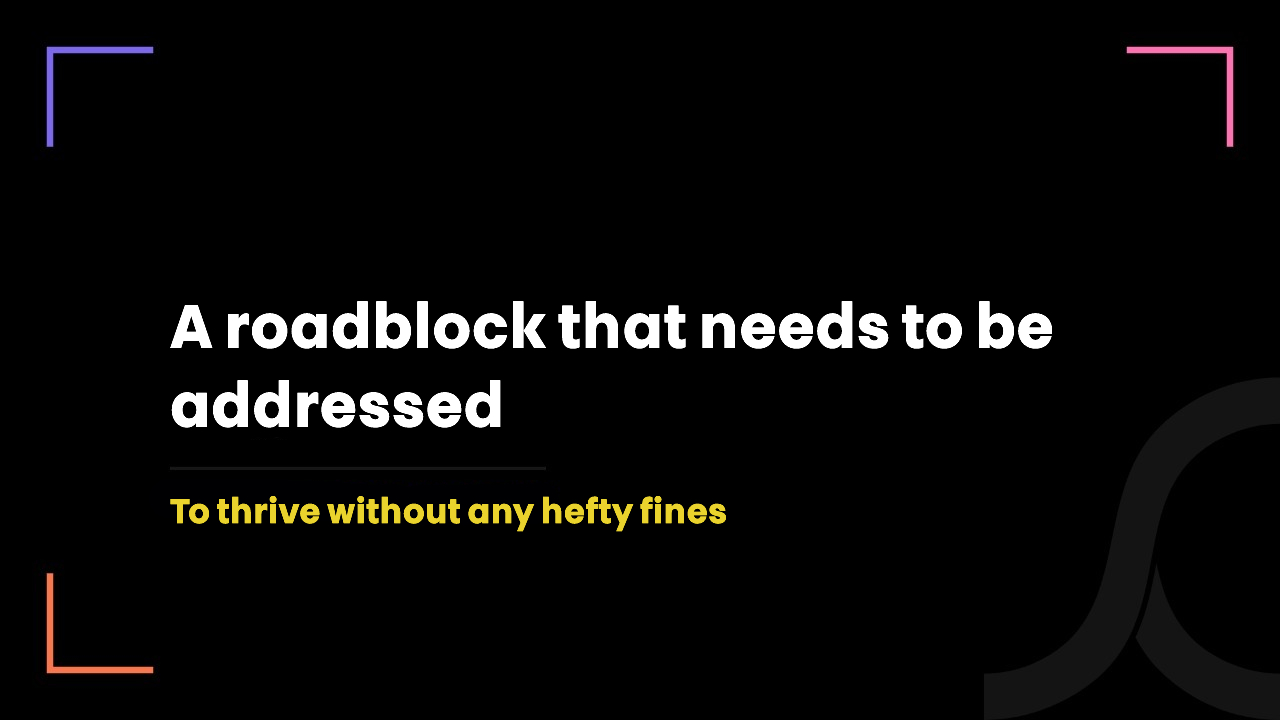 4 weeks ago
The global healthcare app development market is on the way to the Moon! 🚀
Because mHealth apps are becoming a new diagnostic tool for healthcare professionals.
As per the Grand View Research, "It was valued at USD 38.2 billion in 2021 and is expected to reach USD 105.9 billion by 2030".
But, what's the reason behind this skyrocketing market?
Global leaders are promoting the digital health tech
Lowering the medical staff burnout
As a result, global healthcare entrepreneurs are sensing this booming market as a perfect business opportunity.
But, they are clueless about the development, business, and compliance complexity of healthcare app development. So, the future of those healthcare startups is just full of roadblocks.
Hence, being one of the top app development companies in Ontario, we have written this blog with the solid purpose of not letting you avoid the critical aspects of healthcare app development so that you can drive your mHealth app business on autopilot mode, just like Tesla!
Healthcare Apps that are Currently Ruling the Market
To thrive without losing gear, you must have a clear sense of the current state of the mHealth app market.
Thus, we have mentioned the top-performing mHealth app types to assist you in every possible way.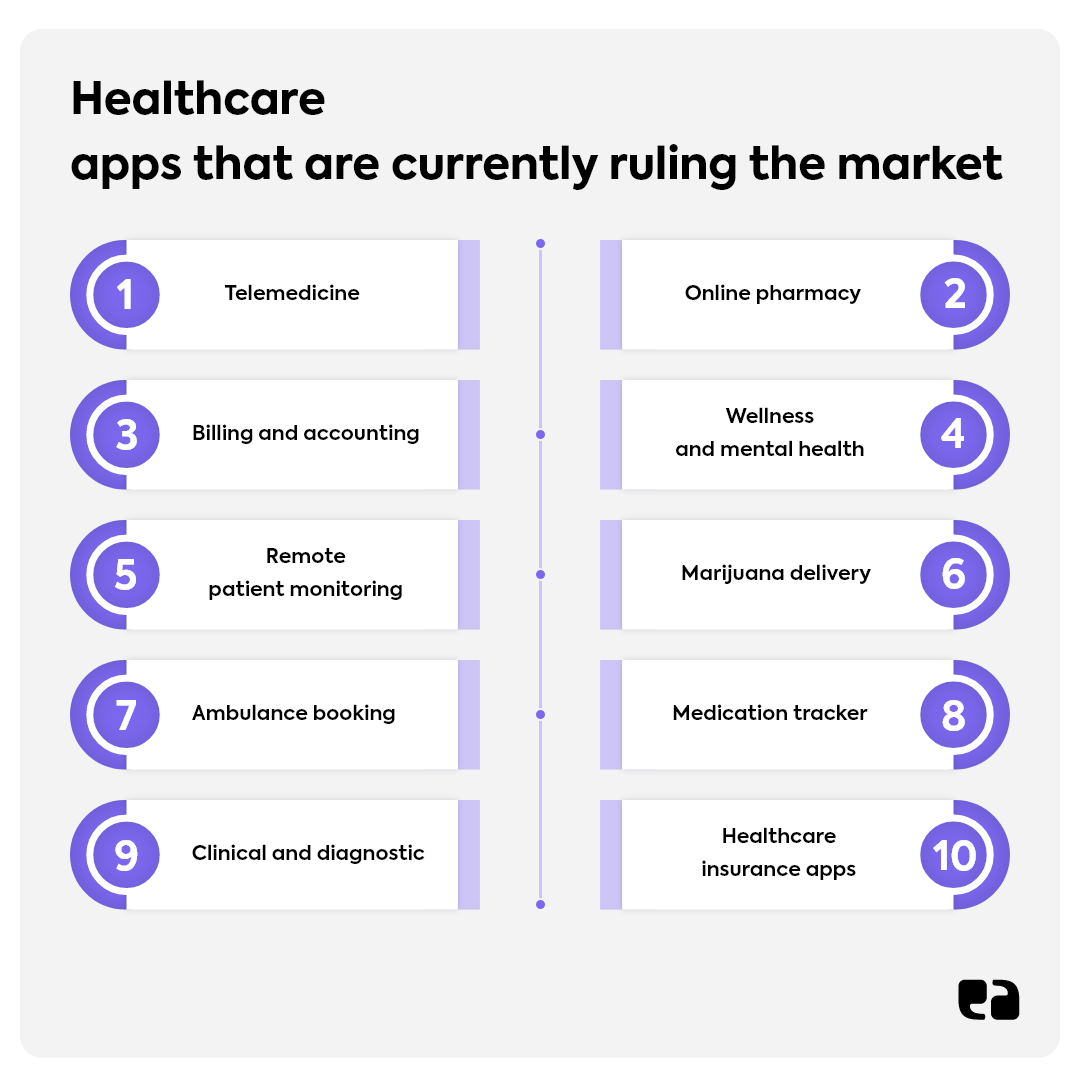 #1. Telemedicine or telehealth apps:
It has allowed healthcare professionals to deliver comprehensive and outcome-driven care solutions beyond the four walls.
Telemedicine apps let patients connect with healthcare specialists via chat, voice, or video conferencing. It eliminates the need for live-in person visits along with reducing the traveling costs and time.
For instance, telemedicine for,
"Mental health is bucking the overall trend in #telehealth utilization. A new report found that telehealth accounted for 87% of #mentalhealth appointments booked last month."#telemedicine #MentalHealthAwareness #publichealthhttps://t.co/5u5SRsdWNr

— Ria Health (@RiaHealthSF) June 24, 2022
You must also read: Explore our white-label telemedicine solutions
#2. Online pharmacy apps:
According to Global News Wire, "Online Pharmacy Market will hit $182.22 Billion in the Next 5 Years".
An online pharmacy app is a convenient way to reduce medical costs and time for patients.
In addition, e-prescription notes, doorstep delivery, and speaking directly to pharmacists are common features.
#3. Billing and accounting apps:
It gives more flexibility to the healthcare facilities in managing all the financial information related to medical bills, payroll of the staff, insurance, and medical equipment purchases.
#4. Wellness apps:
1. Apps that Improve Wellness
mHealth apps play a critical role in the betterment of healthcare and delivering practical benefits to prevent, cure and manage diseases. #mHealthKE#SheMakesHerSafeChoice pic.twitter.com/iYaLehGNMh

— 🆀🆄🅴🅴🆁🅵🅸🅴🅳 🌈 (@Fahe_K) April 30, 2021
Healthcare app development is no longer only about medical solutions.
Using wellness apps, patients or individuals can maintain their daily well-being hassle-free.
For instance,
Diet planning and tracking apps
#5. Remote patient monitoring apps:
Learn how our Remote Patient Monitoring products are being used in NY State hospitals. https://t.co/pJPTPsDFyi #telemed #hipaa #patientcare #telemedicine #health #telehealth #HealthIT #remotemonitoring #DigitalHealth #healthcareIT pic.twitter.com/VpeTMKoz3j

— YouThisMe (@YouThisMe) June 29, 2022
Remote patient monitoring apps are decoding the real-life concerns of patients and the entire healthcare ecosystem.
It allows medical experts to keep track of their patients' real-time medical conditions at any time, from anywhere.
Following are the other healthcare app ideas.
Clinical and diagnostic apps
Healthcare insurance apps
Deliver the Experience with these Outcome-Driven Integrations
There is healthy competition in the mHealth app market.
To conquer the market presence and draw the attention of the user, you need to do something epic that delivers true value to the patients, care providers, and the entire healthcare ecosystem.
It is only feasible when you implement or integrate existing healthcare technologies in a healthcare app development.
So, let's explore them in detail.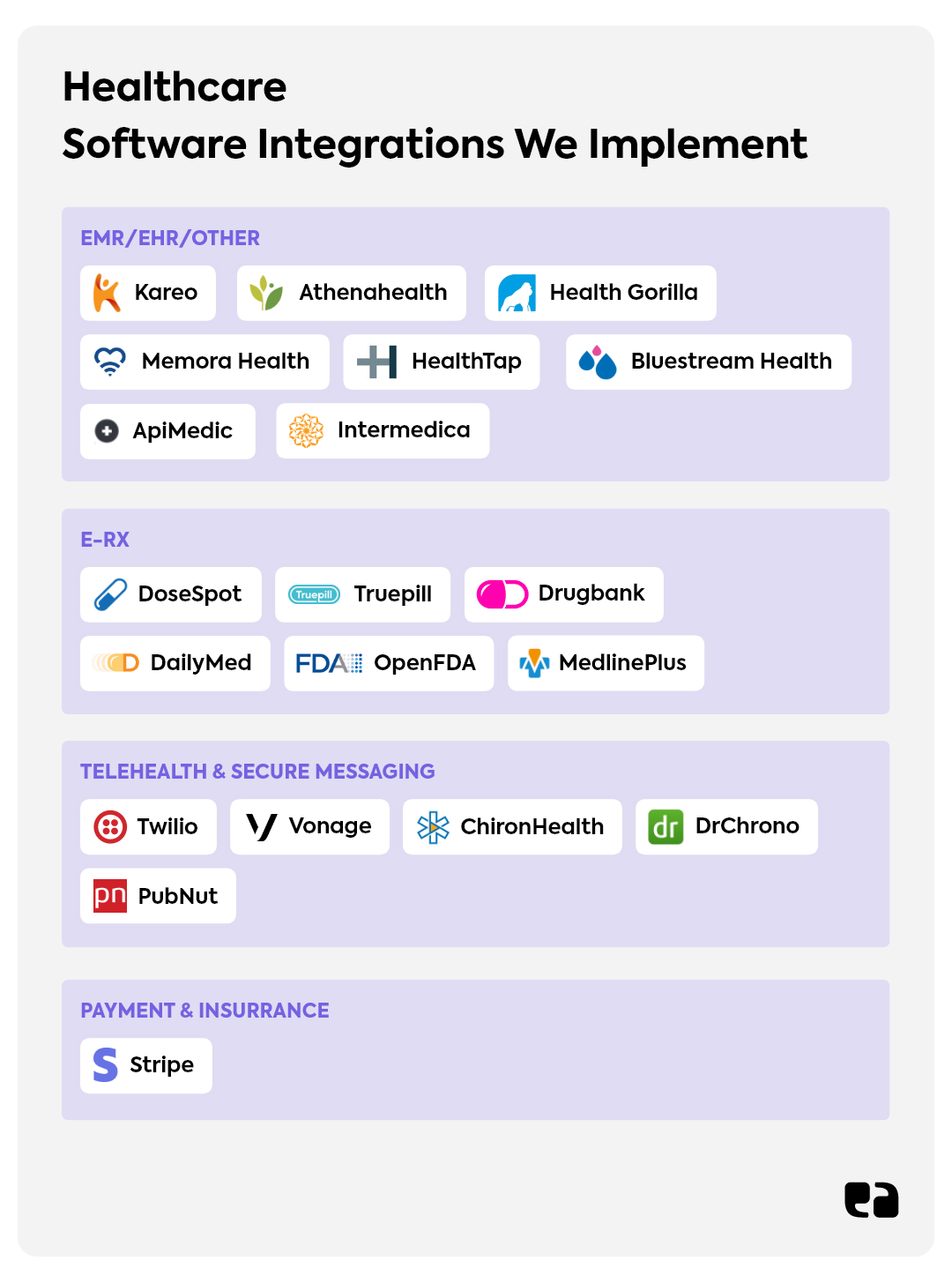 Okay. So, What are the Challenges in Healthcare App Development?
One thing we have observed in our 8+ years of journey as one of the top app development companies in Ontario is that mHealth apps are meant to be performed in an intense healthcare environment.
Thus, healthcare app development is not a straightforward process to perform.
And here is the reason why.
Data is a new way to analyze, predict, and decode patients' healthcare-related concerns. That's the reason, the mHealth app contains a massive amount of data to perform care solutions more efficiently and effectively.
It is essential to protect that data from cyber criminals so that you can sidestep data breaches and hefty fines arrows.
So, you need to make sure that you hire a healthcare-specific development company that has a proven mastership in avoiding data privacy concerns.
Seamless and accurate data exchange between the mHealth apps and other health tech systems is a must to improve the care outcomes and diagnosis approach.
To do so, achieving interoperability is the most crucial aspect. However, there are only a few health tech experts who hold an in-depth knowledge of the HL7 and FHIR standards which are key aspects in executing interoperability.
You must also read: Hire HL7 consultants and developers
Healthcare App Laws to Consider to Develop a Healthcare App in Ontario
Developing a healthcare app that satisfies all legal norms federal and state governments have imposed under different acts is an uphill battle.
Giving a cold shoulder to healthcare app legislation can leave you in a legal battle and make you liable to a many thousand or sometimes millions of dollars fine.
Sensing the gravity of the situation and being one of the top app development companies in Ontario, we will list 5 key considerations that you should keep in mind to develop a healthcare app in Ontario, Canada while satisfying all laws.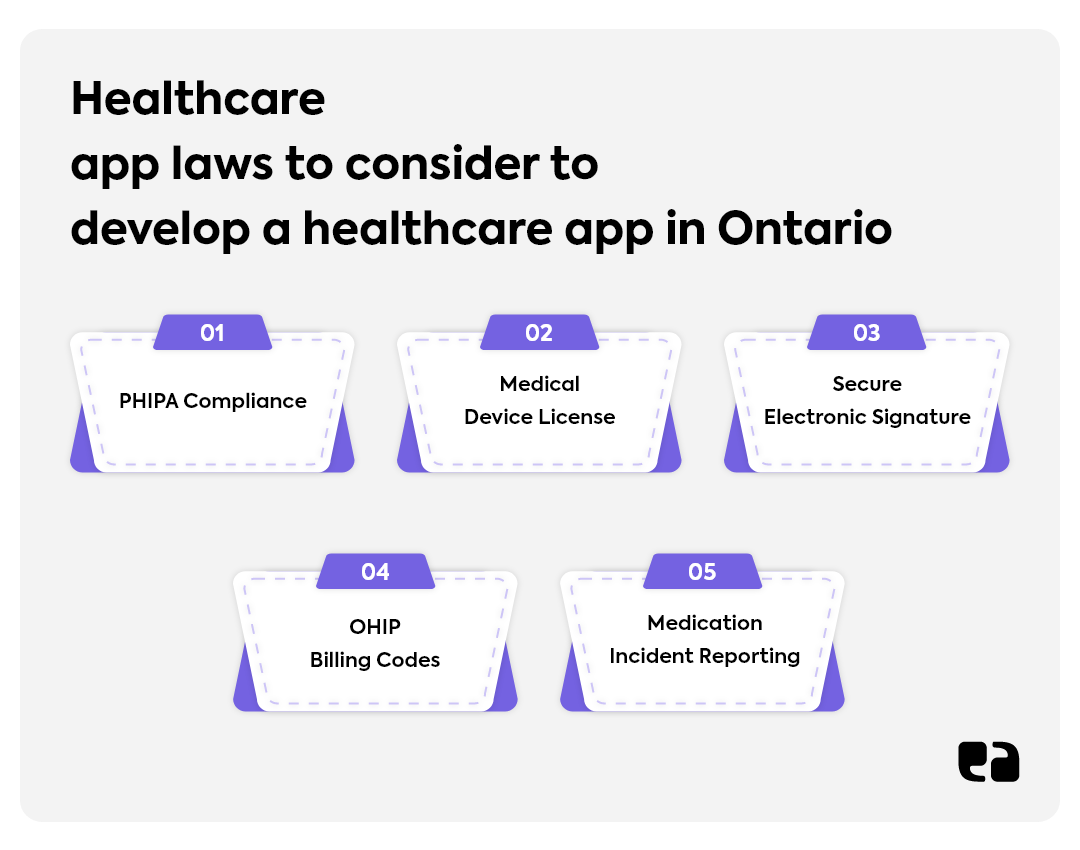 #1. PHIPA Compliance:
PHIPA, known as the Personal Health Information Protection Act, was established in 2004 to govern personal health information.
PHIPA establishes the rules for data collection, data use, and disclosure of the personal health information of the patients.
Your healthcare app should be PHIPA compliant.
If an individual is found guilty of committing an offense under PHIPA, he or she can be liable for a fine of up to $200,000 or up to one year in prison, or both.
And if an organization commits an offence under PHIPA, it can be liable for a fine of up to $1,000,000.
#2. A Medical Device Licence:
If your healthcare app involves medical devices to collect information, a medical device license needs to be granted by Health Canada before marketing for apps in higher-risk categories.
However, lower-risk apps that use medical devices to collect a few basic data such as weight do not require a license. 
What makes getting a medical device license a challenging task is the fact that, unlike in the UK and USA, a specific guideline about which types of mobile apps fall under each medical device category is lacking in Canada.
#3. Secure Electronic Signature:
A healthcare app sends many crucial documents, especially prescriptions to different healthcare entities over the Internet. In such a scenario, there should be a module or mechanism which authenticates that document.
To address this challenge, you have to implement a unique prescription authorization process that acts similarly to a password.
It generates a digital signature on each prescription as a prescriber generates it electronically.
#4. OHIP (Ontario Health Insurance Plan) and OHIP Billing Codes:
Canada has one of the most refined healthcare systems.
The OHIP is the government-run health insurance plan for Ontario. Any Ontario resident is entitled to access healthcare services including emergency care and preventive care under OHIP free of charge.
In other words, the physicians who diagnose patients are paid by the government, not patients.
This means you should integrate a module in your healthcare app to enable physicians to submit invoices of who they diagnosed.
For that, your app should support OHIP billing codes. Each healthcare service physicians provide corresponds to a fee billing code with a specific dollar amount.
#5. Medication Incident Reporting
A medication incident is nothing but a mistake with medication.
Medication incidents generally include obvious things like receiving the wrong dose.
If such an event happens in your healthcare organization due to a system error or transcription error, you should generate the medication incident report which is compulsory.  
Medication Incident Reporting (MIR) provides healthcare professionals with a means to document and submit the incident.
So, to enable your team members to submit a medication incident report quickly, the admin panel of your healthcare solution or app should be equipped with a MIR module and you should also train your team members to generate a medication incident report. 
We Deliver Peace of Mind in the True Sense (It Takes Us 8+ Years to Master That)
We are a full-fledged one of the best app development companies in Ontario.
We deliver value in our result-driven healthcare IT solutions.
We keep our nose out of the healthcare IT mess as it is the only thing we have been doing for the past 8+ years.
We believe in quality over quantity and that's the reason we have healthcare-specific technical, business, and compliance specialists on our team.
We focus on the change rather than the problem to help you get the best results.