Top 7 Healthcare Unicorn Startups and Lessons You Can Learn From Each of Them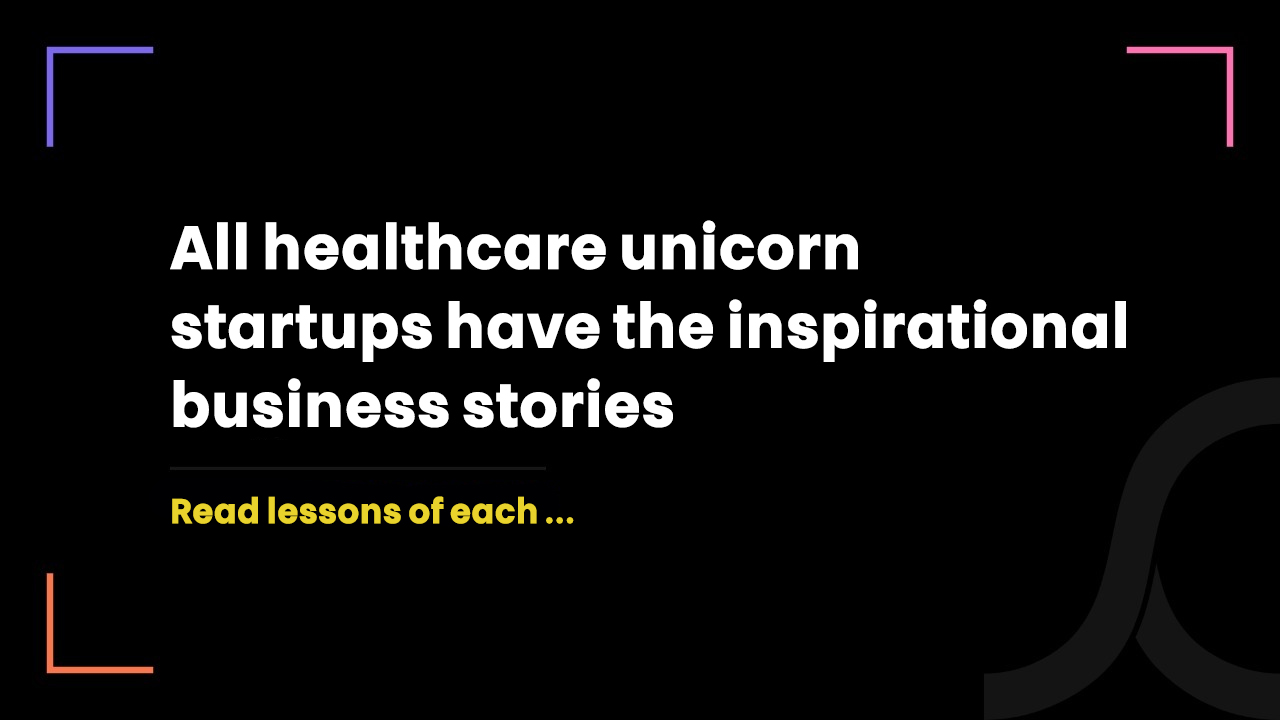 2 years ago
They are unique. They are creative. They are tech-savvy. They are inspirational! 
Each healthcare unicorn startup has a pile of business lessons that you can learn and apply to your healthcare startup.
So, to help you learn many lessons of many startups in one place, we are listing them out for you. 
Fun Fact: 87% of unicorns' products are software or mobile apps!
Learn business lessons from these top healthcare unicorn startups 
1. Noom Health 
HQ: USA
Last Funding: $540 million in series F
Valuation: $3.7 billion
Noom Health provides an app to users for losing weight by focusing on behaviour change. Based on user goals and eating habits, it suggests personalized tips and tricks with verified resources to users.
It also offers a personal coach to achieve goals quickly. Users can even easily log what they are eating by scanning the barcode or by adding details manually.
After raising a whopping $540 million in its series F of funding round, it now plans to focus on other areas such as stress, anxiety, diabetes, hypertension and sleep.
On Google Play Store, it has an overall rating of 4.4 out of more than 266,000 ratings.
Learning: You can be a unicorn with a mobile app. However, your mobile app must be equipped with all features around exact user needs and must target a widespread challenge among users, e.g., weight loss!  
2. Carbon Health
HQ: USA
Last Funding: $350 million
Valuation: $3.3 billion
Carbon Health is America's largest primary care provider with robust technology infrastructure.
It offers in-person primary care, virtual care, virtual urgent care and virtual mental care. Its powerful web app and mobile app enable users to book appointments seamlessly and access every little detail regarding their health.
Carbon Health utilizes cutting-edge technologies to save clinical hours, reduce errors and offer quality care.
Some of the technologies Carbon Health is using are,
AI and machine learning for accurate diagnosis
In-app messaging to get second opinions
Virtual care technology for remote, rapid and secure care
Integration with electronic prescribing and labs
Detailed analytics for every step of the patient and doctor interaction
Learning:
The only practical way to conquer the healthcare market is the use of technology in every basic clinical and administrative workflow of clinics and hospitals. 
3. Ro Health
HQ: USA
Last Funding: $500 million in series D
Valuation: $5 billion
Ro Health is a health and wellness company that calls itself a telehealth company.
With its intuitive platform, it diagnoses patients virtually, prescribes them and even sends medicines to patients' doorstep.
Meaning, from consultation to prescription and medicine delivery, it streamlines the entire patient journey of the patients.
The best business strategy of Ro is to offer multiple medical and wellness services under different brands such as,
Roman = Digital health clinic for men
Rory = Digital health clinic for women
Zero = Smoking cessation
Ro Pharmacy = Online pharmacy
Plenity = Weight management
Workpath = On-demand, in-home healthcare
HealthGuide = Health information destination
Learning: If you are planning to build a healthcare app or software in 2021, make sure you build a multi-purpose platform with which you can offer multiple healthcare and wellness services. Because, the more revenue streams you generate, the more revenue you make!
You should read: How to start a health tech startup like Ro Health?
4. Hims and Hers
HQ: USA
Last Funding: $280 million at IPO
Valuation: $1.6 billion
Hims and Hers is a publicly-listed telemedicine company that runs two separate brands - Hers for the health and wellness of women and Hims for the health and wellness of men.
It is the second-fastest startup to gain unicorn status after a micro-mobility startup named Bird.
For your context, it has become a unicorn healthcare startup within 1.5 years since its inception and went public within 3 years since its inception.
Users using its web app can connect to doctors to solve their major wellness issues such as hair fall, skin, mental health etc.
Hims and Hers also runs an online over-the-counter pharmacy. Such an approach makes them generate more revenue per user or increase the unit economics.
Because many times people having wellness problems can be solved with over-the-counter drugs and since users receive such drugs from the same platform, they would buy it straight away.
Learning: You need to solve gender-specific challenges of users because healthcare for women and men are two different things. Also, to be a unicorn startup, you don't always need a mobile app. The web app can also do wonders for you if it is developed well. 
5. Lyra Health
HQ: USA
Last Funding: $200 million
Valuation: $4.6 billion
Lyra Health is one of the few mental health unicorn startups. It offers evidence-based mental health services to companies for its employees.
It provides both in-person and virtual mental health care to employees around the globe. It uses AI technology to connect patients to therapists and coaches. Users can also access validated resources in form of worksheets, reading material, quizzes and access to the Calm app.
Lyra platform tracks the progress of employees which their employers can see from their dashboard. During the pandemic, Lyra has witnessed unprecedented growth as awareness around mental health at the workplace has been increasing rapidly.
Learning: To gain more users, you can target employers. Several healthcare startups follow the same strategy and implement a 1:100 user acquisition plan. They charge a fixed amount per employee and make a huge profit! 
6. PharmaEasy
HQ: India
Last Funding: $350 million in series F
Valuation: $1.2 billion
PharmaEasy operates its online pharmacy and online medical store business in the world's second-most populous market, India.
Users can order medicines from its web platform or mobile app. Users can also buy several wellness and healthcare products as well as medical devices online using PharmaEasy.
PharmaEasy offers its door-step and contactless delivery options to more than 1000+ cities of India.
To generate extra revenue, PharmaEasy has tied up with labs and allows its users to book lab tests in a nearby lab. Its lab tests include COVID antibody test, full body checkup, essential vitamin check, etc.
Learning: An online pharmacy must not only offer medicine delivery. It should start a healthcare eCommerce store, online lab, telemedicine clinic and online over-the-counter pharmacy to dominate the market.
You must read: How to start an online pharmacy or sell medicine online?
7. Zocdoc
HQ: USA
Last Funding: $130 million in series D
Valuation: $1.8 billion
Zocdoc is a New York-based healthcare IT startup that offers both web app and mobile app to find and book nearby doctors for in-person or virtual care.
Its platform also functions as the database to help patients compare different providers, their fees and the insurance they accept. Thus, we can also call it the marketplace for doctors.
Users can search providers by searching them based on symptoms, specialty, visit reason, or doctor's name, along with their location and insurance information.
It also offers a check-in feature, enabling patients to fill out medical forms online before in-person or virtual appointments.
Learning: Healthcare marketplace is the future! Marketplace for telemedicine, marketplace for pharmacies, marketplace for caregivers, marketplace for walk-in clinics, marketplace for everything possible in healthcare and wellness!
You must read: How to build a clinic marketplace with wait time tech?  
Looking for healthcare developers, designers, compliance experts for your healthcare startup to grow?
We're an Ontario-based healthcare-focused IT company. Yes, we only entertain healthcare IT projects and that's what makes us exclusive and wonder-maker for healthcare tech startups.
We accommodate dedicated healthcare app developers, designers, business analysts and even compliance specialists who have only worked on healthcare IT projects throughout their career. 
Our entire team shares the same passion for uplifting the healthcare industry using cutting-edge technology and space-age mobile apps and software.
We have been dealing with healthcare IT for more than 7 years and have worked with several providers and healthcare startups. 
We can help you with idea validation, UI/UX design, workflows, compliance, development, QA,  launch and support. 
So, let's have a productive discussion and allow us to present you with a roadmap for bringing your idea into reality.