Planning to Implement & Launch Telus Kroll PharmaConnect White-Label? Here is How We Make it Easy for You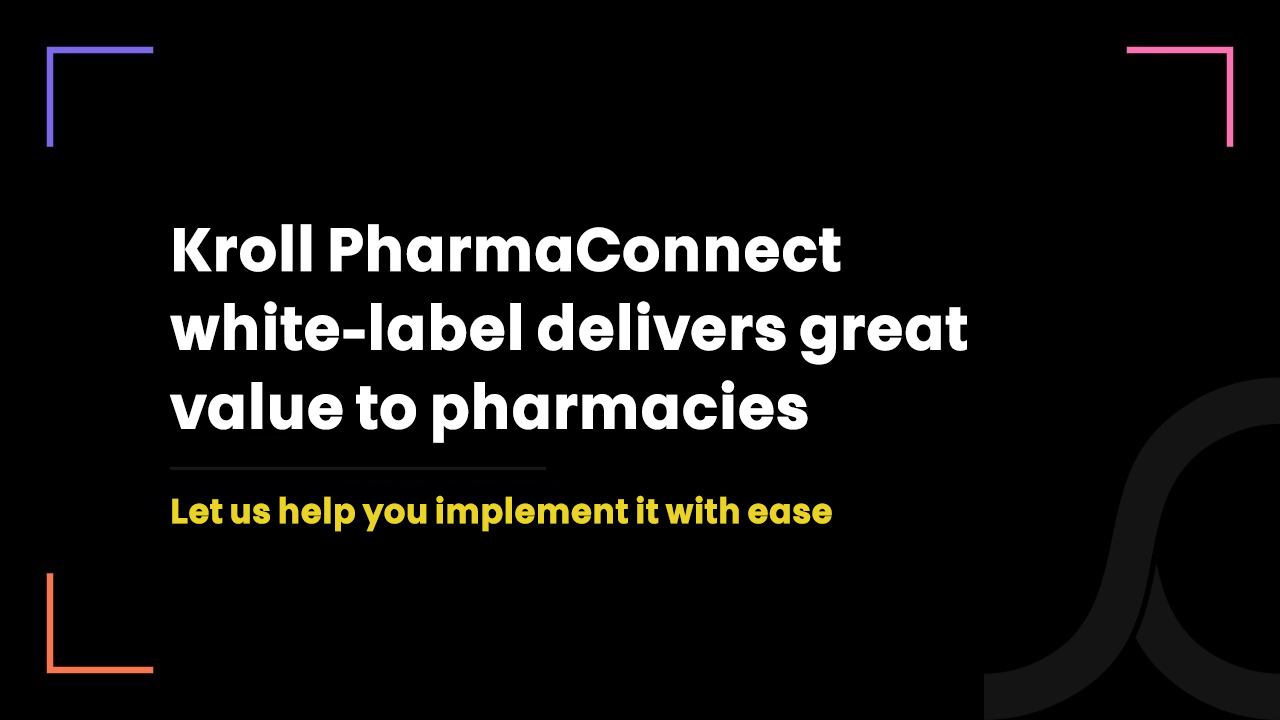 5 months ago
For pharmacies, it is more urgent than ever to have a mobile app because that's what their customers are demanding - especially after customers have adopted several online means for ordering and managing essential items during the pandemic.
However, building a custom app for pharmacies is a costly affair. And if they somehow manage to find an affordable app development service, Kroll integration with a pharmacy app is a major technical challenge stopping pharmacies from leveraging the app to its full potential.
Kroll's PharmaConnect app eliminates all such challenges for pharmacies in a single shot. It offers a feature-rich ready-to-use app integrated with Kroll PMS, with customization options and at a very affordable fee.
This is called delivering great values!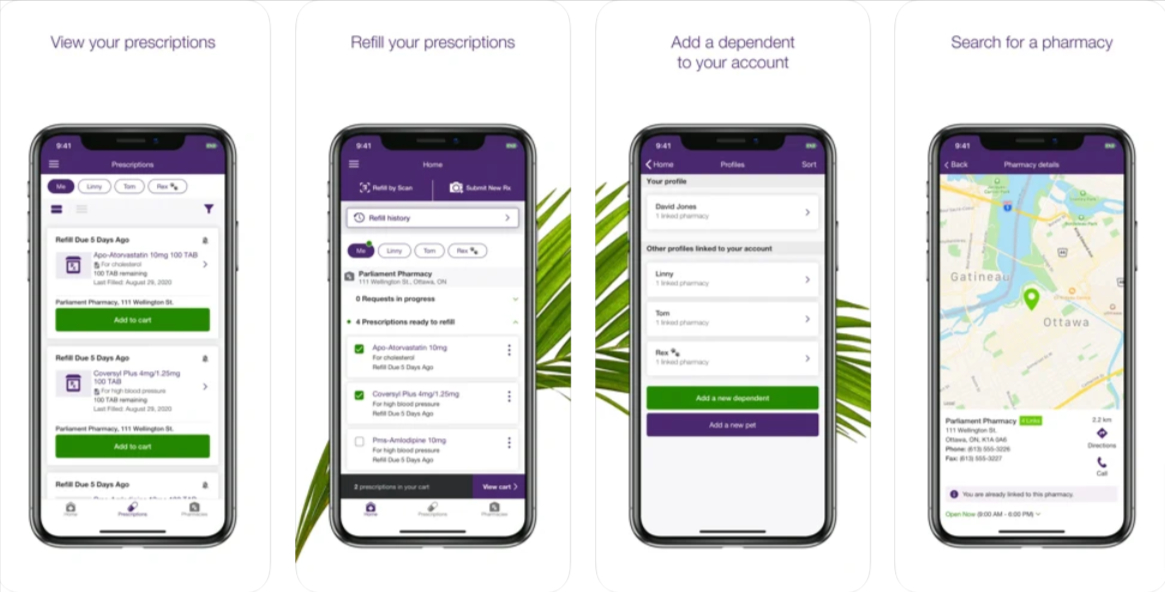 Here is how the PharmaConnect app delivers great value to all pharmacies
We've been serving the Canadian and USA healthcare IT industry for more than 8 years and during the pandemic, we have observed that more healthcare providers and entities are opting for digital healthcare solutions.
The following are the top reasons why the Kroll PharmaConnect app is largely adopted by pharmacies across Canada.
Both in the short run and long run, the cost of Kroll PharmaConnect is very affordable. For instance, Kroll charges only $650 as a one-time setup fee and $150 as a monthly subscription fee for the PharmaConnect app.
In return, pharmacies get access to the PharmaConnect app which they can share with their customers to let them place new prescription orders or place refill requests online.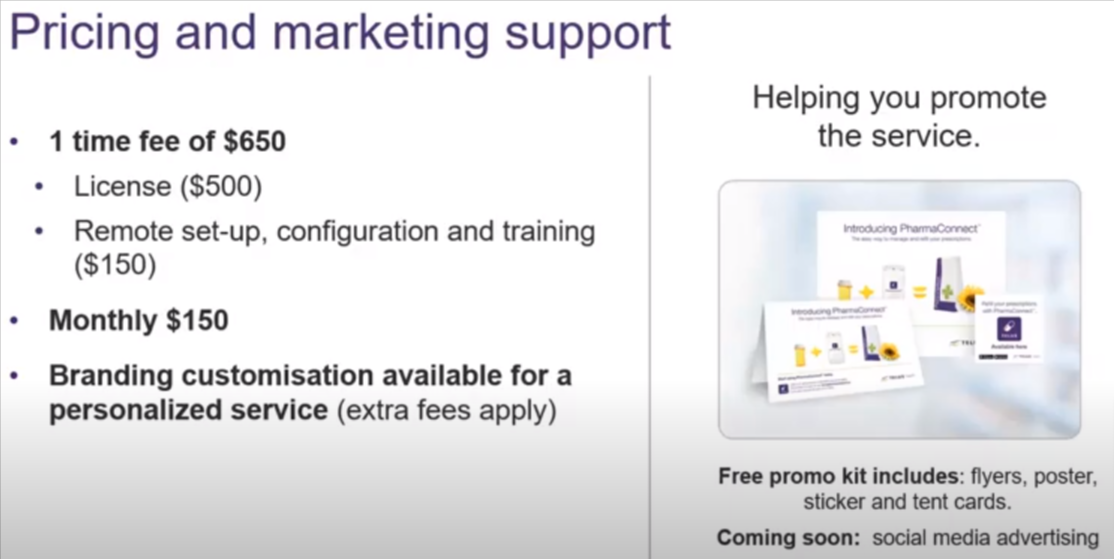 Great personalized user experience
Every healthcare provider and entity including pharmacies wants to deliver a personalized experience to patients because that's the most tested way to acquire and retain more patients or customers.
Kroll PharmaConnect app was developed while considering every small need of the patients or users in mind which reflects in its feature set and UI. This leads to more user engagement and a remarkable user experience.
Customization or white-label
Kroll offers flexibility to customize the PharmaConnect app as per unique needs and branding options. So, those pharmacies who are looking for their own app with full ownership can partially skip the design and development lifecycle and get a custom-like app in a short time.
We help you here - to define a theme or UI, prepare workflows, check compliance, and launch it on Google Play Store and Apple App Store. (We'll explain our role in detail further in this blog.)
Understand how the PharmaConnect app works
The underlying purpose of the PharmaConnect app is to make prescription management and refill convenient for patients and efficient for pharmacy teams.
Here is how it works.
Patients sign up by scanning the QR code printed at the pharmacy or by adding the registration code provided by the pharmacy.
Once they sign up, they can now explore all of their ongoing prescriptions.
To submit a prescription refill request, patients simply need to click below the prescription which they want to refill.
Every prescription refill request or a new prescription order is automatically added to Kroll PMS due to Kroll PMS integration with PharmaConnect.
If the prescription is new, patients can simply take a picture of it and submit it.
Before submitting the order, patients can choose the time slot to pick it up from the pharmacy.
Features that add extra clinical value to the PharmaConnect app
PharmaConnect app is equipped with very useful and game-changing features that ease medication management tasks at the patients' front and medication processing tasks at the pharmacies' front.
Users can easily sign up by scanning the QR code printed at a pharmacy or adding the registration code provided by the pharmacy.
Users are able to access all of their ongoing prescriptions.
There is a very purposeful feature that enables users to place new prescription orders by simply uploading the image of the prescription.
Users can very easily place refill requests for current prescriptions.
Users have the option to select their preferred time to visit the pharmacy and pick up the prescriptions. 
Direct data sharing between the app and Kroll PMS
Every new prescription order or prescription refill request is added automatically to Kroll PMS for easy prescription processing.
This is its best feature, thus it is worth discussing in a comprehensive way.
PharmaConnect app integrated with Kroll PMS = No manual data entry to Kroll PMS!
If you are a pharmacist, you must be aware of how useful Kroll PMS is. It streamlines workflows and eliminates the scope for medication errors. That's why the Kroll team integrates its Kroll app with your Kroll PMS.   
If the PharmaConnect app had not been integrated with Kroll PMS, you would manually have to add every prescription detail - received through the PharmaConnect app - into your Kroll PMS and then process it which is a tedious and time-consuming task.
But since the PharmaConnect app is integrated with Kroll PMS, every new prescription order or refill request - made by patients using the PharmaConnect app - is automatically added to a Pharmacy's Kroll PMS, more specifically in its to-do list.
And as a result, you can easily process the prescription from your Kroll PMS itself without wasting time in data entry to Kroll PMS.
You should read this: Kroll Integration Guide
3 key benefits of using PharmaConnect white-label
1. Enhanced brand recognition
By using a white-label solution, pharmacies can create their own branded app that reflects their unique identity and values.
This can help increase brand recognition and customer loyalty, as well as create a competitive advantage over other pharmacies.
2. Greater revenue potential
With Kroll PharmaConnect white-label, pharmacies can expand their services beyond the traditional brick-and-mortar model.
It allows them to reach a wider customer base and increase revenue potential.
By offering a mobile app, pharmacies can attract more customers who prefer the convenience of ordering and managing their prescriptions online.
3. Enhanced data analytics
By using a mobile app like Kroll PharmaConnect, pharmacies can collect valuable data about patient behavior and preferences.
This data can be used to improve services, create targeted marketing campaigns, and enhance overall patient care.
Going to implement PharmaConnect white-label? Leave all UI, workflows, documentation, licensing & app launch burdens on us and fast-track the process by 3x.
We, an Ontario-based healthcare-focused IT company; have been working with pharmacies and healthcare providers for more than 8 years. 
We in fact have on-hand experience working with the Kroll team and Kroll products including PharmaConnect.
If you are going to acquire a white-label PharmaConnect app, you will most likely face several challenges around the UI or themes of the app, workflows, documentation, licensing, and app launch on PlayStores. 
Our dedicated healthcare IT experts help you as consultants and execution partners in overcoming all these challenges so that you can keep your focus on daily pharmacy operations.
Our UI/UX designers will prepare the UI or theme for white-label.
Our business analysts will prepare documentation and workflows - useful for seamless data sharing between your Kroll PMS and PharmaConnect app. They will also help you with licensing part.
Our compliance specialists will make sure your pharmacy is still compliant with privacy laws after deploying a digital solution in the form of PharmaConnect.
And our healthcare developers will launch your app on Google Play Store and Apple App Store.
In other words, we burden all of your challenges and make sure you get everything out of the white-label Kroll app.
Still, have doubts? Read our micro-guide to get started with PharmaConnect