White Label Marketplace Software: Get Your Own Branded Multi-Vendor Marketplace Solution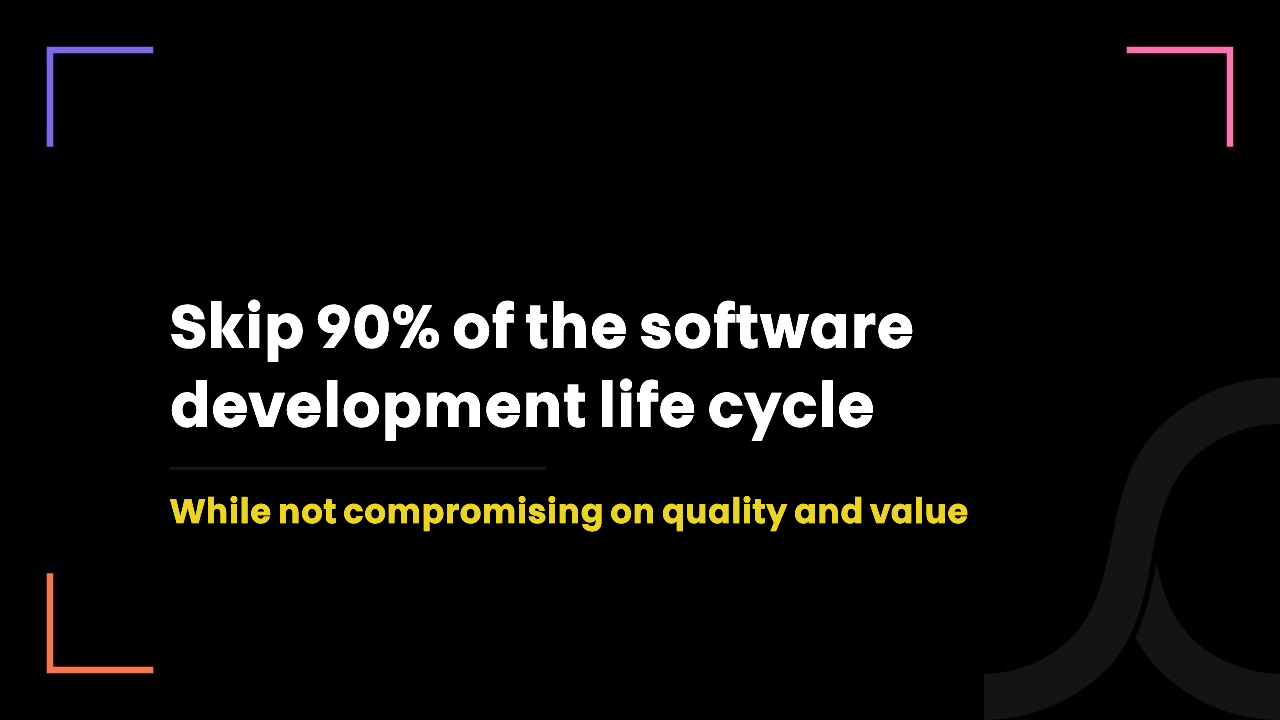 8 months ago
We're an Ontario-based healthcare-specific IT company.
For the past 8+ years, we have been entertaining health tech projects for – startups, enterprises, organizations, and individuals.
When we say healthcare-specific, we are also talking about our 50+ team of healthcare business, technical and compliance experts too!
And we recently launched a white label marketplace software for multi-vendor businesses.
So, in this blog, we have shared everything about it!
A quick overview of our white label marketplace software
We have a web-based multi vendor marketplace software.
Means, you and your users can access and use the platform from any browser, any device.
Since it is a web-based solution – it simply helps you attract a large user base from search engines like Google, Bing etc.
Besides, it is a white label marketplace software.
That means – you can customize the software according to your unique needs.
These unique needs may include,
Branding
Features and functionalities
Workflow
Compliance
Usability
UI/UX
For a better understanding, the following are the real-screen images of our platform.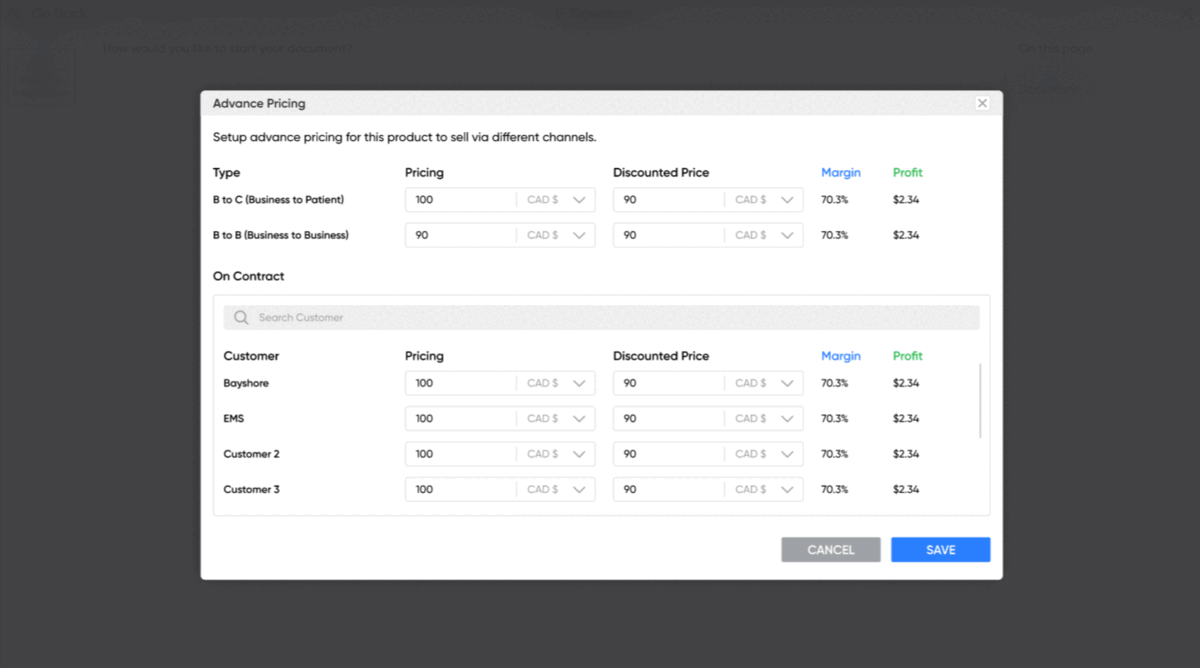 (Note: This is not the final UI/UX of our solution. The final screen may vary as we regularly customize the software according to the unique needs of our clients.)
The multi-user architecture of our B2C and B2B marketplace software
When we built it – the purpose was to sell experience. Not just a product or solution.
And the multi-layer architecture is the perfect example of it.
With this feature, it is not just software but an entire ecosystem!
Because it comes up with a separate web portal for each user (supplier, vendor, your team and customer) so that they can perform their respective tasks smoothly and efficiently.
To get a more sense of it, explore the below image of multi-user architecture for the medical marketplace.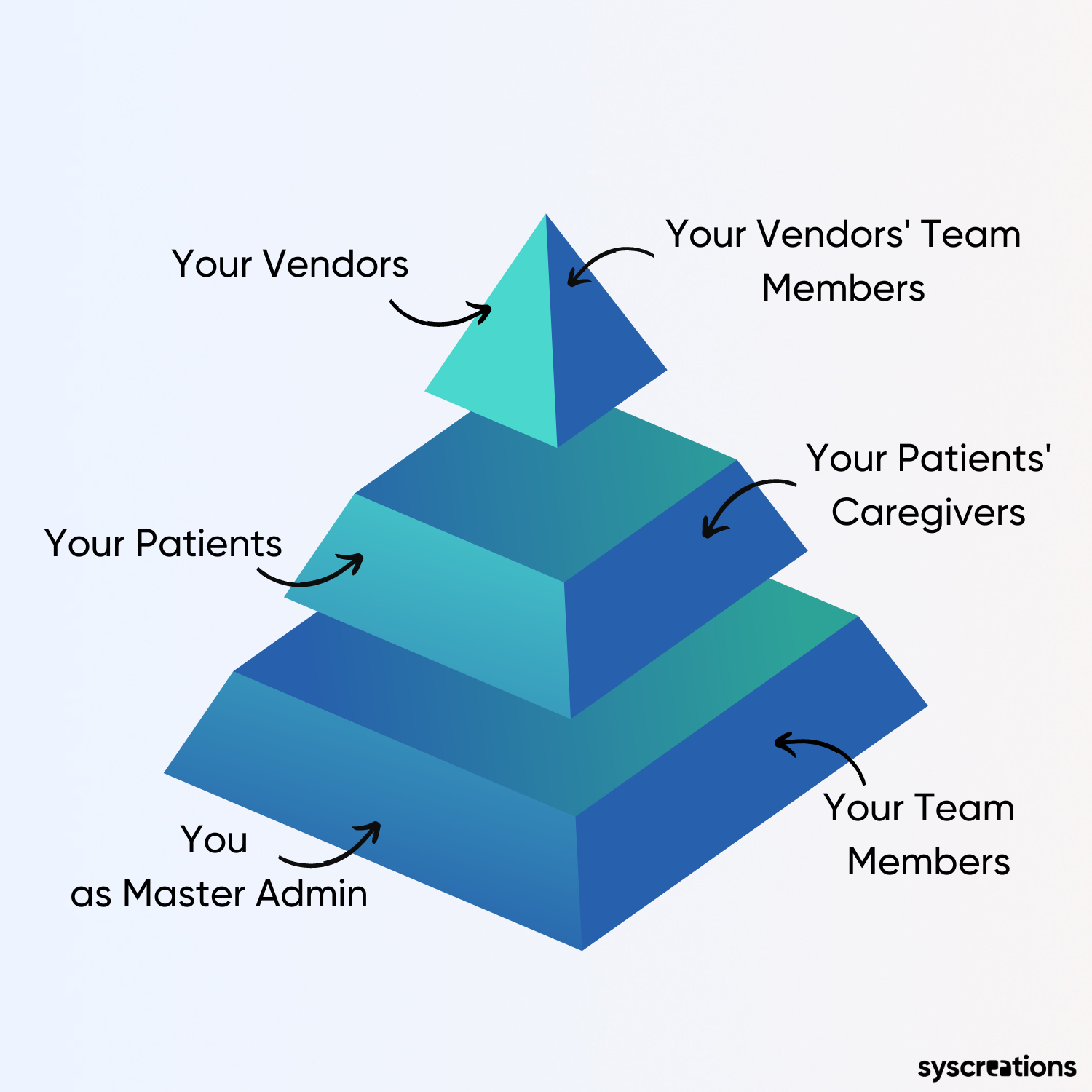 B2B, B2C and B2B2C models of our white label marketplace software?
Unlike other platforms, our product is not just limited to one business model!
No matter what your business model is, it'll completely fit your every operational and business need.
Here is how.
1. B2B marketplace software: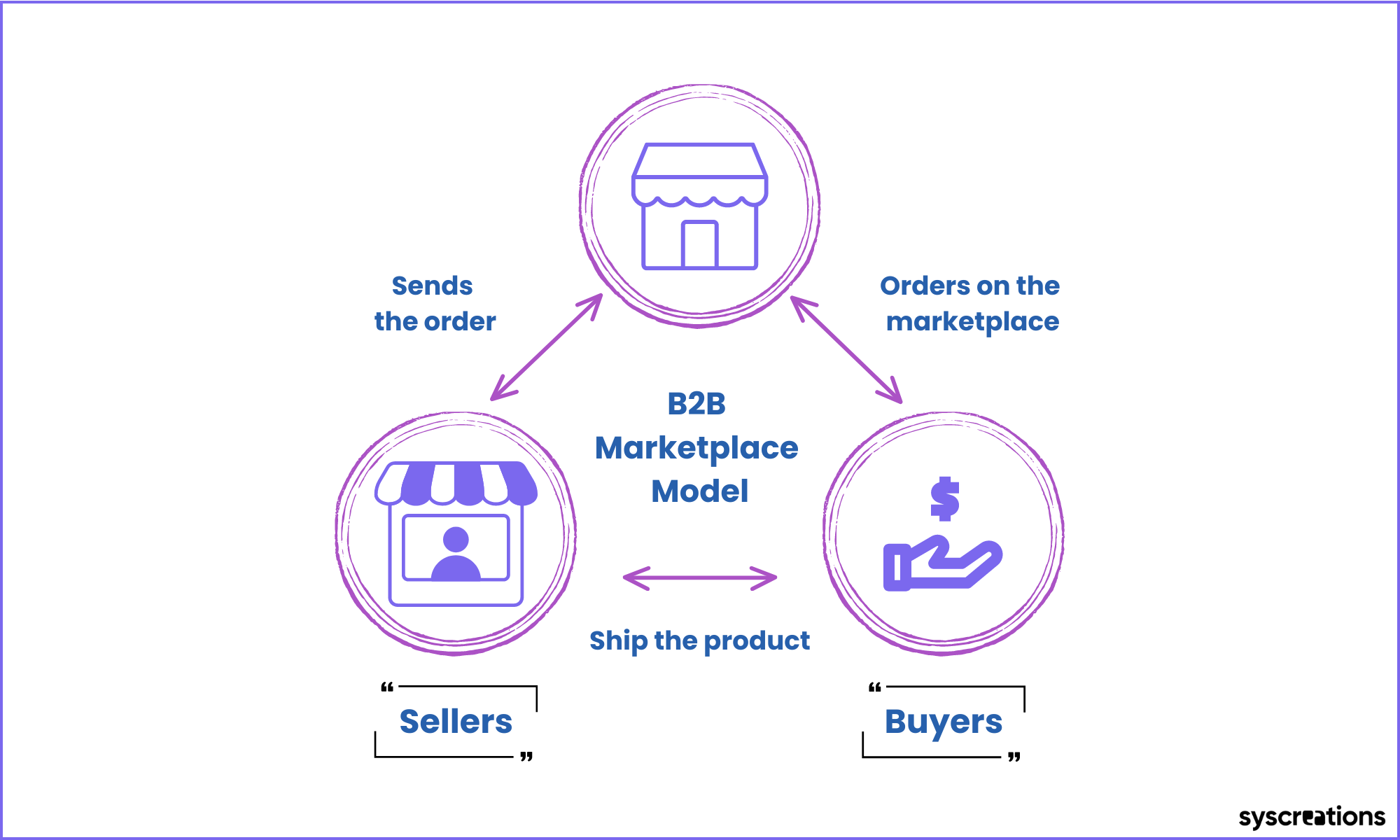 Our platform allows you to manage both suppliers and vendors in one place.
For instance, if you are running out of stock, you can easily order the products from your supplier.
On the other hand, you can also send the products to your vendors as per their needs.
And these are all the tasks you can easily manage from one place.
What's more, the platform also offers a separate web portal for your suppliers and vendors to help them perform their respective tasks regarding your medical marketplace.
2. B2C marketplace platform: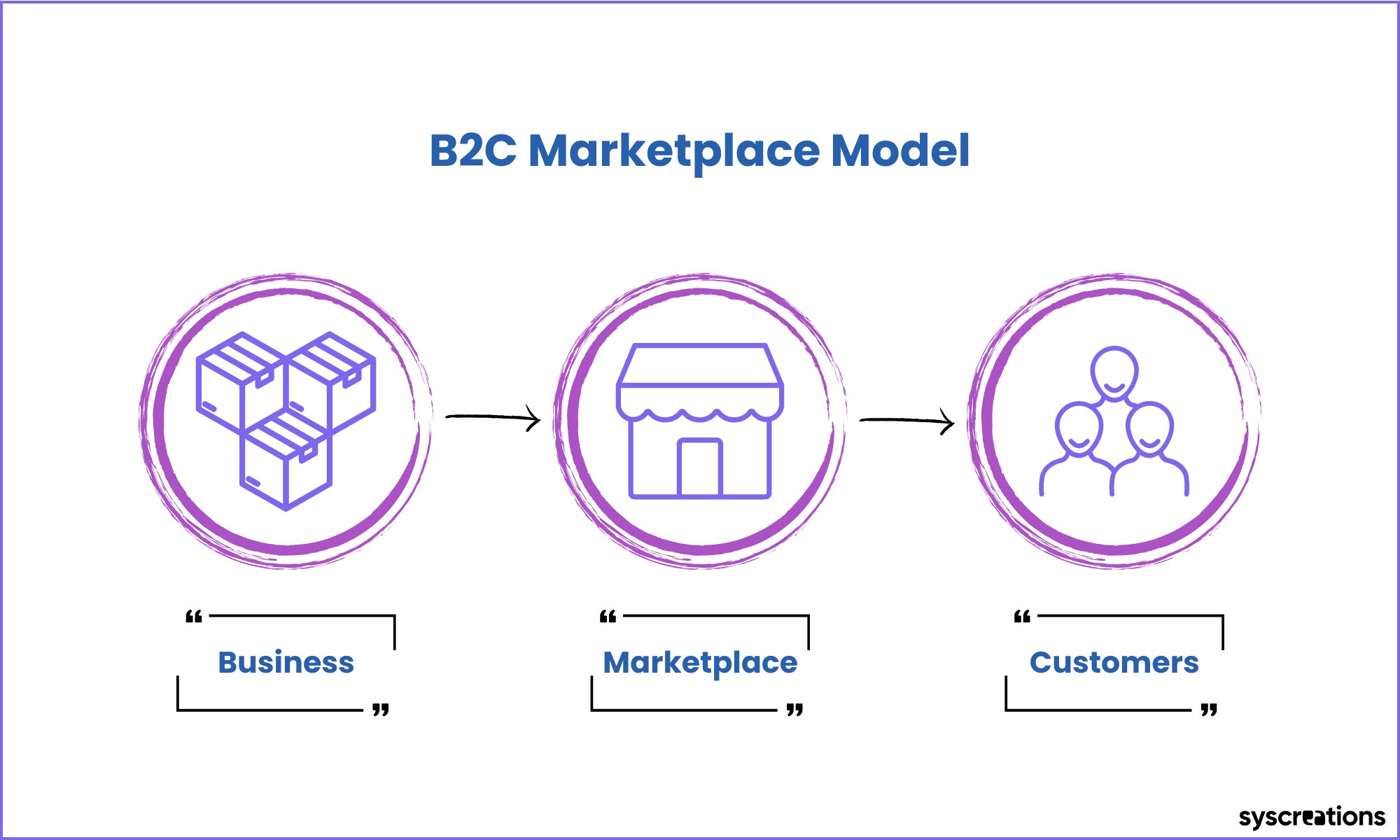 The only difference between B2B and B2C is that – there is a customer in place of a vendor.
But here – a customer orders the product for their personal needs rather than selling.
3. B2B2C marketplace solution: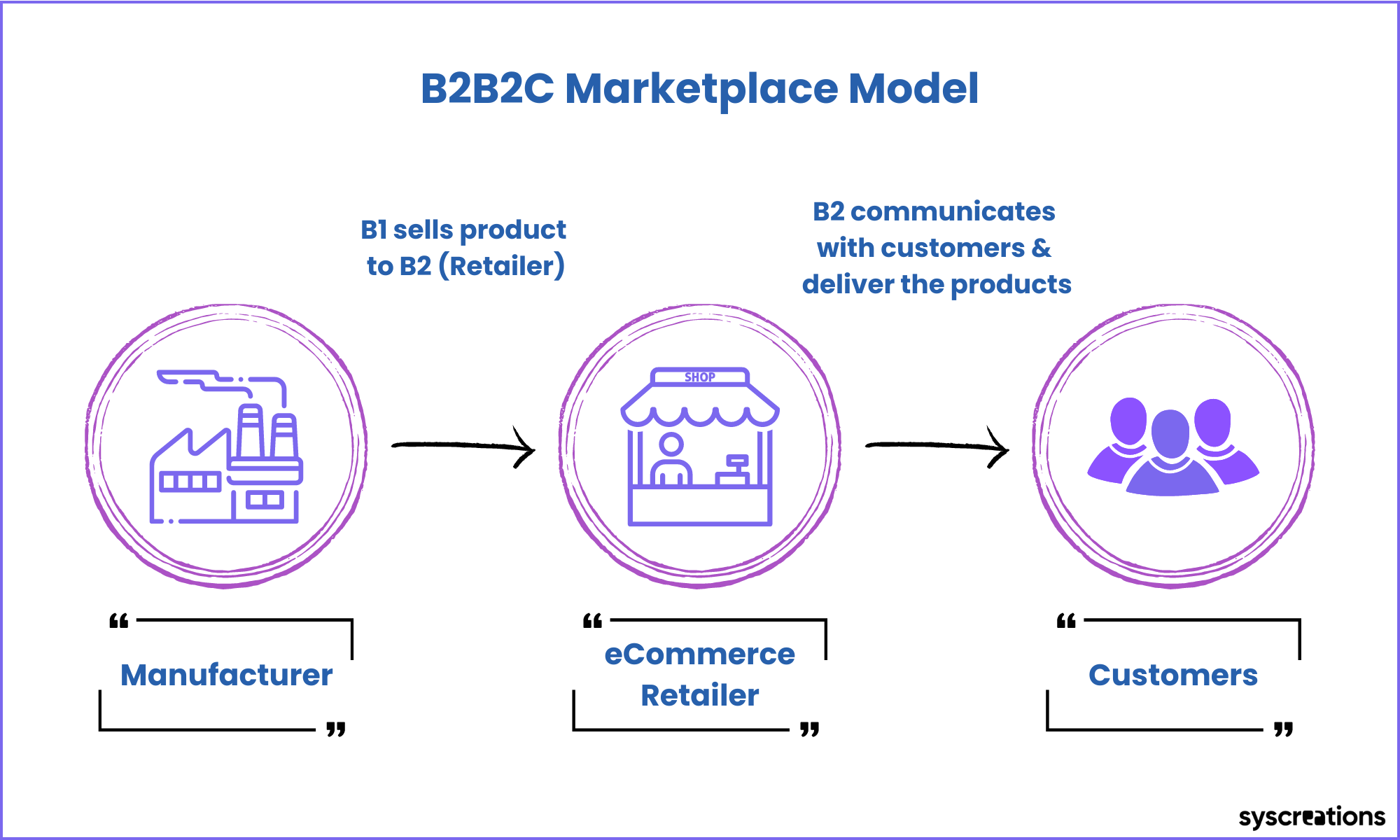 Using our white label marketplace software, you can easily manage all the tasks of your B2B2C business models.
It includes – your suppliers and (vendors and their customers).
And it allows all of them to perform their tasks from a separate portal.
For instance,
You can order large-scale supplies from your supplier.
You can send the products to multiple vendors.
Your vendors can easily manage the orders of their customers.
The pricing structure of our multi vendor marketplace software
Unlike the rest marketplace software, we have a different approach toward pricing.
With us, you'll not be stuck in the monthly and yearly subscription plans.
Because in the long run – it never delivers value in terms of ROI, ownership and usability.
But with us, you just have to invest once. That's all!
No hidden costs. No packages. Once you purchase it, it's all yours.
Besides, you'll get values such as,
Lifetime access to our white label marketplace software
An unlimited number of users can access and use it
We'll host it on your own server
No restriction over the customization. Do as much as you want.
Talking about the customization fee, well, you have to pay a nominal development fee for the number of hours that our team would spend on customization.

4 Mind-blowing features of white label marketplace software 
There are multiple features available in our multi vendor marketplace software.
But first, let us reveal the most important ones.
1. Product management
It allows you to manage the products of your B2B or B2C or B2B2C marketplace.
You can add a product with its name, description, type, category, manufacturer and number of units.
In fact, you can also add a number of quantities for each product as shown in the below image.
But the most existing feature of product management is that – you can set separate pricing for your B2B and B2C business model!
Here is how.
And you can add a URL to your YouTube video too!
But in case you have multiple products, you can also select or add a new category in order to locate each product quickly.
And here is the dashboard from where you can easily locate the –
Product name
Pricing
Stock in each warehouse
Status of stock
And can take actions like – edit, delete and archive product information.
2. Category management
Here you can manage each product category and subcategory with ease.
In which – you can explore its name, number of products in each category and status and take action if necessary.
And here is how you can create categories for the product.
3. Warehouse management
Using our B2B marketplace software, you can add and manage the information about your every warehouse like – names, addresses and contact persons.
You can also add new warehouse information by clicking on 'Add New' just as shown in the above image.
And following is the process to add a new warehouse.
4. Inventory management
This is one of the most useful features of our white label marketplace software.
Because it gives a complete view of the inventory in one place.
It includes –
Product name and its quantity in each warehouse
Upcoming quantity of the product
You must also read: Hospital inventory management software
Other important features of our white label marketplace software for multi vendor businesses
The below list does not contain all the features of our solution.
Because it is not possible for us to list each of them.
But if you want to explore all at once – you just need to fill up the contact form.
And we'll connect with you over the video call with a free live demo of our product.
So, let's get started.
Create a profile for each user
A dashboard to manage your suppliers and vendors
Add internal and external team members
Communication with suppliers, vendors and customers via a built-in chat feature
Contract or document manager along with expiration date set up
Manage users and their permissions
Notification management with customizable content
Two-factor authentication
Create, manage and assign tasks to each internal and external user
Top use cases of our multi vendor marketplace software
The use cases are endless.
But still, here are some of the top areas where you can use our multi vendor marketplace software.
Pharmacy B2B marketplace
Medical marketplace for insurance
Marketplace for Cannabis
Marketplace for medical equipment
Marketplace for healthcare products
Marketplace for other businesses
You must also read: Cannabis eCommerce
How to start with our white label marketplace software?
The process is simple!
Step-1: Fill up the contact form.
Step-2: We'll reach out to you within 2 to 4 hours.
Step-3: We'll give you a live demo of the product along with its costs.
Step-4: If it suits you, we'll listen to your customization needs.
Step-5: Our in-house team will customize the product as per your unique needs.
Step-6: We'll perform the QA tests on newly added code to make sure the product you acquire has no vulnerabilities.
Step-7: Once it is done, we'll host the software on your server.

Top 3 FAQs for our white label marketplace software
If your question isn't covered here – feel free to ask us by filling up the contact form.
1. Why should I prefer a white label solution over SaaS marketplace software?
Because the SaaS platform never delivers the value that a new startup strives for.
And the reasons are – the pricing model and hidden costs behind every feature!
They follow monthly and yearly pricing models which come up with multiple drawbacks such as –
Need to purchase add-ons
Zero control over the software
No customization flexibility and no branding
Once you stop paying them, the next second you'll lose the software access.
But with our white label marketplace software, you can avoid such miserable situations.
Because here – you just need to pay a one-time licensing fee.
And you already know the other benefits that come along with it.
2. Why acquire white label marketplace software over a custom?
There is no doubt that a custom solution gives you flexibility in features, UI/UX, usability, etc.
But, it requires high capital ($150,000+) to invest along with a long time-to-market (6-8 months).
Because developers need to build B2C or B2B marketplace software from scratch.
Meanwhile, a white label is something that almost every startup first tries its hands on.
Because it's a ready-to-use solution and can also be customized as per your needs!
It allows you to launch the app or software in the market in less time – at almost half price compared to a custom solution.
3. How much time will it take for customization?
Since the product is ready, customization will not take weeks to perform.
Because we now just need to code on top of the base as per your unique needs.
In other words, we don't need to reinvent the wheel!
And for customization, we have an in-house development team (who have built this product).
In essence, you'll get the product in your hands within a few days.