Sell Cannabis Online by Building Medical Cannabis Delivery Platform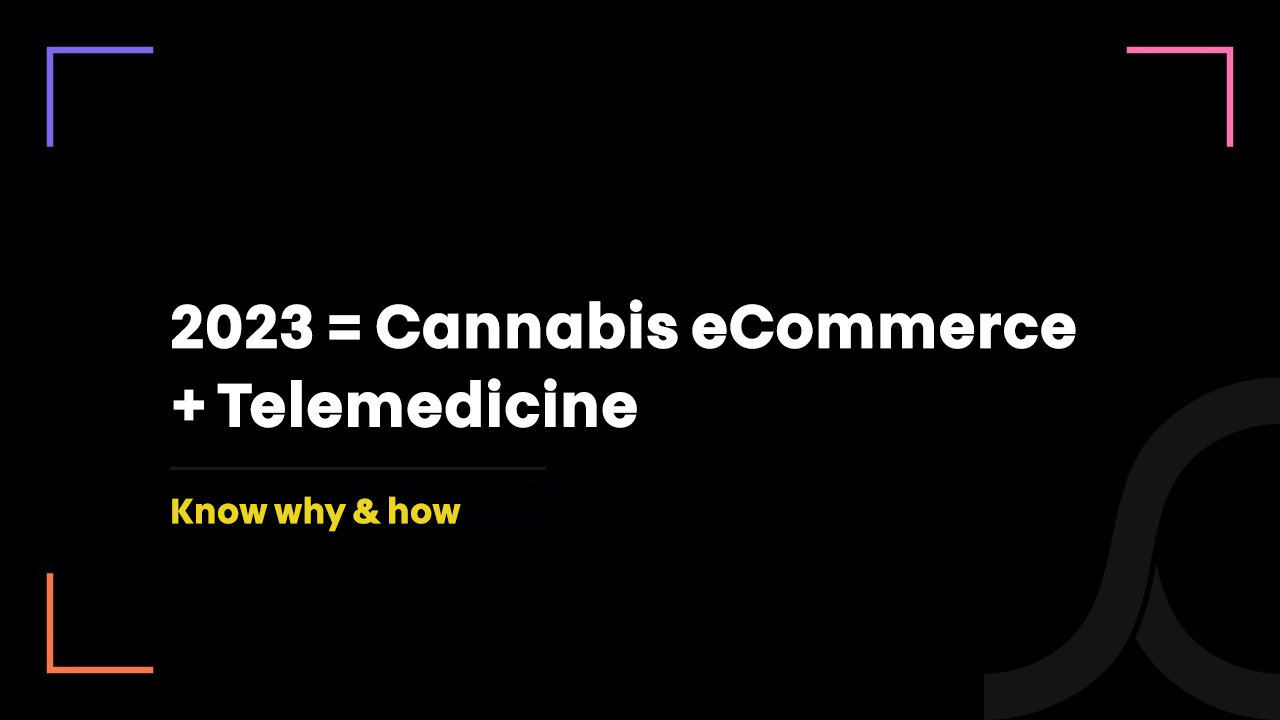 8 months ago
[Please Note: Here we are talking only about medical cannabis prescribed by licensed physicians!]
Cannabis delivery apps have seen success in the Canadian healthcare market.
As consumers want it to be delivered to their doorsteps just like medications as it gives them the ease of purchasing.
They hate to travel to buy items and wait at the stores.
They want everything from the comfort of their home.
From groceries to medications and even medical cannabis, consumers are always looking for an online platform - either an app or a website.
In this blog, we will discuss everything you need to know to build a cannabis eCommerce platform in Canada within your budget.
So, let's start with the top benefits of selling cannabis online via an eCommerce platform.
Our other very interesting healthcare resources:
How will your decision to build a medical cannabis eCommerce platform benefit you and your customers?
In 2022, there were over 27 million eCommerce users in Canada i.e, 75% of the Canadian population. This number is expected to grow to 77.6% in 2025.
In 2022, Canadians purchased items worth C$100 billion via eCommerce platforms.
This number alone depicts the fact that people are finding eCommerce platforms convenient, affordable, and reliable.
Talking about the benefits of the cannabis eCommerce platform, the following are the top benefits or the reasons people are more likely to use it.
Consumer Benefits:
Consumers can get medical cannabis at a much lower cost than physical stores.
Consumers can buy medical cannabis without stepping out of their homes which saves their time to a great extent.
Consumers can explore all cannabis products and compare the prices.
Consumers can track the order status of medical cannabis.
With product guides, user reviews, videos, and social validation, consumers can make more informed decisions.
If you run a telemedicine program through your platform itself, consumers can get medical documents from physicians and order cannabis from the same platform.
Cannabis Seller Benefits:
You can run your business with lower operating costs as you don't require any physical store.
You can gather consumers' data which you can utilize for marketing purposes or to understand their buying patterns and make data-driven decisions.
You can enjoy a wider customer base as you are now not limited to just a single locality.
From the admin panel, you can manage your in-house staff, delivery drivers, cannabis growers, inventory, and queries of customers.
Your business remains open 24/7/365.
You can easily expand your cannabis business as you don't have to invest in any physical space.
What are the regulations you should address to sell medical cannabis online in Canada via a cannabis delivery platform?
If you are planning to build an online cannabis delivery app, you not only require a seller license but also require to follow data privacy laws.
Your app or website would be collecting, using, and sharing a lot of data about patients or your customers.
And thus, a federal-level privacy law - PIPEDA and several provincial-level privacy laws will apply to you.
Talking about the provincial-level privacy laws, it depends on the province where you want to sell cannabis with your app or website.
Because every Canadian province has imposed different privacy laws.
These privacy laws have many technical and operational requirements.
The major motive of these regulations is to ensure that your online platform is secure enough to not put the personal data of users at risk.
If you violate any of these regulations, you can be liable for a hefty fine.
Thus, it is vitally important to always develop a compliant mobile app or web app for selling cannabis online.
We accommodate in-house compliance experts who will make sure that your online platform is compliant with all privacy laws.
Most popular online platforms among Canadians to buy cannabis
Our well-versed business experts always analyze the market players so that we can find their pros and cons to help our clients outperform the existing players.
1) Ontario Cannabis Store (OCS)
It is Ontario's only online retailer and wholesaler of legal recreational cannabis.
It sells legal and clearly labeled cannabis products by working proactively with licensed producers or growers of cannabis.
It also makes consumers aware of cannabis and its use.
People are loving their variety of cannabis-infused soft chews coming in several mouth-watering flavors.
2) Just Cannabis
Just Cannabis is a British Columbia-based medical and recreational marijuana dispensary.
It provides Canadians with easy access to affordable and licensed cannabis products.
Through blogs and videos, they share their knowledge of cannabis and its usage with consumers.
Talking about the products, they offer marijuana strains, cannabis concentrates, weed edibles, vapes, CBD, shrooms, and more.
3) Namaste
Namaste is Canada's premium recreational cannabis brand launched by Zenabis which is one of the largest licensed producers in Canada.
Namaste sells several products online such as dried flowers, vapes, soft gels, Oral Sprays, etc.
It also runs a different brand named NamasteMD which is the cannabis telemedicine platform.
Why should you integrate telemedicine with your medical cannabis online platform?
With legalization and physicians prescribing cannabis for treating many illnesses, the Canadian cannabis market is expected to grow continuously.
However, 2020 has completely changed consumer behavior.
They are now expecting to get all healthcare services from one platform itself.
This is the reason - why many online pharmacies have started telemedicine programs and selling wellness products via the pharmacy app itself.
Same way, you as the online cannabis store owner should launch the telemedicine program from your platform itself.
With it, your consumers can talk to physicians, get medical documents (prescription) and order cannabis from your platform itself.
This will not only enable you to generate an extra revenue stream but attract more consumers.
After all, customers need to have a medical certificate (prescription) to buy medical cannabis legally. Then why don't you provide a medical certificate as well?
To start a telemedicine program from your online cannabis platform, you only need telemedicine features in your app/website and a group of physicians.
5 key elements to consider when building a medical cannabis app
1. Payment Processing
As medical cannabis is legal in Canada, there are payment processors specializing in cannabis transactions.
As a cannabis seller, it is important to choose a payment processor that is compliant with all regulations and offers secure payment options for customers.
2. Shipping Regulations
In Canada, cannabis products must be shipped in opaque, child-resistant packaging with clear labeling that meets federal requirements.
As a cannabis seller, it is important to work with a shipping provider that understands these regulations and can ensure that your products are shipped safely and legally.
3. Product Quality Control
As a cannabis seller, it is important to ensure that the products you are selling are of high quality and meet all regulatory requirements.

This includes testing for potency, purity, and contaminants.

Working with licensed producers and growers who adhere to strict quality control standards is essential to ensure that your customers receive safe and effective cannabis products.
4. Marketing and Advertising Regulations
Cannabis advertising is heavily regulated in Canada, and there are strict guidelines that must be followed when promoting cannabis products.

It is important to work with marketing and advertising experts who understand these regulations and can help you develop compliant advertising campaigns that reach your target audience effectively.

5. Customer Support
Providing excellent customer support is essential for any eCommerce platform, and selling medical cannabis online is no exception.
Customers may have questions about products, dosage, or usage, and it is important to have knowledgeable staff available to assist.
Offering live chat, phone support, or email support can help build trust and loyalty among customers.
If you are building a website for selling medical cannabis online, you should read this:
If you have already made up your mind to invest your hard-earned money into the website, we would suggest you invest it in a progressive web app.
Why?
Because a progressive web app (PWA) is the future of websites.
Unlike a static website, a PWA runs fast, works offline, supports push notifications, and costs just slightly higher than a typical website.
This way, by investing low - you will be able to provide the ultimate user experience to your customers. This will result in higher sales.
(Not to mention - even a progressive web app can't replace a mobile app and its usability!)
But that does not mean you only consider PWA. You can consider mobile apps and static websites as well.
The following table will help to select the most suitable option for you.
What should you select between a mobile app, website, and PWA to sell cannabis online in Canada?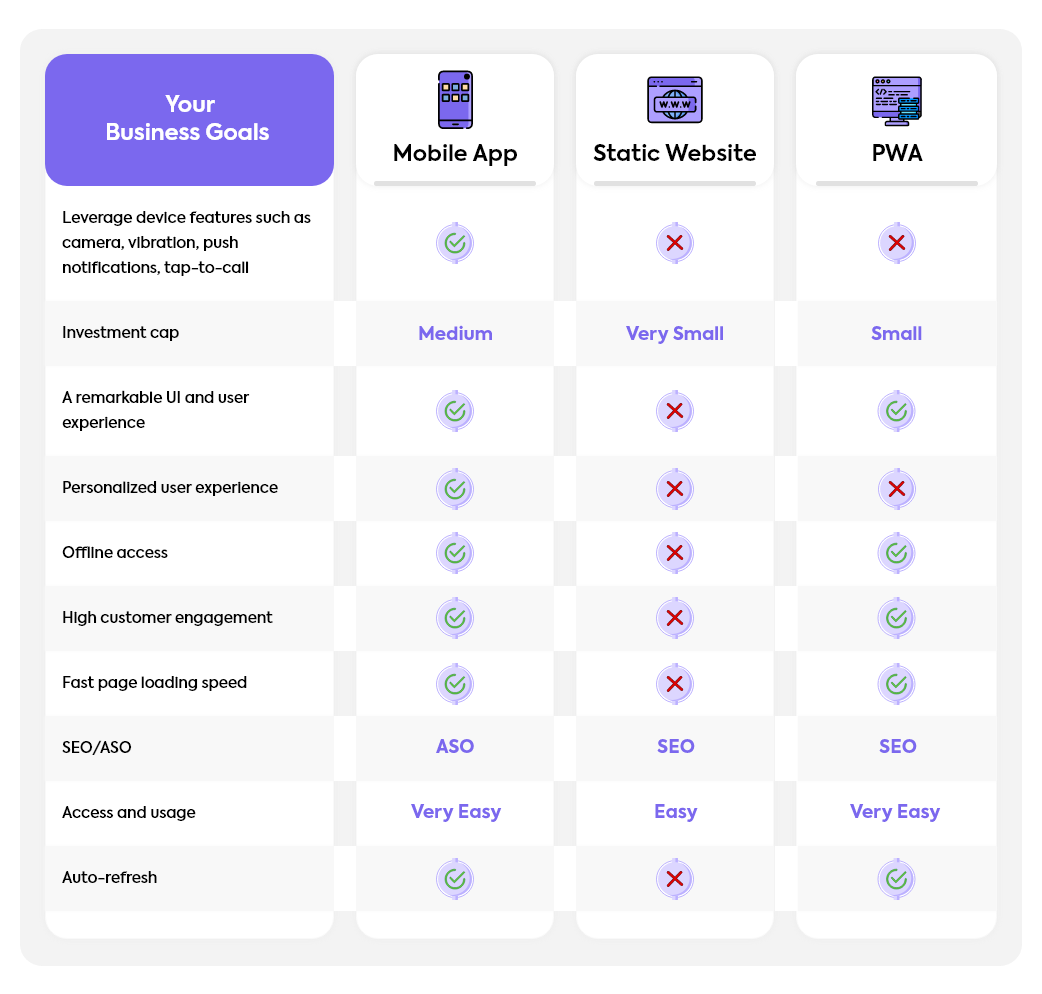 That's it for today. You must now have enough knowledge to launch the cannabis eCommerce store in Canada.
We're Canadian tech experts, ready to help you with app/website/PWA development & compliance
We are an Ontario-based team of healthcare-specific app developers, designers, business experts, and compliance consultants.
We have been working with several healthcare providers for over 8 years to solve all their technical and compliance issues.
After doing the same thing 8 hours a day for 8+ years, we earned the authority in healthcare IT solutions including cannabis apps or websites.
We work with a pure mindset, vision, and goal. We are very clear about our actions. We never bluff - we only talk with data!
So, let's have a first conversation - where you share your requirements - we share our knowledge & experience!