Pharmacy eCommerce Integration: A Detailed Guide to Launch Your Own Pharmacy eCommerce Store in Canada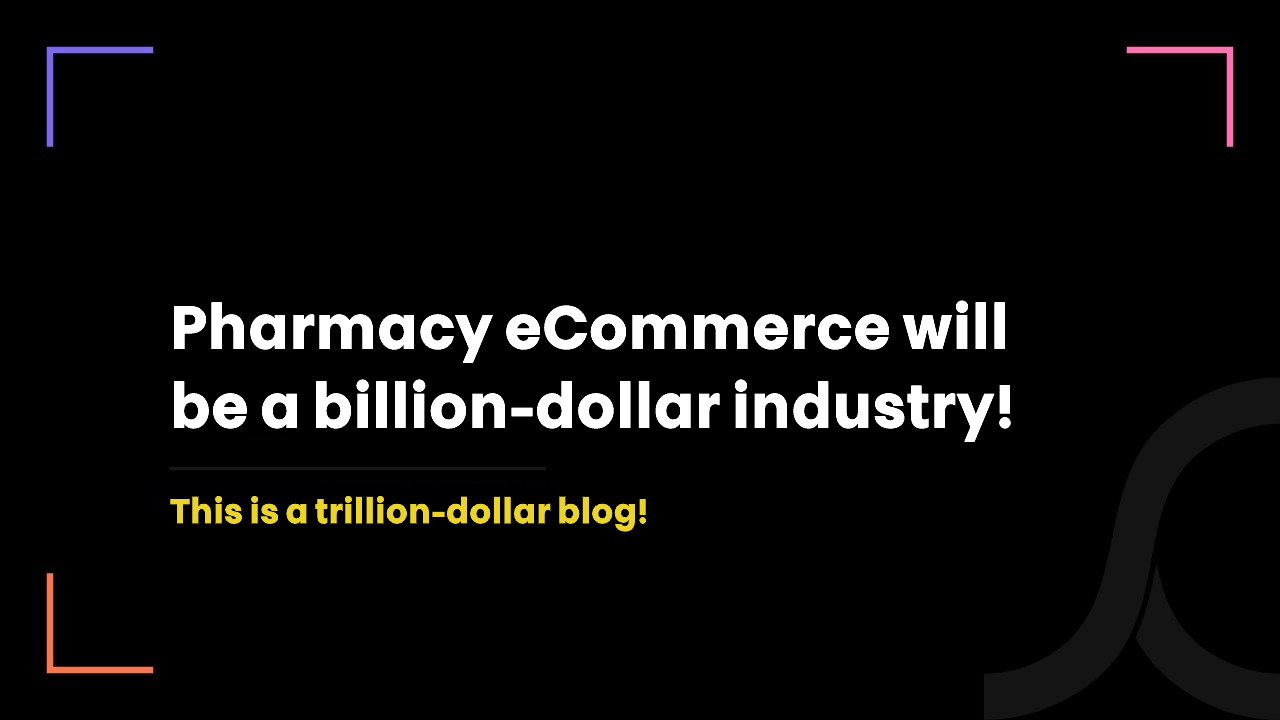 5 months ago
Boosted by the pandemic, pharmacy e-commerce is now an integral part of the Canadian healthcare system.
The top factors that are driving the growth of online pharmacy eCommerce stores are consumer expectations, technological advancements, regulatory changes, and a surge in virtual care.
Thus, this is the best opportunity for brick-and-mortar pharmacies to capitalize on emerging eCommerce trends in the pharma industry with a pharmacy eCommerce store.
In this blog, we will discuss everything you need to know to launch an online pharmacy store in Canada and pharmacy eCommerce integration with your already existing platform!
What are the different types of pharmacy eCommerce?
The good news is that everyone involved in the entire pharma business chain now prefers online mediums. 
Meaning, you have the flexibility to adopt multiple business models such as B2B, B2C, and D2C.
1) B2B pharmacy eCommerce 
Under this model, you build an online store and connect retail pharmacies with manufacturers or suppliers to directly place orders and receive deliveries. 
Your part here is to fulfill orders with your delivery executives. If you are a manufacturer or supplier, you can also build a B2B pharmacy store and accept bulk orders from retail pharmacies.
2) B2C pharmacy eCommerce  
Under this model, retail pharmacies build an online store and accept orders from their end-users. This is the most popular type of pharmacy eCommerce as there are multiple retail pharmacies and it enables retail pharmacies to connect with their end-users online.
 3) D2C pharmacy eCommerce 
Under this model, pharma manufacturers and suppliers build an online platform and sell their products directly to consumers.
Since there is no involvement of retail pharmacies here, end-users receive pharma products and medicines very affordably.
4) Pharmacy marketplace
Under the marketplace model, different individual pharmacies register and list their services and products on your marketplace platform from where they receive new customers.
They pay you a fixed commission on the revenue they make using your marketplace platform.
Key considerations to keep in mind when building a robust pharmacy eCommerce platform
Choose the right eCommerce platform
It is critical for the success of your online pharmacy store. You should consider your business needs, budget, and technical expertise when choosing an eCommerce platform.
Implement a secure payment gateway
Security is a top concern for online shoppers, especially when it comes to purchasing prescription drugs and medical supplies. You should integrate a secure payment gateway that ensures safe and reliable transactions for your customers.
Develop a robust inventory management system
Managing inventory is a crucial aspect of running a successful online pharmacy store. You should invest in a robust inventory management system that enables you to keep track of your stock levels, manage product expiry dates, and automate reordering processes.
Implement effective marketing strategies
Marketing is critical to attracting and retaining customers to your online pharmacy store. You should develop an effective marketing strategy that drives traffic to your website and increase sales.
Comply with legal and regulatory requirements
Online pharmacies are subject to various legal and regulatory requirements, including licensing, compliance with privacy laws, and adherence to pharmaceutical regulations. It's essential to comply with these regulations to avoid legal and reputational risks and ensure customer trust.
The technical aspect of building a pharmacy eCommerce store or pharmacy eCommerce integration 
Now, let's talk about the tricky part.
When it comes to 'technically' achieving the pharmacy eCommerce store, you do have multiple options.
1) Custom mobile app
You can consider building a custom mobile app to accept orders online. A mobile app ensures the highest level of customer satisfaction and experience due to its advanced features.
Since the custom mobile app is dedicatedly developed for your pharmacy only, you can add personalized features around your business workflows and legal obligations.
2) Custom web app
A web app has features and UI the same as a mobile app but it runs on supported browsers.
The major difference between a custom web app and a mobile app is seen in its development cost. A web app costs you around 30% less than the cost of building a mobile app.
However, a web app cannot beat the customer experience a mobile app delivers!
3) Custom pharmacy website
A custom pharmacy website is a very affordable choice but it lacks advanced features like the web app and mobile app.
However, since it is a custom website, you can customize it as per your requirements and business practice.
You must read: Cost to build a website for pharmacy
4) Shopify for pharmacy
You can use the Shopify platform or other similar platforms to build and launch your pharmacy eCommerce store.
Shopify makes it very easy with pre-designed online store themes and features.
However, the major limitation here is that you don't have flexibility and freedom as the existence of your online store relies on Shopify. Also, you have to pay a fee to Shopify.
5) Pharmacy eCommerce integration
If you already have a digital solution for your pharmacy and now want to launch eCommerce services, you can build a pharmacy eCommerce store and integrate it with your existing digital solution.
Different APIs that are a crucial part of online pharmacy store
To achieve functionality easily and rapidly, developers use 3rd party APIs. Every eCommerce app, website, and web app relies heavily on a few APIs.
The reason why it matters to you is its fees. Yes, these APIs either charge a fixed one-time fee or regular fees based on usage.
The following are the top APIs developers use to build pharmacy eCommerce apps and websites.
It is very useful to accept payment online through multiple sources such as debit/credit cards and eWallets.
The most popular payment API is Stripe which charges 2.9% + C$0.30 per successful card charge.
It is useful to track and monitor the delivery of orders in real time. It offers fixed and flexible plans such as monthly $7 for 1000 requests, monthly $14 for 1000 dynamic street view requests, etc.
Pharmacy stores must communicate with customers to update them regarding order status, deals, etc. To facilitate such communication features in online stores, communication APIs are used. 
Twilio is the most popular communication API. It supports all major mediums of communication such as SMS, voice call, and video call.
Shopping cart API gives you direct access to your shopping cart. In other words, your hired developers don't have to code for building a shopping cart.
BigCommerce is a very popular shopping cart API that is equipped with the most important one-page checkout feature. However, it charges $29.95 per month.
Compliance requirements for online pharmacy stores in Canada
Here comes the legal and most challenging part.
Talking about compliance requirements, you have to be careful on two fronts.
If you are collecting, using, and sharing your customer's personal and medical data through your online platform, you must adhere to applicable data privacy laws in Canada.
PIPEDA is the most common law applicable at the federal level. Apart from this, there are several provincial-level data privacy laws such as PHIPA in Ontario, and HIA in Alberta.
These laws have several technical and administrative requirements which you have to address.
If you violate it, you can be liable for a hefty fine by privacy commissioners.
If selling drugs is part of your eCommerce practice, you must be vigilant while selling drugs online.
You must acquire knowledge of drugs that the government has banned and thus you must not sell those drugs.
You must also look for a valid ePrescription before fulfilling it. If a customer is asking for OTC drugs, you must validate whether it requires a prescription or not.
Overall, you have to be responsible while running an online pharmacy eCommerce platform.
Integrating Kroll with your pharmacy eCommerce platform
Almost 80% of pharmacies in Canada are using Kroll PMS to run and execute their everyday pharmacy operations and fulfill orders.
If you integrate Kroll with your eCommerce platform, prescription order requests you get through your eCommerce platform are directly added to Kroll's to-do list automatically.
This way, you can be able to manage all of your prescription orders from one place which is Kroll - without manually adding every detail of the new order into Kroll.
However, please note, Kroll integration will only work if you are planning to also accept prescription orders on your eCommerce platform.
You must read: Kroll Integration Guide
If you already have an online pharmacy platform for prescription ordering, you can double your revenue by integrating eCommerce
Since the pandemic, every healthcare entity and startup has been aiming to generate more revenue streams to increase their revenue.
For instance, telemedicine providers launch online pharmacy services and online pharmacies roll out telemedicine services.
So, if you already have a platform for prescription ordering, you can consider integrating eCommerce with it to sell wellness and medical items and generate more revenue.
You can build a custom eCommerce module and integrate it with your existing platform or you can utilize an eCommerce platform like Shopify.
In both cases, we can help you. Oh, by the way …
We're an Ontario-based healthcare IT company and we've made these promises to our healthcare system, providers & communities
We will remain a healthcare-specific IT company as only with specific knowledge, we can benefit our healthcare system. 
We will make healthcare rapid, affordable, and accessible for all using our technical knowledge and 8+ years of experience. 
We will work with healthcare providers, healthcare startups, and enterprises to solve all their technical, business, and legal challenges. 
Our entire team of developers, UI/UX designers, business analysts, QA engineers, and compliance specialists will work together for our healthcare system and communities. 
We will enable individual doctors and pharmacists to work with the most advanced technologies such as AI, ML, IoT, and RPA without causing harm to their pockets.

And most importantly, we will prioritize our client's gain over our profit!