Ultimate Guide to Start a Successful Skincare eCommerce Platform With Web & Mobile App Solutions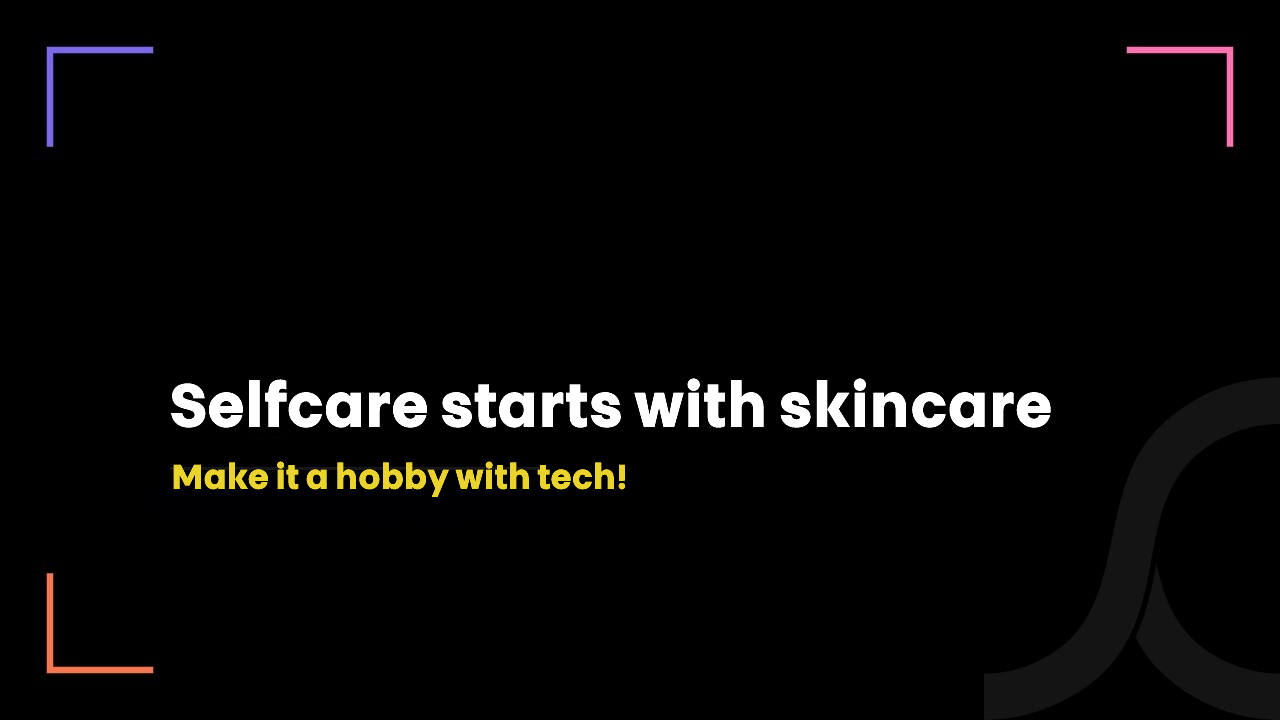 1 year ago
Whether you're looking forward to starting a skincare eCommerce business or just want to gain some knowledge about it, this blog is the complete roadmap for both scenarios.
So, let's jump right into the topic.
A roadmap to start a skincare eCommerce business with ease
The eCommerce market is booming right now, especially for skincare. This means, there is healthy competition for the skincare eCommerce business.
As a healthcare IT company, we completely understand every ins and outs of the skincare industry.
Hence, we have created a comprehensive strategy for starting a skincare eCommerce that helps you attract more customers and gives a promising market presence.
And here are the three main aspects of that.
Create a comprehensive business plan
Pick the right technology solutions
Meet the compliance requirements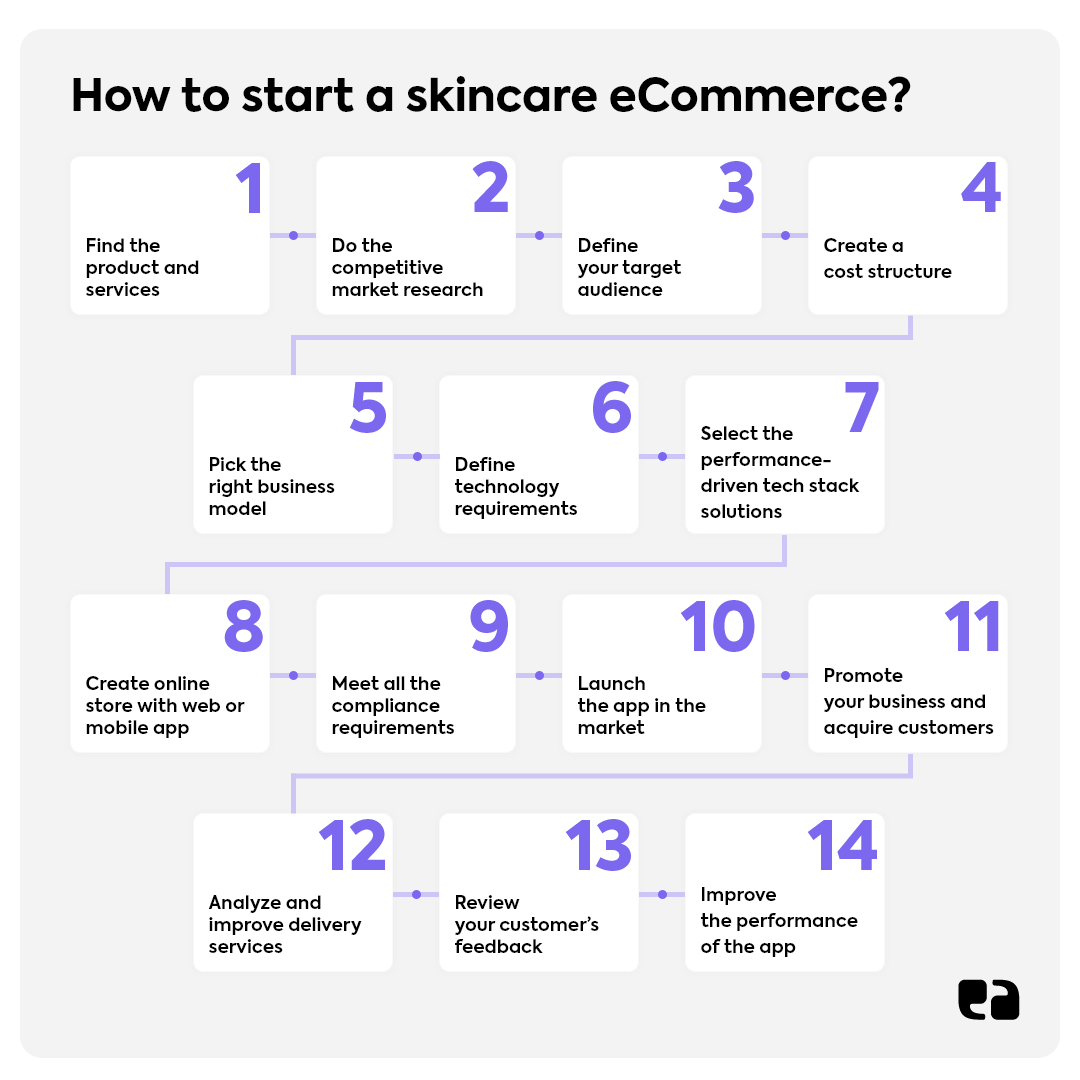 First, attract more customers with a profitable business strategy
To help you in the most appropriate way, we have created a step-by-step guide for the skincare eCommerce business plan.
Stage #1: Offer complete skincare product solutions for both women and men
Skincare solutions are not only limited to women!
Men's skincare products have also seen tremendous growth in the past few years and it'll continue at a rapid pace in the upcoming years.
As per the report, "Global Men's Skincare Products Market to Reach $16.3 Billion by 2026".
So, here are some of the product solutions that you can offer in the skincare eCommerce platform.
Men's skincare products solutions:
Skin basics such as sunscreen, cleanser, moisturizer etc.
Women's skincare product solutions:
Stage #2: Provide telemedicine solutions in your skincare eCommerce
Despite the thriving skincare eCommerce market, not many brands are offering a quality care experience along with suitable and real-time skincare solutions for both men and women.
In a true sense, they're only striving to sell the products, not the experience.
And this mindset poorly impacts their overall revenue and most importantly brand recognition.
So, the only workable solution here is an integration of telemedicine with your skincare eCommerce platform. It allows the customers to effortlessly connect with an online dermatologist for any skin care-related concerns.
In fact, it also boosts your skincare eCommerce sales and overall revenue.
You must also read: Online dermatologist solutions in Canada
Stage #3: Sell both prescription and non-prescription-based skincare products
For specific skincare products, customers need to upload or submit a prescription note for the purchase.
But in some cases, customers don't have the prescription note. At that time, the telemedicine solution is beneficial for them as they can communicate with the dermatologist for prescription notes.
As a result, it improves the customer experience and also elevates your ROI.
While in non-prescription services, customers can directly purchase skincare products without any prescription note.
Stage #4: Choose the right business model
1. For telemedicine services:
Monthly or yearly subscription
2. For product:
Subscription-box services:
Under this model, customers need to pay on a monthly or yearly basis for specific skin care needs.
It is the best business model as customers are going to stick with your skin care services on a long-term basis.
You must also read: How to start skincare subscription box services?
Non-subscription services:
In this business model, customers need to pay every time they purchase skincare products.
#Additional tip: Offer a custom skin care product solutions
Just imagine the outcome when a customer is using skin care products which are produced as per their skin conditions.
That's the reason, many skincare eCommerce giants such as Curology and Nurx are offering customizable skincare product solutions.
Build skincare eCommerce with web or mobile app solutions
Now it's time to take your skincare eCommerce journey in front of the people.
You can choose either a mobile or web app as per your investment capital and business requirements.
However, you need to make sure that the developers should be healthcare-specific as mHealth app development is a complex and tedious process for non-healthcare developers.
Being a healthcare IT company, our developers are qualified enough to address any complexity of health tech app development as it is the only thing they have been doing since the start of their career.
So, here are some of the skincare eCommerce mobile and web app development solutions that we offer as a healthcare IT company.
Native mobile app development:
Let us tell you one thing.
Native app development requires a high investment capital as developers need to execute a separate codebase to run both Android and iOS systems.
However, native app development gives high performance and flexibility compared to other development methods.
As a healthcare IT company, we commonly use Java, Python, and Flutter programming languages for Android and Swift for iOS development.
Cross-platform mobile app development:
For this development method, developers don't need to write a different codebase to run both operating systems.
Thus, the development takes less time compared to native so the cost.
And for cross-platform, we use the Kotlin programming language as it is highly scalable and flexible.
MVP web and mobile app development:
MVP (Minimal Viable Product) is vastly famous among health tech startups and organizations as it does not require high investment capital.
In fact, they can launch the app in the market in less time.
For MVP app development, we first hand over a basic feature of the app for your early-stage app users who can then provide us valuable feedback regarding the app performance and feature requirements.
Okay. Now you need to meet all the compliance requirements
This is the stage when most skincare or health tech startups lose their business driving seat as their app is not fully compliant with the data privacy laws.
As a result, their enterprise confronts a hefty fine from the federal government while at the same time losing the trust of their valuable customers.
To avoid all the mess, you need to make sure that your app doesn't have any security loopholes for patient medical and financial data.
As a healthcare IT company, we have compliance experts that keep their eyes open in every stage of the development journey regarding any vulnerabilities and security loopholes.
Why should you avoid Shopify eCommerce solutions?
Shopify is the global leader in eCommerce ready-made solutions.
It offers a wide range of eCommerce platforms in which you don't need to put extra effort.
However, there are many loopholes of Shopify eCommerce that many health techs or skincare eCommerce startups are overlooking.
So, explore the below image to understand it in more detail.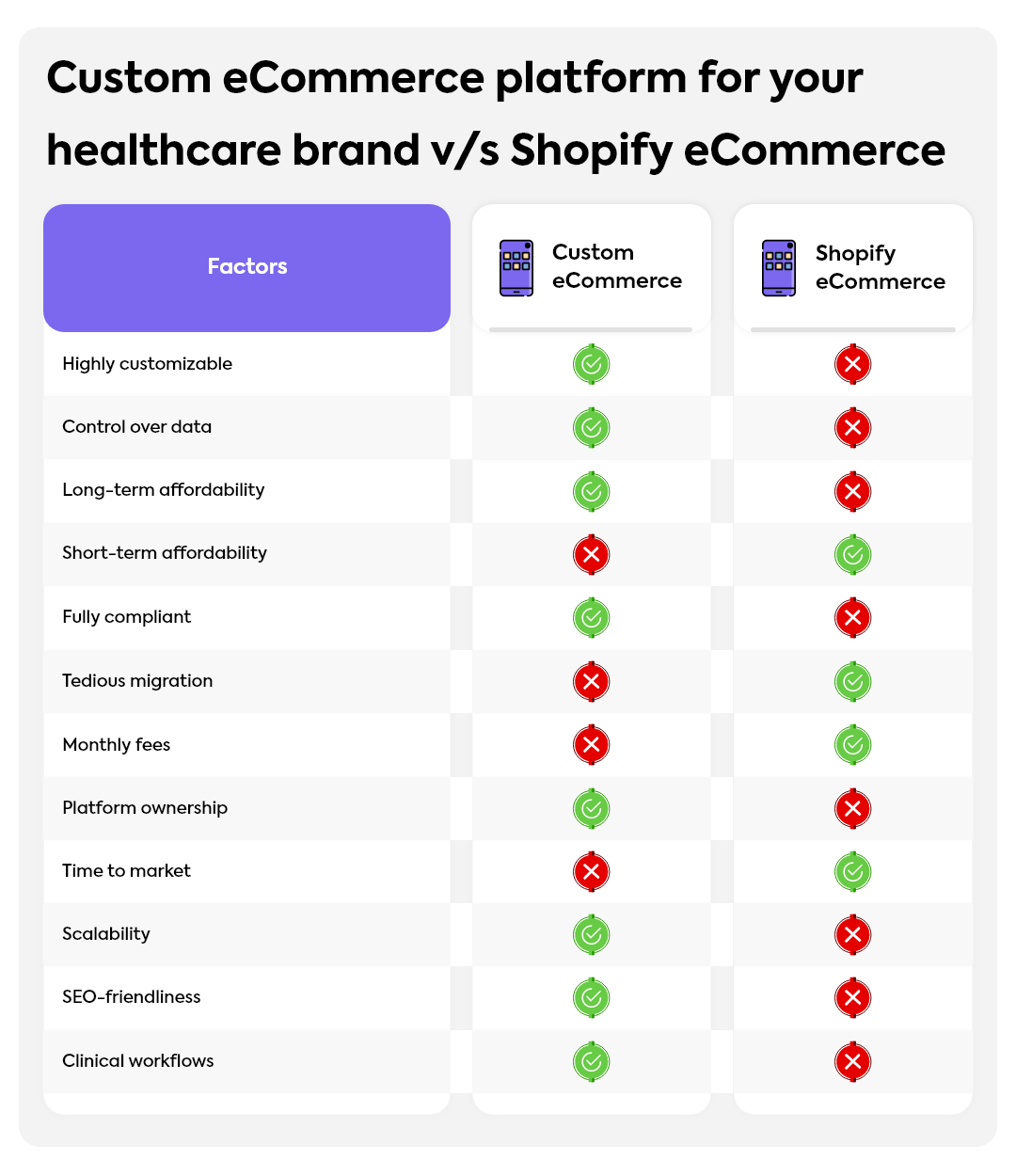 We're accelerating the care outcomes of the healthcare industry with our ultimate healthcare IT expertise
We are an Ontario-based full-fledged healthcare IT company.
For the past 7+ years, we've been performing only healthcare IT solutions with the same dedication and passion to scale up the healthcare industry's care approach.
To do so, our 50+ healthcare-specific IT team are putting together their combined 200+ years of experience 8 hours a day and 5 days a week.
It includes – healthcare professionals, app developers, UI/UX designers, AI & ML specialists, business analysts, compliance specialists, and QA engineers.
We have a strong vision to not let future generations experience the same time-consuming and costly healthcare approach as we have undergone.
To achieve that, we're ready to find the needle in the football ground!
So, if you want to execute our solid mindset and healthcare IT expertise into your health tech projects, let's have a nice talk about your business goals!