Every Single Thing You Need to Know to Develop a Telehealth App in Canada (Ontario, British Columbia)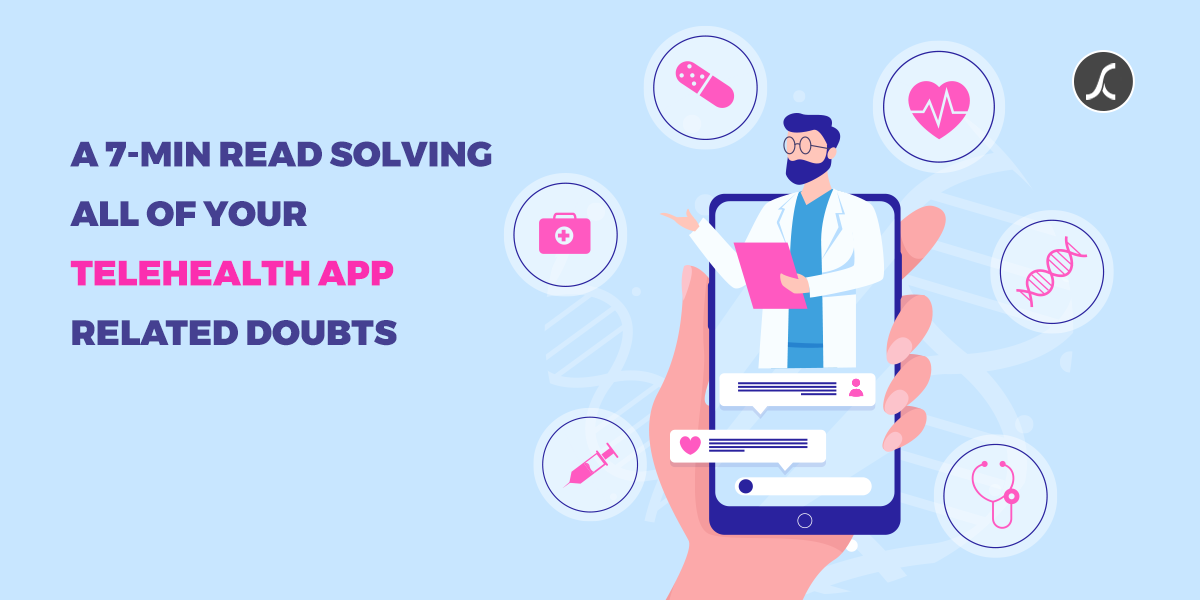 1 year ago
Let's start with important disclosure.
Who should read this blog? - Any healthcare entity, healthcare professional and entrepreneur planning to develop a telehealth app to leverage the current healthcare market trend.
Who has written this blog? - This blog is the outcome of combined efforts made by me as the CEO of SyS Creations and market analyst, my first team member as a HIPAA/PHIPA compliance expert and my 2nd team member as the healthcare app developer and technology expert.
⏩ Things you'll learn in the next 7 minutes:
Telehealth app development cost and time

Types of telehealth apps

Telehealth app regulations

Top telehealth apps

Telehealth app technology stack

Telehealth app use case

Telehealth app features

Telehealth app business model

Telehealth app market trends

Telehealth app related videos

Our recent telehealth app project, featured in Collision Conference
How much does it cost to develop a telehealth app in Canada and how long does it take?
Generally, it is infeasible to estimate the cost of any kind of app development before finalizing the technology stack, app features, and app type. In other words, these three factors (technology stack, app features and app type) define the cost of telehealth app development. But, here it is worth mentioning that the app type influences the technology stack and app features. This is why it is worth talking only about the telehealth app types to estimate the development cost.
When it comes to development time, it also depends on the type of telehealth app you wish to develop. So, let's discuss the three major types of telehealth apps.
What are the types of telehealth apps?
There are major three types of telehealth apps.
Single-purpose telehealth app
As the name depicts, the single-purpose telehealth app accommodates the features which enable patients to talk to physicians remotely. It supports voice calling, chat and video calling. There isn't any other purpose such a kind of telehealth app satisfies.
Multi-purpose telehealth app
I have noticed the new trend of a single telehealth app satisfying multiple healthcare requirements of the users. These requirements include telehealth, online pharmacy and even healthcare eCommerce to let users order wellness and healthcare equipment and products.
Custom telehealth app (E.g. telehealth app for senior care)
Custom app development is always carried out for the specific challenges of the specific industry and its sub-industries. For instance, you can develop a custom telehealth app for long-term care homes to solve senior care challenges. In such a kind of app, the app should be designed and developed according to the workflows of the LTC homes. The best example of the custom telehealth app is the Writi which streamlines the workflows in LTC homes and retirement homes.
➣ Cost & time: Since a custom telehealth app is more than just an app, it costs high, though it depends on the sub-industry you target and the complexities of workflows. The development time is also uncertain.
What are HIPAA/PHIPA requirements your telehealth app should meet?
Considering the fact that a telehealth app stores and shares the personal health information of the patients and their family members, the app should be HIPAA/PHIPA compliant to avoid the violation fine of some thousands of dollars.
Limited app access and control with authorized access should be placed in the telehealth app.

There should be a defined policy to access electronic media.

Sensitive data should have higher visibility and control.

The organization should attain the ability to detect the data breach.

There should be a predefined post-breach strategy.

You can only save and share personal data of patients if they permit.

You must not collect information that isn't important or does not serve the purpose.
There are many other requirements which you should keep in mind. The problem with HIPAA/PHIPA act is that it only shares the requirements and does not show the way to address or implement requirements. Here is where a healthcare compliance expert comes to the rescue.
To make you understand the crucial role of a healthcare compliance expert in telehealth app development, let me share a case study with you which reveals how healthcare compliance experts guided on filling out 47 security gaps in the healthcare app to make it a HIPAA/PHIPA compliant app.
Which are the top telehealth apps in Canada?
The following are the top telehealth apps that have been attracting many users due to COVID-19. To know the pros and cons of each app and access the 8 expert tips to compete with these apps, you can read our dedicated blog.
On which technologies a telehealth app works?
The technology selection for any kind of app defines the end result and user experience. It also influences the budget. Thus it is vitally important. The following is the technology stack of telehealth apps.
UI or front end:

React.JS

Back end:

Ruby, PHP, Java

Cloud:

AWS

Database:

MongoDB

Analytics:

Google Analytics

Payment:

PayPal or Stripe
Ultimately, the technology stack relies on the type of telehealth app you want to develop. I.e. native app, hybrid app or a cross-platform app.
What are the medication conditions that can be treated with the telehealth app?
A telehealth app should be able to address the following healthcare requirements of the patients.
➥ Primary Healthcare: Acne, Allergies, Constipation, Cough, Ear Problems, Fever, Flu, Headache, Rash, Respiratory Problems, Urinary Problems
➥ Mental Healthcare: Bipolar Disorder, Depression, Eating Disorder, Grief & Loss, Life Changes, Parenting Issues, Stress, Relationship Issues
However, the ability to treat the number of medical conditions directly depends on the types of doctors registered on your telehealth app. For instance, you should have psychiatrists on-board to offer mental healthcare services.
What are the top telehealth app features?
A telehealth app has two different user profiles (doctor and patient). Thus, there will be two different app modules with different features.
Doctor app features:
Healthcare worker's profile

Calendar

Task Scheduling

In-built chat, video call, and voice call options

Call recording

EHR review

Medical prescription

Dashboard and analytics
Patient app features:
Log in or sign up

Profile

Search

Appointment booking

Appointment history

Communication

Notifications

Payment

Rating & review
What is the profitable business model of the telehealth app?
You can make money out of the telehealth app in multiple ways. We are documenting the major ways top telehealth apps like Maple are making money.
Charge users based on per-visit.
Charge users based on per-visit and goal of the visit.
Charge users a higher amount for visits on weekends and night time during weekdays.
Enable a user to buy a monthly subscription package.
Enable a user to buy a monthly subscription package for multiple users (their family members).
Charge differently for a subscription package for the fixed number of telehealth visits or unlimited visits.
Tie up with businesses to offer telehealth medical services to their employees.
What is the most recent news of the Canadian telehealth industry?
According to the

Globenewswire

, Vancouver-based telehealth app providing company named CloudMD reported record revenue of $3.1 million in the first quarter of the year 2020.

According to the

survey

results released by the Canadian Medical Association, 47% of Canadians have used telehealth services during the pandemic and 91% of them said that they were very happy with the experience.

According to

Baystreet

, the telehealth boom is creating an opportunity worth $250 Billion for investors.
What are the healthcare events, conferences or webinars planned to organize in Canada in 2020?
1. ● Event: eHealth 2020 Virtual Pop-Up
● Agenda: Strengthen the digital health industry and the professionals who work in it
● Date & Time: July 20 @ 1:00 PM - July 21 @ 5:00 PM
2. ●Webinar: COMPEER – A Wearable Smart Device and Application
●Agenda: Discuss and showcase technologies for senior care
● Date & Time: July 22 @ 12:00 PM - 1:00 PM
3. ●Webinar: Point of Care Technologies – Patient Care Delivery Optimization
● Agenda: Extend patient centricity and care delivery excellence
● Date & Time: August 5 @ 12:00 PM - 1:00 PM
4. ●Conference: Canadian International Conference on Medical and Health Science
● Agenda: Present ongoing research activities and enhance research relationsbetween the Universities and the industry
● Date: 11-13 August 2020
5. ●Conference: Ontario Health IT Conference
● Agenda: Discuss and showcase healthcare IT
● Date: 01 October 2020
What are the best videos related to telehealth you should check now?
Linsey Meyers sharing the importance of telehealth to tackle rural medicine challenges.
A US-based hospital showing a telehealth solution in action.
CNBC answers the most anticipated question, "Is Telemedicine The Future Of Healthcare?"
Our recent telehealth app development project featured in Collision Conference
Recently, we accompanied a virtual healthcare startup named Writi in its journey through healthcare app development complexities. Last week, Writi has been officially added in the list of best Ontario-based innovative tech companies by the fastest growing tech conference of North America – Collision. You can read more about Writi, its unique features, and how we contributed in our dedicated blog.
The success of our developed app Writi strengthens our belief in our exclusive development approach and services which guarantee the desired result. We have been tagged with 'digital healthcare specialists' for many reasons. I would like to share some of them.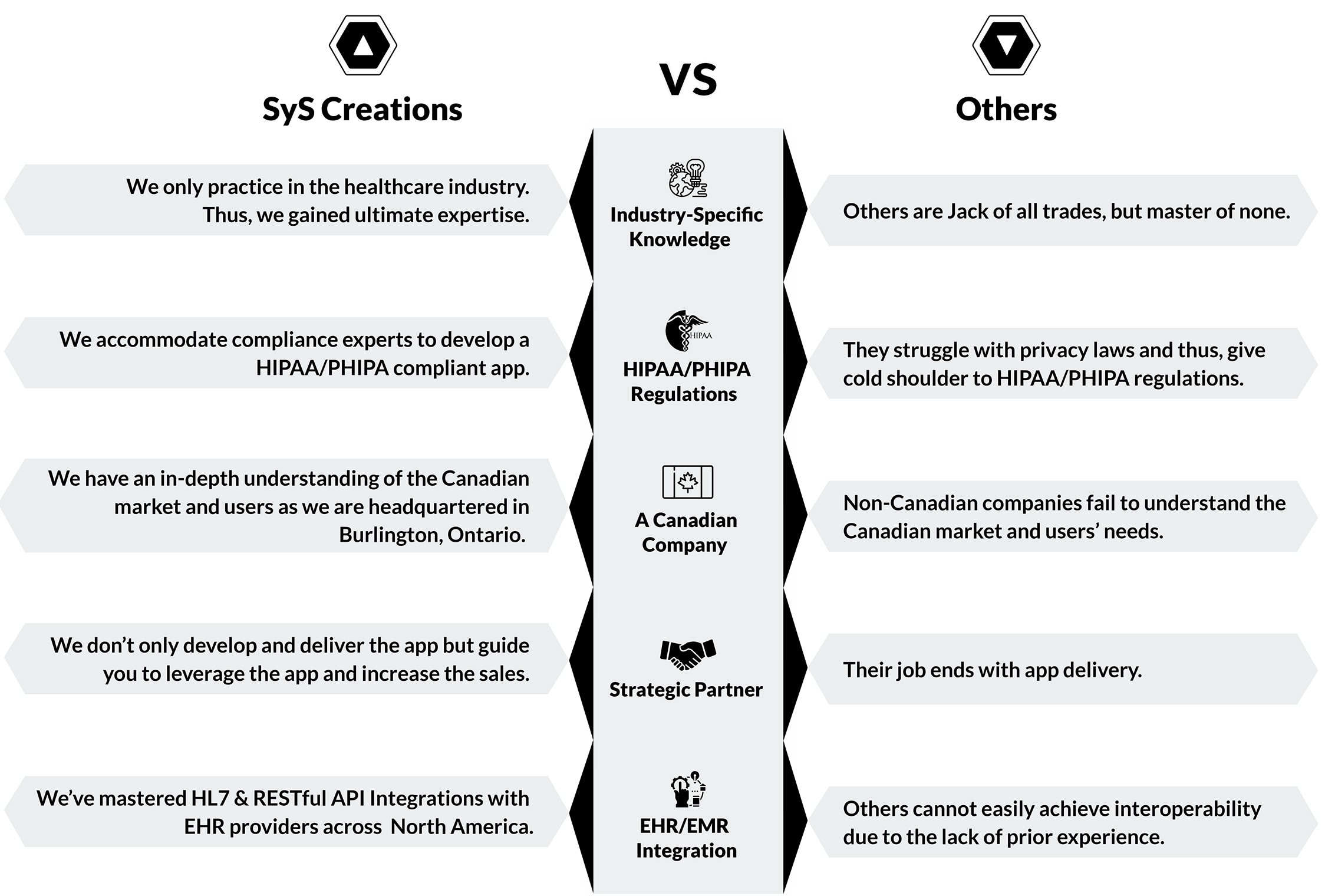 You can connect with me by filling up the following form or call me directly on +1 905 635 7574. Because of my versatile team targeting a specific healthcare industry, we are able to turn any of your healthcare app ideas into reality.