Telemedicine for Gynecologist: Get Live Demo of our White-label Telehealth App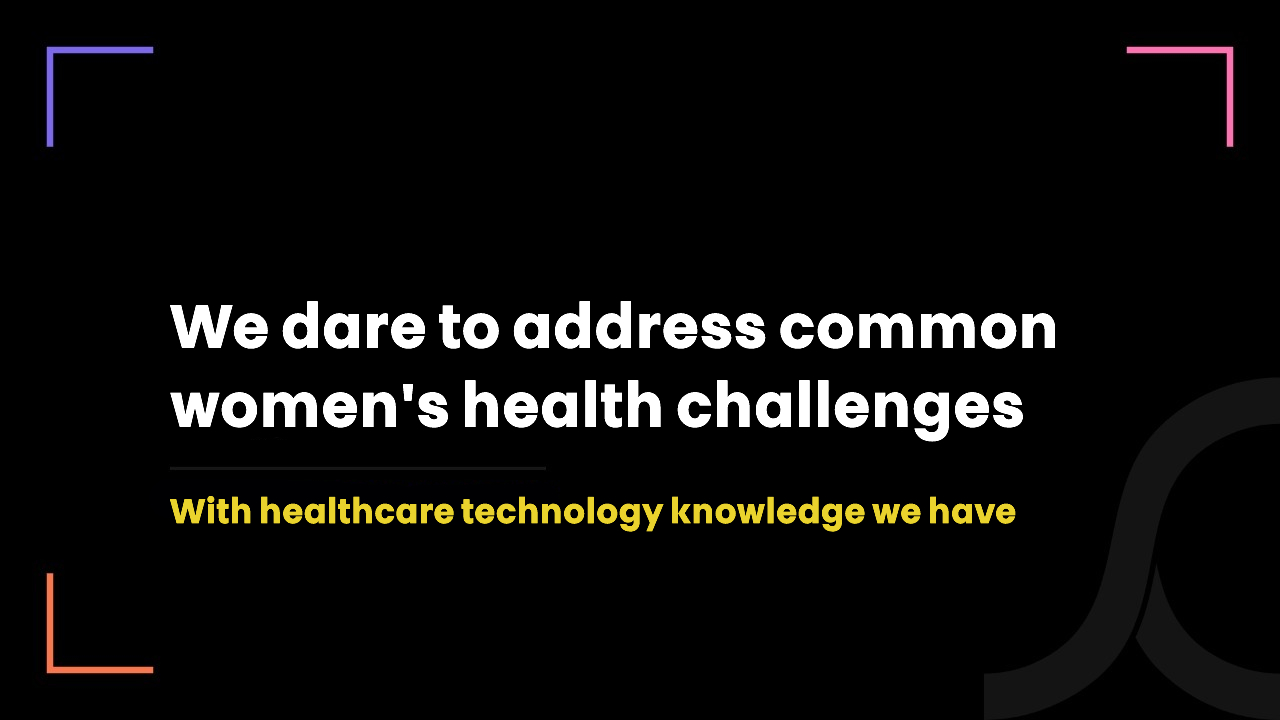 2 years ago
Technology-driven healthcare!
It is expanding in every medical sector because of the massive adoption of digital healthcare products such as mobile apps and wearable technology.
Due to COVID-19, the usage of telemedicine apps in women's healthcare has seen massive growth.
As per the reports, "Women accounted for 64% of general medical visits, while men only accounted for 36%".
The reason is flexible and affordable care experience from homeplace, especially if the women are suffering from gynecological issues.
So, how does it work? Let's discover.
How does a telehealth app work for OB/GYN visits?
The telemedicine app assists OB/GYN to provide fast, convenient, and effective medical solutions regarding women's health.
For a definitive medical solution, women can simply follow the below process to book the appointment.
Open the app and choose the OB/GYN as per your health condition
Schedule the appointment with a male or female doctor
Connect with them via chat, voice call, and video call
Attend the virtual visit with the doctor
Convenient guidance and treatment as per the medical condition of the women
Prescription and medication advice
For OB/GYN, the process is straightforward.
Accept or cancel the appointment
Access clinical data as telemedicine is integrated with EMR/EHR
Write medical notes, ePrescription
The use of telemedicine in women's gynecological condition
OB/GYNs are specialized in women's pregnancy, sexual, and reproductive health care.
Using telehealth visits with OB/GYN, women can simply get a fast and convenient gynecological treatment for a common condition.
For your better understanding, the following are the common healthcare treatments a tele gynecologist can offer with a virtual visit.
Using a telemedicine app, gynecologists can provide medication for common women's health conditions such as – depression, anxiety, and blood pressure.
Online video consultation and medication regarding birth control
Manage and refill prescriptions for common conditions such as – irregular periods, abnormal bleeding, hormone therapy, and urinary infections.
Remote monitoring for the women suffering from postpartum depression to deliver more convenient care
Effective and personalized plan for women having gestational diabetes by scheduling and managing the ideal meal plan and exercise
Frequently check-up the condition of women having hypertension condition
Ideal counseling for family planning
Schedule routine check-ups after the surgery
Medication and advice for the menopause symptoms
Offer a comprehensive solution for primary concerns regarding STDs (Sexually Transmitted Diseases)
Discussion regarding PMS (Premenstrual Syndrome)
Counseling for addictions like cigarette and alcohol
What are the benefits of telehealth OB/GYN visit?
Telemedicine offers comprehensive medical solutions for women's common health conditions such as – pregnancy care, birth control medication, mental support, and other gynecological diseases.
Apart from that, below are the benefits of developing a telemedicine app for gynecologists.
Quick and flexible appointment scheduling and booking process
Eliminate travelling and long waiting times

OB/GYN can provide gynecological solutions in rural areas without any complexity
Affordable and saves time for the women's health condition
Medication refill and reminder for birth control and other common medical condition
Faster and relevant treatment from anywhere by the certified OB/GYN
e-Prescription and secure payment
Know which other women's health solutions you can offer in the telehealth app for gynecologists
As per the reports, "Female patients and younger adults aged 18 to 44 are more likely to choose a telemedicine visit than male patients or patients of other ages".
Telehealth breaks the barrier for women such as – long waits for appointments, drive time, and high treatment costs for their medical concerns.
However, for a more profitable business, you also have to provide additional medical solutions for women's health conditions.
For that, here are the primary medical solutions that you should offer in the telehealth app for OB/GYN to provide a more convincing patient care experience.
During pregnancy, women require regular health checkups.
However, sometimes some women have to travel far away from home for medical checkups.
Through virtual prenatal care, women can get medical advice at a flexible time from home via mobile, computer, and tablet.
For pregnant women and women in their menopause phase, dermatology diseases are one of the primary concerns.
Due to the hormonal changes during pregnancy, many women face common skin infections such as – dark spots and brown patches on cheeks, nose, stomach, forehead, and other skin parts.
For that, you can offer certified dermatologists for their skin diseases solution.
As per the reports, "One in five women (19%) experience a Common Mental Disorder, compared with one in eight (12%) men".
In addition to this, common mental disorders include – anxiety, depression, hypertension, eating disorder, and Schizophrenia.
With the help of the telehealth app, women can schedule an online appointment with a certified mental health expert and deal with common mental health issues.
For women, a stable mental and physical health condition is the most essential aspect during pregnancy, postnatal, and childbirth.
With the simpler wellness care plan from the medical expert, women can simply manage their healthy lifestyle during pregnancy.
Wellness care includes – a diet plan, yoga, medication, online support, and healthy lifestyle tips.
Want to build a telemedicine app for gynecologist? Know how we can help you
Let us guess, if you are still reading this, you might be interested in developing a telehealth app for OB/GYN visits.
Don't worry, As a healthcare-focused IT company, we'll assist in your development, business, and compliance process like no one else can do.
To develop a telehealth app, we have four options for you.
1) White-label telehealth app development:
White-label apps are extremely famous among healthcare start-ups and businesses.
The reason is that – the development process takes very less time in white-label apps, and also it needs a low investment cap.
Here is a little glimpse of our white-label telemedicine app.
1. Super admin portal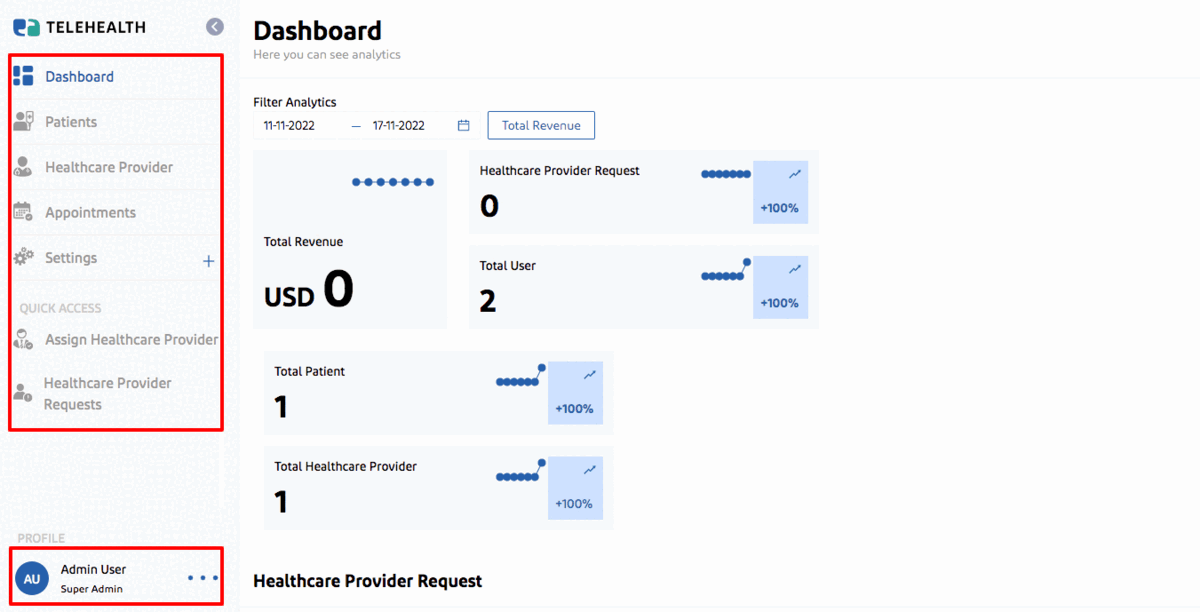 2. Patient side portal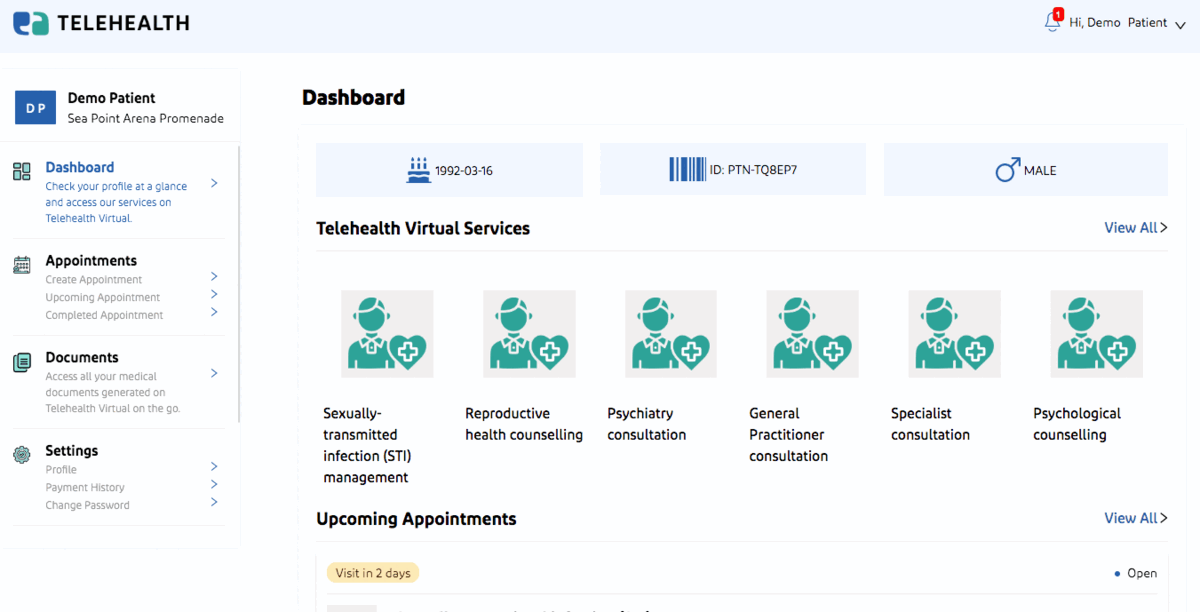 3. Provider side portal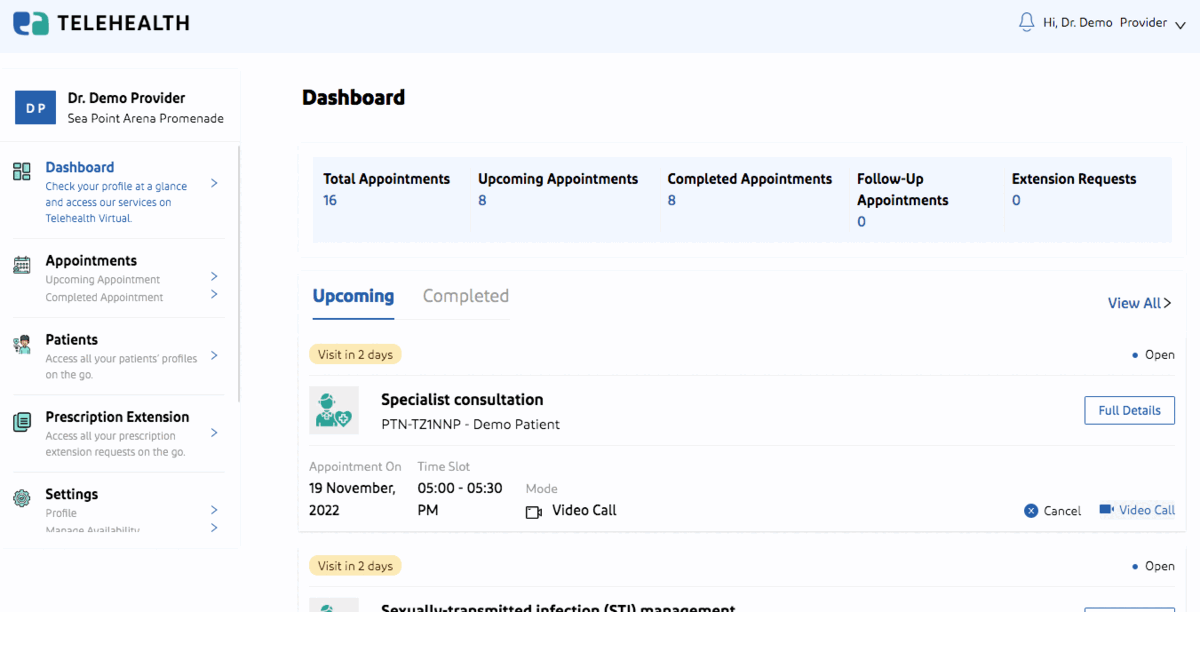 Our telemedicine white-label telemedicine solution gives you,
Feature customization as per your business objectives
HIPAA/PHIPA/PIPEDA compliant
OHIP and MSP-covered televisits
Explore our white-label telemedicine solution!
2) Custom telehealth app development:
If you want a unique design and feature set for your telehealth app, a custom app solution is an optimal option for you.
We build a custom telemedicine app as per your business objectives and requirements.
For custom app development, we follow an outcome-driven approach.
We only do coding 20% of the time, the rest 80% includes – market research, documentation, UI/UX design, QA testing, compliance audit, pilot, launch, and ongoing technical support.
3) Clone telehealth app development:
For healthcare startups and small healthcare businesses, a clone app is a superior solution.
The reason is – affordability and requires less development time.
Our approach to clone app development is far different from the others because we don't copy the entire design, we only take inspiration from it and make a better version.
With our clone telehealth app development, you'll get,
30% to 40% new features compare to the original app
Fresh and unique UI/UX design
Future-ready tech development
Explore our telemedicine clone app development!
4) Telemedicine source code:
It's pre-written code that enables you to launch the app in the market by skipping the entire development UI/UX, and QA testing process.
In other words, telemedicine source code is an affordable option for you.
You can acquire this source code with full ownership of the usage.
In addition to this, you can also customize the source code as per your requirement and can integrate it with the EHR/EMR to create a simple workflow.
We focus on healthcare IT solutions to boost healthcare business progress
"Our true intelligence helps us to deliver creative and influential healthcare IT solutions".
We are an Ontario-based healthcare IT company.
We said "intelligence" because healthcare IT is the only thing we have been doing over the last 7+ years,
With our intelligence and outcome-driven approach, we help healthcare start-ups, clinics, hospitals, individual healthcare experts, and businesses to build their market presence more convincingly.
To help them in the most efficient way, we have an expert and dedicated team of UI/UX designers, web and app developers, compliance specialists, business analysts, and QA engineers.
Imagine the outcome if a team having healthcare IT passion and healthcare IT expertise works on your dream project!