Telemedicine for Startups: Should They Build Tech Infrastructure or Buy It?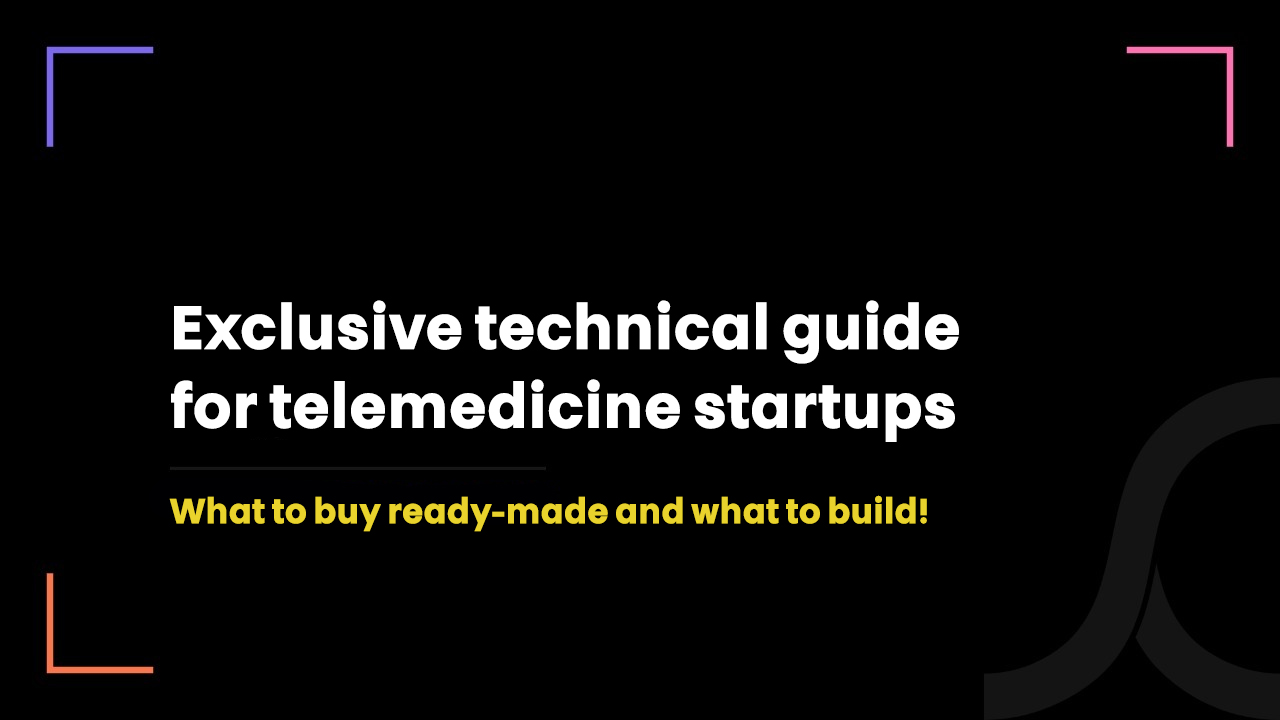 3 years ago
What started as the compulsion to continue care delivery even during the pandemic has now turned into a mainstream care delivery model. 
Yes, we are talking about telemedicine or telehealth.
According to a new report by Grand View Research, the global telemedicine market size is expected to reach USD 298.9 billion by 2028.
Telemedicine startups are top contributors here.
They provide telemedicine infrastructure to healthcare providers to let them run virtual care programs without shouldering burdens. 
But what about telemedicine startups? They need to have a robust telemedicine infrastructure in order to survive in a very competitive market.
Every small decision regarding telemedicine infrastructure influences their short-term and long-term business goals and customer experience. 
So, let's discuss it briefly.
Telemedicine for startups: Guide on achieving technical infrastructure
A telemedicine platform is not only meant to carry out video calls between patients and providers.
It is a complete care solution or rather the fusion of patient engagement, video consultation, ePrescription, medication reminder and symptom checker solutions. 
What does this mean is - the technical infrastructure of telemedicine is most likely complex for the startups which dare to tackle everything by themselves.
The following are the top 3 segments a telehealth infrastructure of startups is based on! 
1. Telemedicine Solution
Needless to say, every telemedicine startup requires a telemedicine solution.
But what matters most here is which type of telemedicine solution you decide to acquire. 
You have 2 major choices - building your own custom telemedicine platform or buying 3rd party white-label telemedicine platform.
If you choose a custom telemedicine platform, you do have 2 more choices - MVP version and full-fledged version!
The MVP version of the custom telemedicine platform costs you low. However, the MVP telemedicine app only contains the basic features.
Whereas the full-fledged version of the telemedicine platform with all basic, advanced and good-to-have features costs as high as $70000.
Talking about white-label telemedicine solutions, startups do have three choices - white-label without source code, with source code and with source code and customization.
A white-label telemedicine solution without source code is most affordable. However, you always need to contact the company that owns the source code for any modification in your solution.
White-label telemedicine solution with source code allows startups to own the solution in a complete manner.
White-label with source code and customization allows you to own the source code as well as ask the solution provider to customize it according to clinical workflows and needs. This costs you $30000+.
So, should startups build a custom telemedicine solution or purchase white-label?
Well, it largely depends on the funds startups have.
If you have more than $50000, it is advisable to go for the custom telemedicine solution and build your product from scratch.  
You can consider the MVP approach to keep the financial risk low. But it surely requires good investment - if not now - then after a successful prototype. 
And if you have funds below $50000, we would suggest going for white-label with source code and customization.
It is as good as the custom solution!
Startups should avoid any type of telemedicine solution which does not come with source code ownership! 
(Though it is the best choice for individual healthcare providers!) 
2. Payment or billing module
This is the most basic module of the technical infrastructure of telemedicine solutions.
Without this module, startups cannot generate any revenue.
The payment module of the telemedicine solution has three components. 
The payment processor, health card billing and private insurance billing. 
Payment processor is responsible for processing the direct payments made by users using credit/debit cards or eWallets.
Health card billing is about letting healthcare providers on telemedicine solutions submit the claim along with the billing code to MOH for reimbursement.
Private insurance billing is all about letting healthcare providers on telemedicine solutions submit the claims directly to users' insurance companies.
Each of these components of the payment or billing module requires different technical implementations. 
For instance, you have to integrate a payment API such as PayPal, Stripe for processing payments received by debit/credit cards on telemedicine solutions.
For health card billing, you can integrate an OHIP, AHCIP, MSP medical billing service such as Dr. Bill to directly submit the claims to MOH from the telemedicine solution itself.
And for private insurance billing, you can integrate Telus eClaims to submit the claim directly to private insurers. 
So, should startups build a payment or billing module or purchase it?
Let's discuss individually for each component of the payment module.
Payment processor: Building a payment processor requires years and an experienced team from the FinTech industry. Thus, the most feasible and affordable solution here is the payment API integration and paying some fixed % on every transaction to that API.
Health card billing: Here, it is feasible to build a custom health card billing system like Dr. Bill and integrate it with your telemedicine solution. We have both expertise and experts to achieve this. However, this will increase the telemedicine cost. But the business possibilities with your own billing system are endless.
You should read this: Cost to build your own healthcare billing system
Private insurance billing: The most feasible option is Telus eClaims integration. It supports almost all top private insurance providers and is completely free to use. 
3. Video calling module 
The entire concept of telemedicine is all about delivering patient care through the highest level of communication channel which is video calling.
To achieve the video calling in your telemedicine solution, you have two options. 
3rd party video calling API or WebRTC. 
3rd party video calling API integration with your telemedicine solution gives extraordinary video calling features to your solution. However, these API providers charge as per your usage or as per video calling minutes. Twilio and Vonage are the top APIs here.
WebRTC is the built-in video calling capability of web browsers and it is completely free. However, the major limitation here is that it does not support all web browsers and mobile apps.
So, should you select WebRTC or video calling API?
You should choose video calling API in most cases. But in the following cases, you can choose webRTC as well.
If you are only developing a web-based telemedicine solution.
If you are developing an MVP version of a web-based telemedicine solution.
To save on monthly API fees, you can choose webRTC for a web app of telemedicine and video calling API only for a mobile app!
Because, if you choose webRTC for a mobile app, your app will redirect users to the web browser of their devices to have video calls!
And this is not a good user experience.
Verdict:
You should neither build the complete telemedicine infrastructure nor buy it. You should adopt a hybrid approach.
The perfect mixture of 3rd party services and your custom modules always results in a robust telemedicine infrastructure!
How and where do we play our role in building telemedicine infrastructure for startups?
We are Ontario-based telemedicine tech and compliance experts. 
We have experts, expertise and experience to build the telemedicine tech infrastructure.
With our in-house developers, designers, business experts, compliance consultants and RPA engineers, we build custom telemedicine solutions with all custom features. 
We are also armed with a skill set to integrate EMR/EHR and other 3rd party services while addressing interoperability and security standards.
Being a Canadian company, we understand the gravity of compliance and thus always develop solutions that are compliant with HIPAA/PHIPA/PIPEDA and other provincial privacy laws.

We also provide a white-label mobile and web-based telemedicine solution for startups having a low investment cap. 
And we are delighted to share the real screenshots of it!