How Much Telemedicine App Costs in 2023? Calculate the Cost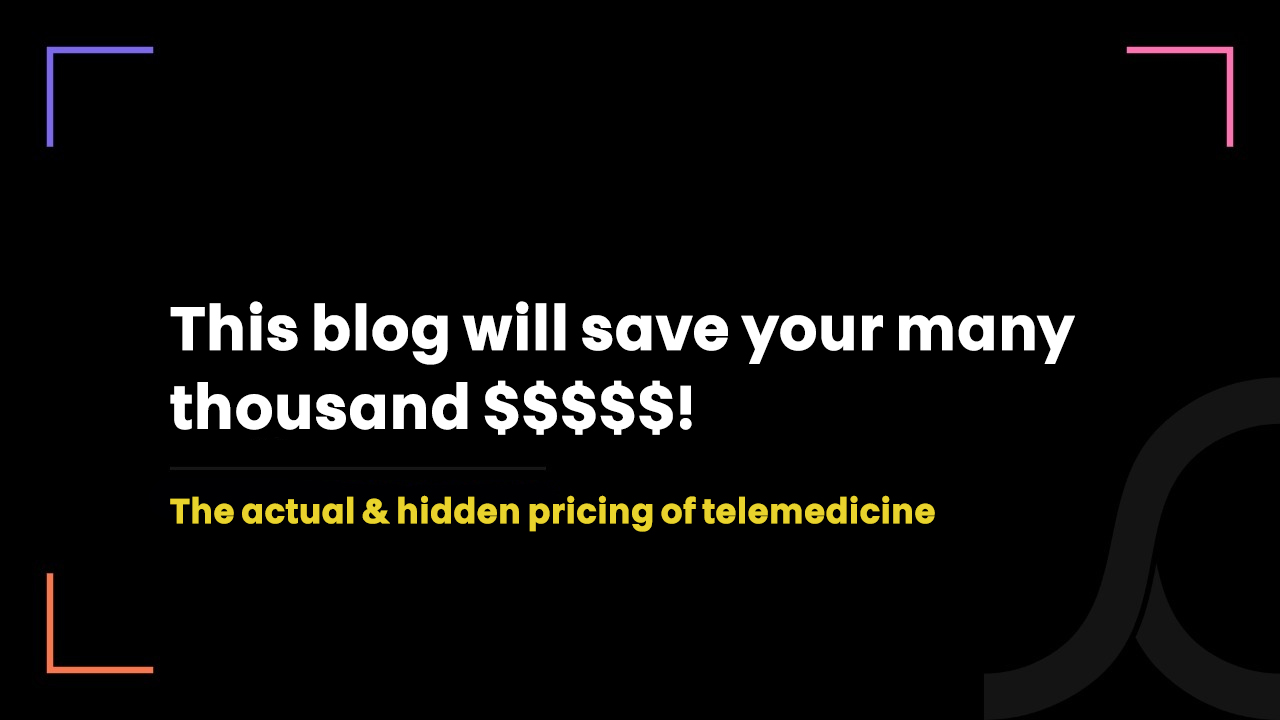 12 months ago
Don't take this blog as yet another blog found on Google. 
And there are some real reasons for that!
First, no one is going to tell you the exact telemedicine platform cost – but we are! 
Second, we are an Ontario-based telemedicine business, tech and compliance experts.
And third – in 8+ years, we have successfully delivered more than 30 telemedicine platforms! 
Meaning, we are qualified enough to decode your any question regarding the cost of a telemedicine app or software or platform.
So, let's get started.
The only major factor that defines the telemedicine software cost
Yes, there is only one factor that determines whether you are going to pay $300, $30000 or $90000 for the telemedicine platform.
And that factor is – the type of telemedicine app you want to acquire. 
There are mainly 4 types of telemedicine platforms. And each costs you different.
The following are those 4 types.
1. 3rd party SaaS telemedicine software 
Many telemedicine vendors provide you with telemedicine software on SaaS (software as a service) pricing model.
Here, they let you use their platform for virtual care.
And in return, you have to pay them a monthly or yearly fee.
This is the same as the Netflix subscription.
2. Your own custom telemedicine app 
You hire a tech company.
And it develops the telemedicine platform from scratch as per your unique requirements such as –
Features
Functionality
Workflow
3. Clone telemedicine app 
Unlike a custom platform, the clone app has UI and features inspired by already existing or performing telemedicine apps such as Maple and Amwell. 
You must also read this guide: Telemedicine clone app development
4. White-Label telemedicine app 
A white-label telemedicine app is a ready-to-use platform.
The company which has already built the platform delivers it to you with your own branding and some changes in UI and features as per your unique requirements.
Yes, it is similar to 3rd party software.
But the major difference is the flexibility!
Unlike the SaaS platform, you can enjoy the full flexibility of the white-label platform.
To understand it more, check out our HIPAA-compliant white-label telemedicine app that we launched it recently.
Revealing the Telemedicine app cost (99.99% accuracy with the market price in 2023)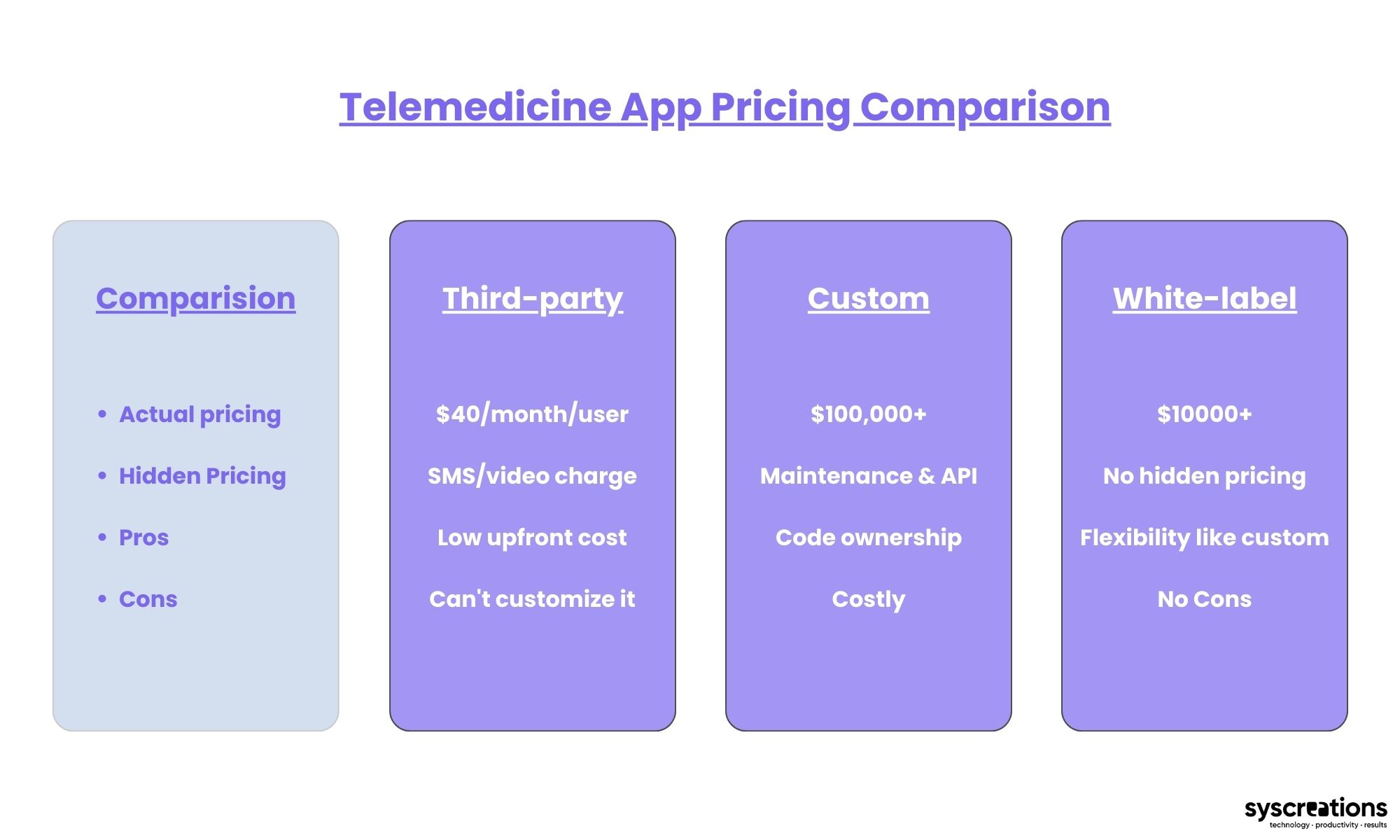 1. Cost of 3rd party telemedicine software
Actual pricing: 
They charge on a monthly or yearly basis – and on the basis of the number of practitioners using the app.
For example,
They charge around $40 to $60 per practitioner per month and around $200 per month for 10 practitioners.
Hidden pricing: 
They are smart. And they provide several pricing plans.
An affordable pricing plan offers restricted access to the features of the telemedicine platform.
To get full access to the telemedicine app, you must choose their most premium plan.
Besides, many vendors are even smarter.
In addition to paying a fixed monthly fee for using their platform, they charge extra for the SMS alert and video streaming.
This is what we have found on the website of one of the top telemedicine vendors.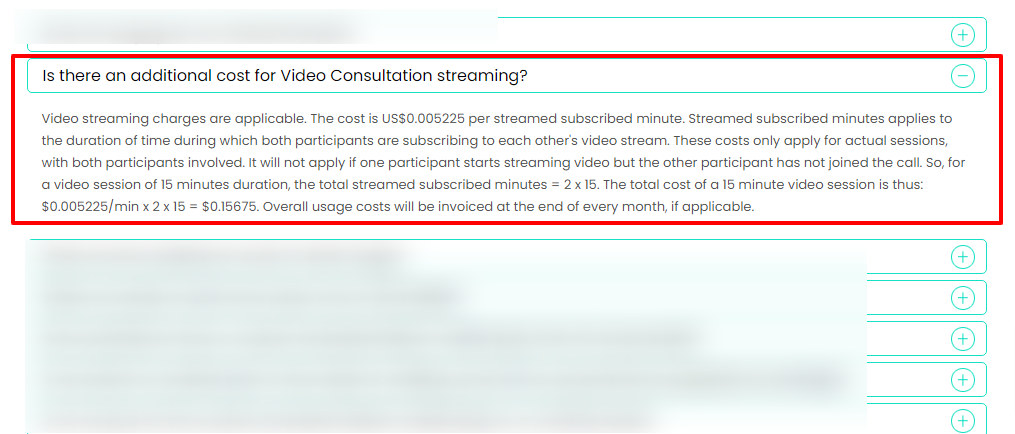 The biggest disadvantage: 
You are not its owner.
And thus, you cannot customize it and use it the way you want for your own medical practice.
Most importantly, it fails to address your clinical workflow needs as it is not developed for you and your clinical workflows only.
It is developed for all!
2. Cost of telemedicine for a custom solution
Actual pricing: 
To build the custom app, you need to hire a tech company.
And North American tech companies charge somewhere between $50 to $120 per hour.
This way, if it requires 1000 hours to build the telemedicine platform and the tech company you hire charges $70 per hour, the cost would be $70000.
For a better understanding, this is the formula to calculate the cost of custom telemedicine software:
Cost = (Development hours) * (Hourly development charges)
Yes, you can hire an Asia-based tech company that charges only around $20 per hour.
But these companies lack specific knowledge of the North American healthcare system, market, user needs and compliance requirements.
Hidden pricing: 
You have to maintain your telemedicine software regularly in order to perform medical practices smoothly and efficiently.
Moreover, you also need to pay usage-based fees for several APIs such as video calling API and payment API.
The biggest advantage: 
You are the only owner of the telemedicine platform.
You can customize it according to your business, technical, clinical and compliance needs.
You can even integrate online pharmacy, healthcare eCommerce and wellness stores with it for multiple revenue streams.
Means, you have ultimate control and freedom!
Check out this case study to know more about custom telemedicine software development.
3. Cost of telemedicine for clone app
Actual pricing: 
Same as the custom app, you need to hire a tech company to develop a telemedicine clone app.
But as compared to a custom platform, a clone platform requires fewer hours in designing UI and defining logic for features – as UI and features are almost the same as other platforms.
With fewer hours required, the cost to develop a clone telemedicine app decreases.
In most cases, it costs around $45000 to $60000 in North America.
Hidden pricing: 
Here also, you have to maintain the telemedicine software and also pay usage-based fees for the APIs.
The major disadvantage: 
Your clone platform would look and work similarly to the already existing platforms.
And this sometimes restricts the scope for establishing a strong market presence in this highly shifting market.
4. Cost of telemedicine app for white-label solution
Actual pricing: 
It is difficult to estimate the cost of white-label telemedicine software.
Because it totally depends on your unique requirements of features, functionality and workflow needs.
Without knowing what exactly you want – even we can't tell you that.
Hidden pricing: 
There is no hidden pricing in it.
The telemedicine platform cost you'll get here totally relies on your specific needs.
The biggest advantage: 
You invest less.
You get your own telemedicine platform with your own branding.
You get implementation and post-implementation support.
You can customize it the way you want.
You can upgrade it whenever you want. 
Check out our white-label telemedicine app
We recently launched a white-label telemedicine app.
It is a ready-to-use app that we customize according to your unique needs.
To help you understand it better, the following are real-screen images of it.
(We have also shared the links to its live demo of the admin, provider and patient-side portal.)
1. Super admin side portal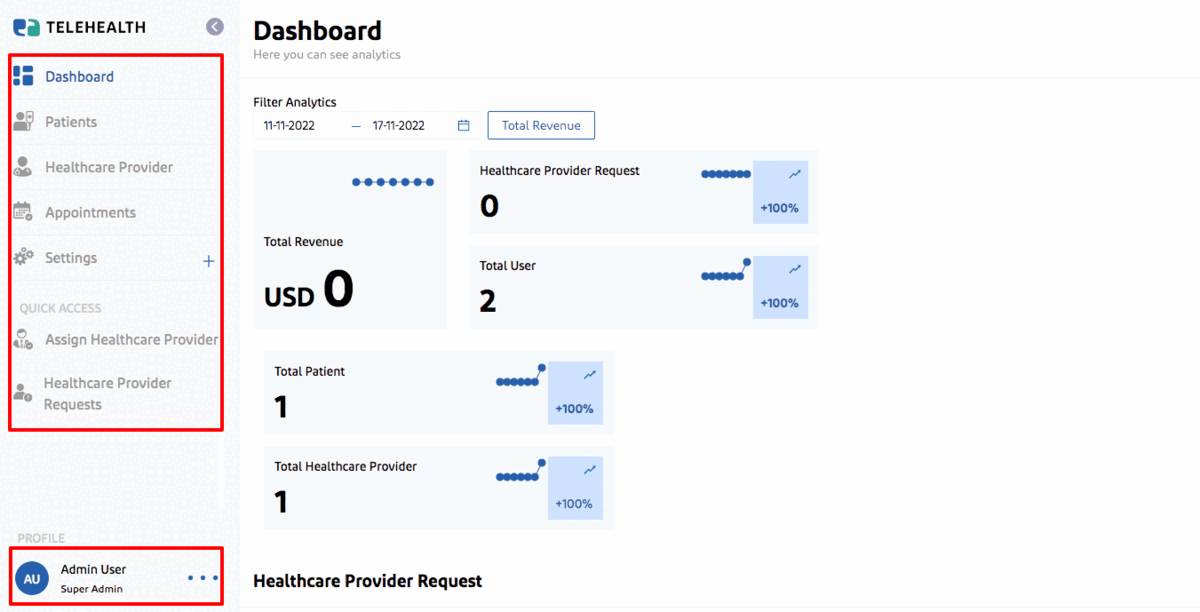 Credentials:
Username: admin@admin.com
Password: Admin@123
OTP (2-factor auth code): 123456
2. Provider-side portal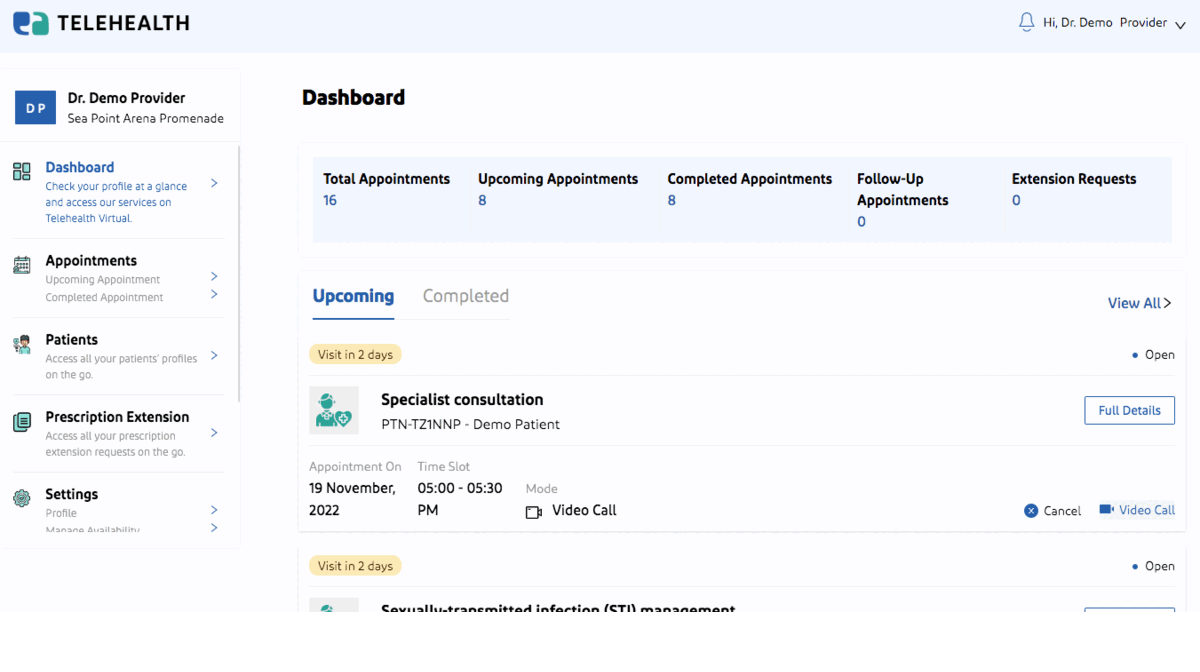 3. Patient-side portal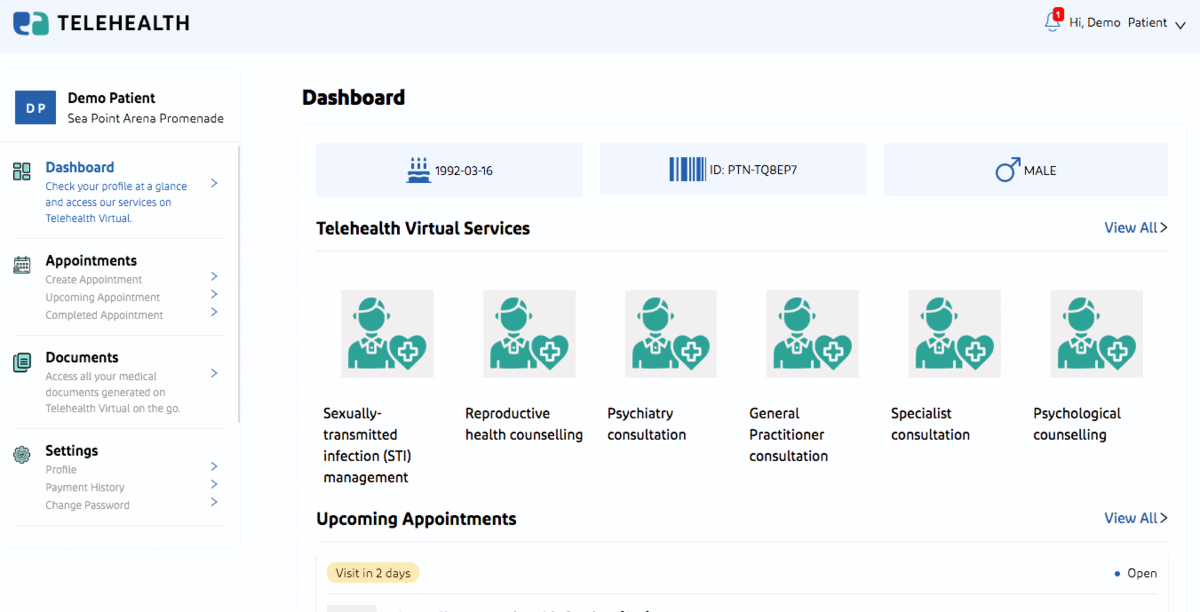 (Note: The username and password are autfilled.)
Top features of our white-label telemedicine platform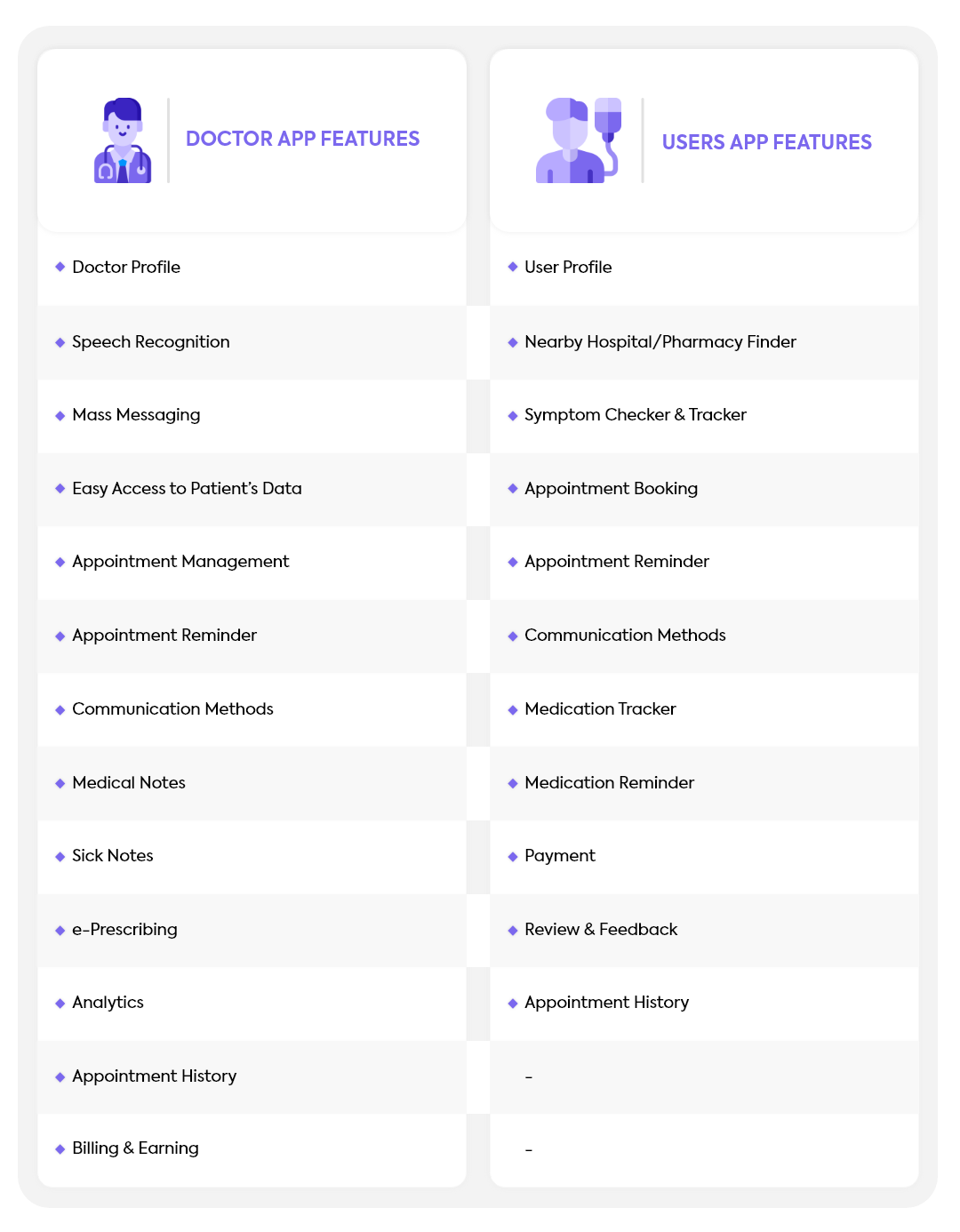 How it can add clinical value and peace of mind to your virtual care practices?
We believe in class over mass.
Therefore, every member of our team of 50+ IT professionals is – healthcare-specific!
In other words, they thoroughly understand what works and what's not.
With this much expertise and experience, our team has built a powerful, reliable and secure telemedicine app.
And following are a few functionalities of it.
It is compliant with HIPAA, PIPEDA, PHIPA, PIA and other privacy laws. 
It is a mobile and web-based solution. 
We integrate it with your choice of EMR/EHR, HIS, LIS etc.
Comes up with seamless integration with IoT or wearable devices. 
You can customize it as per your needs.
It has an in-built ePrescribing feature.
HIPAA-compliant document storage