Build a Telemedicine Web App With the Best Development Company in Canada & USA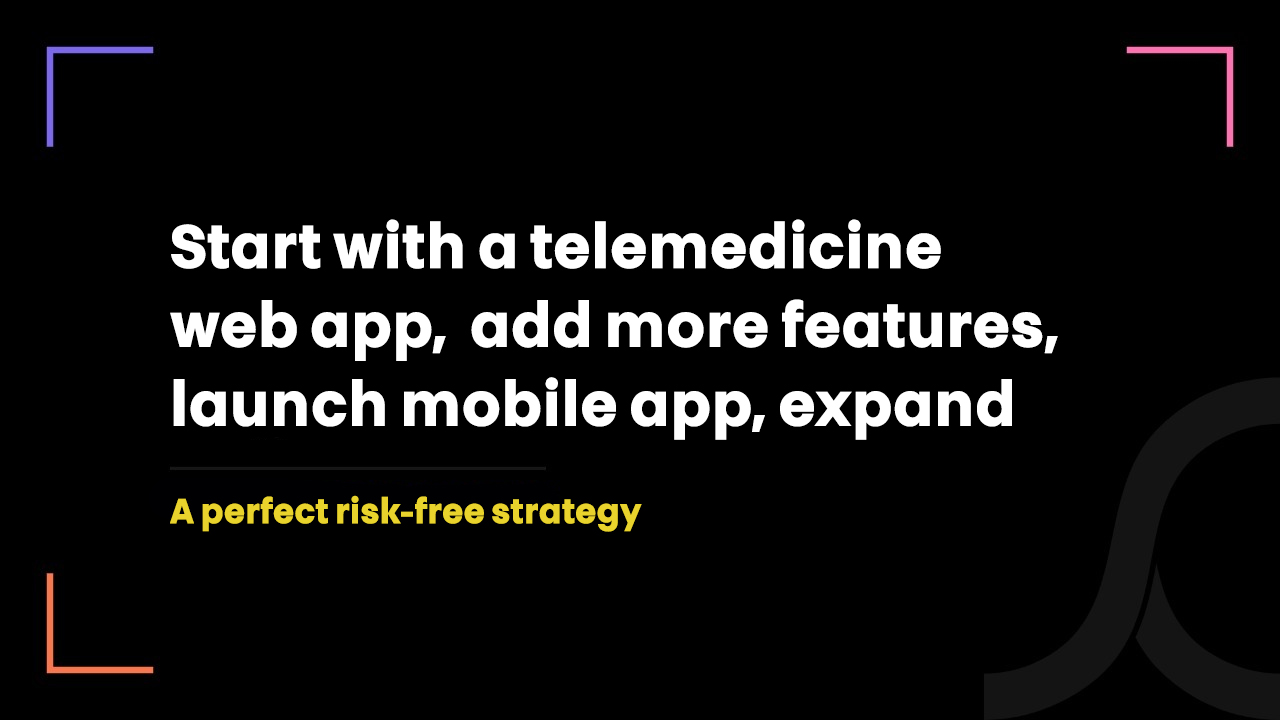 1 month ago
Who is this blog for? 
Those looking for an alternative to costly telemedicine mobile apps that generally cost more than $50000 in North America. 
Those who have enough capital funds, but want to choose a risk-free approach by building a feature-packed telemedicine platform but by not spending $50000. 
Those who believe that their users would prefer to use a telemedicine platform on a browser rather than downloading a telemedicine mobile app.
A disclaimer before we move further into this blog:  
Telemedicine web app that is equipped with dynamic features such as video calling, notifications, automatic background updates, faster response, etc, and can be opened in a web browser. 
So, let's start the journey of how you can build a telemedicine web app in Canada and the USA.
Why is your investment in developing telemedicine apps safe and fruitful?
In the last 8 years, as a top telemedicine web app development company, we have had many productive discussions with healthcare providers and entrepreneurs who have invested huge amounts of capital in building a telemedicine web app and gained unbelievable ROI. 
However, in the beginning, they all had asked us how safe their investment in telemedicine would be!
We answered the same to all of them. And what we answered was, 
In the healthcare ecosystem, convenience and clinical value are something patients are always looking for.
But unfortunately, our healthcare system has never been focused on other driving factors beyond just care! 
The gap between patients' expectations beyond care and the healthcare experience our existing healthcare system is offering has been ever-evolving since the pandemic. 
This gap is where healthcare entrepreneurs can generate millions by offering what patients are looking for - convenience and clinical value! 
A telemedicine platform is equipped with several hand-picked features that ease the patient journey from appointment booking to medical consultation & prescription and address all non-emergency clinical needs of the patients. 
Means, telemedicine is exactly what patients are looking for! 
Talking about a telemedicine web app, it is more convenient and easy to use than a mobile app for a large percentage of patients and clinicians.
Because it can be accessed from any web browser without downloading anything, unlike a mobile app which needs to be first downloaded. 
So, due to the convenience, clinical value, and ease of use it offers, your investment in telemedicine web app development is completely safe and even fruitful! 
Types of telemedicine web apps you can use for your online healthcare platform
Depending upon the type of investment you have to make in your telemedicine web app, you first need to decide the services & features you want to deliver remotely before opting for our telemedicine web app development services. 
Depending upon a variety of factors like your healthcare niche, and permissions, there are various types of telemedicine web app solutions that you can benefit from.
1. Interactive Telemedicine
The most basic and commonly used type of telemedicine platform. Through interactive telemedicine solutions, a clinician and doctors can extend medical expertise remotely through audio and video consultation. 
Cases where interactive telemedicine works best:
CBT and mental therapies
Post-injury monitoring
Nursing consultation
Post-discharge follow-ups
2. IoT and RPM-Based Telemedicine
Not all patients require or necessarily need to be within the healthcare system environment to get care delivered.
Using Remote Patient Monitoring (RPM) clinicians and caregivers can input, store, and analyze patient data out of healthcare systems.
For patients, using an RPM-based telemedicine web app is quite beneficial as it can be customized to automatically and manually input data, and update medical records.
Furthermore, doctors and nurses can be aware of subtle changes, and identify patterns that affect patients' health in the long term. 
And remote access reduces unnecessary laborious movements for both caregivers and patients. 
3. Click & Send Telemedicine
Telemedicine platforms do have great benefits, but employing all sets of features can be an expensive affair, especially when you are starting in the healthcare business or for specific niche healthcare providers, for example, dermatologists.
Barred from features like video conferencing features, but allows your patients to send queries either using a photo or in a recorded video format.
Using the click and send telemedicine web app format, doctors and clinicians can quickly go through reports and offer medical remedies instantly.
On the other hand, patients can save money in terms of consultation charges, and ER visits.
Why can't we develop and deliver a telemedicine web app within 30 days?
What we learned way before starting the healthcare-focused IT company was - that developing a successful mobile and web app is just 10% of coding and 90% of workflows, documentation, UI/UX, prototype, testing, compliance audit, and piloting. 
Means, what you know as telemedicine web app development is a complete lifecycle for us which we always follow to deliver epic products to our clients. 
We define workflows based on user persona, their intent and user journeys to ensure users get everything they are looking for with a minimum number of clicks. 
We also document everything from a feature set to technologies to user journeys in a well-organized document in order to define project scope, find risk, plan risk, migration strategies and keep all teams on the same page.
As a result, it helps us in avoid any unprecedented challenges during project execution. 
We further follow each phase of the project lifecycle - and not directly code the platform blindfolded - which results in a quality telemedicine website platform. 
Because there may be shortcuts to building and delivering web apps. But there isn't any shortcut to building and delivering a telemedicine brand that is capable of delivering value in the true sense! 
These top telemedicine providers offer telemedicine services with their web apps
If you still have doubts about telemedicine web development services, the following list can inspire you. 
Tia Health allows patients to talk to healthcare providers through its website which is a web app.
The most interesting part is that a patient can see the provider in just 5 steps. 
In addition to this, they can also select preferred healthcare providers by searching them based on appointment type and medical specialty. 
Maple is Canada's most popular telemedicine startup founded by a physician himself.
It enables users to seek virtual care using its mobile app available for both Android and iOS devices. 
It also offers flexibility to users in order to receive virtual medical consultations from the web browser itself using its telemedicine web app. If the web app wasn't useful to telemedicine business growth, Maple would never have invested in it! 
Teladoc facilitates patients to schedule virtual appointments with Canadian physicians with its intuitive web platform.
It claims to let patients talk to clinicians within 1 hour!  
How does a telemedicine web app save your operating cost?
Operating cost is nothing but the money you spend to keep your telemedicine platform running. The major operating cost of any telemedicine platform is its video calling API monthly fees. 
To enable seamless video communication between patients and providers, you must integrate a video calling API such as Twilio or Vonage.
These APIs charge you monthly. They generally charge you based on video calling minutes - $0.0015 per participant per minute.
But if you build web apps, you have a great free alternative to these paid video calling APIs.
WebRTC is a free video and voice communication method supported by all the latest browsers. Using WebRTC, developers can add video calling features to telemedicine web apps and since WebRTC is completely free, you don't have to pay anything to anyone for video calling.
This saves you a large amount of operating costs!
However, WebRTC lacks advanced user and analytics features. But it serves the purpose in the best way!   
Complete growth or expansion plan for your telemedicine web app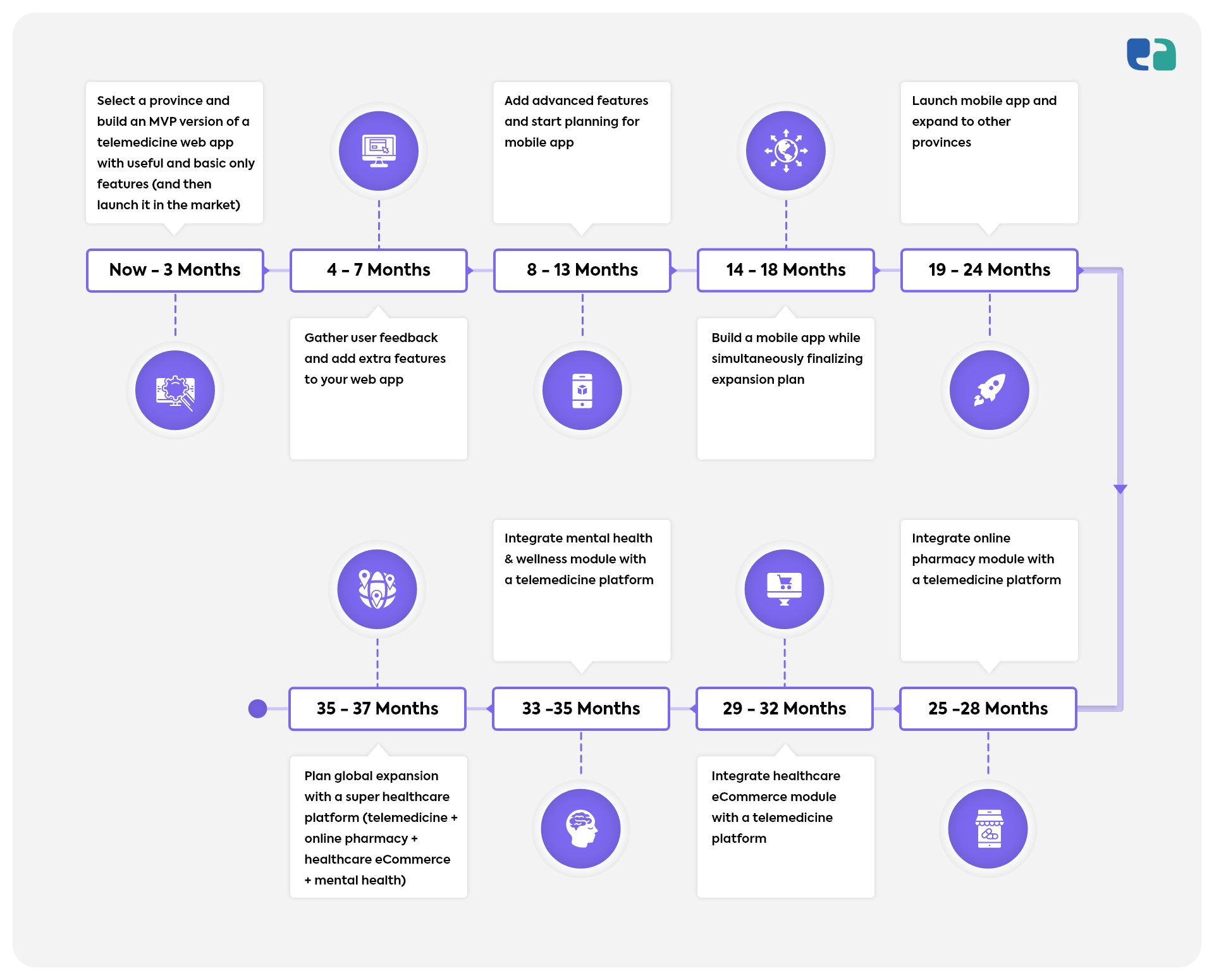 We're with you throughout your telemedicine growth journey as tech, business & compliance experts
We are Ontario-based local telemedicine tech, business, and compliance experts. 
What we deliver you is peace of mind - with our healthcare developers, designers, business experts, and compliance specialists. 
We solve all of your challenges - be it technical, business or compliance.
A major reason we are able to deliver growth to our healthcare clients is our Canadian healthcare-specific knowledge of clinical workflows, clinical protocols, billing structure and on-ground requirements of Canadians!
We are known for delivering Canadian quality of work with US standards of innovation. 
And yes, being a Canadian company, we understand the gravity of compliance. Thus, we only build a compliant telemedicine platform.
On the concluding note, we would like to share a quote that always inspires us,
Escape competition through authenticity!
You must explore: Our white-label telemedicine mobile/web platform