Insights into Telus Health Virtual Pharmacy: Workflows, App Features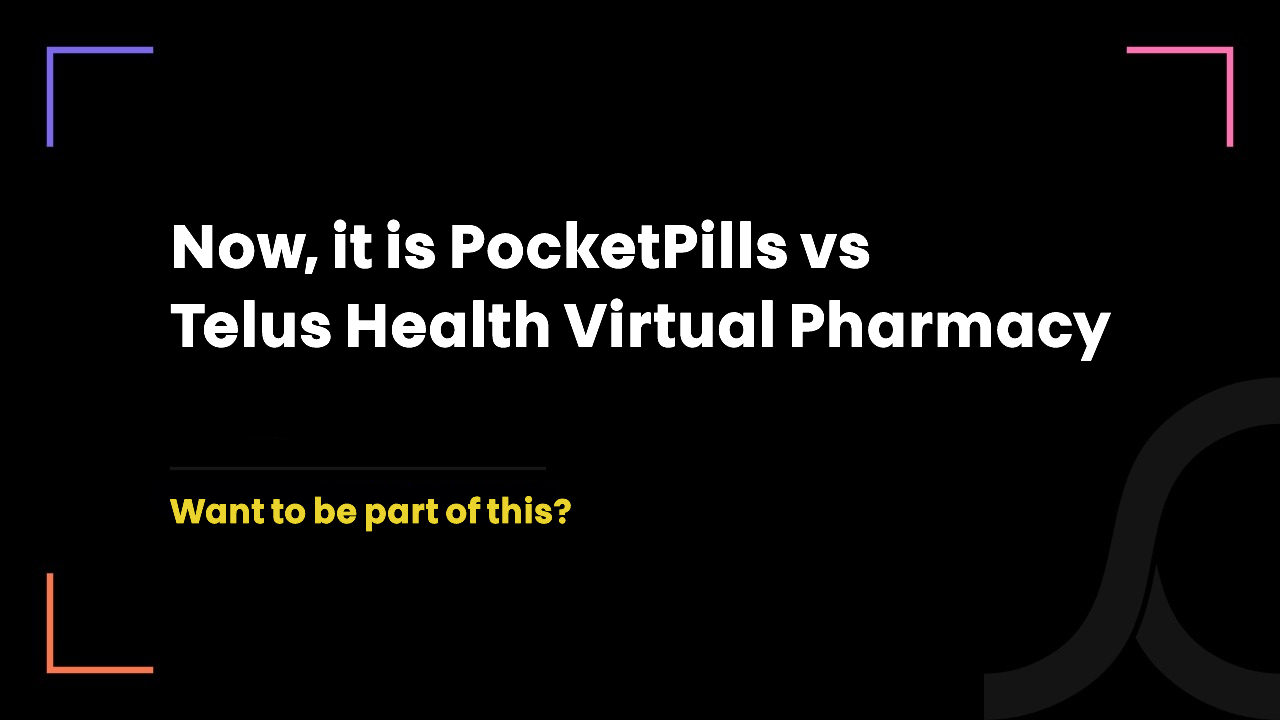 7 months ago
In the age of on-demand services, where users find it convenient to buy everything online, virtual pharmacy apps are gaining traction as people do not want to go outside during the pandemic.
Realizing its potential demand, Telus Health– a Montreal-based health division of Canadian telecommunication giant Telus has brought a virtual pharmacy application for Canadians, as one more addition to its current healthcare services.
According to Jill Yeman, senior communication manager at Telus, the new service is "a critical component in the company's digital health ecosystem."
Discover more about the Telus Health virtual pharmacy service, how it works, and its key features so that you get a clear vision of how to launch a Virtual Pharmacy app like Telus Health in Canada.
An overview of Telus Health virtual pharmacy
Telus Virtual pharmacy app is proving to be the saviour as it allows customers to order, track and manage prescribed medications for themselves and their loved ones.
The innovative app is a result of Telus Health's previous acquisition. In 2021, Telus Health acquired Alliance Pharmacy Group– Aaservice which provides online prescription refills and direct-to-consumer medication shipping.
The company is now planning to come up with a 24/7 pharmacy consultation, wellness coaching, and health tracker in the Telus Health Virtual pharmacy app. These upcoming features are unique and differentiate the app from other online pharmacy services.
Let's find out how it works.
User flow of Telus virtual pharmacy app:
The app design and features of the Telus Virtual Pharmacy app are user-centric, which makes it more personalized and easy to use.  
The user flow of the Telus virtual app looks like this:
1. Create a user account and add your loved ones
To use app services, the user needs to create an account by filling in the following information.
Basic info such as user name and address
Provincial health card details if you have one (optional)
Health insurance details if you have one (optional)
Once the account is created, you can add your family members and loved ones to the app.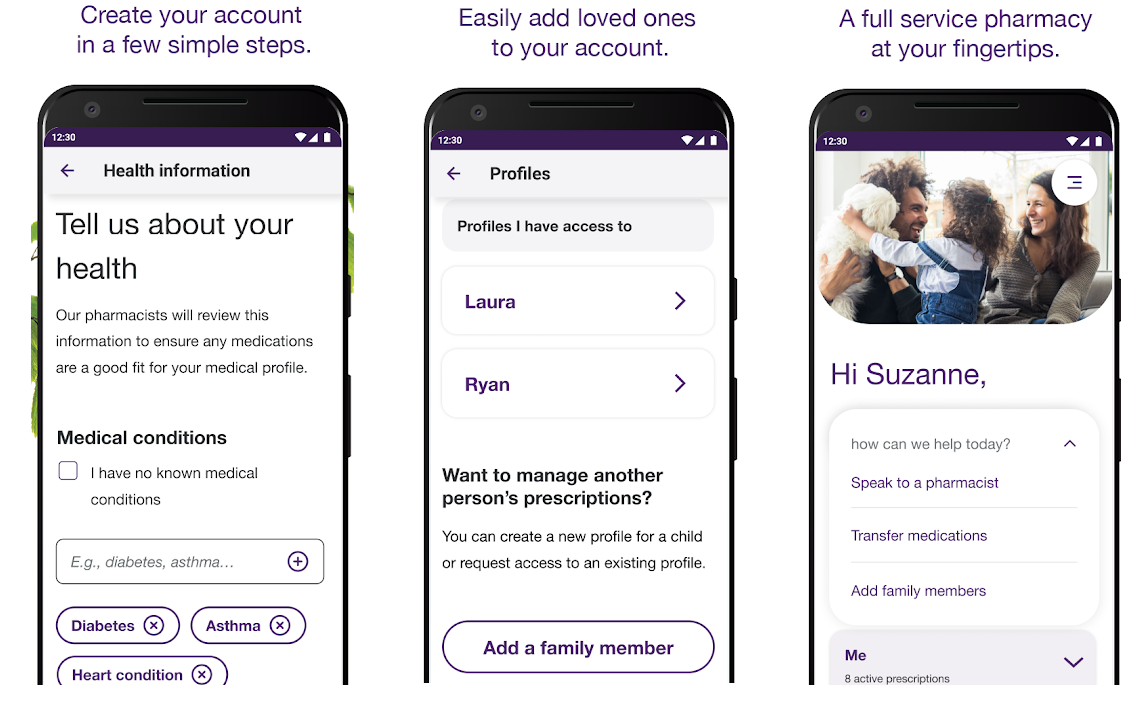 2. Place an order
Next, to place an order users need to upload their medical prescription online in the app or they can ask doctors to fax it directly in the app. Moreover, it helps users to coordinate with their insurer so they do not need to pay for the cost that is covered.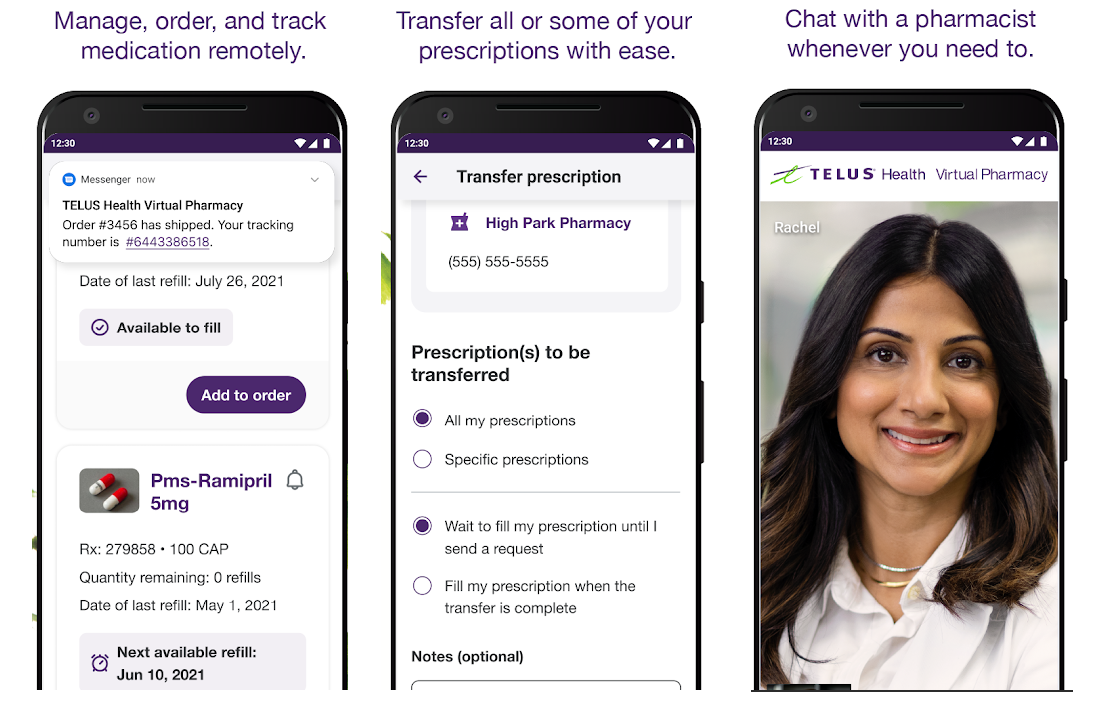 3. Chat with the Pharmacist
If the user encounters an issue or has a query about the prescribed medication, he can just ask his pharmacist about the same through chat. The pharmacist will ensure that everything is going well with the user's medication by reviewing the user's medication history.
4. Order tracking and delivery
Ordered medications will be packed and delivered to the users within 1 to 3 days of order placement. During this, users can track the order delivery progress online through the app.
4. Refills and reminders
If the user wants to plan for the next order, they can do so using the refill and reminder feature in the app.
Key  features of the Telus Health virtual pharmacy application
Telus Health's free Virtual Pharmacy app provides the following unique features:
Personal user profile
Easily add family members to the user profile
Order, track, and ship medications directly to the doorsteps of patients
One-to-one video and phone consultations with pharmacists
Set up automatic refill reminders 
Easy-to-use interface
Get advantage of insurance and other cost benefits
Access to Medpack service that simplifies caregiving: Take prescriptions, organize medication, and deliver it to the user.
The app is available on Android and iOS devices.
How to develop a virtual pharmacy application in Canada?
Timely medication is important for the person suffering from chronic diseases and old age people to avoid any health emergency. Modern virtual pharmacies bring a unique solution for all in the world of digital healthcare.
Want to find out how?
Well, the answer is here,
The app reduces the inconvenience of buying medication offline for patients and caregivers. Moreover, the automatic refilling option eliminates the chances of running out of your medication supply.
It saves users time, it is just like having a pharmacy in the palm of your hand. Users can simply order, track and refill medication without much effort. No need to visit a pharmacy store in person.
The app reduces the random phone call made to the pharmacy store as every detail is filled in through the app, which eliminates the chances of errors.
Helps to improve medical adherence
Most pharmacy apps provide features that ensure users' adherence to medication by managing and organizing their medications, delivering them on time, and providing refill reminders.
Important factors to consider during virtual pharmacy app development
While developing a virtual pharmacy app, one needs to consider the following factors:
The app should have a simple design so the users can find it easy to use. Complex applications that users find difficult to start are more likely abandoned by them.
Choosing the right tech stack is mandatory to develop your app according to your idea. A good tech stack means fewer errors, easy maintenance, and better scalability.
The inappropriate choice can lead to deviation of your app from the original idea and ultimately take the app towards failure.
Integration with other platforms
Your pharmacy application should be compatible with various mobile devices (Android and iOS ), third-party platforms, APIs, and other software that users may prefer to use. Kroll integration is also very crucial here.
The data captured and stored by the pharmacy app include sensitive information about the patient's health records. Therefore it is critical to abide by the rules and regulations within the regions to which it is catering.
Before or after you will find a need to expand your app services by adding new features. On the other hand, the app must be capable of handling an increasing user base. This can be achieved by making your app scalable.
Can virtual/online pharmacies play a huge role in addressing healthcare disparities?
Yes. 
Virtual or online pharmacies play a significant role in addressing healthcare disparities. Some ways in which they help in addressing and solving the issues are mentioned below:
1. Improved access to medications
Virtual pharmacies can provide patients with better access to necessary medications, especially for those who live in remote or rural areas that may not have easy access to brick-and-mortar pharmacies. This can help to reduce healthcare disparities by ensuring that all patients have equal access to essential medications.
2. Greater patient privacy
Some people may feel uncomfortable discussing their medical conditions or medications in person due to stigma or cultural factors. Virtual pharmacies can provide greater patient privacy by allowing individuals to order medications discreetly from their own homes, reducing potential barriers to care.
3. Language and cultural barriers
For people who speak languages other than English or come from different cultural backgrounds, communicating with healthcare providers can be challenging. Virtual pharmacies can offer translation services and multilingual support, helping to bridge language gaps and ensure that all patients receive high-quality care, regardless of their background.
Steps to develop an online pharmacy app
The following figure shows steps to develop your pharmacy application, starting from the requirement gathering to designing and development to the deployment and maintenance.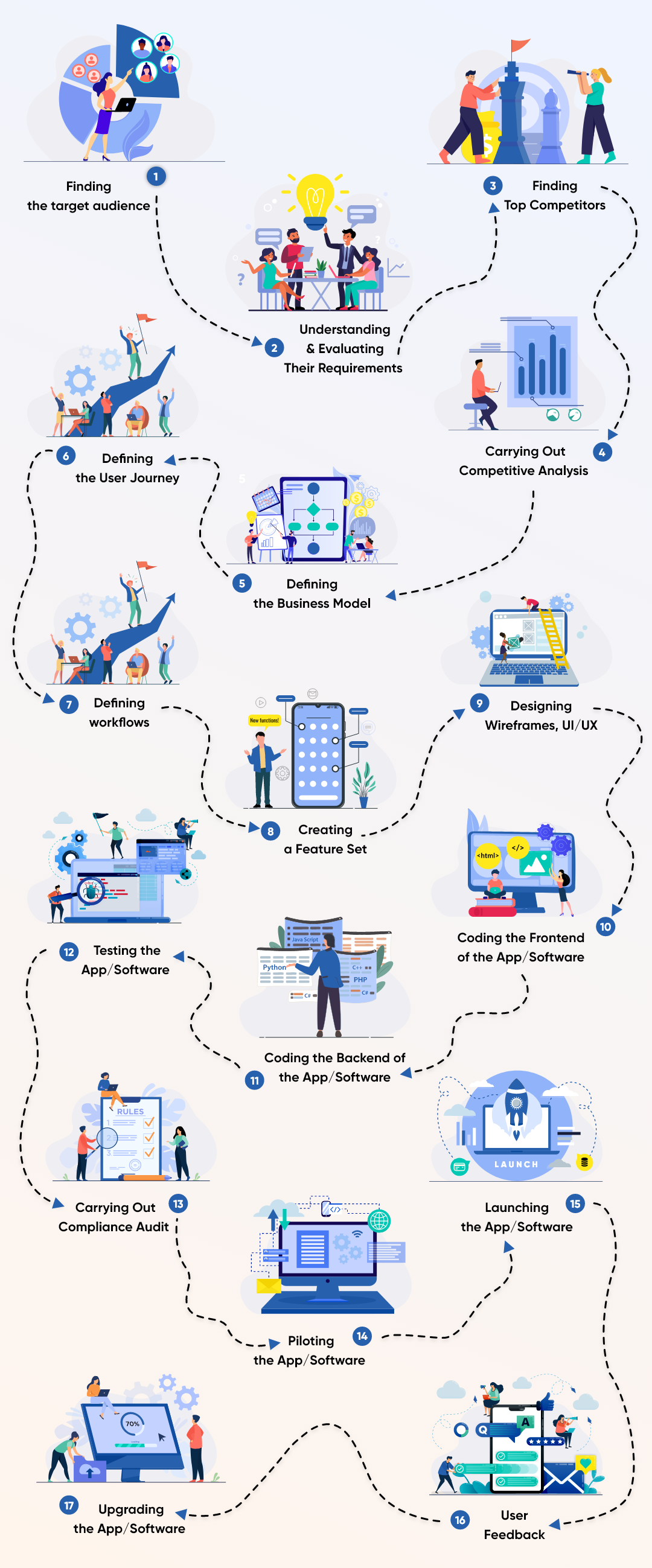 Simplify medication delivery and management with SyS Creations' healthcare IT expertise
If you are in the healthcare industry or the pharmacy product business, you might be well aware of the customer's requirements and expectations. But in the competitive world, it's difficult to handle everything on your own.
It's obvious for you to think about making a move to the digital solution and at the same time, you will find it challenging. However, what you need is expert advice and guidance to make your business better.
At SyS Creations, we have answers to every issue you are facing in your healthcare or pharma business while making a move toward IT adaptation.  Because we are healthcare-focused and have proven experience in developing the best IT solutions for healthcare services.
We provide a wide range of services including enterprise healthcare consultation, app development, designing, cybersecurity, and Kroll integration. We also provide IT support for the same.
We aim to simplify healthcare delivery while keeping costs under control.
So you can count on us to make your next move by developing a virtual pharmacy app.
A few very important resources for you: