Which Are the Top Mental Health Apps in Canada? – 8 More Questions Answered to Develop a Mental Health App, brilliantly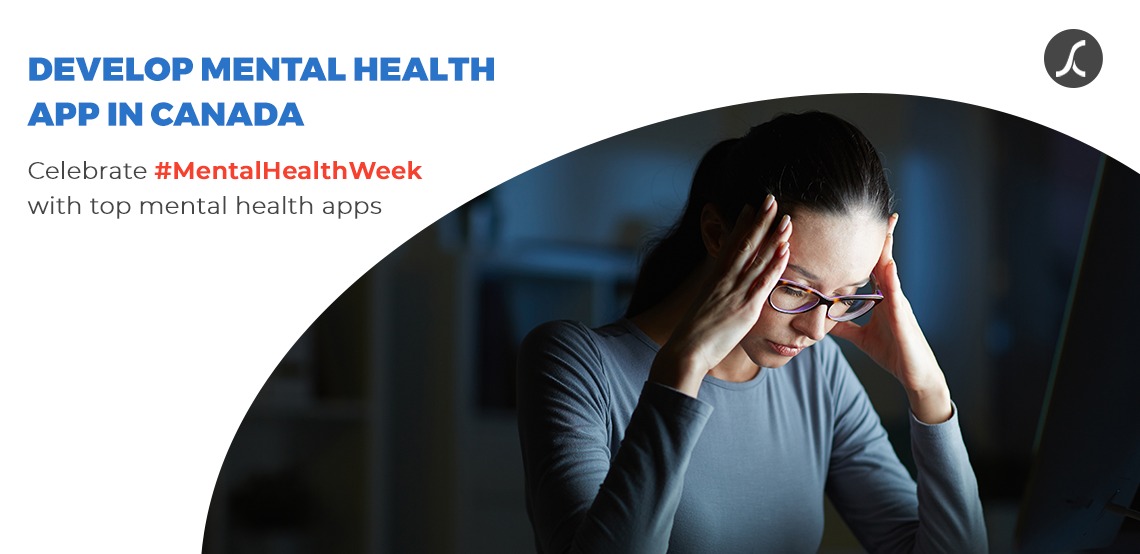 11 months ago
This blog is dedicatedly written for entrepreneurs and healthcare entities, looking for mental health app development amid the worsening mental health of Canadians due to the pandemic.
Question 1: Why is the COVID-19 pandemic the best time to develop a mental health app in Canada?
In May 2020, Prime Minister Justin Trudeau announced an aid package worth $240 million for virtual care platforms as well as mental health apps.
According to CTV News, Canada's self-reported depression rate has more than doubled during the pandemic.
During this year's celebration of #MentalHealthWeek in Canada, leaders and citizens are putting emphasis on achieving long-term mental health goals using technology.
In 2021, a report from Morneau Shepell revealed people are feeling even lonelier than they did at the beginning of the pandemic.
Recently, in March 2021, the Ontario Government announced that they are investing $300,000 in mental health services targeting youth to help them manage stress, depression and anxiety.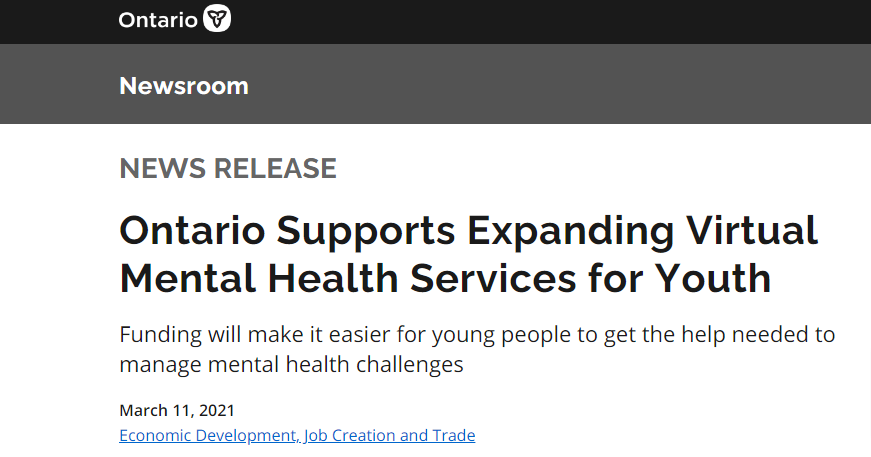 Question 2: What is the market size of mental health apps?
Due to increasing awareness regarding the importance of mental health, the global mental health apps market is expected to skyrocket.
The global mental health apps market accounted for US$547.9 million in 2018 and it is anticipated to generate revenue of US$3,918.40 million by 2027, at a growth rate of 23.7%.
North America including the USA and Canada held the majority of market share in 2018 as awareness related to mental health in the USA and Canada is pretty high.
Question 3: Which are the top mental health apps in Canada?
The following are the top mental health apps in Canada which you should study before planning to develop a mental health app in Ontario, Canada.
According to Similarweb, Calm is the most popular app in the app category of health and fitness in Canada.
The Calm app is equipped with 100+ sleep stories and 30+ soothing nature sound.
It follows the freemium model with premium features at the cost of $12.99/month, $59.99/year and $299.99 for a lifetime subscription.
This app helps with the number of mental health issues including depression, anxiety, and stress by using Cognitive Behavioral Therapy (CBT) and Acceptance Commitment Therapy (ACT) methods.
With this free app, users can learn ways to break unproductive habits.
Youper – Emotional Health
Youper was developed by a team of doctors, scientists, and engineers led by Dr. Jose Hamilton.
It is an AI-enabled app that uses AI to personalize the various therapy and mindfulness techniques to fit your needs.
It follows a freemium model. Premium features are available with a subscription option of $44.99 per year.
In case you want to explore more apps,
Our friends from Choosing Therapy shares the Best Mental Health Apps for 2021 and each individual app was reviewed and written by a licensed therapist as well as reviewed by a Medical Doctor.
Question 4: Which are the top types of mental health apps?
Deciding the type of mental health app is the first step toward developing the mental health app.
General mental health apps: Help users build good habits, control mood, and improve it.
Mental health education apps: Let users get knowledge of mental health disorders.
Mental disorder apps: Target specific mental health disorders and showcase treatment to cure it.
Self-improvement apps: Designed specifically for people who are fit but still want to improve their mental health. These apps offer breathing techniques, meditation, and audio relaxation. This is the most popular type of mental health app.
Question 5: Who are the prospective users of mental health apps?
You as the app owner can easily address user needs if you identify the user groups. The following are the prospective users of mental health apps.
People with the behavioural disorder
People with a mental disorder
People suffering from depression
People appreciating good mental health and wanting to stay mentally fit
Question 6: Which are the top mental health app features?
Regardless of the mental health app category, there are few basic features that should be there in every mental health app.
Notification
Profile
Self-monitoring
Sharing
Therapist connection
AI-enabled assistant
Payment
Question 7: What is the mental health app trend of 2021?
In 2021, people prefer to receive any sort of medical and non-medical help remotely and virtually.
They are finding it time-saving, affordable and more convenient.
Thus, you should integrate telemedicine capabilities into your mobile app. With it, people can talk to the therapists remotely and virtually.
However, telemedicine is not just about video calling.
It should be armed with a digital toolkit that enables therapists to offer quality care to remote patients.
It should also address healthcare compliance regulations to avoid the fine of up to $500,000 from the government.
Question 8: How to make money with a mental health app?
The following are the most profitable models to make money with the mental health app.
D2C model promotes direct selling of your service (mental health app) to the customers with a monthly subscription fee.
The Freemium model promotes the utilization of basic features for free and a subscription fee to use premium features.
Self-insured employer benefits
This model promotes a partnership with employers to give mental wellness services to their employees.
Question 9: How much does mental health app development cost?
We are an Ontario-based top IT management and development firm, serving the Canadian healthcare industry for more than 7 years.
We accommodate app developers, app designers, business experts and legal advisers who all work together to make your business journey seamless.
Our expertise in EHR integration and mental health app development makes us resourceful to turn any of your mental health app ideas into reality within days.
Talking about the cost of mental health app development, it depends on many factors.
But if we take an average of every factor into account, the mental health app development costs $30000+ in North America.
To share your requirements and to get an instant personalized quote, please feel free to contact us. Our business expert will welcome you with a free insightful consultation.