Guide to Meditation App Development to Build App Like Calm [Cost, Time, Features, Compliance]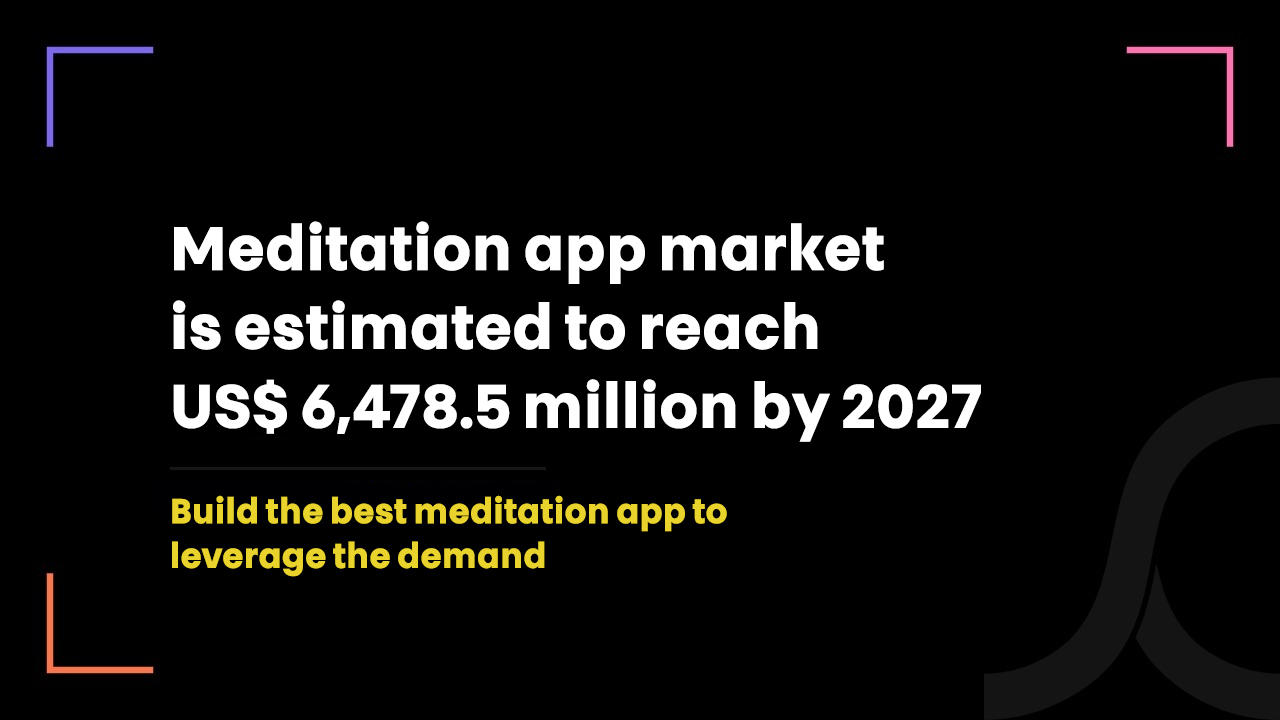 10 months ago
Mediation app development is a need of an hour at this moment!
The reason is,
1 in 5 North American experiences a mental illness
Mental illness and substance use disorders are the leading causes of disability in Canada
About 4,000 Canadians suicide every year
Mental health cases are rising, not in just North America but also across the globe.
Hence, therapists have been witnessing unprecedented demand.
However, not everyone is rushing to therapists.
Because they find it affordable and reliable to look after their mental health and improve it with the help of meditation apps. 
As per the survey, the top 10 meditation apps including Calm reported a combined 2 million downloads only in April 2020!
More interestingly, these apps are still experiencing the highest-ever installation rate.
In May 2021, the Calm app earned more than $5 million in revenue and led the chart of the top 10 healthcare apps in Canada, the USA and many other countries. 

So, if you are also planning to build an app like Calm, we'll solve all of your technical, business and compliance doubts related to meditation app development.
How much Calm might have invested in its meditation app development?
You must be eager to know how much it costs to build a meditation app like Calm.
But to know it, you first need to know the app development cost of the original Calm app.
Well, Calm was launched in 2012 as an MVP app.
(An MVP version of the app has only useful and important features.)
After testing the market and based on user input, the Calm team continued adding new features for years. 
This way, Calm didn't make a one-time investment in its app.
Instead, it invested in a very safe manner – only after testing the market. 
So, as per our internal calculation, Calm might have invested around $30000-$40000 on its MVP version of the app.
And so far, invested more than $150,000 in the current version of the app which is armed with several advanced and game-changing features.
How much meditation app development cost in 2023?
You must have already got the idea now.
If you are planning to build an MVP version of a Calm-like app with useful and basic features only, it would cost you as low as $30000 in the North American market. 
And if you only want to develop a full-fledged version of a meditation app, it would cost you at least $45000.
However, final pricing always depends on the hourly charges of developers, your UI/UX needs, development platform, features set, compliance needs etc.
You should read: 4 ways to save 50% on healthcare app development cost 
Why should you hire only North American developers for meditation app development?
Developing a meditation app is one of the most complex projects!
Not because of development requirements, but because of users & market it targets and compliance requirements. 
A North-America-based app development agency is most likely well aware of the on-ground healthcare challenges, market & user requirements, business model and compliance requirements.
Whereas, an Asia or Europe-based app agency can't build an engaging meditation app for American and Canadian users.
The reason is – their lack of region, user and compliance-specific knowledge.
Moreover, they also don't accommodate dedicated compliance specialists.
This leaves you with the only choice is to hire 3rd party compliance consultants by paying a huge hourly fee.
You must also read: How to hire the best healthcare developers? 
How many days does it take to build a meditation app like Calm?
Many might have promised you to deliver an app like Calm within a week or 15 days. 
But if we see, it is technically impossible – unless they have readymade app modules.
To professionally develop a meditation app from scratch, it would easily take at least 50-60 days. 
Why? Because …
App development isn't just about coding. 
You need to design UI/UX.
You need to test the app.
You need to carry out a compliance audit.
You need to pilot it.
Like these, there are several other phases in the app development lifecycle. 
And all top app agencies follow each and every phase of this lifecycle because there is no shortcut to building the best app.
How to create your own meditation app like Calm? - The entire process
We certainly can't share the process other Canadian app agencies follow to build an app like Calm. 
But yes, we can surely share the entire process we follow.
Top features you should consider adding to your meditation app
Features play a crucial role in delivering value to users. And it also influences the overall budget greatly. 
Thus, always put extra emphasis on the feature set.
By listing out our top recommended features, we are easing your task to decide on features.
Social sign up
Profile management
Goal setting
Breathing exercise
Sleep stories
Guided meditation with audio-video guide
Reminder
Goal tracking
Add favourite meditation track & sessions
Payment
Gamification
Loyalty program
Feedback, review, ratings
Telemedicine or virtual care
Why is adding telemedicine features vitally important for your meditation app development success and revenue?
Telemedicine or virtual care has emerged as the prime care delivery model in the past two years.
Today, be it healthcare providers or patients, they prefer to engage in a clinical lifecycle via telemedicine.
Sensing the opportunity, many digital health startups have rolled out telemedicine services for their existing healthcare platforms. 
For instance, 
PocketPills – Canada's top online pharmacy app – offers telemedicine services from its online pharmacy platform to generate an extra revenue stream while leveraging telemedicine surge. 
Similarly, you can also integrate telemedicine features with your meditation app to let users seek virtual medical consultations from therapists.
This stands out your app among others and enables you to generate an extra revenue stream.
Check out our white-label telemedicine app for a better understanding. 
Are meditation apps profitable?
Of course, and that's why you are planning to develop a meditation app, right?
But we believe we should level up your confidence by sharing some real data. 
Calm made $5 million in May 2021, Headspace made $3 million, Simple Habit Sleep Meditation made $90K and Ten Percent Happier Meditation made $300K.
Are you wondering how these meditation apps make money?
Let's discuss the monetization strategies of meditation apps.
Under the freemium model, meditation apps allow users to access a few features of the app and relaxing music for free of cost.
And to access all resources and features, users have to pay a fixed amount.
Once users download the app, they can explore all features and content for free of cost for a fixed number of weeks. And after their free trial ends, users have to purchase a subscription plan to continue using the app.
If a meditation app is equipped with telemedicine features, users have to pay a fixed fee every time he talks to a therapist for personalized mental health treatment.
Free meditation apps show 3rd party relevant ads of service or product to users and make money based on either per impression, per click or both.
Under this model, app users pay an amount to unlock premium content, meditation guide or music as per their requirements.
You must also read: Healthcare app monetization strategies 
What is the compliance requirement to develop a meditation app?
Developing a compliant meditation app must be your priority.
Because a non-compliant meditation app will surely make you liable for a hefty fine and data breach!
Healthcare is a highly regulated industry as it has been a soft target of hackers.
So, to govern the way data is being collected, used and shared, authorities have imposed laws.
Talking specifically about Canada, there is a federal-level data privacy law – PIPEDA.
And there are several provincial-level data privacy laws, applicable to healthcare apps that handle data.
Each of these laws has several technical and administrative regulations around data security and confidentiality. 
For instance, 
PHIPA (Ontario's healthcare data privacy law) asks healthcare entities to collect, use and disclose only necessary information about patients if they permit.
So, to meet this regulation, you have to build your app in such a manner that it only collects, uses and shares necessary information and asks for user permission. 
For each regulation, you have to find out the most efficient way to address it to make your app compliant with that law.
And once your app is developed, you also need to carry out TRA (threat and risk assessment) to find out if there are any unattended privacy vulnerabilities within your app. 
Thus, it is always advisable to hire an app agency that not only builds a meditation app but also understands the local compliance requirements and technically achieves it.
How can we help you build a meditation app even better than Calm?
We're an Ontario-based healthcare-focused IT company – has been successfully delivering healthcare app development projects for 8+ years. 
Having healthcare-specific knowledge and expertise means we can easily satisfy our healthcare clients' exact needs much better than others.  
We're well aware of the North American healthcare ecosystem, compliance requirements, user persona, healthcare challenges, clinical workflows, billing structure etc.
We accommodate healthcare app developers, designers, business analysts and compliance specialists who all work together to define workflows, prepare documents, design UI/UX, code the app, test it, run a compliance audit, pilot it and launch it in the market.   
Being a healthcare-specific IT company, we know how important it is to be compliant with data privacy laws. 
Thus, we only build a meditation app that is compliant with all laws.
What we promise to deliver extra is peace of mind by solving all of your technical, business and compliance challenges.
Because peace of mind is something rare to find while on a development journey!