Top 8 Mental Health Apps in Canada, USA & 9 More Questions Answered for Mental Health App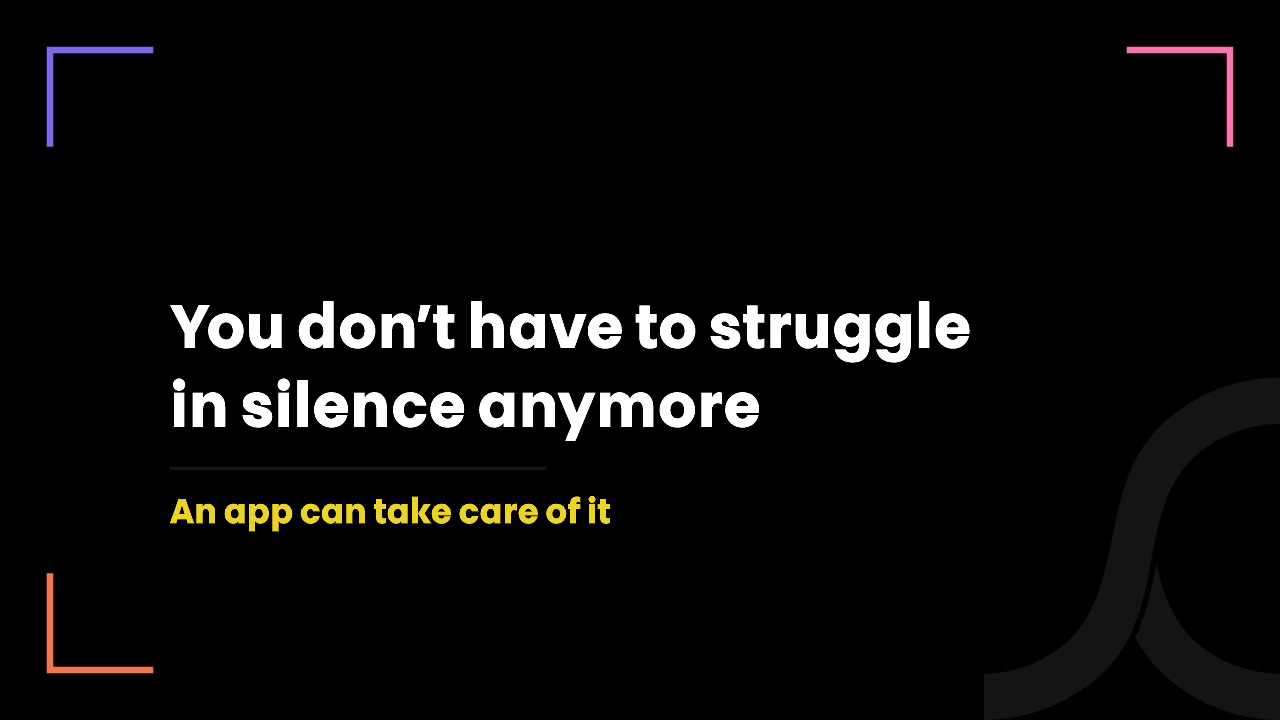 9 months ago
This blog is dedicatedly written for entrepreneurs and healthcare entities, looking for mental health app development amid the worsening mental health of Canadians due to the pandemic.
Question 1: Why is the post-COVID-19 pandemic the best time to develop a mental health app in Canada?
In any given year, one Canadian among five Canadians has one or different level of awful mental health.
Young people between the age of 14 to 25 are most affected by poor mental health.
Somewhere between 23% to 67% of homeless people across different Canadian cities face mental health issues.
An average of 4000 Canadians die by suicide.
Mental health issues among Canadian costs the economy annually $50 billion.
Question 2: What is the market size of mental health apps?
Due to increasing awareness regarding the importance of mental health, the global mental health apps market is expected to skyrocket.
As per the reports, "The global mental health apps market size is expected to reach USD 17.5 billion by 2030. It is expected to expand at a CAGR of 16.5% from 2022 to 2030".
North America including the USA and Canada held the majority of market share in 2018 as awareness related to mental health in the USA and Canada is pretty high.
Question 3: Which are the top mental health apps in Canada in 2023?
The following are the top mental health apps in Canada that you should study before planning to develop a mental health app in Ontario, Canada.
1. Calm
According to Similarweb, Calm is the most popular app in the app category of health and fitness in Canada.
The Calm app is equipped with 100+ sleep stories and 30+ soothing nature sounds.
It follows the freemium model with premium features at the cost of $12.99/month, $59.99/year and $299.99 for a lifetime subscription.
Read our dedicated blog to: Meditation app development like Calm.
2. What's Up
This app helps with a number of mental health issues including depression, anxiety, and stress by using Cognitive Behavioral Therapy (CBT) and Acceptance Commitment Therapy (ACT) methods.
With this free app, users can learn ways to break unproductive habits.
3. Youper – Emotional Health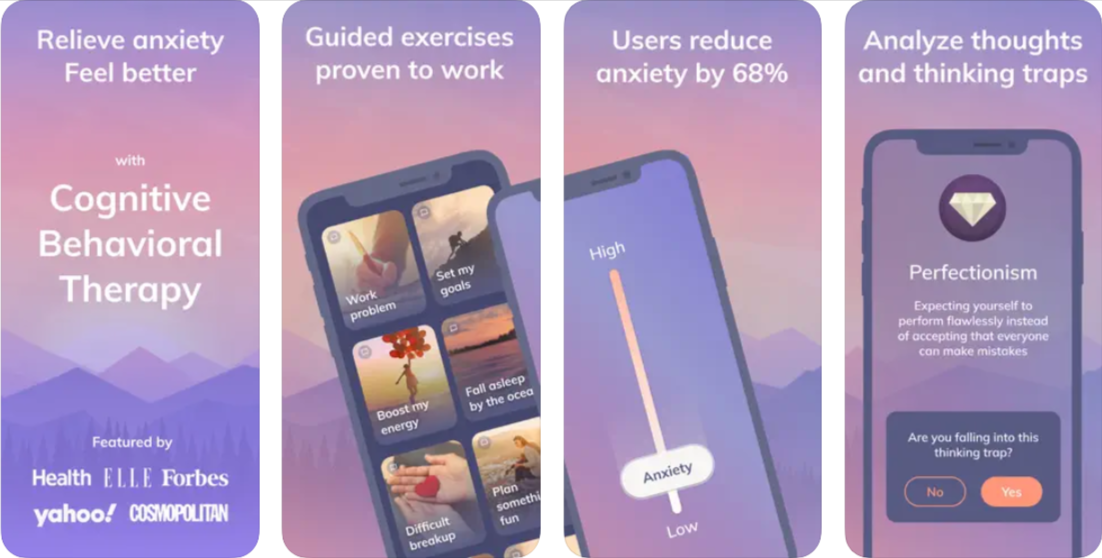 Youper was developed by a team of doctors, scientists, and engineers led by Dr. Jose Hamilton.
It is an AI-enabled app that uses AI to personalize various therapy and mindfulness techniques to fit your needs.
It follows a freemium model. Premium features are available with a subscription option of $44.99 per year.
4. MindDoc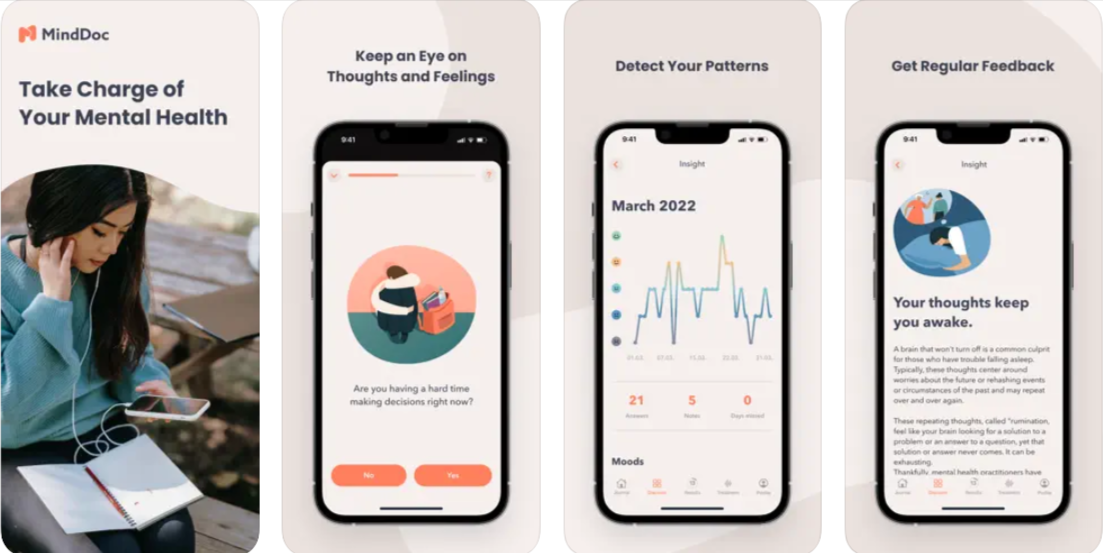 MindDoc is the top mental health with over 3M+ downloads.
It is invented by clinical psychologists and mental illness researchers to provide a comprehensive mental illness solution that includes depression, anxiety, eating disorders, and insomnia.
Whether people want to improve their mental health, track mood, or want to talk with mental health therapists, MindDoc offers everything.
Additionally, patients can also keep track of their insightful reports of behaviour, mood, and symptoms, which can help them evaluate the patterns of their mental health state.
It is based on a premium model that costs $4.49/month for basic services and $47.99/month for MindDoc Plus services.
5. Sanvello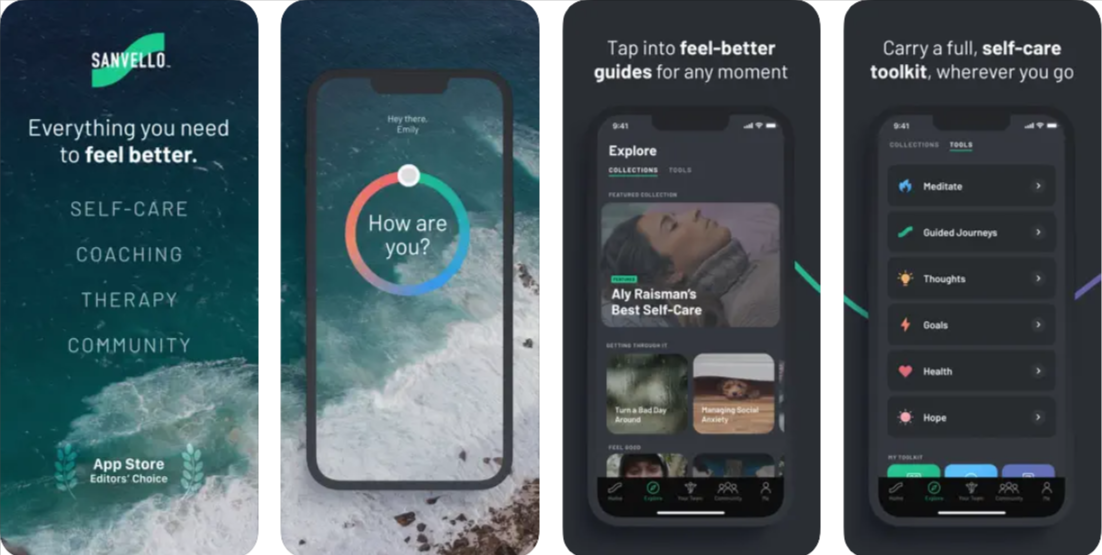 Sanvello is a top-rated app for common mental health conditions such as stress, anxiety, and depression with over 3M+ downloads.
Furthermore, 40 million Americans are using the Sanvello premium plan to improve their mental health state.
Sanvello provides self-care, peer support, coaching, and therapy sessions for patients with mental health illnesses.
It contains premium-based plans that cost $8.99/month and $53.99/year for self-care, $50/month for coaching, and $140 for a therapy appointment.
6. Breathe2Relax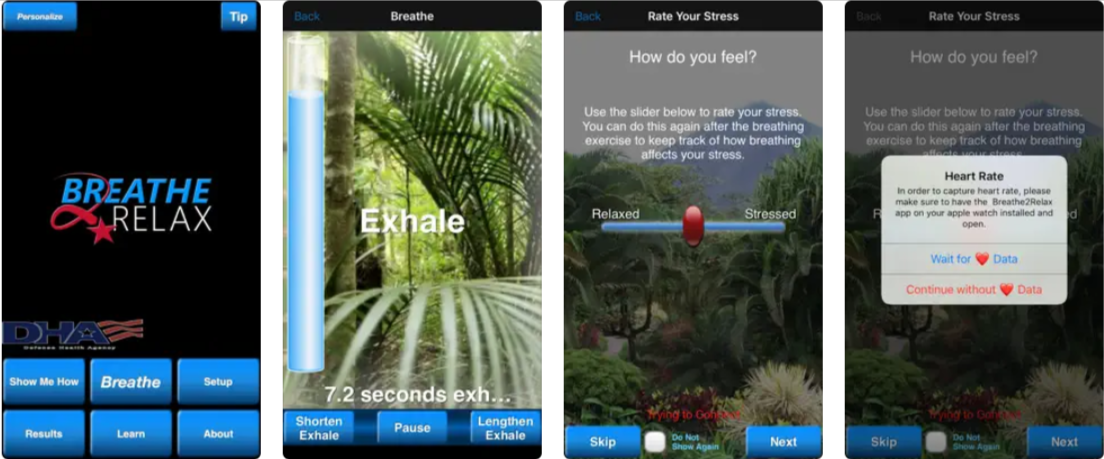 Breathe2Relax is a stress management app that offers detailed information on the impact of stress on the body.
It teaches a technique called "diaphragmatic breathing" to help patients to improve their stress management skills.
7. iMoodJournal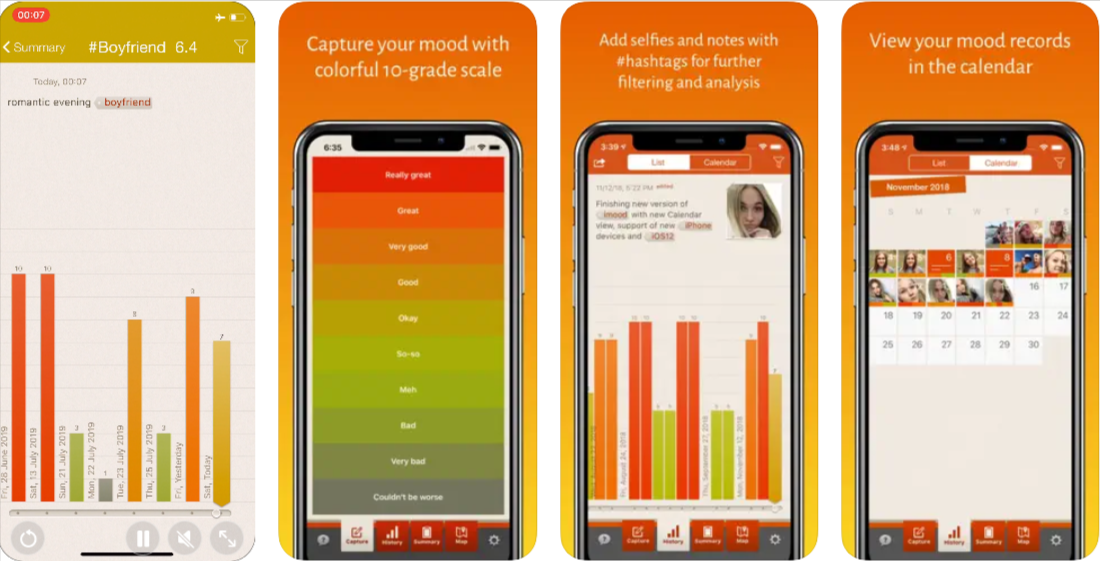 It is a mood-tracking app that helps you understand and control yourself better.
iMoodJournal not only analyzes your mood patterns but also tracks sleep patterns, anxiety, stress, medication, symptoms, and energy level.
Helpline named it one of "The Best Bipolar Disorder Apps of the Year" recently. Furthermore, iMoodJournal has been featured in the NY Times and NY daily news.
It follows a freemium model with premium features at the cost of $2.99.
8. Headspace – Mindful Meditation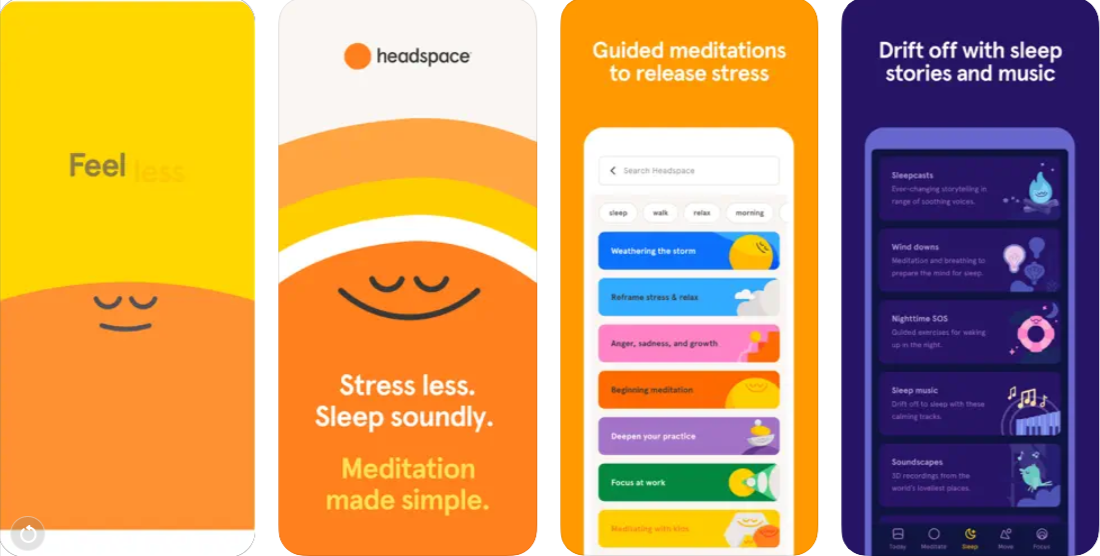 Headspace is the complete guide to learning meditation and mindfulness skills.
With the help of world-class meditation experts, you can manage your day-to-day stress, anxiety, sleep, and mood.
As a meditation solution provider, Headspace provides learning sessions on meditation, sleep management, focus improvement, and controlling waking mood.
Headspace offers a 14-day free trial and then the premium features cost $9.99/month and $49.99/year.

Question 4: Which are the top types of mental health apps?
Deciding the type of mental health app is the first step toward developing the mental health app.
General mental health apps: Help users build good habits, control their mood, and improve it.
Mental health education apps: Let users get knowledge of mental health disorders.
Mental disorder apps: Target specific mental health disorders and showcase treatments to cure it.
Self-improvement apps: Designed specifically for people who are fit but still want to improve their mental health. These apps offer breathing techniques, meditation, and audio relaxation. This is the most popular type of mental health app.
Question 5: Who are the prospective users of mental health apps?
You as the app owner can easily address user needs if you identify the user groups. The following are the prospective users of mental health apps.
People with the behavioral disorder
People with a mental disorder
People suffering from depression
People appreciate good mental health and want to stay mentally fit
Question 6: Which are the top mental health app features?
Regardless of the mental health app category, there are a few basic features that should be there in every mental health app.
Notification
Profile
Self-monitoring
Daily tasks
Sharing
Therapist connection
AI-enabled assistant
Payment
Question 7: What is the mental health app trend for 2023? 
As per a recent survey, "From 2022 to 2032, mental health applications are expected to grow nearly 5x".
In 2021, people prefer to receive any sort of medical and non-medical help remotely and virtually.
They are finding it time-saving, affordable and more convenient.
Thus, you should integrate telemedicine capabilities into your mobile app. With it, people can talk to therapists remotely and virtually.
However, telemedicine is not just about video calling.
It should be armed with a digital toolkit that enables therapists to offer quality care to remote patients.
It should also address healthcare compliance regulations to avoid a fine of up to $500,000 from the government.
Question 8: How to make money with a mental health app?
The following are the most profitable models to make money with the mental health app.
D2C (Direct-to-Customer):
The D2C model promotes direct selling of your service (mental health app) to customers with a monthly subscription fee.
The Freemium model promotes the utilization of basic features for free and a subscription fee to use premium features.
Self-insured employer benefits:

 
This model promotes a partnership with employers to give mental wellness services to their employees. 
Read our complete guide on: Healthcare app monetization
Question 9: What is the future of mental health apps?
One of the limitations of mental health apps is that there are many manual actions needed to achieve the mental wellness target.
Many times, these manual actions lead patients or users to an extreme level of frustration.
In other words, these apps lack features that do not enable users to get everything out of a mental health app by putting in less effort.
Only a medical chatbot or mental health chatbot can brilliantly eliminate these challenges as working is chatbot is easy and convenient.
A chatbot can answer all questions of patients and allow patients to seek care by just typing or giving voice commands.
There are already many mental health chatbots adopted hugely on the consumer front. One such chatbot named Woebot even recently raised a whopping $90 million.
To know more, explore our complete guide to: Build mental health chatbot
Question 10: How much does mental health app development cost in 2023? 
We are an Ontario-based top IT management and development firm, serving the Canadian healthcare industry for more than 7 years.
We accommodate app developers, app designers, business experts and legal advisers who all work together to make your business journey seamless.
Our expertise in EHR integration and mental health app development makes us resourceful to turn any of your mental health app ideas into reality within days.
Talking about the cost of mental health app development, it depends on many factors.
But if we take an average of every factor into account, mental health app development costs $30000+ in North America.
To share your requirements and get an instant personalized quote, please feel free to contact us. Our business expert will welcome you with a free insightful consultation.  
Read our useful article on: Mental health practice management software