Build Your Own Vaccine Booking Portal in Canada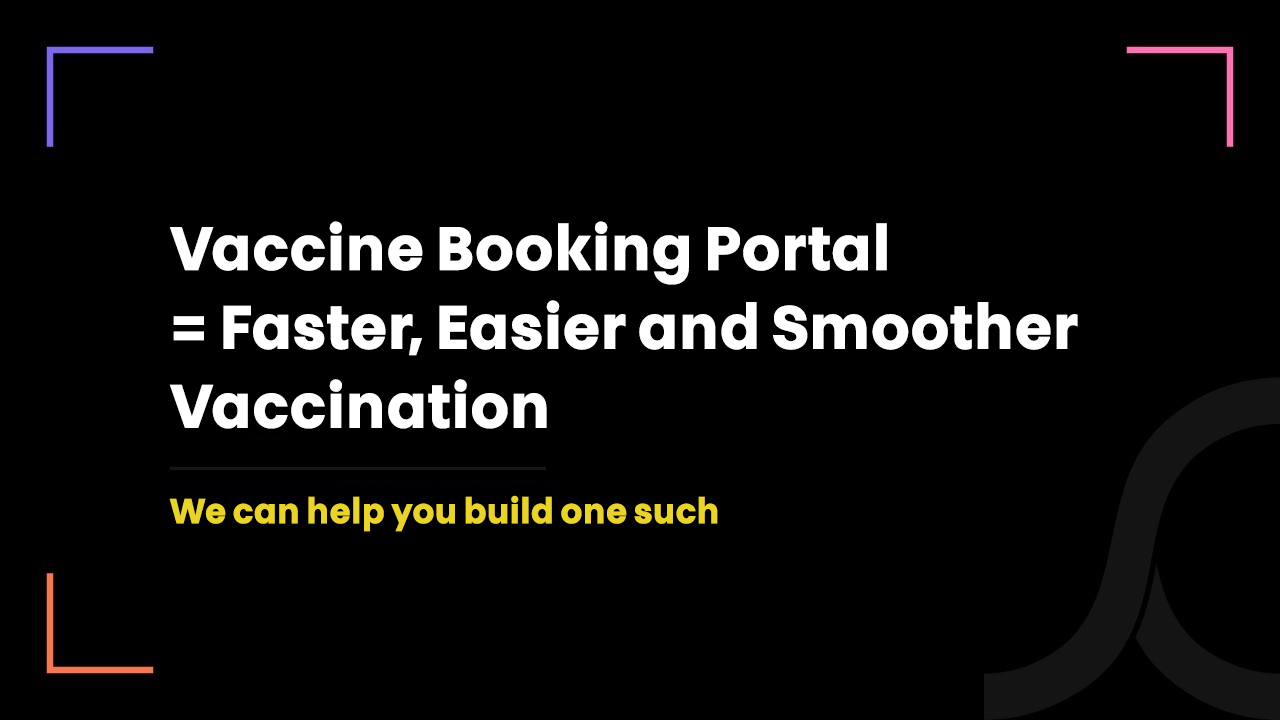 2 years ago
We are an Ontario-based healthcare-focused IT company.
Since the first wave, we have been helping long-term care homes, clinics, hospitals and pharmacies to tackle newly emerged challenges with tech solutions.
As of now, when the need of the hour of pharmacies, doctor offices and local health units is a vaccine booking portal, our tech and compliance team is ready to build a robust and customized COVID-19 vaccination appointment system. 
Our other useful resources:
What is the vaccine booking portal?: An example
In Canada, eligible Canadians have to book the COVID-19 vaccination appointment with any of the participating pharmacies.
(Yes, they can take shots in several other healthcare settings. But pharmacies are what most people prefer due to easy accessibility!)
And it is the pharmacy's responsibility to take the appointment, manage it and give shots on the scheduled time and date.
With a vaccine appointment booking portal, the pharmacy can enable Canadians to easily book an appointment without calling anyone.
This not only offers convenience to the Canadians but also reduces administrative and paper-based work of the participating pharmacy.
The COVID-19 vaccine booking portal can be integrated with the existing mobile app or website of the pharmacy. Or it can be deployed separately as well.
A pharmacy chain like Shoppers Drug Mart can also build a centralized appointment booking system for all of its pharmacy stores of different locations.
Regional health units can also build such a system to streamline the vaccination drive.
Example:
The following is the centralized vaccine appointment booking system of India where the world's largest vaccination drive is underway.
The only reason why India is carrying out the world's largest vaccination drive in the best possible way is because of its vaccine booking platform.
How does COVID-19 vaccine booking system or portal work?
The following is the complete workflow that you need to understand if you are planning to build a vaccine booking portal.
Appointment booking:
An eligible Canadian registers himself or his eligible family members by entering contact as well as health card details or valid government-issued identification.
He is asked to answer a few questions regarding his health and work to validate the eligibility.
The booking portal also validates his health card details and creates his profile.
He can now book his spot from the available day and time.
He receives a confirmation message on his registered email or mobile number.
Appointment reminder:
He receives automated reminders for the upcoming appointment.
Appointment modification:
He can modify or even delete the appointment with a single click.
Virtual check-in:
He can virtually check in from the parking spot or from his home and wait outside for his turn to avoid crowds in the vaccination center.
Medical consultation (if severe side effects appear)
He can virtually talk to a medical team from the same booking portal in the case of severe side effects after taking a shot.
Appointment booking for 2nd dose:
He receives automated reminders for 2nd dose appointment booking.
To book an appointment for the 2nd dose, he needs to sign in to his account and select the date and time.
Three very useful features we add to your vaccine appointment booking portal
Dose/Inventory Management
With this feature, your booking system will automatically accept the appointments according to the remaining doses. If there is no dose remaining in your stock, the system puts people on the waiting list.
Pre-Register Questionnaire or Screening
Your portal will ask a few questions regarding the health and work status of people to validate their eligibility.
The booking portal or system will automatically add values into the post-vaccination form to save time for staff.
Why not use a 3rd party booking system for COVID-19 vaccine registration?
3rd party appointment booking systems charge a huge monthly fee. Many even charge fixed money on every appointment you receive.
In other words, if you are receiving 300 appointments in a day and they are charging 50 cents on every appointment, you have to pay them $150 a day!
It is very obvious that not all appointment booking systems work for vaccine appointments as they are not made for such a job.
For instance, none of the 3rd party appointment booking software has the feature that validates the health card details!
So, with lacking healthcare-specific features, you cannot take and manage vaccine appointments in a well-organized manner.
A vaccine booking system stores and uses several personal as well as health card details of the users.
And thus, Canadian data privacy laws apply to it.
But a 3rd party appointment software - not made for healthcare purposes - is not compliant with the data privacy laws of Canada.
And using a non-compliant system means putting the data of people at risk and becoming liable for the hefty fine by privacy commissioners.
Check out vaccine booking system or portal of top 3 Canadian pharmacies
1. Brameast Pharmacy
This Brampton-based pharmacy offers an easy system for people to book their spots for the COVID-19 vaccine.
In addition to contact details, it asks people to answer a few self-identification questions upon signing up to verify eligibility.
2. Costco Pharmacy
Canada's one of the largest pharmacy chains - Costco Pharmacy - provides an easy module for booking the COVID-19 vaccine spot.
It first asks COVID-19 screening questions, then a birth year and lastly the number of COVID-19 vaccine dose i.e., 1st dose or 2nd dose.
3. No Frills
No Frills enables Canadians to book the COVID-19 vaccine appointment from the web as well as from the app too.
The app gives more flexibility and features to Canadians. It in fact allows people to talk to a virtual care team of doctors, registered nurses and medical specialists.
Let's make the Canadian vaccination program smoother, faster and easier!
We have far to go - to overcome this crisis. And we are together in this!
Our entire tech and compliance team is working relentlessly to make vaccination in Canada faster and easier.
And when it comes to the nation and its fellow citizens, we are proud to prioritize every single Canadian's gain - over our business gain!
We are ready to help you with the tech knowledge we have gained in this beautiful country!
And I think that's the best way we can serve and give back to our communities.