Virtual Healthcare Solution : 4 ways a virtual care tool helps LTC homes to prevent residents from being easy victims of COVID-19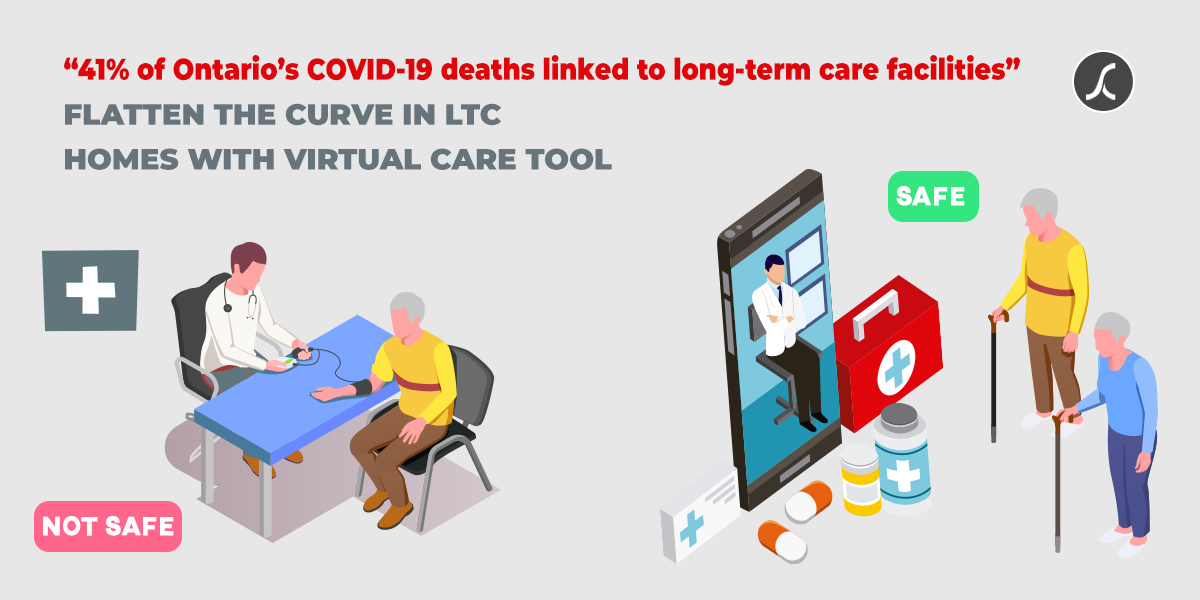 1 year ago
While many countries are claiming that the curve is flattening, the deaths due to coronavirus in Canadian long-term care facilities or nursing homes continue to rise. 
The Chief Public Health Officer Theresa Tam said on Monday (13 April 2020) that close to half of the deaths that we're tracking are linked to long-term care facilities. 
When she was asked about the projection, she stated that these deaths will continue to increase, even as the epidemic growth rate slows down.
When the Chief Public Health Officer herself is warning LTC homes to brace for the impact, we have to start figuring out the ways to ramp up efforts in order to save residents' lives. 
SyS Creations, being the top Ontario-based IT management and consulting firm which has developed a game-changing virtual care tool, can help LTC homes to flatten the curve and save the lives of residents. 
In this blog, we will discuss the features and benefits of our virtual care tool and 4 ways it can prevent residents from getting infected. But before that let's first talk about how the government is responding to soaring deaths in LTC homes due to coronavirus. 
Remarkable efforts made by government to contain coronavirus outbreak in LTC homes
With the rising number of deaths due to coronavirus in LTC homes, the government came into action. They are taking many steps and even imposing new strict rules for LTC homes to slow down the spread among the most vulnerable age group to coronavirus. 
Recently, the federal government has released a guideline for LTC homes. This is the voluntary guideline that includes limitations of visitors and proactive screening of healthcare workers working in LTC homes. You can

read the full guideline here

. 
Marguerite Blais who is responsible for seniors and informal caregivers in Quebec

announced $133 million

as the added funding for LTC homes. 
The Ontario government is spending $243 million on screening, personal protective equipment, and infection control measures in nursing homes. 
In British Columbia, Schulte said that $10 million was being spent on enhanced infection protection measures in nursing homes. 
Needless to say that local authorities are working ceaselessly at their level to flatten the curve in LTC homes. However, the implementation of strict measures and technologies at the LTC homes is more crucial than the government's efforts. 
Governments and different organizations including WHO agree on the fact that technologizing our healthcare system is the best possible answer to the challenges raised due to COVID-19. 
LTC homes can deploy a modern virtual care tool to cope up with coronavirus outbreak. While not making LTC homes to shoulder a significant financial burden, it eliminates the senior care challenges and saves residents' lives.  
Reasons behind soaring death number of residents and usefulness of virtual care tool to reduce the death number
To understand how useful a virtual care tool is to tackle the outbreak in LTC homes, we will list down the reasons why residents are getting the infection & dying and how a virtual care tool can put an end to deaths in LTC homes. 
Reason #1: Visitors and staff members are bringing in the virus.  
Considering the possibility that visitors and staff members who enter the LTC homes may enter with the coronavirus, the government of Ontario has already banned the visitors visiting the LTC homes. But they cannot ban the entry of staff members. After all, they are caregivers and residents need them. 
🠮 Virtual care tool at rescue: 
A virtual care tool enables staff members including healthcare professionals such as RN, RPN, physicians, and DOC to look after residents with the same effectiveness without being physically available in the LTC homes. 
A virtual care tool is equipped with a digital clinical tool that lets physicians access residents' medical history, write prescriptions, and DOC to validate the senior care tasks performed by nurses. Meaning, it does not downgrade the senior care. 
Reason #2: Lack of social distancing between physicians and residents 
Residents need regular health checkups and to carry out regular health checkups, physicians have to disobey the social distancing guideline for a while. A direct contact between physicians and residents can easily transmit the virus if a physician carries it, even on his PPE. 
🠮 Virtual care tool at rescue: 
A virtual care tool supports virtual visits. Nurses can easily schedule a virtual visit between a resident and a physician. This is the safest way to carry out regular health checkups.  
LTC homes can also deploy a remote patient monitoring system and integrate it with the virtual care tool. By doing so, the biometric values of residents such as blood pressure, glucose level, and heart rate the sensors collect can be viewed from the virtual care tool itself. 
Reason #3: Delayed and ineffective care 
Healthcare workers working in LTC homes are overburdened. And thus, they cannot provide rapid and effective care to residents. 
🠮 Virtual care tool at rescue: 
All thanks to the virtual visit feature, physicians can treat sick residents rapidly.  This way, a virtual care tool can free up the staff members which eventually actualizes rapid care. 
The virtual care tool saves the medical history of each resident in digital bundles. Physicians can study this to know the historic health condition of residents. This knowledge makes them write effective prescriptions. 
Reason #4: Awful mental health of residents due to loneliness 
Almost all residents living in LTC homes in Canada are undergoing the very awful mental health condition because of loneliness, their dying friends, and their helplessness.  They are seeking emotional support. 
🠮 Virtual care tool at rescue: 
Since the government has banned visitors from visiting the LTC homes, family members of residents do not have any option to see their loved ones except virtual visits. 
Nurses can schedule virtual visits between residents and their family members. Such visits help residents to collect strength and be calm & mentally strong during a crisis. 
After reading so far, if you are thrilled to deploy a virtual care tool at your LTC home, let us reveal the best virtual care tool in Ontario, Canada. 
The best virtual care tool or virtual healthcare solution in Ontario, Canada - Writi
Due to residents' current medical conditions, they have more chances to get infected with this pandemic virus. The physicians and nurses have to remain on the edge of their chairs to keep these residents' medical reports on track to make sure none of them are affected by any of the infections out there. 
A virtual care tool like Writi is designed in a way that can act as a complete healthcare solution for the LTC owners. 
It makes the operations of Director of Care, Physicians, Nurses, and even Pharmacists more accessible by connecting them through one application, where they can virtually take the needed updates and perform their duties toward those residents without physically being at the LTC home. 
Writi is PHIPA and PIPEDA compliant and it has security features like two-factor authentication and modern encryption to ensure the privacy and security of resident data.

Writi supports the Ontario Ministry of Health's new billing codes.

Writi virtual care tool includes 3 different apps, each for LTC homes, physicians, and pharmacies to streamline all LTC operations. 
Writi for LTC homes - feature set 
e-Prescribing

Order Processing

Auditing

Digital Binder

Virtual Healthcare
Writi for Physicians - feature set 
e-Prescribing

Verbal Orders Management

Virtual Visits & Consultations

Remote Collaboration with other Physicians
Writi for Pharmacies - feature set 
Reduce manual data-entry with direct integration of prescriber order-entry with pharmacy systems

Rx Order Management

Order Routing & RFU Narcotic Authorization 

Automated Reporting

Automated Printing

Offline Backup App
Get a free demo of the best virtual care tool in Ontario
SyS Creations is the best virtual healthcare solution or virtual care tool provider in Ontario. In addition to a useful virtual care tool, we provide IT consultation and healthcare managed IT services.  
80+ physicians and 800+ users have already been registered on Writi. It has also processed 11K+ prescriptions. 
We also accommodate a team of app developers and app designers who can customize the tool according to your needs.
If you want to get the demo of our virtual care tool, feel free to contact us. You can also schedule a one-on-one meeting with our expert to share your requirements and to get a personalized quote.