Custom App/Web Solution for Virtual Specialty Care: eReferral + Telemedicine + Remote Monitoring + Pharmacy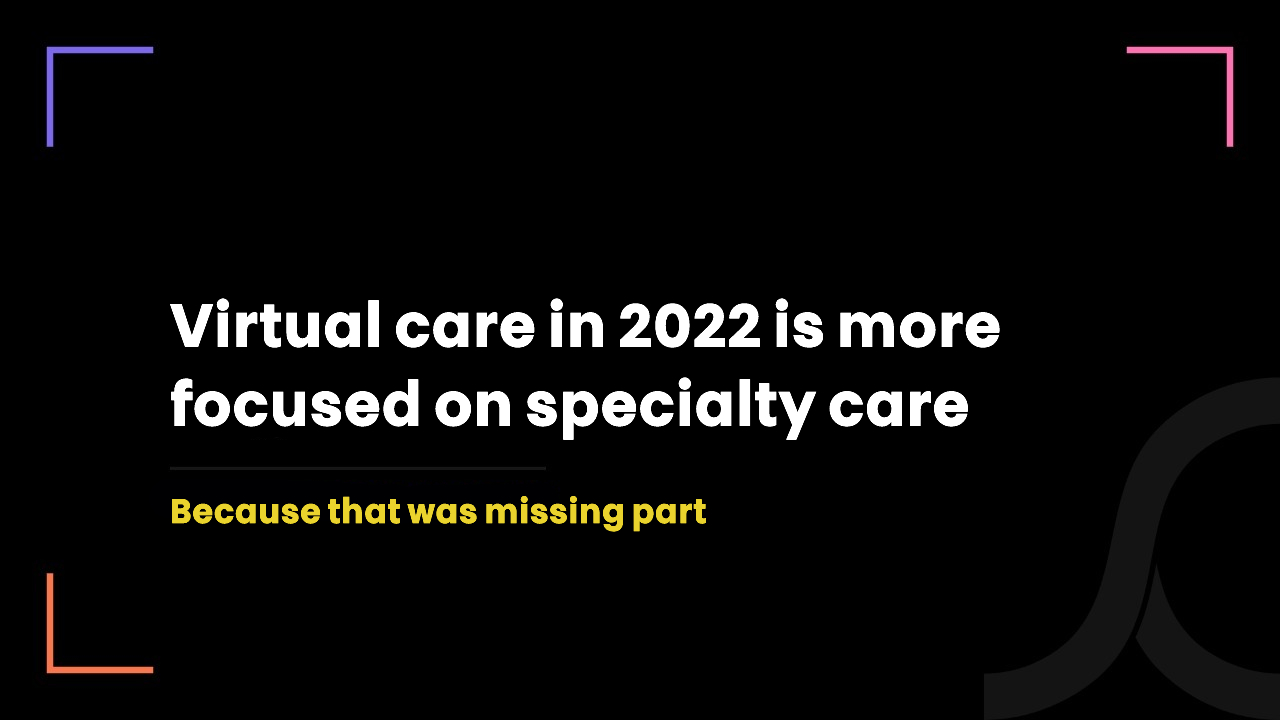 3 weeks ago
The current state (& limitation) of virtual care
Virtual care is now known to every one of us.
However, healthcare providers and healthcare tech experts know it as an alternative to only in-person primary care and not in-person specialized care.
Why? Well, specialized care demands high standards of care which is not feasible to provide using virtual care solutions.
But in 2023, thanks to technology advancements, virtual care solutions have become so advanced that delivering specialty care virtually is now within the bounds of possibilities. 
A custom solution for virtual specialty care is all you need to treat the chronic conditions of patients with high standards of care. 
So, in this blog, we will discuss everything you need to know about a virtual specialty care platform that you can consider building or acquiring for your healthcare practice or startup.
Let's start with the basics.
What are the Major Differences between Virtual Primary Care and Virtual Specialty Care? 
Needless to say, primary care deals with more common and general healthcare issues whereas specialty care or secondary care deals with more persistent and severe healthcare issues that primary care providers cannot treat.
In this way, the major difference between online primary care and online specialty care is seen in the app or web-based solution providers use to provide the respective type of care.
For instance,
An online referral engine
A patient cannot see a healthcare specialist directly. He needs to have a referral note prepared by the primary care provider.
Thus, there must be a seamless integration achieved between EHR and a virtual specialty care platform that automatically reflects referral notes sent by primary care providers on EHR directly on the virtual care platform. 
Remote patient monitoring
Monitoring and keeping records of the vital body signs of patients are the most two basic requirements for delivering high-quality specialized care.
But, many times, it is not feasible for all patients to measure and record their vital body signs manually and upload the same on an online platform.
Thus, unlike the virtual primary care platform, a virtual specialty care platform supports remote patient monitoring that records the vital body signs of patients automatically and enables the care team to monitor patients' conditions remotely.
Generally, primary care is all about just one virtual consultation and one follow-up consultation with the physicians.
But when it comes to specialty care, it lasts for months and many times, for years.
Thus, the online platform for such long treatment must be designed and developed with an ongoing care module. 
This ongoing care module includes personalized care plans, set goals, goal progress, resources, automatic suggestions, a care cost calculator, follow-up meeting reminders, etc. 
Delivering 360-degree care is what the online specialty care app aims to do. Thus, to not make patients receive care online but go out to purchase prescriptions, all modern-age virtual care platforms for secondary care are equipped with an online pharmacy module. 
With this, patients are now able to receive specialized care, ePrescription, and medicine from the same platform - without stepping out of the home. 
A very useful resource for you: A detailed guide to Kroll integration
Thirty Madison is the Most Successful Virtual Specialty Care Platform: Learn its Strategies 
Based in New York, Thirty Madison offers the most comprehensive virtual care platform for chronic conditions such as hair loss, migraines, acid reflux, and allergic rhinitis. 
However, as a part of their branding strategy, they provide virtual care for each of these chronic conditions under different brand names. For instance,
Keeps for hair loss
Cove for migraine
Evens for acid reflux
Picnic for allergic rhinitis
In addition to 24/7 specialist access, Thirty Madison also provides personalized care plans, medications, and dietary supplements. 
Because of its unique value proposition, the startup earned unicorn status last year with $140 million in its series C funding round. 
And recently, Thirty Madison has tied up with a women-focused healthcare company named Nurx.
Nurx isn't a competitor of Thirty Madison as it focuses more on women-centric healthcare and wellness challenges such as birth control, STI testing, HIV prevention with PrEP, and at-home HPV testing.
So, now with this collaboration, Thirty Madison will enhance its service set and offer telemedicine services for women-centric healthcare and wellness challenges as well.
Virtual Specialty Care App or Web App: How Can We Help You?
We're an Ontario-based healthcare-focused IT company that only works on healthcare IT projects.
Talking about virtual care or telemedicine, it is what we have been working on for 6 hours every day for the last 8+ years.  
And with the knowledge, experience, and team we've built, we can help you in wonderful ways. 
1) The app/platform
We have multiple things to deliver to you here.
We have built the most advanced and feature-pack white-label virtual care platform which is compliant with HIPAA, PHIPA, and PIPEDA. 
You can acquire it and skip 90% of the app/software development lifecycle.
The best part of it, it can be customized.
So, you can add your preferred features and themes to what we have already added. 
If you're looking for a custom solution, we have a team of developers, UI/UX designers, business analysts, compliance specialists, and QA engineers who will build your product from scratch. 
2) EHR/EMR integration
To make clinical information of patients available on your platform, you must integrate EMR/EHR with your platform.
With our ultimate mastership in integration standards such as HL7 and FHIR, we achieve interoperability and make sure of seamless data sharing between your product and EMR/EHR.
3) Healthcare compliance
Not being compliant with data privacy laws means legal challenges and data leaks.
Thus, our dedicated healthcare compliance specialists carry out a compliance audit, PIA, and TRA to make sure there are no privacy vulnerabilities and each technical and administrative regulation is satisfied.
4) Discovery, documentation, workflows, UI/UX
We don't cut the corners.
We follow the entire process.
Starting from the discovery phase to validate your idea & polish it further, the documentation phase to document business requirements, feature set, compliance requirements, test cases, etc., the workflow phase to define user journeys & app workflows, and the UI/UX phase to design the screens of your digital solution- before jumping next on the development phase.  
5) QA testing, piloting, and launching 
We're known for bringing in Canadian standards of work and American standards of innovation.
Whatever we code, we check aggressively using manual and automated testing methods. 
We have a dedicated team of QA engineers who have a single job to make your digital product as accurate as it gets.
Once everything is validated, we don't launch it right away.
We first execute its pilot run to get a more precise idea and then we launch it or deliver it to you with full source code ownership. 
6) A great support
We provide both active and passive support.
Active support in the form of 24/7 direct call or email flexibility and passive support in the form of the most detailed support document so that you or your team can solve issues by yourself.
In case you're wondering, this is our 17-step process to deliver excellence.