How to Build Mental Health App for Workplace like Oliva Which Raises $6.3M?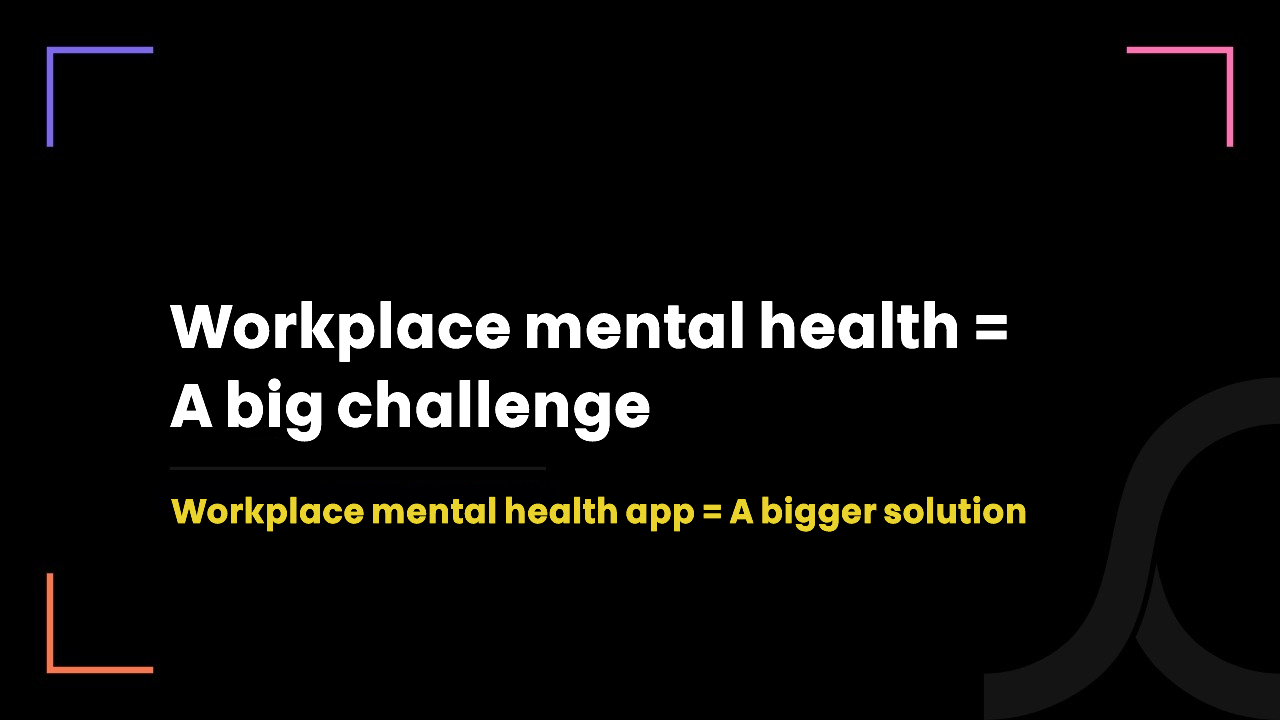 2 years ago
After the pandemic, we all know that the need for workplace mental health solutions is accelerated.
As per the reports – "54% of Canadian employers are likely to invest in digital health in the next five years".
Why? Because it creates an amazing work culture and enhances productivity.
That's the reason, UK Startup Oliva has recently raised $6.3M for a workplace mental health solution.
As a workplace mental health startup, their primary focus is to deliver a personalized mental care solution for the company's employees.
So, how is Oliva offering their services?
Let's discover.
What is Oliva's approach as a workplace mental health solution?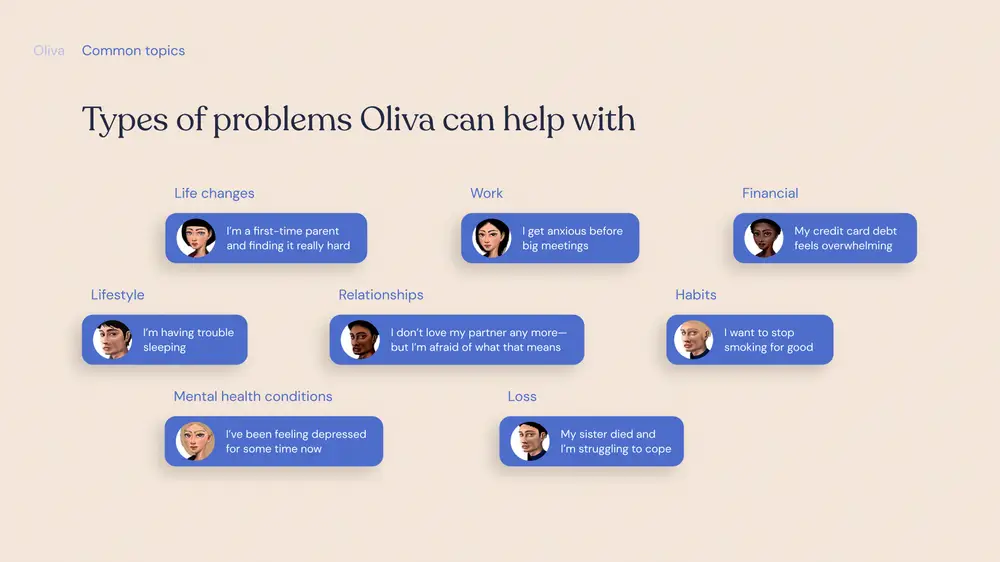 With our comprehensive research, we identified that the care model of Oliva is to – "Deliver immaculate care with the help of outcome-driven digital products".
Being a workplace solution for mental health, Oliva knows the most reliable and effective method for wellness solutions is digital products such as mobile apps and web apps.
By using psychometric tools such as PHQ-9 and GAD-7, their mental health care approach is as below:
1. Ideal care solution:
As a mental health solution for the workplace, they follow the professional-care methods as per the guidelines of the NICE (National Institute for Health and Care Excellence).
In which Oliva offers,
One-hour video call with certified mental health specialists
Regular therapist session
Industry-proven method for mental health care
Ideal solution for the everyday stresses or the mental health condition
Guide employees to track the progress and achieve goals
2. Professional mental health care specialists
For mental health solutions, the most important thing is to deliver the ideal care and real-time support.
To accomplish that, Oliva has a certified and experienced mental health therapist.
By understanding the mental health condition of the employee, they offer services such as,
Separate mental health therapist as per the employee condition
Regularly measuring the progress of employee
Real-time support via video call or chat
From that, we can safely say that – Oliva comprehends the employee condition, discovers the ideal solution, and delivers mental health care with the help of certified and experienced therapists.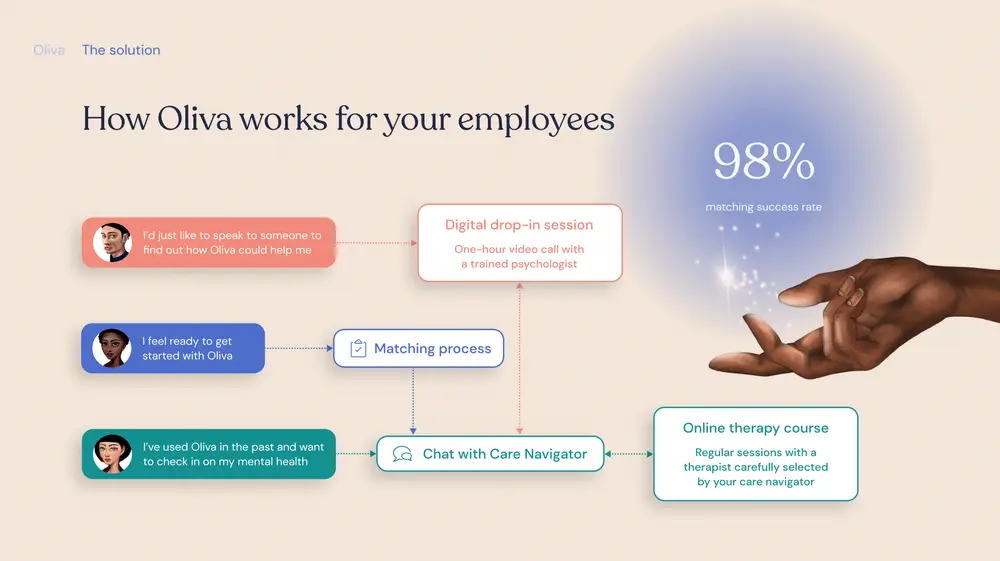 What is Oliva's future plan?
"In the UK, poor mental health costs employers between £33 billion and £42 billion a year, and the UK economy between £74 billion and £99 billion per year".
However, after the pandemic, the demand for mental care digital products such as mobile and web apps is raised.
Thus, Oliva focuses on the "evidence-based mental care solution".
Their future plan is,
To accelerate the digital products
Support for additional language to expand the reach of their services
Start of different time-zone availability
Evolution in their mental care solution
In other words, Oliva's mission in the next few years is to offer 360-degree mental health solutions for SMEs and rapidly growing businesses in the UK.
Why is a mental health solution important for the workplace?
As per the reports – "82% of employees with mental health issues indicate it impacts their work".
The impact on the work directly affects the productivity of the employees and overall company profit.
But with the help of effective mental health solutions for the workplace such as mobile or web apps, you can enhance the productivity of your employees by ensuring the mental well-being of employees.
In addition to this, here are some of the major facts that show using mobile or web apps can be beneficial for the employees,
It improves the work-life balance of the employees
Enhances the social engagement
Encourages employees to take the participants in decision-making events
It reduces the physical health risks
Gives confidence to the employee for continuous learning
In one sentence – it creates a special working environment that helps employees to improve workplace wellbeing.
And remember, the mental health of the employees directly impacts the economy of the businesses as well as the country.
Don't believe it?
As per the reports, "Depression and anxiety are only two of many mental health conditions and they alone cost the Canadian economy an estimated $49.6 billion per year".
From that, we can say that a workplace mental health solution is necessary for start-ups, SMEs, companies, and organizations.
Whether you have a unique start-up or running a business, we have an ideal solution for you!
Workplace mental health app: A solution to maintain the wellbeing of the employees
"65% of managers say they could do their jobs more effectively if they found ways to more easily manage distressed employees".
To accomplish that, a mental health application is needed.
It can benefit your administration to understand the condition of the employees efficiently.
In other words, HR can create the ideal workflow for employees that is most beneficial for them to enhance their productivity.
Apart from that, the application can be beneficial for a company to,
Detailed reports and insights of the employees
The larger-scale data to understand the common needs of employees
Stress-free administration workflow
Simple member engagement to boost awareness about mental health
Measurable insights to understand the ROI
You should also read our guide on: Mental health app development
What are the features we offer for workplace mental health apps?
As a healthcare-focused IT company, we comprehend the requirements of healthcare providers.
Thus, here are the three major features we offer in the mental health app which is most suitable for your healthcare business.
1. Simple access for employees:
Intuitive dashboard
Appointment booking
Appointment reminder
Progress insights
Communication method – text and video call
Sharing data
Technical support
2. Efficient control for HR
Insightful dashboard
Direct contact to mental health therapist
Contact via – text and video call
Track the progress of the employees
Calendar and checklist
Daily, weekly, monthly, and yearly reports
Secure data sharing
Technical support
3. For mental healthcare specialist
Dashboard
Administration contact
Employee contact
Simple access for text and video call
Appointment reminder
Secure data sharing
Insightful reports
Track and manage the employee progress
Appointment management
Technical support
So, are you thrilled to develop a feature-rich, employee mental health app?
Don't worry, We can assist you in the right direction!
We don't deliver the ordinary healthcare IT solution! It is against our healthcare IT knowledge
"The ideal mental health is the power-booster for the employees".
We are an Ontario-based healthcare IT company.
When it comes to healthcare IT, we have been delivering outcome-driven digital products for over 7+ years.
With our healthcare-specific knowledge and expertise, we help healthcare start-ups, hospitals, clinics, healthcare businesses, and individual healthcare experts to achieve their specific goals.
To assist them in the most suitable way, we have a dedicated team of healthcare experts, UI/UX designers, web and app developers, compliance specialists, business analysts, and QA engineers.
"Improve your business work-culture, with our result-driven approach".
Explore our remarkable solution on: Mental health practice management software