Get Accuro EMR Integration With Any of Healthcare IT Solution Done Through Healthcare Integration Experts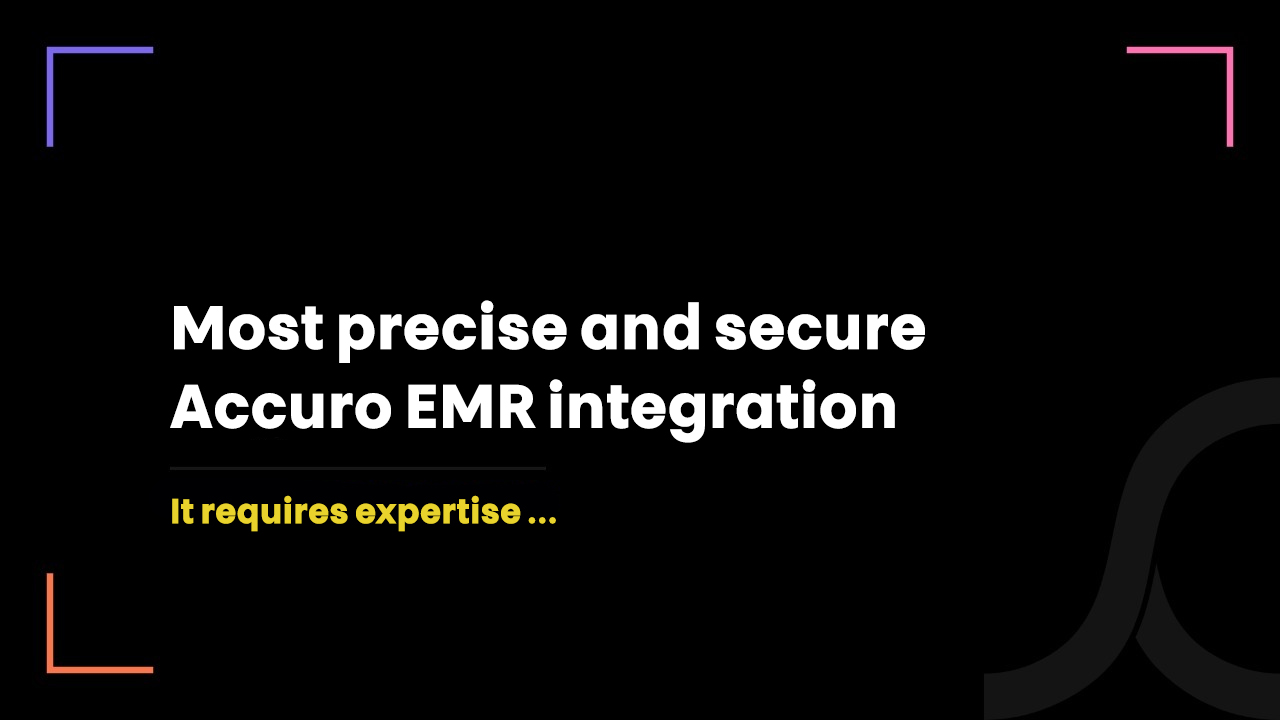 2 years ago
While integrating two healthcare systems, a possibility for disaster is high, especially when those two systems aren't made for each other.
Unfortunately, your healthcare solution and Accuro EMR aren't made for each other.
Meaning, if there are no experts at work, things can go terribly wrong.
No. We are not terrifying you. We are just trying to tell you that we know the right way to avoid the disaster while executing Accuro integration.
How? Well, we have been dealing with healthcare system integration for more than 7 years and we have in-house dedicated healthcare developers and compliance & interoperability specialists.
Anyway, we will talk less about ourselves and more about your questions. So, let's start with your most basic question.
Our other useful resources:
1. Healthcare startup by cancer survivor
2. Telemedicine for cancer care
Why should I integrate Accuro EMR or any other EMR with my healthcare platform?
Well, there is one very solid reason.
For doctors to provide quality care, it is crucial to have access to the clinical data of patients. Otherwise, how would they know allergies of patients or previous prescriptions of patients?
So, if your platform is being used by doctors to offer any kind of care to patients, your platform must give easy access to the clinical data of patients to doctors or providers.
But how? Where does your platform get data from? It gets data from EMR which you integrate your platform with.
These data include patient charts, lab images, allergies, past prescriptions, past medical notes, and demographic information of patients.
My platform can fetch data stored on EMR but can it be able to send data to EMR?
Yes, it can. To understand briefly, you need to understand two different types of Accuro EMR integrations.
Here, your healthcare platform and Accuro EMR can communicate with each other in one direction only - majorly from EMR to your platform.
If your use case is only limited to accessing data stored on EMR through your platform, one-way integration will work for you.
Two-Way or Bidirectional Integration:
Here, your healthcare platform and Accuro EMR can communicate with each other in two directions. In other words, both can receive and share data with each other.
For instance, in addition to fetching data from Accuro EMR and presenting it on your platform, if a patient books an appointment through your platform, your platform can also automatically share appointment details with Accuro EMR.
What is the most basic requirement for Accuro EMR integration?
Well, you need Accuro API access to integrate Accuro EMR with your healthcare IT solution. Without it, there is no other way.
In case, you are wondering, Accuro provides you access to its API only after validating your business case or why you need its API.
Another most basic requirement is developers who use their development knowledge, interoperability standards and Accuro EMR API to integrate Accuro with your healthcare platform.
How to get access to Accuro's API and how to connect to Accuro API?
On its web page, Accuro EMR has shared an entire workflow - which we are sharing here.
Step #1:
Contact Accuro and share your business case.
Step #2:
The Accuro team evaluates your business case.
Step #3:
If your business case gets passed, you need to sign API terms of use contract.
Step #4:
Accuro provides you with integration environments, documentation and API access key.
Step #5:
Your hired healthcare IT company integrates Accuro API with your healthcare app or software.
Step #6:
Your integrated platform goes through conformance testing to validate whether your integrated platform meets the standards and regulations.
Step #7:
If conformance testing is passed, Accuro helps you complete pre-production requirements such as staff training, sign-on process, lines of support, revenue sharing and reporting requirements.
Step #8:
Finally, your integrated platform can now be production-ready and out of the sandbox.
("A sandbox is an isolated environment on a network that mimics end-user operating environments. Sandboxes are used to safely execute suspicious code without risking harm to the host device or network".)
Why is Accuro EMR integration not a piece of cake?
Again, we are not terrifying you. We are just helping you out to avoid a costly mistake by integrating Accuro EMR in such a wrong way that it shares wrong data, ineffectively and insecurity.
Following are the two major challenges non-healthcare-specific developers fail to address.
Interoperability is the technical term that describes the ability of two different systems to share and make use of information in an accurate and safe manner.
By default, when you integrate Accuro EMR, there will be several interoperability issues that do not let your platform fetch accurate data from EMR.
Thus, to avoid interoperability issues, developers must integrate EMR while keeping interoperability standards in mind.
These interoperability standards require dedicated knowledge and experience to achieve as these standards also pose several technical challenges.
When you integrate EMR with your platform, there are many privacy vulnerabilities that can pop up and if those vulnerabilities go unattended, it will make your platform non-compliant with data privacy laws.
Thus, it must undergo a comprehensive compliance audit to identify newly emerged privacy issues and solve them.
We have Canada's sharpest brains - having ultimate expertise in EMR/EHR integration
We're an Ontario-based healthcare-focused IT company.
By 'healthcare-focused', we mean that we've only been entertaining healthcare IT projects for more than 7 years.
Our most excellent team includes developers, designers, business analysts and compliance specialists.
All of us have specific knowledge and experience with the Canadian and USA healthcare IT industry.
With our healthcare-specific knowledge, we can achieve everything as per healthcare standards, market needs and user expectations.
Talking about Accuro EMR integration, we have done it successfully many times in the past.
Not only Accuro, but we also have a mastership in integrating Oscar, PointClickCare, Allscripts, Epic, Cerner, AthenaHealth and many other popular EMRs and EHRs.
Feel free to contact us and we will welcome you within 6 to 12 hours with a free consultation.