Offer Telemedicine Cancer Care With Your Own Platform Like Bayshore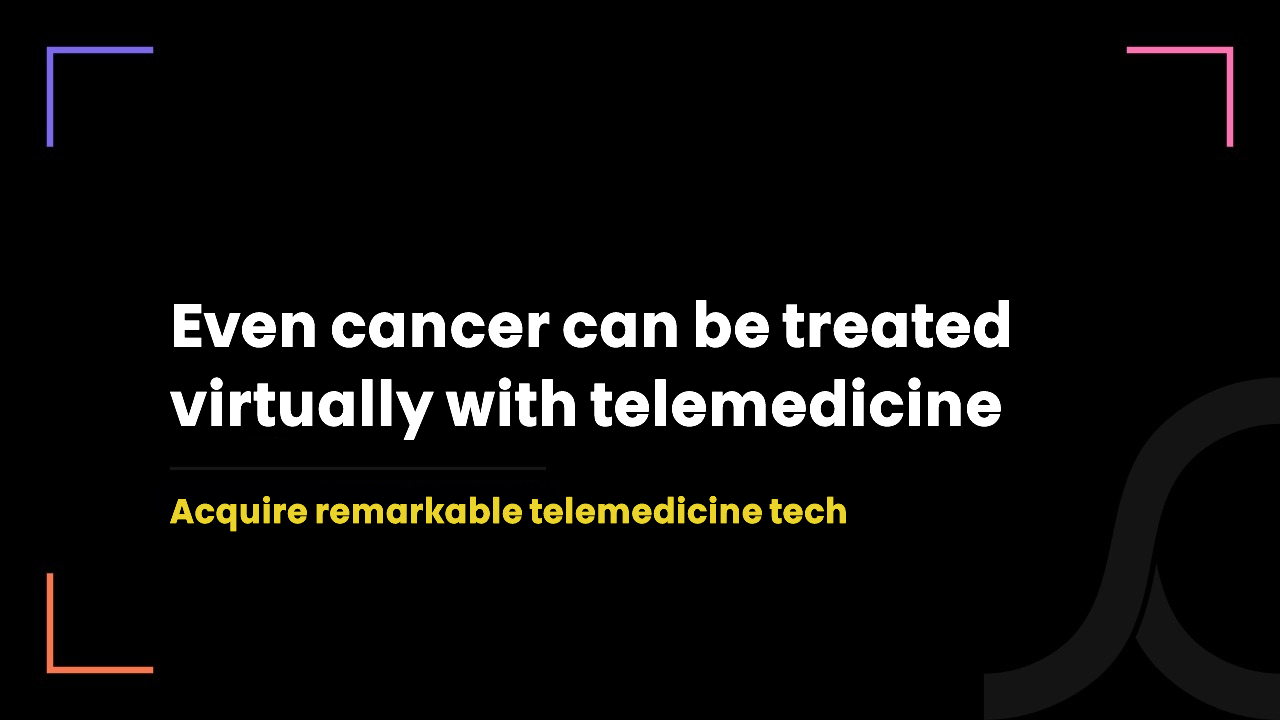 2 years ago
As per its official press release, Bayshore Healthcare has launched an after-hours symptoms management digital health app to facilitate patients - who are going through cancer treatment - to connect with providers from anywhere.
Bayshore has launched this useful oncology telemedicine program for online cancer care under its innovative program called CareChart Digital Health.
What is Bayshore's new offering - Telemedicine cancer care?
Bayshore hailed its decision to utilize the most beautiful piece of healthcare technology for cancer treatment by sharing its purpose.
They have stated that their major purpose is to eliminate the need for patients to visit emergency departments by empowering them with tech that enables them to receive world-class care virtually without leaving home.
Following are the top features the Bayshore app offers for actualizing virtual cancer care.
Online and telephone triage
Patients going through cancer treatment can have rapid and easy access to expert nursing support during the time of evenings, weekends and holidays from the mobile phone, tablet or laptop that delivers comfort and convenience!
Whatever communication happens between members of the care team and patients is submitted to all members of the patients' care team in a form of a detailed report. Such micro reporting makes sure that every member of the care team remains on the same page.
Bayshore's online platform for virtual cancer care is compliant with all Canadian data privacy laws to ensure patient information and their communication with all team members are confidential and secure.
Patients are able to carry out a self-assessment before the virtual visit with the care team to let the care team know about their symptoms. 
Our other useful healthcare-focused blogs:
Why did Bayshore not choose Zoom or Facetime for telemedicine in Oncology?
Well, if you are planning to offer telemedicine for cancer care, you must have a similar question in your mind. So, let me address it.
When it comes to virtual care, it is not only about video calls between patients and providers.
Virtual care is all about taking the entire patient care cycle online from appointment booking to online medical consultation, ePrescription, reporting, and follow-ups.
So since Zoom and Facetime lack such features and only support video calls, chat or voice calls, providers have the only option to either build a custom telemedicine platform or acquire a ready-to-use white-label virtual care platform.
Another major reason for not using Zoom and Facetime for virtual cancer care is compliance. Zoom and Facetime and many other free video calling platforms aren't compliant with all Canadian data privacy laws, especially healthcare-specific laws.
Thus, if you use such non-compliant platforms for providing virtual care, you can be liable for the hefty fine by privacy commissioners. Additionally, it also puts patient data at risk.
Due to these 2 game-changing reasons, Bayshore decided to opt-in for a dedicated virtual care platform rather than a free video calling app. And we would suggest the same to you.
Planning to offer telemedicine cancer care? Here is how we can help you with tech, business & compliance
We're an Ontario-based group of telemedicine tech, business and compliance experts.
Since the pandemic, we have helped more than 60 Canadian healthcare providers and entities including clinics, hospitals and nursing homes to offer 5X faster and 100X safer care to patients.
We can also help you with telemedicine tech, business and compliance in the following ways.
How do we help you with telemedicine tech?
We offer a mobile/web-based white-label telemedicine solution that you can acquire with custom branding and customization of its features and UI as per your needs or as it is.
If a white-label solution is not your cup of tea, we can help you build a custom full-fledged telemedicine mobile and web app with features working on AI, machine learning and IoT.
And if not a custom full-fledged app, we can build an MVP version of a telemedicine app with basic and common features to let you test the market with a real app while keeping financial risk low.
How do we help you with telemedicine business?
We can help you with idea validation. We can even help you with documentation and workflows. For instance, we can define workflows for online appointment booking, online referral, follow-up appointments, prescription management etc.
And most importantly, we can help you define a profitable business model or guide you with workable monetization strategies.
How do we help you with telemedicine compliance?
We accommodate dedicated healthcare compliance specialists who help our technical team to address technical requirements of the applicable privacy laws and help you to address administrative requirements of the applicable privacy laws.
We can also carry out PIA and TRA for you and make sure there is no privacy vulnerability within your organization and your virtual care tech.
In case you still have doubts and have questions about our healthcare expertise, we would like to share our most recent case study on custom telemedicine app development.