Build App For Caregivers for Seamless Prescription and Health Information Management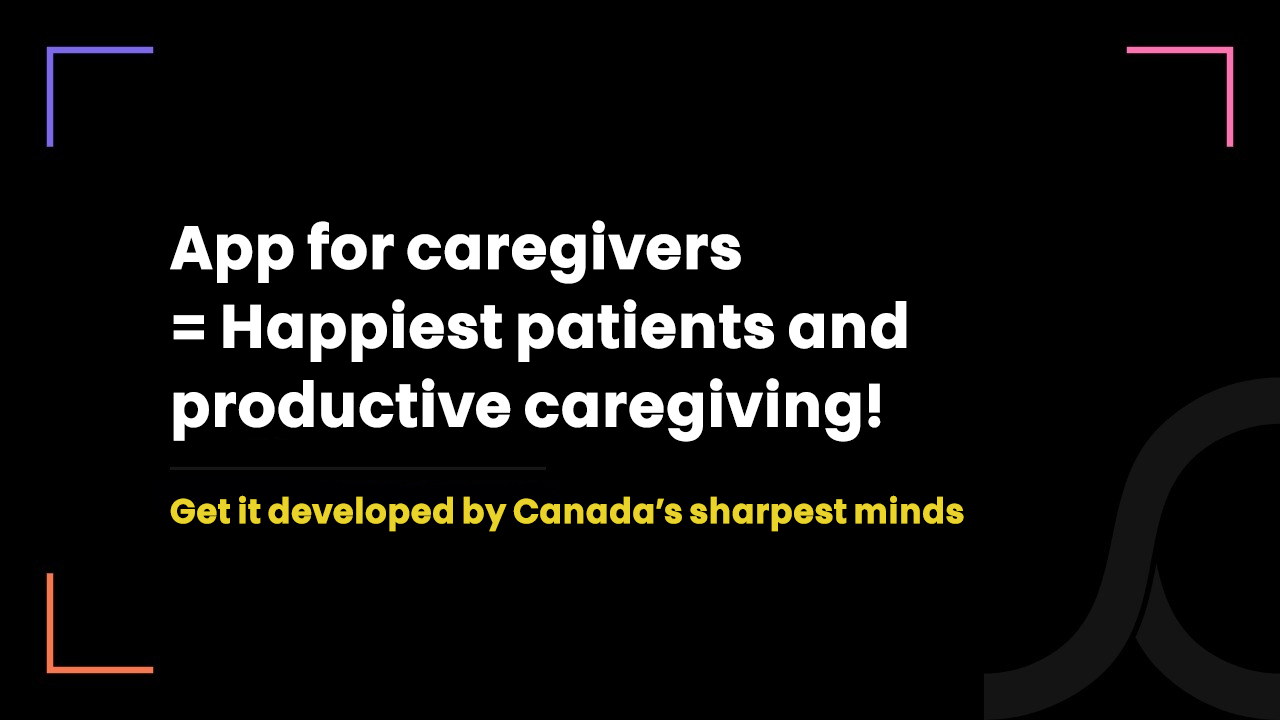 2 years ago
The greatest task of dignity on the earth is investing your time and efforts to help someone with his health & wellness issues.
But when caregiving becomes a tedious job due to complex or poor management of prescriptions and healthcare information of patients, the task of dignity turns into the task of labour.
Here, mobile apps for caregivers come into the picture and let caregiving be a task of ease and dignity. 
Our other useful resources:
Apps for caregivers: Understand the concept and purpose
Be it a private caregiver or caregiver belonging to any healthcare organization, he/she requires to have several data of patients to look after them in an optimum way.
This data includes prescription details, diet plan, workout plan, vital body signs and other health & wellness information.
He/she also needs to have easy access to all caregiving tasks and a quick reporting facility.
Otherwise, caregivers may end up spending more time in administrative tasks and finding clinical and non-clinical data of patients rather than providing help to patients with their health and wellness.
A mobile app for caregivers eliminates these limitations. It empowers caregivers with a robust tool that has all the information including job details, patients details and even clinical data of patients for seamless data discovery, caregiving task completion and reporting.
The underlying purpose of caregiving apps is to enable caregivers to save time in administrative and reporting tasks and look after patients, find their prescriptions and other details with ease.
Types of the app for caregivers you can consider to build
There are several types of caregivers, so do several types of apps for caregivers - based on their roles and in which environment they work.
It is crucial to define the type of caregiving app you are planning to build as you need to decide the feature set as per the type of app.
For instance, if you are planning to build an app for caregivers working in long-term care facilities, you must build an app integrated with the most popular EHR in the LTC industry such as PointClickCare in Canada. So that app can have all clinical and non-clinical data of all residents living in LTC settings and stored on EHR.
The following are the top types of apps for caregivers.
Care marketplace for seniors
Here, seniors or any of their family members can book the caregiver for a longer period of time. In the care marketplace for seniors, caregivers register themselves as individual caregivers.
On-demand elderly care app
This type of app is focused on the idea of letting patients hire caregivers on short notice. Patients can either manually select the caregiver or let an algorithm find the most suitable caregiver.
Caregiving apps for agencies
This type of app targets agencies providing caregiving services to their hired caregivers. With this app, operations and collaboration between caregivers, patients, their family members and a back-office team of agencies can be streamlined.
Business perspective of building an app for caregivers
App development is a costly affair. Once you launch it, you must quickly reach the break-even point to cover the capital cost and start making a profit.
But the question is how can you be profitable with your caregiving app.
Well, there are multiple ways you can generate revenue with your caregiving app. Here are a few of them. However, it largely depends on the type of caregiving app you've developed.
Under this model, you take a fixed amount as a commission from the total amount paid by the patient to the caregiver. After all, the caregiver gets the job through your platform only!
Fixed and usage-based fee
If your end-users are agencies or healthcare organizations, you can charge them a fixed amount for using your platform to streamline caregiving operations.
Here, you can also charge them based on their usage. For example, if they are using your platform to provide care to 5 patients, you can charge them $5 per month for each patient.
This is the most advanced and user-friendly revenue generation model.
If your app's end users are individual patients and their family members, you can let them use your app for free but earn revenue by showing relevant ads on your app.
Under this model, you let individual users use the basic features of your app for free of cost and charge a fixed fee for using the premium features of your app. This is the most tested and trusted model of the mobile app industry.
Top features you must consider integrating into your app
It is worth mentioning that don't ever give a cold shoulder to the feature set. Because it firstly adds value to the app and secondly it influences the overall budget of app development greatly.
For instance, if you want to build an app that costs you very little, you have an option to integrate only basic and useful features. In technical terms, we call such a type of app an MVP app.
And if you want to add advanced features as well, we call it a full-fledged app.
Following is the list of basic and advanced features our business analysts suggest you.
Basic features of the best app for caregivers:
Sign up/Log in
Profile
Appointment booking
Clinical and non-clinical task list for caregivers
Check in and check out for caregivers
Symptom management
Prescription management
Communication
Payment
Notifications
eNote
Advanced features:
Automatic check in and check out based on GPS
Automatic reporting
Back-office suite
Telemedicine
Remote monitoring
Algorithm-based caregiver discovery
Wellness data management of patients
Diet and workout management of patients
EMR/EHR integration
Loyalty and reward integration
Let's convert your app idea into reality with Canada's sharpest technical brains
We're an Ontario-based healthcare-focused IT company. We have been serving the Canadian and US healthcare industries for more than 7 years with our healthcare-specific knowledge.
We accommodate some of Canada's most talented healthcare app developers, designers, business analysts and compliance specialists who have very successful careers in the healthcare IT industry.
All of our dedicated resources work in a team to achieve any type of app or platform for caregivers within your budget and within a fixed timeline.
We do not only help you solve your technical problems. But also help you with business strategies and compliance consultation.
Since we have previous experience working with healthcare providers, clinics, hospitals, LTC homes and even healthcare startups, we have an outstanding on-ground understanding of the healthcare IT market, patient needs, healthcare challenges and compliance requirements.
So, with our healthcare-specific knowledge and Canada's sharpest minds, we are capable of doing wonders for you!