Build Mental Health App like Maple's Virtual Mental Health Solution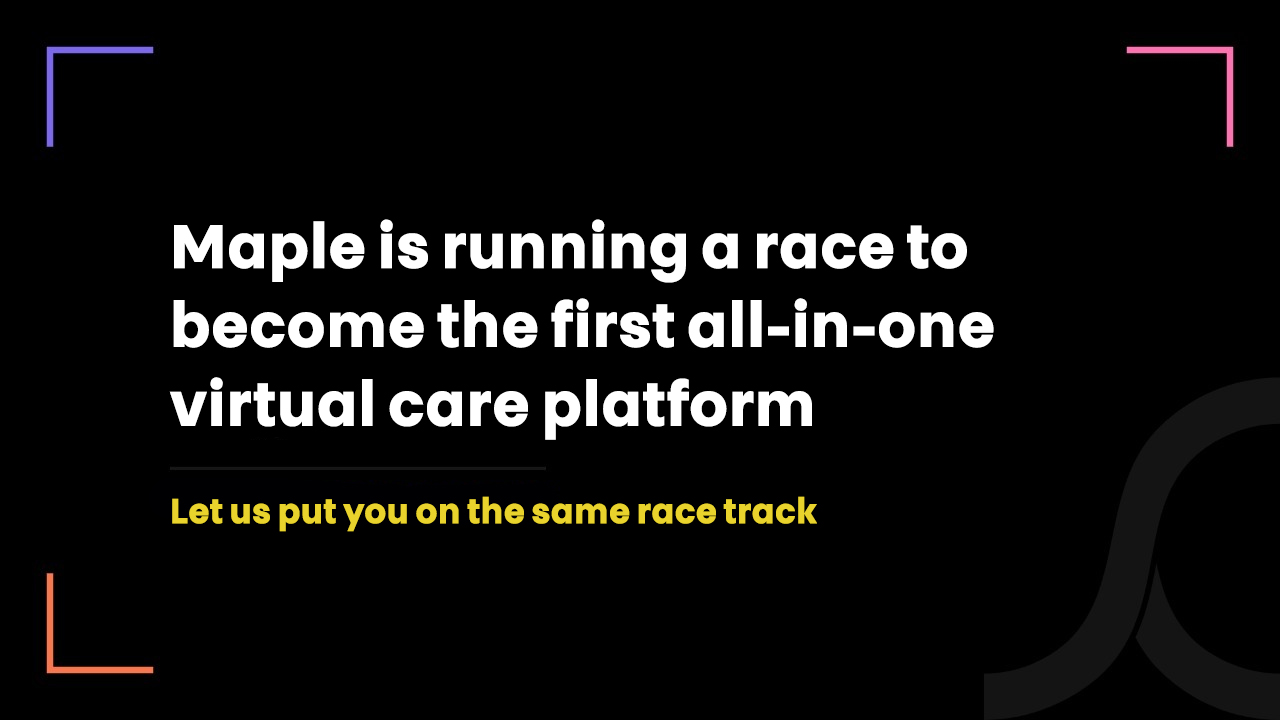 4 months ago
As per the official press release, Maple - Canada's most popular and dominant virtual care provider - is now going to jump into the virtual mental health space by launching the 'Mind by Maple' solution.
What we are seeing on its website has already been anticipated. Maple's new virtual mental health solution is for both employers and individuals.
If you are planning to build a mental health app, you must invest your time to know what Maple is up to in the mental health space.
Here is how Maple's virtual mental health app works
In the case of employers, they can utilize Mind by Maple for their employees. Employees can schedule virtual visits with therapists and access validated resources around mental health and wellness without paying anything. Because their employers pay for them.
Outcome? Well, employers can make sure their employees are having good mental health which ensures quality and productive work.
And in the case of individuals, they can talk with therapists even without booking an appointment in just 2 easy steps.
Step 1 is all about choosing mental health issues and step 2 is all about selecting the type of appointment (urgent or at a fixed time). 
Maple is leveraging the meditation app, 'Headspace' for delivering outcome-based care
Meditation apps such as Calm and Headspace are some of the most commercially successful and profit-making healthcare apps.
They facilitate users to achieve the highest level of calmness with soothing music and stories.
Both of these apps have several thousand paid users and that's their major source of revenue.
Maple - in August 2020 - tied up with a California-based meditation app named Headspace. Due to their partnership, users using Maple's virtual mental health platform can now access guided meditations, mindfulness practices, and evidence-based content of Headspace for free.
#ExpertAdvise
In case you are planning to build mental health app, we would suggest adding features of meditation apps into it to add value and let users self-care easily.
You must read: Guide to Meditation App Development
But why did Maple launch a virtual mental health platform? Well, there is a strategy!
Maple has already been doing wonderful with its existing virtual care platform. Then why did Maple build a new platform specifically for mental health?
Well, there are several reasons.
Mental challenges are what all of us experience every day. 47% of employees think it is normal to feel regularly stressed and anxious at work.
76% of employees want more mental health support from their company.
70% of total disability costs in Canada are related to mental illness.
500,000 Canadians miss work every week due to mental illness.
Leaving numbers behind, now let's talk about Maple's strategy.
Maple is planning to be an all-in-one virtual care platform. Meaning, Maple wants to virtually deliver care for all healthcare and wellness challenges.
But why? Well, in the last few months, one thing we have observed in the healthcare startup ecosystem is that all healthcare startups are pushing hard to generate multiple revenue streams.
For instance, online pharmacies are introducing telemedicine or virtual care and virtual care platforms are introducing online pharmacy, healthcare eCommerce, and mental health offerings.
By providing multiple healthcare and wellness services from either single platforms or dedicated platforms, these startups not only generate more revenue but acquire more patients and also deliver them the most remarkable user experience.
Canadian mental health field is heating up with 2 other players
Maple isn't the only one - and the first one - to offer mental health services virtually. There are already several startups helping Canadians enhance their overall mental health using technology.
In May 2021, Felix Health rolled out virtual mental health services. It is more of a telemedicine platform with instant doctor consultation and free prescription delivery services. But now with mental health offerings as well, it is enjoying a larger user base.
A must-read for you: Complete Guide to Launching Virtual Mental  Care Service?
Mind Beacon is another virtual mental care-providing company - listed on Toronto Stock Exchange. It offers a one-stop private space to access a wide range of mental health support services. It supports messaging, guided CBT programs, and live sessions.
5 technology that can be used when building a mental health app
1. Cloud computing
Cloud computing technology allows mental health apps to store user data on remote servers rather than on the user's device.
This makes it easier for app developers to manage and store large amounts of data, and it also provides users with the ability to access their data from multiple devices.
2. Artificial intelligence
AI technology is increasingly being used in mental health apps to provide personalized care to patients.
AI algorithms can analyze user data such as user behavior, emotions, and mood to provide customized treatment plans.
3. Wearable technology
Wearable devices such as smartwatches and fitness trackers are also being used in mental health apps to track
User behavior
Sleep patterns
Exercise routines
This data is then used to provide personalized treatment plans.
4. Gamification
Gamification is the process of adding game elements to non-gaming contexts.
Mental health apps can use gamification to make the treatment process more engaging and fun for users.
This can include activities such as goal setting, progress tracking, and rewards for achieving milestones.
5. Data analytics
Data analytics technology is used to analyze user data in mental health apps.
App developers can use this data to identify patterns and trends in user behavior, which can then be used to improve the app's features and functionalities.
Are you planning to build a similar mental health app? We can help you with tech, business, and compliance
We're an Ontario-based healthcare-focused IT company.
For the last 8+ years, we have only been serving the Canadian and USA healthcare industries. (And that's something we always feel proud of!)
Our healthcare app developers, UI/UX designers, business analysts, and compliance specialists are some of Canada's sharpest brains when it comes to healthcare IT.
All of us have only been working on healthcare projects since the first day of our professional careers.
With our healthcare-specific knowledge, we can build mobile/web apps for you. We can make it compliant with all applicable data privacy laws. We can define workflows and even business models.
In short, we can deliver you peace of mind.
For better understanding, read our complete guide on Mental health app development