Build Prescription Platforms like Felix Health to Start Your Own ePrescription Services
2 months ago
Want to build a prescription platform like Felix health?
This blog has covered everything you need to know about it – from technical and compliance to its profitable business strategy.
And at the end of the blog, we have shared the real-screen images of our white-label product with links to its live demo!
A Business Strategy to Build Prescription Platform like Felix Health
We have done thorough research on Felix Health.
And the thing that makes it the best is, it focuses on the patient care experience!
Here is how you can do the same by following the business, technical, and compliance strategy of Felix Health.
1. Focus on Simplifying the Patient Care Journey
The easier and faster the care journey of the patient – the more you'll be able to provide the ultimate care experience!
As an ePrescription app, Felix Health does the same.
It helps patients to access online prescription solutions in just a few simple steps.
And here is the entire workflow of Felix Health.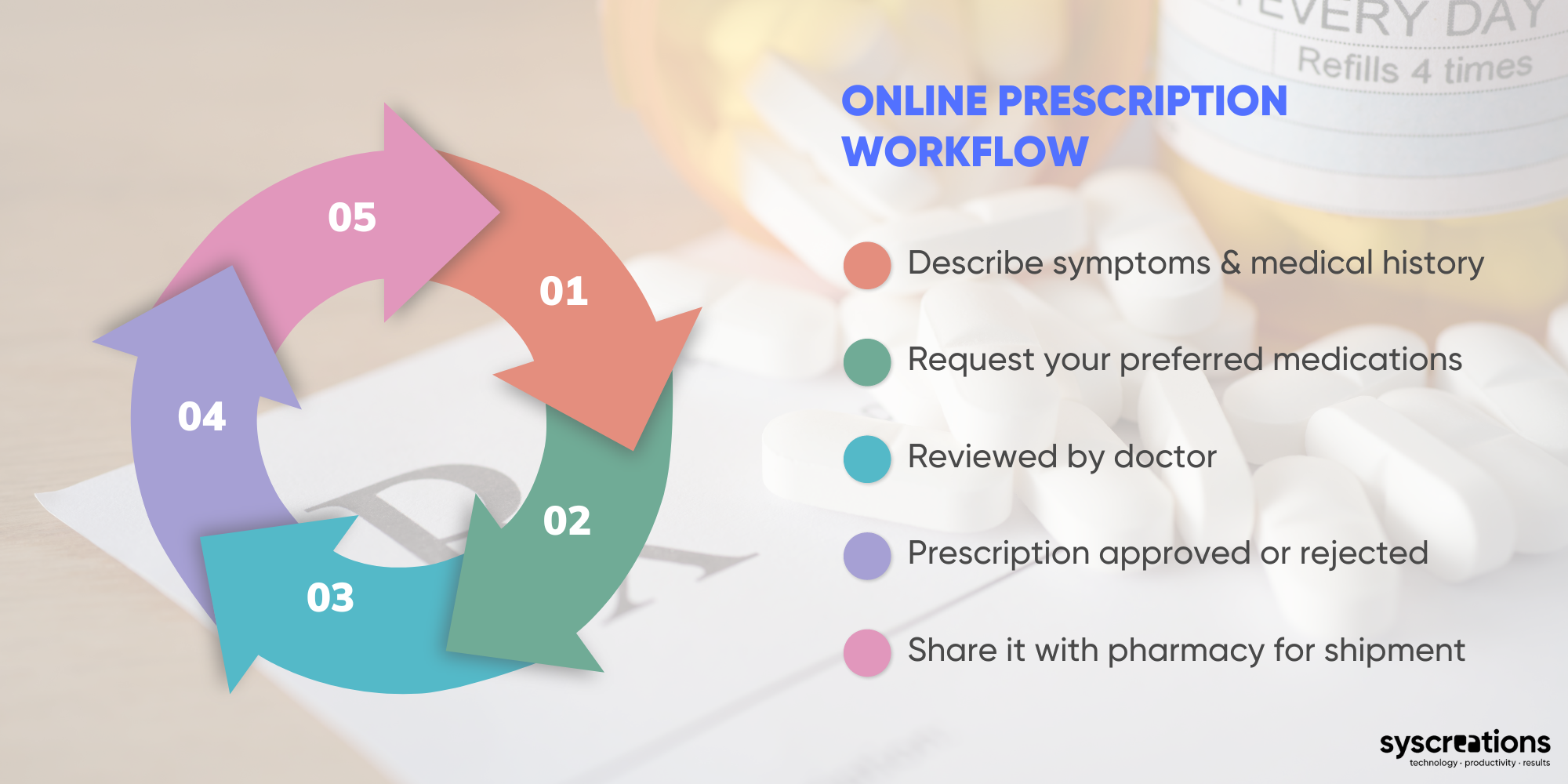 Step-1: Complete the online visit
First, patients need to submit an online visit.
For that, he or she will need to provide the medical history and symptoms along with allergies and their reactions.
The patient's visit will be reviewed by the certified doctor within 24 hours.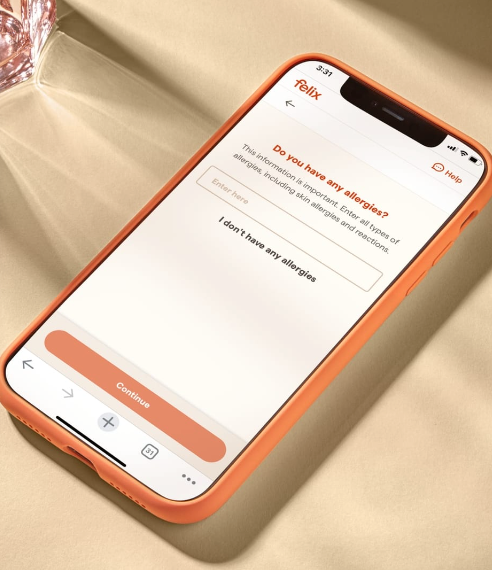 Step-2: Get prescription
Here, the patient can communicate with the doctor via a secure messaging feature regarding their preferred medication or let the doctor decide.
In addition, patients also can select a refill schedule according to their needs.
After completing this step, patients need to pay a $40 visit fee.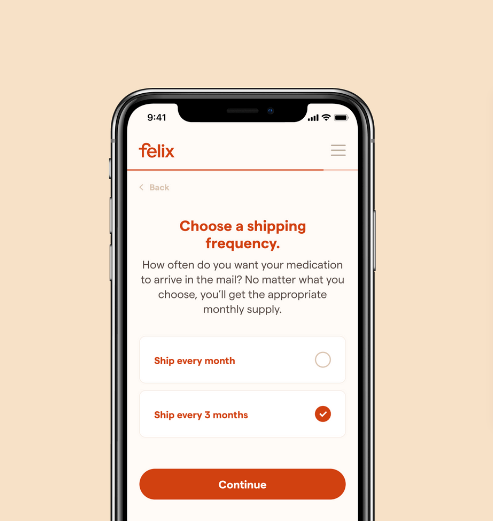 Step-3: Free and fast delivery to the doorstep
Once the physician approves the prescription, the pharmacy partner of Felix Health prepares the medication for shipment.
Furthermore, it also offers an auto-refill feature so that patients can never miss out on their medication.
In case the patients already have a prescription, they can transfer it to Felix Health free of cost.
2. Adopt the Transparent Pricing
Your pricing structure is going to define the financial success of your ePrescription platform.
So, make it transparent for the patient just like Felix Health.
Felix Health follows a 'pay per visit' pricing model which comes up with 1 year of refills.
Apart from that, the treatment cost depends on the needs of the patient.
And here is how it adds value to its pricing model.
Allows patients to choose treatment schedules at their convenience
Direct billing with the insurance provider
3. Offer Chat Options
The digital healthcare market is highly competitive.
To build a strong market presence, it's essential to add an extra layer of convenience to your ePrescription solutions.
And the in-app messaging feature is the best option for that.
Because it allows patients to get the all-in-one solution for their any healthcare needs.
This allows patients to easily communicate with the healthcare practitioner regarding their – health concerns, medication advice, and prescription refills.
4. Provide a Wide Range of Online Prescription Solutions
The more services you have the more flexibility you'll have in attracting a larger user base.
For example,
Felix Health is not just limited to one solution.
It offers multiple ePrescription services such as
Five services related to sexual health
Four services related to daily health
Two services related to mental health
And remember, there is no boundary of the online prescription platform.
You can offer as many services as you want.
You must also read: Launch a Virtual Mental Health Service
A Technical Approach to Develop Prescription App like Felix Health
If you want to stay ahead of your competitors, your app needs to be – faster, reliable, and future-ready.
So, here is the technical guide that is prepared by our healthcare-specific developers.
1. Choose Either Web or Mobile App or Both as per Your Need
Felix Health is a web-based app.
Meaning, a patient can use the app from any device, any browser.
What it requires is – a reliable internet connection.
Meanwhile, in a mobile app, patients need to download and install the app to use your online prescription services.
In case if you are confused about what to choose, here is the difference between a mobile and a web app.
2. Choose the Right Technology Stack
It is important to choose the future-ready and high-performing tech stack for your prescription platform Felix Health.
To select the powerful tech stack, you first need to evaluate some aspects such as
After that, select the tech stack that fits your exact needs and has future-ready capabilities.
For better understanding, explore our detailed guide on selecting the tech stack for healthcare apps.
3. Focus on User-Centric Features
We know that it is quite difficult to do it.
Thus, we have done a comprehensive market analysis of existing ePrescription apps in the market and created a list of top features.
For doctors:
Dashboard to manage prescription
Accept or cancel the request for a prescription
Secure and easy access to health records
Send prescriptions via SMS, email, or FAX (to patient and pharmacist)
For patients:
Book, cancel, and manage appointments
Medication and prescription history
Connect virtually with the preferred healthcare practitioner
Track and manage prescription orders
A Compliance Strategy for Developing ePrescription App like Felix Health
The online prescription platform saves, uses and shares the crucial personal, health and financial information of the patient.
And it's important to protect those data from data breaches.
To do so, your app has to be compliant with data privacy and security regulations.
And these privacy laws vary by province and country.
For example,
PHIPA applies in the Ontario province
GDPR applies to all 27 member countries of the European Union (EU)
Talking about Felix Health – it is a PHIPA-compliant app as it operates its business operations in Ontario.
Why Build a Prescription Platform like Felix Health?
Digital prescription is the first step towards improving the patient care experience – and there is no doubt about it.
The security and convenience it brings – is what makes it the first thing to adopt in this era of digital health.
That's the reason, its market is skyrocketing right now.
As per the Globe News Wire, "Global e-Prescribing Market is set to witness an exponential growth of 22% to reach $4 billion in the next 5 years!"
Meaning, it is a perfect business opportunity for you.
How Much Time and Cost Does It Take To Develop a Prescription Platform like Felix Health?
To be honest – there is no fixed time and amount to develop any healthcare app.
Because development is not just about doing coding all the time.
Other crucial aspects play a significant role in the development process.
It includes – discovery, documentation, UI/UX, QA testing, compliance audit, and maintenance.
Furthermore, several factors influence the cost and time it takes to develop the app such as
UI/UX and workflow requirements and its complexity
Features and functionality needs and its complexity
Time to market requirements
The complexity of QA testing
Meaning, it depends on what you want in your app.
Thus, without knowing your exact requirements, we don't want to give you random numbers and mislead you.
So, just tell us your requirements. We'll create a personalized quote and share it with you!
Want a Powerful, Secure, and Future-Ready App? We've Been Developing It for the Past 8+ Years!
We are an Ontario-based healthcare IT company.
What makes us distinct from the rest is that – we only entertain healthcare IT projects.
Since our inception in 2014 to now, we have helped 100+ startups, entrepreneurs, entities, organizations, government agencies, and individuals.
We have a dedicated team of 50+ IT professionals who have been performing only health tech projects since the first day of their professional careers.
It includes – web and app developers, UI/UX designers, business, analysts, compliance specialists, QA engineers, integration experts, RPA engineers, and AI & ML specialists.
In case you don't want to develop a custom app due to less time to market and low capital to invest, we have something for you.
Our White-Label Telehealth App!
We recently launched a white-label telehealth app.
It's a ready-to-use app that we customize as per your unique workflow and branding requirements.

Following are its credentials.
Username: admin@admin.com
Password: Admin@123
OTP (2-factor authorization code): 123456
So, if you have only ePrescription requirements, there is no need to acquire the entire telehealth product.
Just tell us your ePrescription needs and we'll remove the video consultation part and implement your workflows as per your needs.
This way you can skip 80% of the development time and costs.
For a better understanding, here are the real-screen images of ePrescription features.

The username and password are auto-filled.