How to Start Cannabis Telemedicine App like NamasteMD in Canada?
1 month ago
The medical cannabis market in Canada is still in the early stage - leaving plenty of room for new players and their unique ideas.
One such great idea that works very well in 2023 is the cannabis telemedicine app.
A Canadian startup named NamasteMD has been capitalizing on the same idea and enjoying a large user base of Canadians who require medical cannabis.
How does the cannabis telemedicine app work?
It works in 3 simple steps.
Step 1: Users or patients sign up/sign in by confirming their age. They schedule an online appointment with the physician.
Step 2: Users complete online video consultations with the physician at the scheduled time. 
Step 3: Based on users' medical needs, the physician provides a medical document that users can use to buy cannabis for medical purposes.
What is the major challenge a cannabis telemedicine app solves for users? 
Currently, users or patients must go through a hectic process to get medical cannabis.
They first need to visit a physician or clinic for consultation.
That physician gives them the medical document for cannabis.
With this document, they need to register themselves as licensed ACMP producer. 
A telemedicine app streamlines this entire process and lets users get everything done to purchase medical cannabis through the mobile app itself.
Using the mobile app, users can have a video consultation with a physician who provides them with a medical document in the same virtual meeting.
With this medical document, users can easily purchase medical cannabis online through the cannabis e-commerce store. 
This way, from consultation to cannabis purchase, the users can do everything without stepping out of their homes!
What are the other tasks of the patients the app allows them to do within seconds?
The telemedicine app is known for its convenience and affordability. It facilitates patients to receive rapid care remotely.
Talking specifically about the cannabis telemedicine app, it enables users to complete the following tasks within seconds:
Place cannabis order
Track the medical cannabis order
Book follow-up appointments
Reminders for dose
You should also read: How to Start an Online Marijuana Dispensary in Canada?
Why does the NamasteMD app dominate the market?
NamasteMD is Canada's first medical marijuana telemedicine app. It smoothes the way for patients to access medical cannabis.
Using NamasteMD, users can address all their medical needs for cannabis with ease from the comfort of their homes.
The startup has already earned users' trust by providing affordable and legal services while addressing all government laws regarding cannabis and data privacy.
So, there are two reasons why the NamasteMD app is leading the market - convenience and surety & peace of mind it offers! 
The convenience 
Surety and peace of mind
What are the regulations for you to follow to launch a telemedicine app for medical cannabis?
If you are not selling cannabis online through your app, you don't require any license.
(You can tie up with licensed cannabis sellers and refer patients from your telemedicine app to your partnered cannabis sellers for cannabis purchase!)
However, your telemedicine app should adhere to all Canadian data privacy laws.
In Canada, there is a federal-level data privacy law known as PIPEDA and there are several provincial-level privacy laws.
You have to follow both levels of law.
In case your app is violating any of the data privacy laws, you will be liable for a hefty fine.
Thus, it is vitally important to always have a telemedicine app compliant with all privacy laws.
Do you need to hire dedicated legal or compliance professionals?
Yes - if your technical partner or hired app agency lacks in-house compliance experts.
No - if your technical partner or hired app agency has in-house compliance experts!
Meaning, you have to choose a technical partner wisely!
Do you need to integrate EHR/EMR with your telemedicine app?
It is not mandatory, but it is advisable.
Because EHR integration lets your app fetch all patients' data from multiple healthcare providers and shows it to physicians.
With this extensive data, the physicians on your platform can provide quality care to users and increase their experience and retention. 
Without EHR integration, the physician has to ask users to upload reports and lab results along with listing older prescriptions, allergies, etc.
Without it, the physician should also share the patient data with other entities using email or fax.
It seems like a time-consuming and exhausting process for both patients and physicians.
Here, HRM (Health Report Manager) integration is also very useful.
With it, physicians of your platform can send patient data directly to other healthcare providers using licensed EMRs. 
What if you don't have any technical expertise?
You don't actually need any technical expertise!
Our business experts - from the first conversation - will make you aware of several technical aspects of the app.
Because we believe an owner should know how his app is working!
Our business experts and app developers will also explain to you each and every app feature to you with live demonstrations to clear all your doubts. 
Additionally, we will keep you updated with the app development process via the executive channel of communication.
How long does it take to develop the telemedicine app for cannabis?
Developing a telemedicine app is a challenging task due to interoperability, compliance, remarkable UI, and complex workflow.
So, one can never estimate the time it requires to build the app.
But we assure you that with our rapid agile development approach, we can develop the app within the set deadline so that you can launch it in the market on a pre-decided date only.
Because we don't just deliver the app - we deliver the revenue machine that will be your major source of revenue and remain the same for many next years. 
Check out the real-time screen images of one of our Cannabis app solutions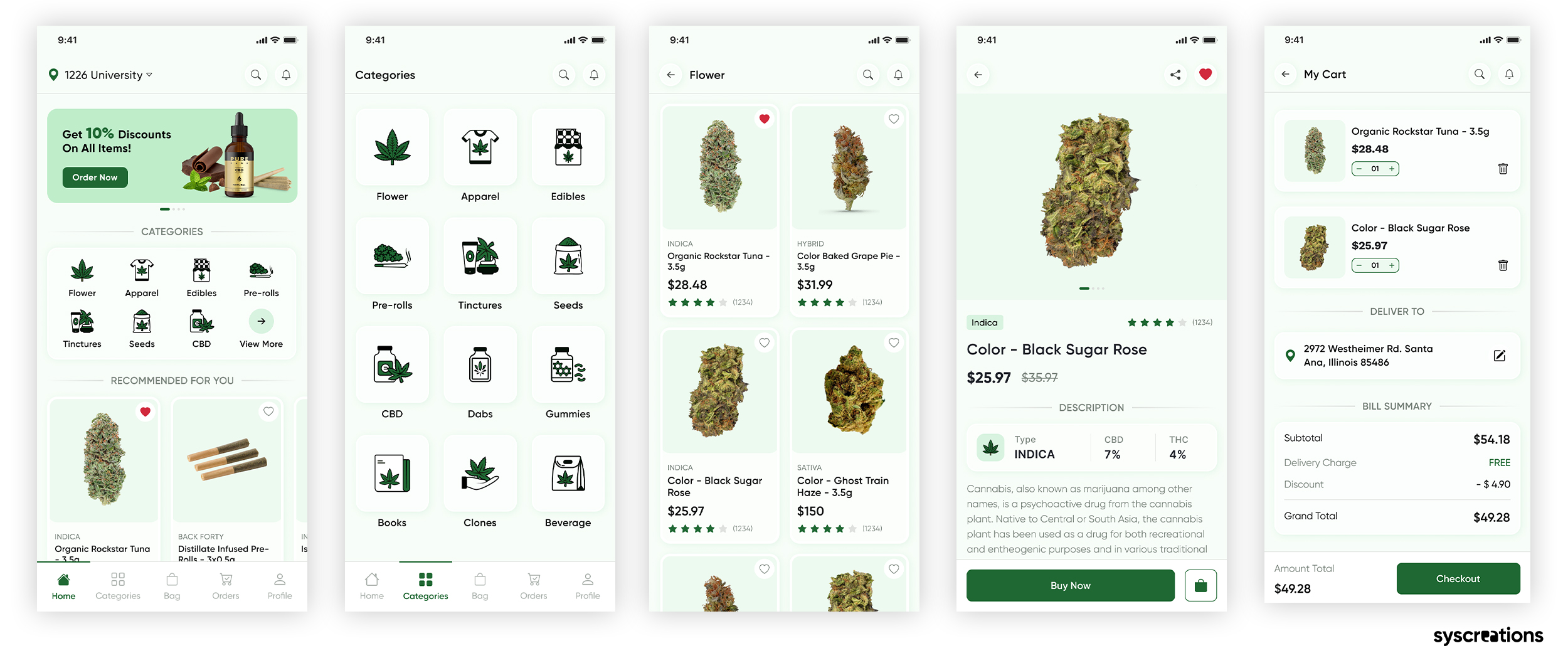 We're an Ontario-based, healthcare-specific team of developers, designers, business experts, and compliance professionals  
We have been solving the challenges of healthcare providers, startups, and organizations for 8+ years.
We make everything possible in the healthcare industry with strategy, technology, innovation, and mindset!
Check out our case studies to learn more about our limitless skillset!
We're ready to help you.