Telemedicine app development: How to develop telehealth app in Canada to evaluate, diagnose, and treat patients through televisits during a health crisis?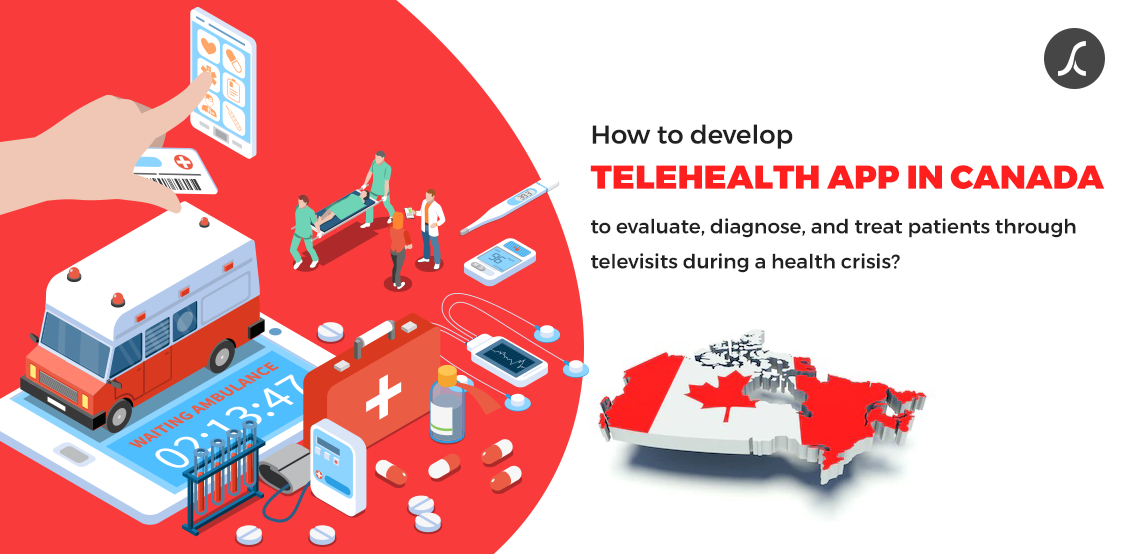 4 years ago
Public health has been the top priority of the Canadian government. According to the CIHI, the Canadian government is spending 11.6% of gross domestic product (GDP) on healthcare infrastructure and services.
However, pandemic like COVID-19 can easily immobilize the world's one of the greatest healthcare systems. This is exactly what we are experiencing in Italy and the USA.
Doctors and other healthcare professionals treating infected people are at a higher risk. According to CNN, at least 23 doctors have died after getting an infection from patients and some 4,824 healthcare workers have been infected by a coronavirus in Italy.
To not repeat history, we have to adapt groundbreaking yet very straightforward solutions running on ultra-modern technologies. Only with such solutions, we can empower our healthcare professionals and the healthcare system to lock horns with any kind of healthcare crisis.
Telehealth app is one of such solutions that we have to start using to minimize the casualty or to flatten the graph during a pandemic. By developing a telehealth app, you can save many lives by making a doctor available to patients instantly, remotely.
So, if you are planning to develop a telehealth app in Canada to enable doctors to treat patients remotely, you've come to the right place.
In this blog, we will discuss everything which you have to know before hiring developers to develop a telehealth app in Canada.
Our other useful resources around telemedicine:
What is a telehealth app?
During a health crisis, or even during regular days, hospitals in all urban cities remain overcrowded, making a difficult task for healthcare workers to treat each patient effectively.
A telehealth app can eliminate this challenge by letting patients and doctors arrange televisit through the mobile app.
Telehealth app is a simple appointment-based solution for both patients and healthcare workers. It enables healthcare workers to deliver an in-office experience to patients.
A telehealth app also makes sure that unauthorized users can never get access to patient data. A telehealth app must be HIPAA compliant.
Telehealth app which actualizes televisits accommodates many features for both patients and healthcare professionals. These features facilitate them to enjoy complete access to all clinical tools.
Healthcare organizations can painlessly integrate telehealth apps with EHR which results in centralized data storage, high data availability, and accurate progress & recovery reports.
Telehealth app market study
Healthcare is the only sector that influences the life of almost all people directly. And if we modernize the healthcare industry, it can also start influencing the remaining people by making them easily accessible to healthcare services.
In the last few years, the telehealth market has evolved so greatly.
According to Fortune Business Insights, the global telehealth market was valued at $49.8 billion in 2018 and it is estimated to reach $266.8 billion by the end of 2025.
Canada is one of the top contributors to the global telehealth market.
Rising healthcare spending, a growing number of conferences and events that are generating awareness about telehealth services in the country are the few top reasons why Canada is leading the chart.
Following is the list of best telehealth or telemedicine apps.
iPhone rating: 4.7 stars
Android rating: 3.3 stars
Price: Free
Lemonaid: Same Day Online Care
iPhone rating: 4.9 stars
Android rating: 4.7 stars
Price: Free
iPhone rating: 4.8 stars
Android rating: 4.5 stars
Price: Free
iPhone rating: 4.8 stars
Android rating: 4.7 stars
Price: Free
PlushCare: Video Doctor Visits
iPhone rating: 4.9 stars
Android rating: 4.8 stars
Price: Free
Top telehealth app features you have to consider to develop telehealth app in Canada
App features for healthcare workers:
Healthcare worker's profile

Calendar

Task Scheduling

In-built chat, video call, and voice call options

Call recording

EHR review

Medical prescription

Dashboard and analytics
App features for patients:
Log in or sign up

Profile

Search

Appointment booking

Appointment history

Communication

Notifications

Payment

Rating & review
The business model you can follow to maximize your earning through telehealth app
Based on your role and business goal, the business model of the telehealth app varies dramatically.
For instance, if you are a healthcare organization and you want to develop a telehealth app, your business goals should be offering convenience to patients and free up space in the hospital.
So, to earn money while satisfying your business goals, you can promote your app to your regular and new patients and charge them based on appointment time.
But if you are an entrepreneur and want to develop a telehealth app where you ask doctors to register to give healthcare service to patients, your business goals should be offering convenience to patients & doctors and earn money as much as you can while obeying government regulations.
So, to earn money while satisfying your business goals, you should follow the refined business model of on-demand apps like Uber. When a patient pays appointment fees to a doctor, take a certain percentage of commission from it. You can charge patients based on appointment time and doctor consultation type.
Future trends of the telehealth apps
Telehealth or telemedicine apps have revolutionized the Canadian healthcare segment. But now, a few ultra-modern technologies are revolutionizing the telehealth market. These technologies are AI, Big Data, Blockchain, and IoT.
In an AI-enabled telehealth app, by just adding symptoms or current state of the body, the user can know the disease he has. The app is also capable of showing the personalized cure of that disease to the user.
You should also read: Different ways AI is impacting telehealth
Big data in telehealth apps:
AI technology needs a lot of data to give precise information to the user. Here is where big data comes into the picture. Big data is the field that deals with data storage, data analysis, and information extraction from large & complex data sets.
Blockchain technology in telehealth apps:
When there is data, there is data loss risk!
But we can bring data loss risk to zero with blockchain technology. Blockchain technology was dedicatedly developed for secure data storage. It stores data in the block and each block contains a cryptographic hash of the previous block, a timestamp, and transaction data which make it impossible for unauthorized users to steal or erase data.
IoT technology in telehealth apps:
IoT is also a very purposeful technology. It enables patients and doctors to record and save the details of the body such as body temperature, oxygen level, blood pressure directly on the telehealth app database. It accelerates the body data gathering speed and so does the treatment speed!
How can we help you to plan, develop and deploy the telehealth app in Canada, brilliantly?
We are the top healthcare-focused IT solutions, services, and business consultation provider in Canada who believes in proactive and result-oriented consultation and solution delivery.
Our well-versed team which accommodates business experts will help you from the first day to draft a business plan, decide on the profitable business model, and study the market.
We also accommodate clever app developers and app designers who can develop a telehealth app for you that runs on all disruptive technologies like AI, big data, blockchain, and IoT.
We will become your true business strategic partner and help you plan out and execute data-driven business strategies.
Our team also accommodates healthcare compliance experts who help the development team to fill security gaps and develop a HIPAA/PIPEDA/PHIPA compliant healthcare app.
Because of such a versatile team, we gain some uniqueness over other tech companies.
On the concluding note, we would like to share our most recent case study on telemedicine app development.