Why Are We the Best EHR Development Company?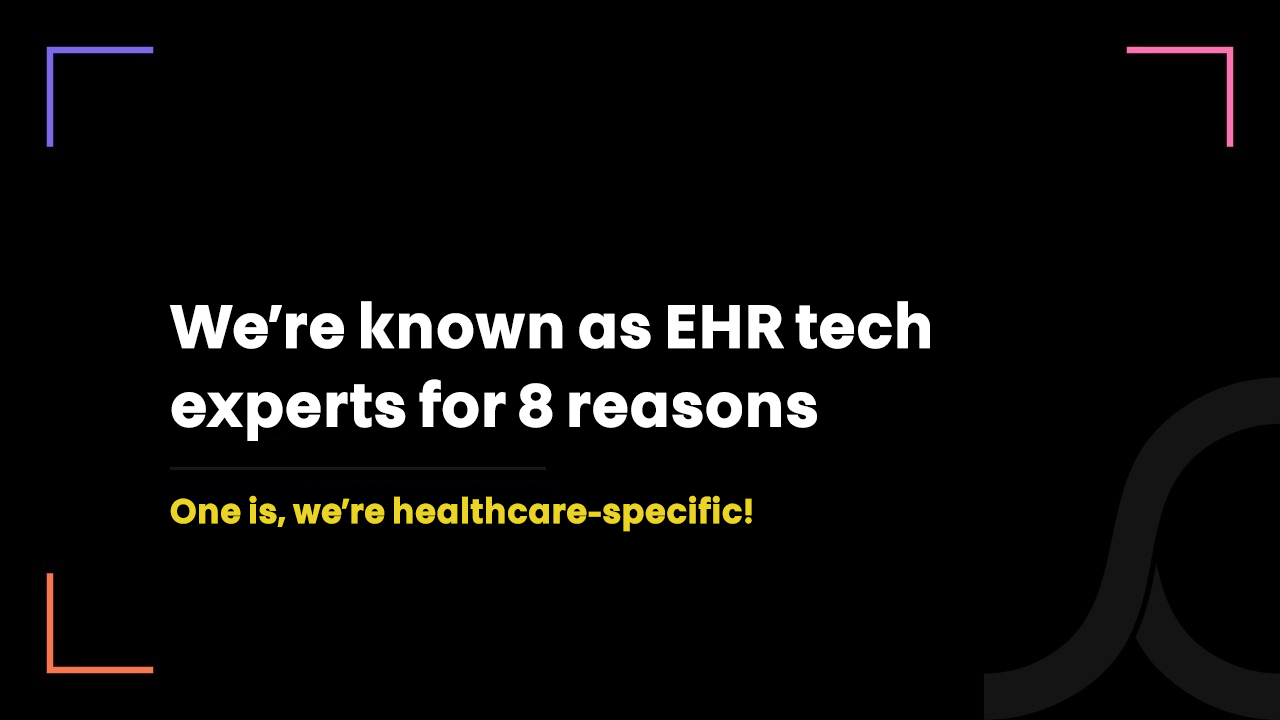 2 years ago
Let me confess it.
Yes, this is a promotional blog. But I think there is nothing wrong with promoting what we have learned and mastered by putting in hard work for years!
We also believe healthcare IT knowledge is a privilege to have and we should feel proud of it as it enables us to directly or indirectly save lives and improves the well-being of our healthcare providers.
Anyway, it is time to share in words what we actually prove with our actions!
Our other useful resources:
Why are we the best EHR development company in Canada, USA?
1. We only serve the healthcare industry!
Since the inception, we have been very clear. We don't want to be a jack of all trades and master of none!
Because you can either be the best pilot of the Airbus A380 or an excellent captain of the Royal Caribbean Cruise. You can't learn both. If you somehow can, you can only learn, not master.
We comprehensively applied this concept throughout our mindset and learning practice.
We continuously earn healthcare-specific knowledge. We also hire the best resources who have prior knowledge & experience in solving healthcare issues with technologies.
For the last 7 years, we have only been dealing with healthcare IT projects.
Yes, it restricts our revenue possibilities but we are more focused on delivering clinical value to our healthcare clients which a jack of all trades, master of none can never deliver!
2. We don't sell services. We provide solutions to your problems!
A few days ago, one of the Ontario-based physicians contacted us to build an app to streamline internal workflows.
In our first conversation, he seemed very frustrated with tedious and time-consuming operational workflows and was ready to invest many thousands of dollars to build an app as a solution to his challenges.
However, when we assessed, we found a more affordable solution to his challenges which was RPA (Robotic Process Automation).
So, we suggested him RPA over the mobile app and he happily saved more than 30% of what he was ready to invest in an ineffective solution.
So, here, we didn't sell him our service. But we did provide him with an effective solution to his challenges!
3. We have ultimate healthcare technical expertise and we mean it!
Building a grocery app and building a medical record solution or EHR are two different things.
Any IT project in the healthcare industry requires a dedicated skillset as it includes several technical complexities from integrations to data privacy and security.
Even the UI/UX of the healthcare IT products including EHR should be very different in terms of functionality and accessibility as healthcare IT products are supposed to be used in intense clinical environments.
What we can't afford in healthcare is an error. Thus, every module of the EHR must be built and tested with the highest-ever precision to make sure it works with 100% accuracy.
All our developers and designers have been specifically trained to design and build healthcare IT products that are capable of enhancing patient outcomes and helping healthcare providers with every possible clinical task.
4. We don't just build EHR. We automate it!
We don't call it the best EHR if it requires healthcare providers to manually add every data and spend hours managing data on EHR.
Thus, we've mastered EHR automation!
We can automate several tedious and repetitive tasks performed by clinicians on EHR.
Such as, we can automate the entire patient intake workflow. This results in faster throughput and shorter wait times.
Additionally, we can automate the entire reporting workflow. We can also automate events such as an automatic response that gets triggered if a clinician does not upload data within 17 minutes or whatever minute you select.
Most importantly, we can automate the patient engagement workflow by automatically sharing all crucial information with patients and reminding them of medication, upcoming follow-up meetings, diet plans, workouts etc.
Overall, we build a smart EHR!
5. Compliance is what we live by!
Being a Canadian company we understand the gravity of building a compliant EHR.
We accommodate dedicated compliance experts who work with business analysts and the development teams to address all technical and administrative requirements of applicable data privacy laws.
We are also very proficient with PIA and TRA which helps us to find privacy issues your organization and your EHR product have.
To ensure patient data privacy and security, we deploy a military-rank mechanism with 2-factor authentication, administrative controls and encrypted ePHI.
6. We write clean, performant and standards-based code
Writing a clean code is difficult but very crucial. Thus, we mastered it.
A messy code may result in a workable piece of software but it decreases the productivity of the team. For every small change in code, the team has to spend hours.
If in future, you hire new developers or a technology partner, they can easily understand the code if it is clean code. It also reduces your code maintenance efforts and cost.
Most importantly, a clean code helps our QA team to easily spot bugs.
7. We're trusted in the healthcare industry!
We have been proactively working with healthcare providers, healthcare startups, healthcare enterprises and even government agencies for more than 7 years.
We majorly serve the Canadian and USA healthcare markets but are always eager to solve the healthcare challenges of any country.
In the last 7 years, we have successfully delivered 200+ healthcare IT projects that include telemedicine app development, compliance consulting, PIA/TRA, patient engagement software, clinical collaboration tools, clinical automation, EHR development etc.
During the peak of the pandemic in Canada, we helped several LTC homes to ensure continuity of care in safer environments by delivering virtual care products and setting up enterprise networks remotely within days.
We also have saved thousands of clinical hours and avoided numerous medication errors.
8. We understand healthcare as good as doctors!
Generally, an IT professional does not have an on-ground understanding and experience of the healthcare ecosystem.
But we have as we believe that we should understand healthcare as good as doctors to help doctors with technology!
From clinical workflows to clinical terms, clinical protocols, clinical forms, billing structure, we have on-ground knowledge and understanding which empower us to build the best EHR that clinicians feel comfortable working with!
Anyway, let me conclude this blog with one more confession - we hate telling people to contact us!
After reading this blog, if you feel we can help you, we are more than happy to help you!
That's as simple as that!