What is the Future of the Telehealth Market?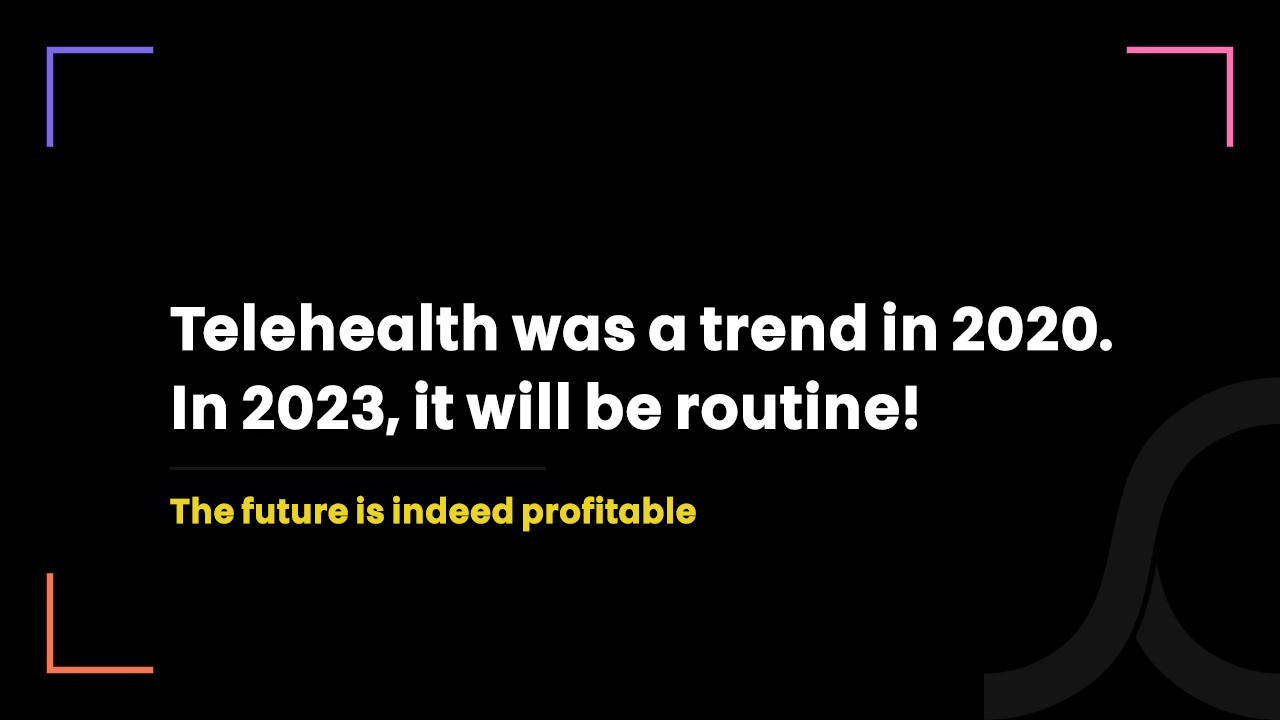 3 years ago
It was only COVID-19 that caused the acceleration in the use of telehealth platforms.
And it was only telehealth platforms that expanded the care delivery when the pandemic restricted patients' ability to seek rapid and quality care.
What we are more interested in here is the future of the telehealth market.
But to know its future, we first need to know where it is standing now. 
Our other very interesting healthcare resources:
Telehealth Market: Now
According to the McKinsey report, 11 percent of US consumers were using telehealth in 2019 which increased to 46% in 2020.
And during the pandemic, more than 70% of in-person medical visits have been cancelled with the immediate goal of avoiding exposure in clinics or hospitals.
The report also states that 76% of survey respondents said that they are most likely to use the telehealth platforms again in future.
Whereas, 74% of the respondents reported good user experience and high satisfaction.
Be it large hospitals or small clinics, healthcare providers are switching to a virtual care delivery model as more patients prefer it over in-person care delivery.
Healthcare providers are now carrying out 50-175 times more televisits than pre-COVID time.
57% of care providers believe telehealth is more effective and 64% of them are using it comfortably.
The government has already nodded to the fact that telehealth is the most useful healthcare technology that ensures timely access to care even during a healthcare disaster.
In 3 major provinces of Canada (Alberta, Ontario & B.C.), the government had brought televisits under its provincial health cards.
With it, the patients can now have a free virtual consultation with the physicians.
During the first wave of the coronavirus in Canada, the prime minister announced to invest more than $240 million in virtual care services to support Canadians' health and wellbeing.
Both Canada and the USA are the hottest telehealth markets.
Due to affordable technologies, a large customer base and support from the government, many small-scale telehealth startups are thriving and many have even achieved unicorn status.
Ro Health and Hims & Hers are the best examples here that have raised a significant amount of funding and become unicorn telehealth startups.
Many new startups who have launched their service during the pandemic are experiencing rapid growth and building a large customer base very quickly.
The telehealth opportunity is so huge and game-changing that even online pharmacies are starting telehealth programs from their apps.
PocketPills - which is Canada's one of the largest online pharmacies - have followed the same trend.
Download the PocketPills app and have the ease of speaking to a doctor to renew your prescription. Our Care Team is available from 9AM to 9PM EST at 1.833.HELLORX if you need more information. pic.twitter.com/JD8Wn5lh1e— PocketPills (@pocketpills) March 3, 2021
Telehealth Market: Future
Compliance will still remain the major challenge
We on average talk to 5 healthcare providers and 4 telehealth startups in a week.
The major challenge they all are facing is compliance.
A lot of technical, business and operational requirements of the data privacy laws require them to invest in a unique skill set and dedicated time & efforts.
The only goal of these data privacy laws is to protect the privacy of patients' data.
So, with ever-growing threats around healthcare data, it is less likely that regulators will lower the bar.
In fact, there are higher possibilities that regulators will impose new regulations and maybe new data privacy laws.
So, with this, the compliance challenge will become more severe but in return, it will provide military-rank security to healthcare data!
Telehealth and online pharmacy will go hand in hand
After almost every televisit, the patients need to buy the medicine as prescribed by the physician.
Patients have a choice. They can either buy it from other online pharmacy apps or from the retail pharmacy store.
Either way, patients have to face inconvenience.
Thus, many telehealth startups integrate online pharmacy app modules in the telehealth app itself.
This way, they ensure that patients can get the ultimate user experience and get everything from medical consultation to prescriptions and medicines from the same platform.
However, not all telehealth apps are currently following the same strategy.
But in future when the profit margin of telehealth will decrease, the telehealth app startups will leave with no choice than finding a new revenue stream.
And integrating online pharmacy with telehealth is the most profitable revenue stream!
Telehealth + healthcare eCommerce will be the recipe for unicorn
Healthcare eCommerce is a billion-dollar market.
And if we integrate it with telehealth, telehealth startups can capitalize on this billion-dollar market.
With this, telehealth startups can sell over-the-counter drugs, oral care products, hair care products, skin care products, supplements, perfumes, baby care products etc from the telehealth app itself.
USA-based unicorn telehealth startups Ro Health and Hims & Hers Health have been leveraging the same business strategies.
In the future, when telehealth will become a dominant care delivery model, telehealth startups will start integrating healthcare eCommerce to capitalize on the billion-dollar market of healthcare eCommerce.
Remote patient monitoring will rule the telehealth market
Currently, the major limitation of the telehealth platform is the lack of pure contactless care delivery.
Because, physicians or other healthcare staff are still required to be in close contact with patients in order to measure their biometric data such as oxygen level, sugar level, heart rate etc.
This increases the chance of outbreak - especially when the hospitals and long-term care homes are running the telehealth program.
So, if we integrate remote patient monitoring with telehealth apps, physicians can get all the biometric data of patients in real-time and remotely on their app itself.
Such technology is very helpful when you are providing virtual care to seniors who are unable to measure their biometric data by themselves.
Get a future-proof telemedicine solution with free consultation and live app demo
The future of the telehealth market is bright for you - if you do the investment now - in the right way!
We are Ontario-based telehealth tech and compliance experts.
We develop custom, clone and white-label telehealth web and mobile solutions.
With our in-house compliance experts, we always make sure to develop compliant telehealth solutions only.
Being proactive in the Canadian healthcare industry for 7 years, we have earned ultimate expertise and recognition.
We don't just deliver you the telehealth solution, but our expertise and peace of mind.
You can check out our case study on telemedicine app development to be aware of our Canadian standard of work.
We would also like to share the screenshots of our most recent telehealth project.