Build Healthcare Digital Solutions Now to Leverage Demand in Post-Pandemic World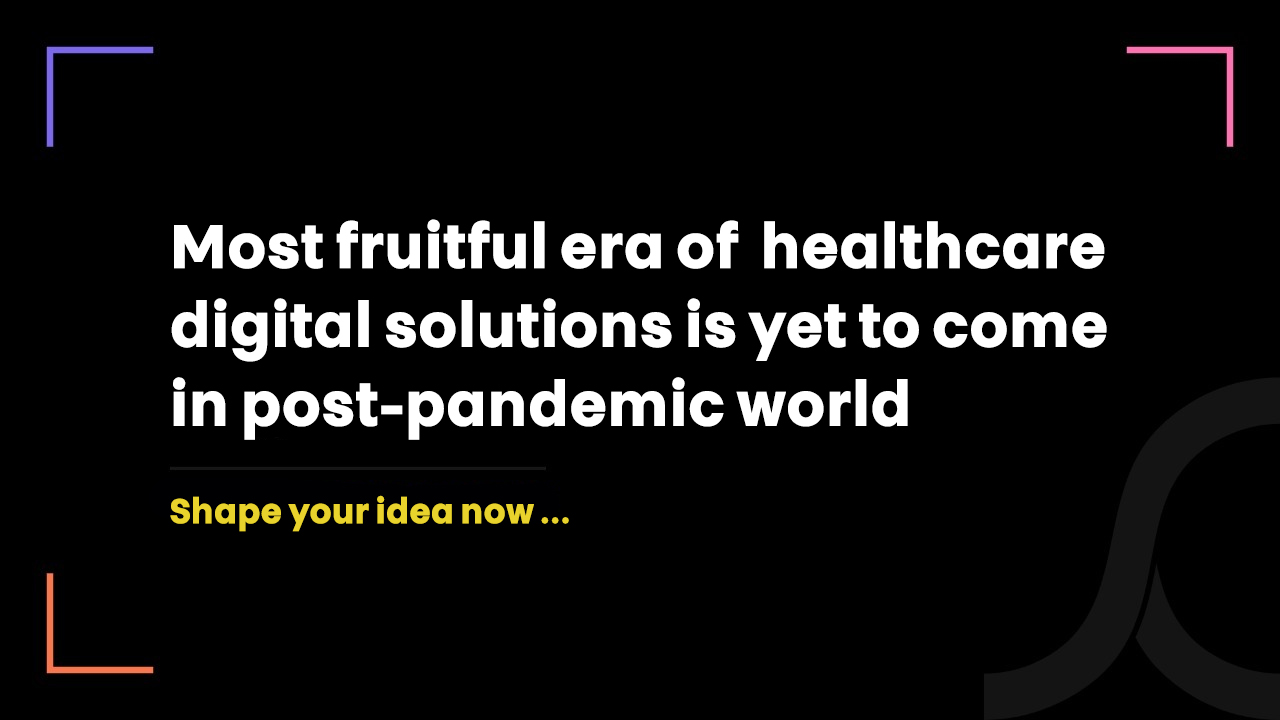 2 years ago
Top 5-6 healthcare digital solution providers in Canada have raised more than $300 million combined since the pandemic. 
Yes, one reason for their successful funding rounds was indeed the high adoption of healthcare solutions during the pandemic. 
But there are several other reasons including its fruitful future in the post-pandemic world. 
After all, investors never invest for short-term benefits. They are far-sighted! 
How have healthcare digital solutions been solving top healthcare challenges during the pandemic?
Pandemic not only emerged with unprecedented challenges but also allowed existing challenges to double up their scale and severity.
However, several healthcare digital solutions have been successfully empowering our frontline healthcare professionals with comfortable, reliable and result-oriented mobile apps, web apps and software solutions to ensure continuity of care in safe environments. 
The following are the top healthcare challenges and how digital healthcare solutions aim to solve each of these challenges.
Challenge #1: Time-consuming and unsafe senior care in LTC home settings 
Solution: Writi 
Writi is the cloud-based virtual care platform dedicatedly developed for long-term care homes while keeping senior care challenges in mind.
In addition to letting physicians provide care to seniors remotely to avoid virus transmission, it also streamlines entire senior care workflows with its purposeful features such as medication management, record management, ePrescription, workflow management of resident-related orders & documents, automatic entries of a medication history of residents in digital bundles and concern management of residents' family members.
All long-term care homes which have deployed Writi during the pandemic reported less-burdened staff, almost zero virus transmission, negligible medication errors and residents with great mental health.
Challenge #2: Awful mental health of employees that affect their productivity 
Solution: Dialogue 
Dialogue is Canada's one of the best healthcare companies that provide digital wellness programs and telemedicine services to employers for their employees.
It offers an integrated platform that enables employers to manage primary care, stress + mental health and employee assistance programs for their employees from a single dashboard.
Top global companies such as Sun Life, Lightspeed, Samsung, Ubisoft are creating a happy and productive workforce with the help of Dialogue.
Challenge #3: Healthcare staffing 
Solution: Bookjane 
Bookjane is a game-changing healthcare app - aims to solve age-old healthcare staffing challenges with an on-demand business model.
It allows nurses to register themselves as individual healthcare providers. Once they register themselves, healthcare entities such as nursing homes, long-term care facilities can hire them on short notice and pay a good hourly wage.
Bookjane app solves major two challenges. It facilitates nurses to earn extra and allows healthcare entities to hire staff within minutes for a short time as per requirements.
You should read this: Solve healthcare staffing issue by building an app like Bookjane
These top healthcare digital solutions have reported unbelievable success during the pandemic
Due to the pandemic, use cases of all healthcare digital solutions have appeared on the surface and have been hailed by both healthcare providers and patients. 
As an upshot, several digital healthcare solutions have been experiencing outstanding growth in terms of funding, user base and revenue. 
Following are some of those.
Maple is Canada's most popular telemedicine platform facilitating patients to seek quality healthcare services remotely through a mobile app. 
Founded by the physician himself, Maple announced to raise $75 million in its most successful funding round in September 2020. 
Interestingly, Shoppers Drug Mart which is Canada's one of the oldest and successful healthcare organizations led the series C funding round of Maple. 
Maple also set up virtual care clinics at more than 160 stores of Shoppers Drug Mart across British Columbia.
PocketPills is an online pharmacy platform enabling patients to order prescriptions from the comfort of their homes and manage their medication plans without stressing out. 
Sensing the urgency, PocketPills last year rolled out telemedicine services from its online pharmacy platform to offer 360-degree care solutions to patients from the same platform. 
In the last 2 years, PocketPills has successfully closed 2 funding rounds - series A in Feb 2020 for $7.5 million and series B in March 2021 for $30 million at the valuation of $150 million! 
You'll find this very useful: How to start an online pharmacy like PocketPills?
Vetsie is the virtual vet care platform connecting pet owners with vets for seeking virtual pet care conveniently. 
Recently, in its pre-seed round, Vetsie has raised $285,000 for its virtual vet care platform which will be available soon on both Android and iOS ecosystems.
Gain some important knowledge: Cost to build virtual vet care platform like Vetsie
AlayaCare is a very prominent healthcare brand in Canada that offers a home health care platform to home health care service providing agencies for growing client base, easing administrative work and delivering high-quality care. 
In Jan 2020, AlayaCare closed a funding round by securing $47.9 million and in June 2021, it closed yet another very successful funding round with a cash injection of $225 million! 
Why do we believe the future of healthcare digital solutions is even more fruitful?
We've been active in the Canadian and USA healthcare IT market for 7 years. During the first and second waves of the pandemic, we used to receive pandemic-centric inquiries.
But with more people getting vaccinated, healthcare entrepreneurs and investors are hopeful for the covid-free world and they are now planning to build healthcare solutions for the post-pandemic market. 
Several industry experts including our business analysts believe that healthcare digital solutions will continue thriving even once we are out of the pandemic because of the way people became fascinated by the concept of using healthcare solutions during the pandemic period. 
Patients and providers initially adopted healthcare digital solutions because of compulsion. But soon when they experienced the actual clinical use cases, they adopted it as a mainstream care delivery model. 
The best example here is telemedicine. It has been in existence for more than a decade. But it continued to fail to attract consumers on a large scale until the pandemic hit us.
Currently, telemedicine is more popular than ever. According to several surveys, more than 60% of patients are ready to use telemedicine platforms for their clinical requirements.
This clearly depicts how pandemic altered consumer behaviour and made them habituated to online means for even medical needs.  
Since patients are finding healthcare IT solutions reliable, useful and affordable, investors also leave with no choice but to invest more in game-changing healthcare solutions. 
This is why you will most likely hear more unbelievable healthcare funding news in the near future.
Types of healthcare digital solutions you can consider developing for the post-pandemic world
If you already have an idea to build, our business analysts can help you validate the idea before moving to the development phase.
But if you don't have any healthcare solution ideas, we can help you get some fresh ideas.
Telemedicine platform for a dedicated medical specialty such as dentists, dermatologists, vets etc 
Patient engagement platform 
Remote patient monitoring with mobile app 
Clinical decision support system 
A healthcare super app (telemedicine, online pharmacy, mental health, healthcare eCommerce) 
A platform for employee wellness program 
Healthcare marketplace 
Women wellness platform 
Cannabis delivery platform 
On-demand medicine delivery platform 
Telerehabilitation platform 
On-demand healthcare staffing platform 
Social media platform for doctors 
Clinical collaboration platform 
Elderly care platform 
Chronic management tool 
We've covered every micro thing about these all healthcare IT solutions in our blog section. So you can check it out for a great source of healthcare knowledge! 
Get access to Canada's best healthcare IT and compliance experts in one place
We're an Ontario-based healthcare-focused IT company - serving only the healthcare industry with healthcare-specific knowledge to help healthcare entities like no one else can! 
Our team of developers, designers, business analysts and compliance specialists also have ultimate expertise due to 7 years of practice in the healthcare industry only. 
Since our inception, we've been more focused on compliance as being a Canadian company we know the gravity of being compliant with data privacy laws.  
What extra we offer to our healthcare clients is peace of mind as we strongly believe peace is a rare thing while you're on your journey to build a healthcare product. 
We are known as local Canadian healthcare tech & compliance experts due to our on-ground understanding of compliance requirements, healthcare challenges, clinical terms, clinical workflows, billing structure and consumer behaviour. 
You can easily imagine how someone with specific industry knowledge of a specific region can drive your project of healthcare digital solution to success!