Healthcare CRM Software: Features, Pricing & Functionalities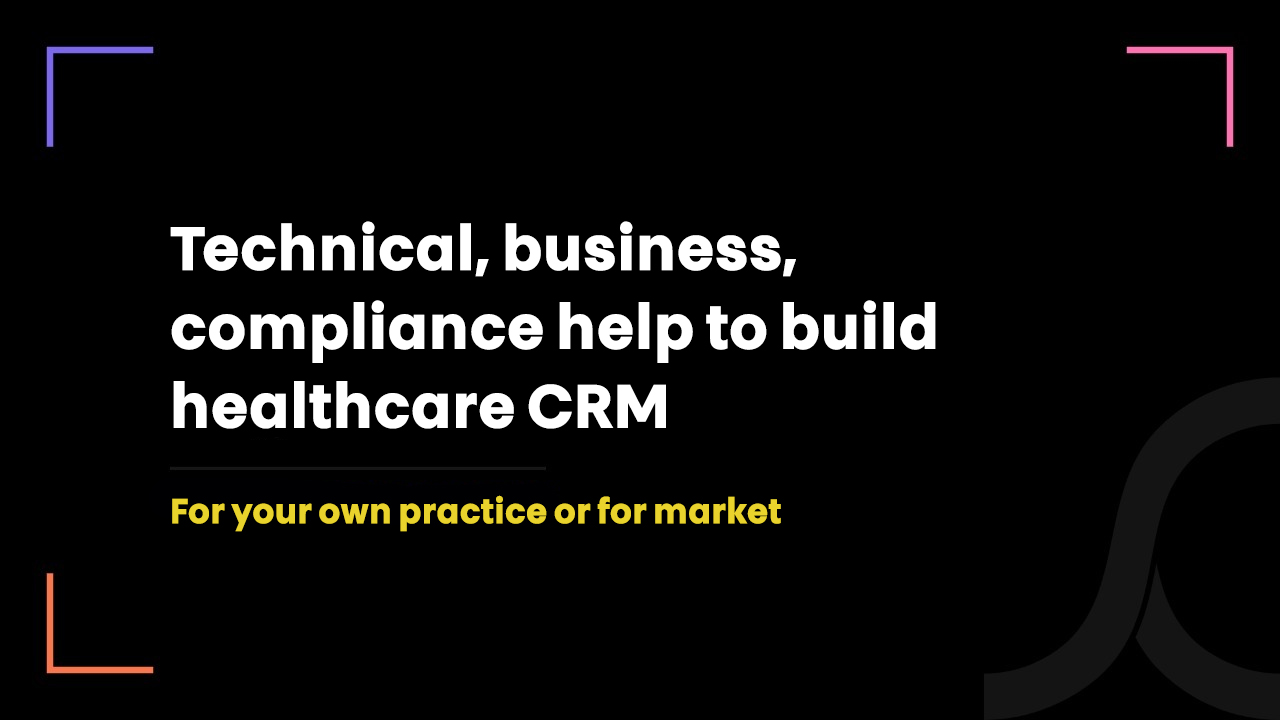 4 months ago
With the increasing emphasis on quality, rapid, and effective care with enhanced patient outcomes – healthcare providers are switching to several digital healthcare solutions.
Healthcare CRM software is one of them.
While a few prefer to purchase subscriptions of 3rd party solutions.
On the other hand, many providers prefer to build their own CRM software to address their unique clinical needs.
But in practical – both options are not reliable at all.
Here is why.
The reason why you should not prefer third-party or SaaS CRM
Its pricing!
With SaaS products – you have to pay monthly or yearly fees.
This pricing model is best if you want to use healthcare CRM software for a shorter time.
But you have a long-term vision – it'll never give you a high ROI.
For a better understanding, let's take the example of Salesforce.
Its basic plan costs a whopping $300/user/month for healthcare CRM.
And its higher version costs $450/user/month.
In case you have 20 users, you'll end up paying a total of $6000 per month and annually $72000!
Things do not end here.
These subscription plans are decided very smartly (for them, not for you).
If you select the starter plan – you'll get some basic features and functionalities. And in most cases, it never fulfills the exact requirements of the organization.
So, you have to go for the 'premium plan' or have to spend extra on 'Add-ons' in order to use all the features of the software.
Talking about other drawbacks of SaaS products, well –
You are not the owner of the software.
You can't customize the software.
No branding of your own
Spend extra to get the best out of it
Usage rights till you pay them
Talking about custom healthcare CRM software development – it requires huge investment!
Compared to third-party solutions – custom software is far better.
It not just gives you high ROI but also gives full flexibility and control over the software.
Because it is built specifically for you.
However, it requires a huge investment of around $150,000+ (for basic software).
And not everyone can spend this much money on such a piece of technology.
So, now you are wondering – what's the best solution here?
Let us show you something epic!
Our ideal solution for healthcare CRM software!
It took us 2+ years and 30+ healthcare-specific business, technical, and compliance experts to build a powerful solution for healthcare CRM software.
It is a ready-to-use solution that also allows you to customization as per your unique needs such as –
Features
Functionalities
Branding
Workflows
Compliance
Besides, it is a cloud-based CRM software for healthcare.
Thus, you can access and use it from any device, any browser.
For a better understanding, the following are the real-screen images of it.
Things that make our solution the best healthcare CRM software
There are lots of CRM software available for small, medium ,and large healthcare settings.
But our solution can easily outsmart all of them.
Because,
It is built specifically to serve the healthcare industry.
It is built by a healthcare-focused IT team (who combined hold 300+ years of experience in performing only health tech).
It is HIPAA, PHIPA, and PIPEDA-compliant CRM solution.
You can customize it according to your unique requirements.
It has no-code capabilities. Means, you can configure the software workflow without zero coding knowledge.
It has multi-user architecture. Means, a separate web portal for patients, providers, caregivers, vendors, and other staff.
It has a user-friendly interface.
How can healthcare CRM software reduce the work burden for healthcare professionals?
It's essential to understand the ins and outs of healthcare CRM software in order to obtain the best result in your healthcare ecosystem.
Our solution has tailored features that help you manage customer or patient relations by streamlining the workflows and saving time and cost on operations!
It brings all medical staff under the same roof and offers them easy access to all patient data.
This enables them to deliver a personalized patient care experience with outcome-driven and personalized care delivery.
The best part of healthcare CRM software is that – it automates several workflows which free up healthcare staff from repetitive administrative and clinical tasks.
Additionally, it also can be integrated with any other health tech solution to double its usability and save time, costs, and resources.
For instance, it can be integrated with EHR/EMR to manage every clinical and administrative work from a single platform.
This eliminates the repetitive task for healthcare workers and allows them to focus more on the patient care experience.
Top 10 features of healthcare CRM software
There are countless features in our solution to CRM software for healthcare.
Thus, it is not possible for us to show each of them here.
But you can explore all that features – by filling out the contact form.
We'll revert back to you with a live product demo within a few hours!
1. Create and manage patient, provider and vendor profiles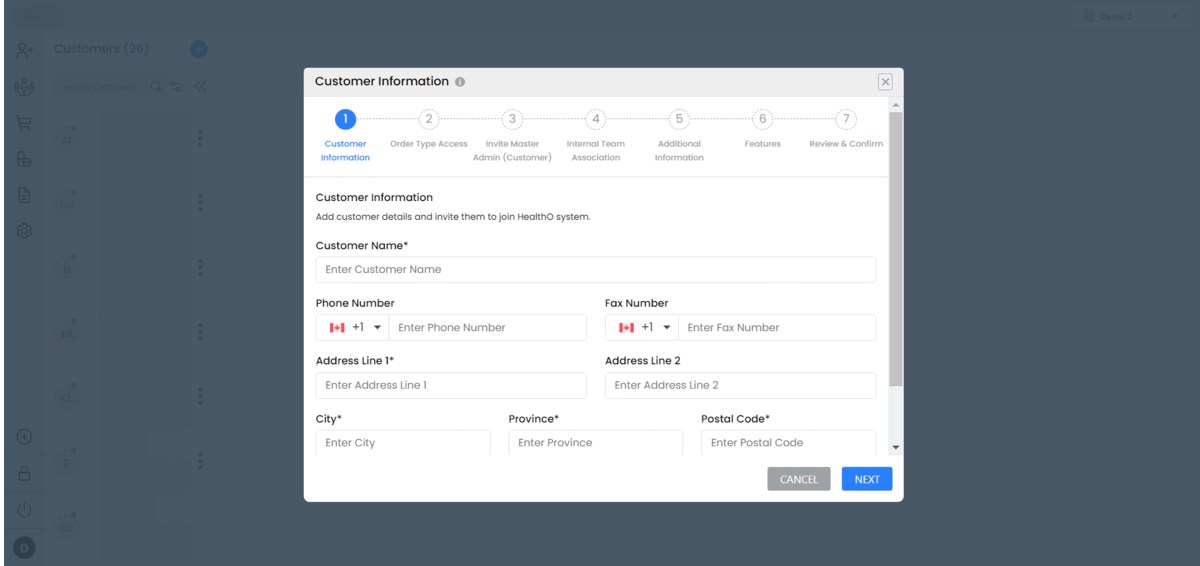 2. Internal and external user management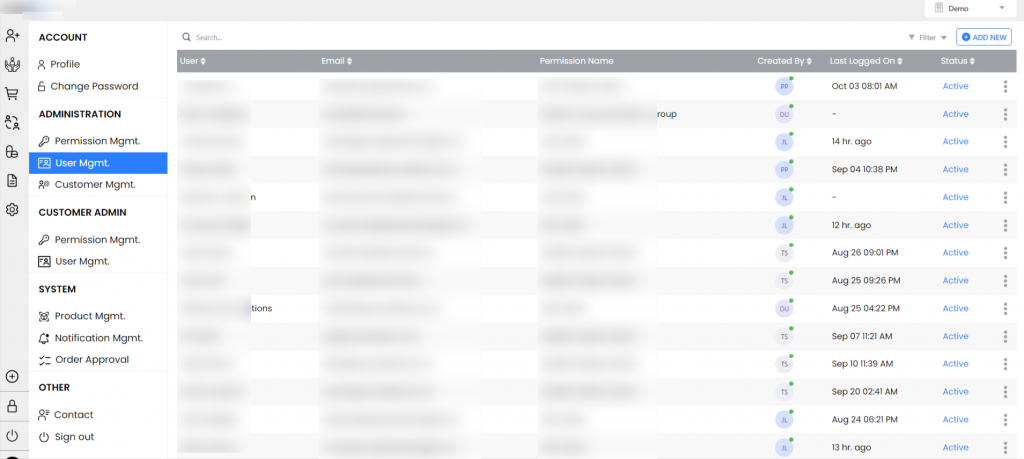 3. Team allocation for the patient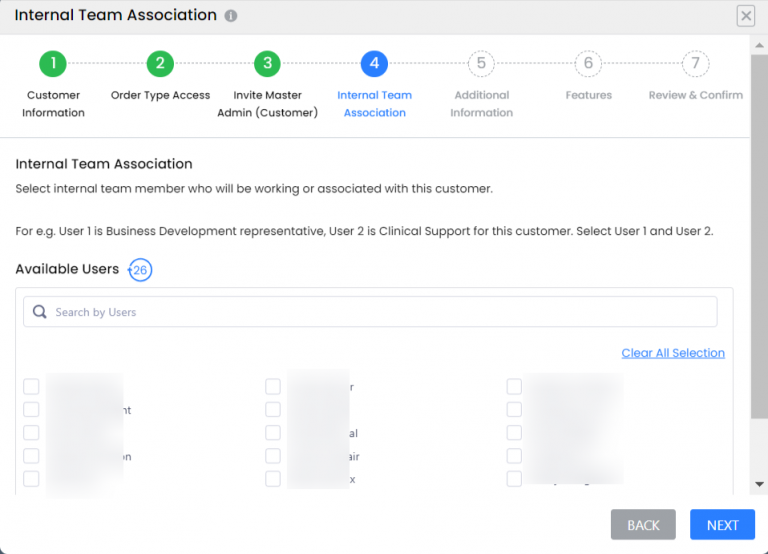 4. Secure document management with expiry notification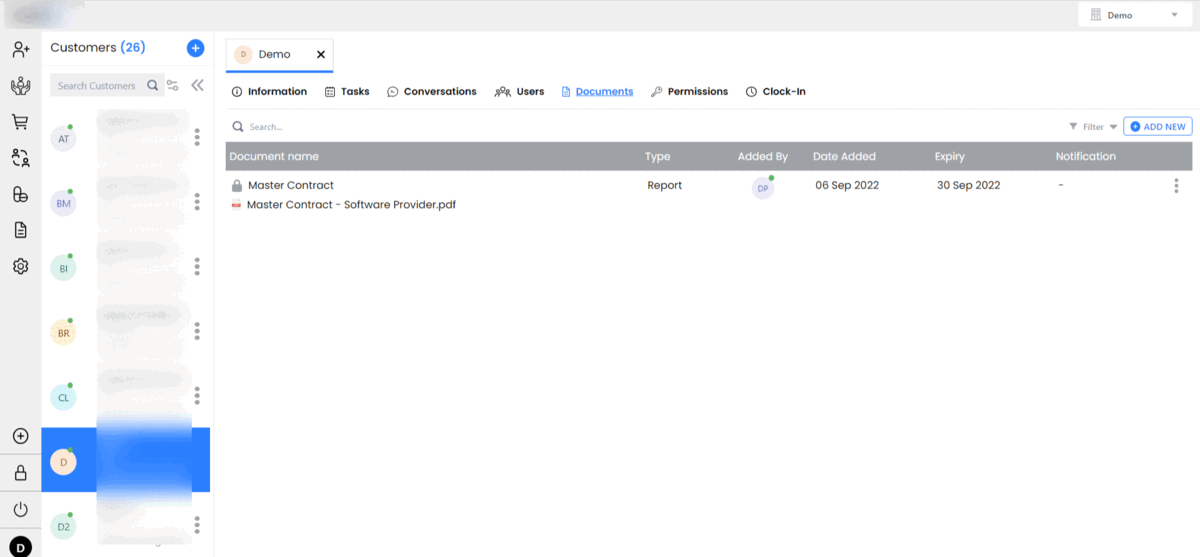 5. Create, manage and assign tasks to an internal and external team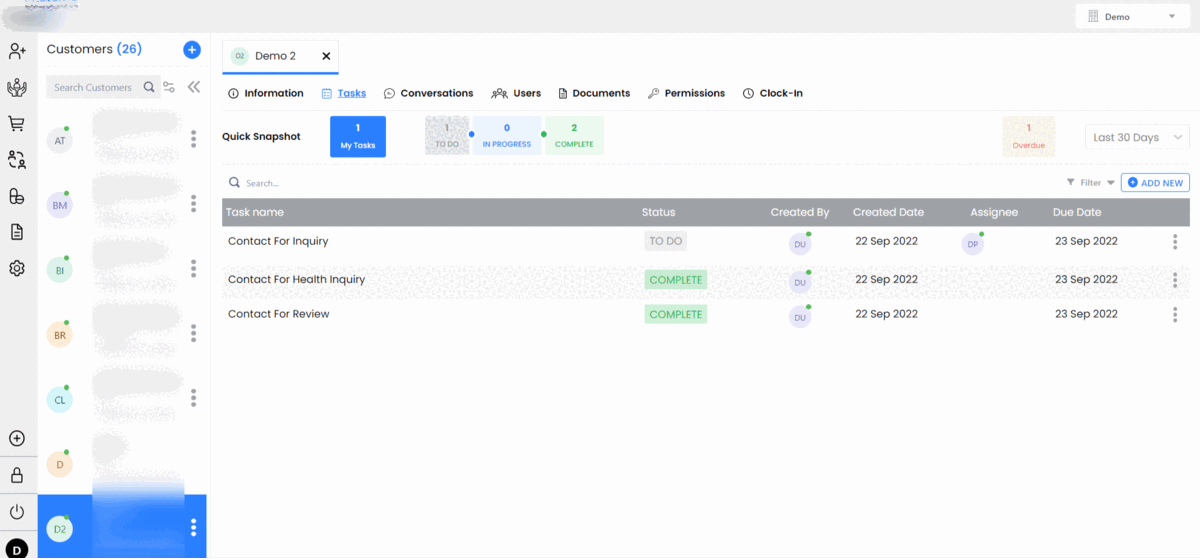 6. Customizable notification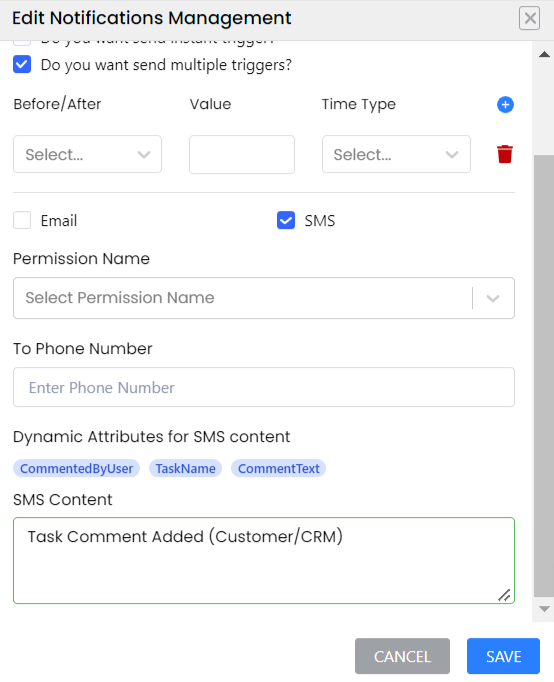 7. Manage user permission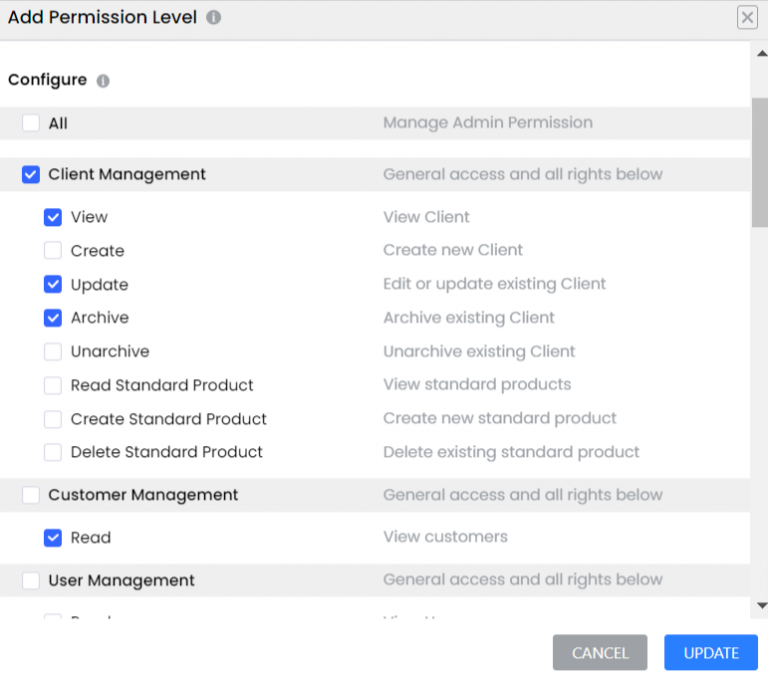 8. HIPAA-compliant text messaging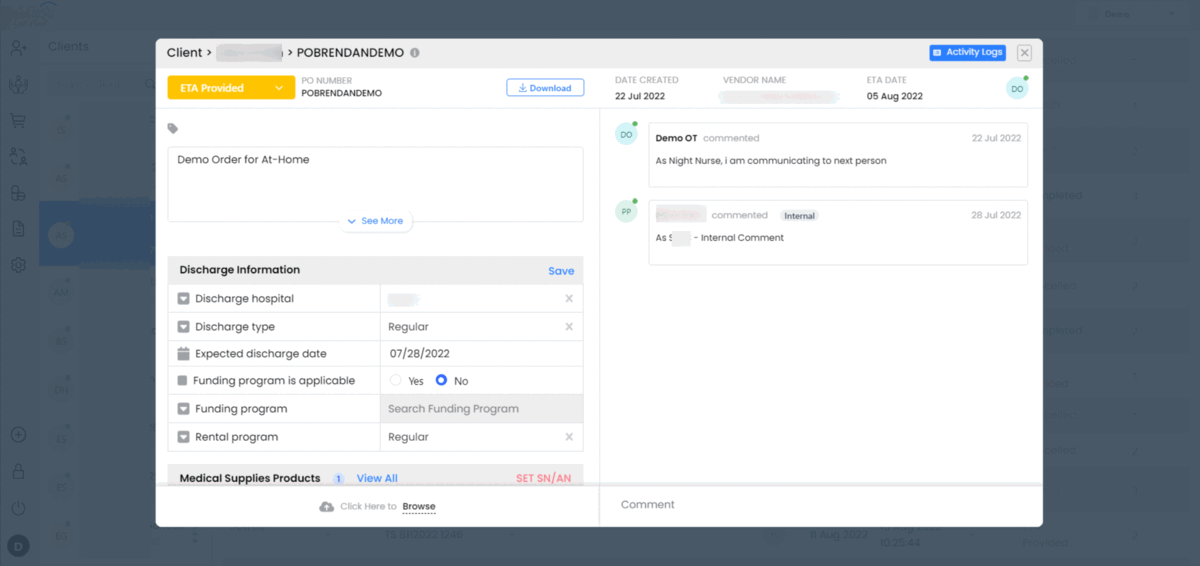 Read our useful guide on: HIPAA compliant texting app
9. Inventory management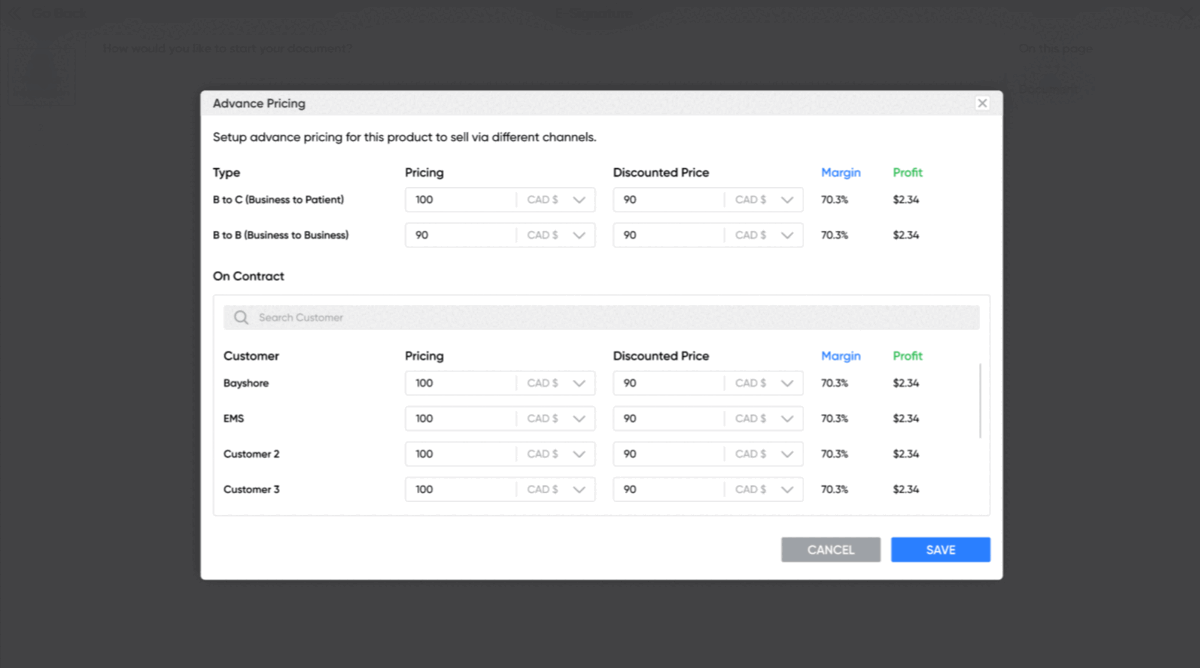 Explore our ideal solution for - Hospital inventory management software
10. Daily, weekly, monthly and yearly checklist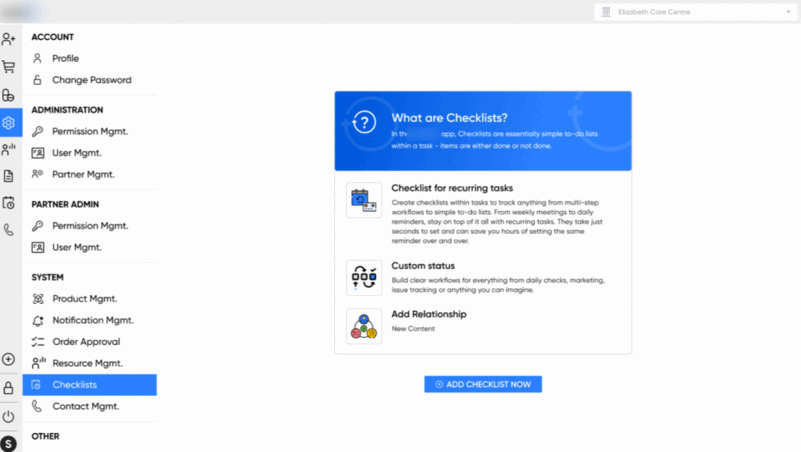 Apart from that,
Patient data management
Vendor management
Contract management
Patient relationship management
Patient portal
Healthcare asset management
Healthcare supply chain management
Medical practice management
Healthcare staff management
Healthcare eCommerce website builder and management
Read our useful resource on: Patient portal software
Top use cases of healthcare CRM software
Be it a small clinic or a large hospital, medical CRM software holds enormous value to enhance patient care experience and satisfaction – with high ROI.
Here are its top use cases.
Streamlines scheduling process
Gives real-time alerts
Facilitates clinical collaboration
Faster and efficient medical equipment tracking or monitoring
Optimize case management processes
Centralized database and role-based access
Secure access to patient medical history
Easy communication with patients (emails, text messages, etc.)
Adding tasks for administrative staff, care, team, and nurses
Provide patients with post-discharge follow-ups
Patient intake and concerns from management
A few benefits of having medical CRM software
Since a healthcare CRM is equipped with several useful features, it enables healthcare centers to derive multiple benefits.
It allows healthcare staff to manage patient data in one place.
It actualizes easy and faster communication between patients and care teams.
It speeds up the billing process while minimizing the scope of error.
It generates automatic weekly and monthly reports with high accuracy.
It promotes clinical team collaboration.
It ensures patient data security with several security features including 2-factor authentication, role-based access control etc.
It simplifies the clinical and administrative task-assigning process with real-time tracking of task progress and outcome.
It helps in focusing on the patient care experience which improves care outcomes.
The pricing of our solution for healthcare CRM software
There are no monthly or yearly subscription plans here.
You just need to pay a one-time licensing fee!
That's all. Nothing more than that.
On top of it – there are also no plans and packages in it.
You'll pay only for what your need is.
The extra benefits of this pricing model are –
You'll get lifetime usage rights.
An unlimited number of patients, providers and vendors can use it.
We'll host it on your server so that you get a certain control over the software.
360° freedom on customization
You'll get your own branded healthcare CRM software
Comparison of medical CRM software with Salesforce Health Cloud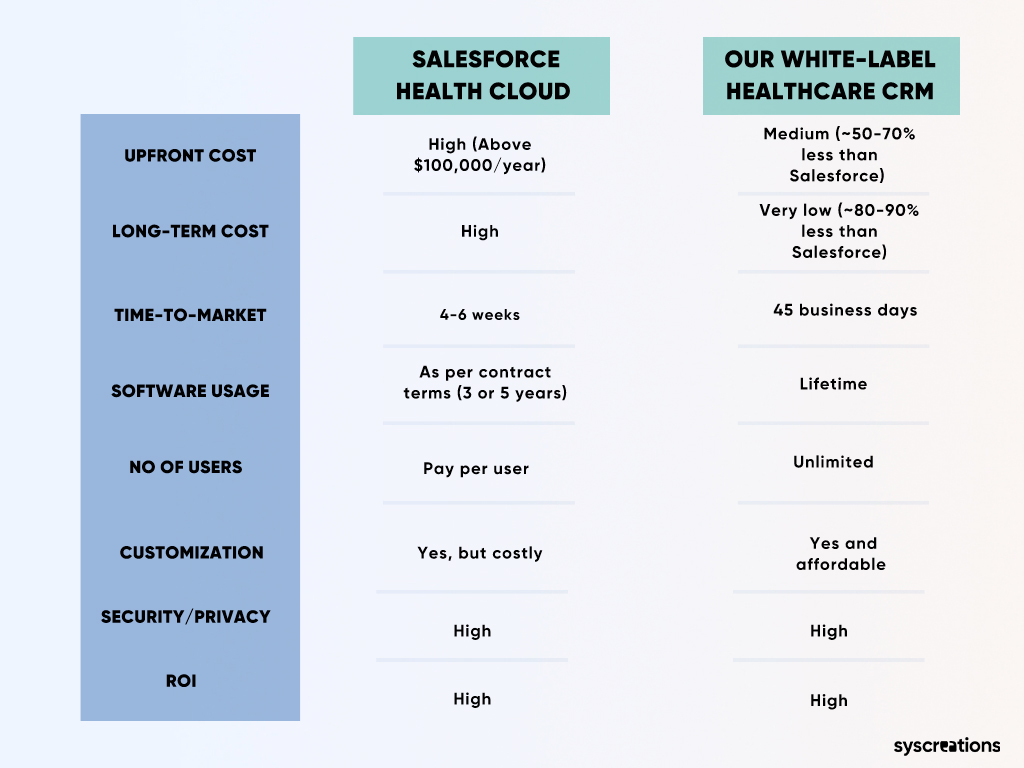 The acquisition process of our solution for healthcare CRM software
The process is very simple.
Step-1: Fill up the contact form or connect with us on WhatsApp.
Step-2: We will get back to you within 2-4 hours and give you a live product demo along with its pricing details.
Step-3: If you have customization needs, we will listen to them.
Step-4: Our team (who has built the product) will perform customization as you want.
Step-5: We will perform a compliance audit and several QA testing on the customized product.
Step-6: Now, we will give you a live working demo of the product.
Since the software is ready – this entire process will not take more than 45 business working days.