Build Healthcare CRM Software to Enrich Patient Care Experience With Ease: Explore Top 3 Healthcare CRM Software in Canada & USA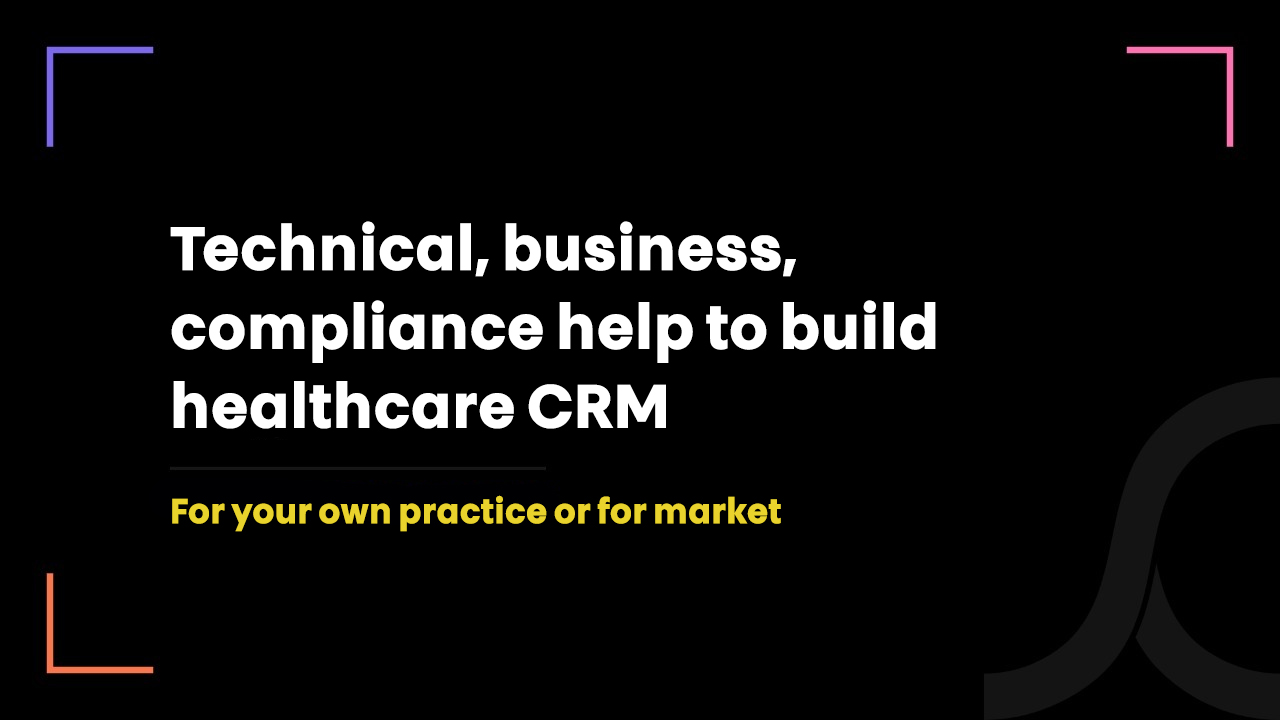 1 month ago
With the increasing emphasis on quality, rapid and effective care with enhanced patient outcomes, healthcare providers are switching to several digital healthcare solutions.
The ultimate aim is to govern everything from patients to their data, care plans, teams, billing, and compliance from one place.
While a few prefer to purchase subscriptions of 3rd party solutions.
On the other hand, many providers prefer to build their own solutions to address their unique clinical needs.
Among several health tech solutions, healthcare CRM software is what most providers opt-in due to its clinical values and effectiveness.
According to a report, the healthcare CRM market value is expected to reach $17.8 billion by 2025 and the USA, Canada & European countries will be major contributors.
Sensing the market opportunity, we will discuss everything you need to know to build a healthcare CRM software with basic, advanced, and good-to-have features.
Healthcare CRM software: An overview 
First, it's essential to understand the ins and outs of healthcare CRM software in order to obtain the best result in the healthcare ecosystem.
What is it?
Healthcare CRM is nothing but the software (or can be a mobile app as well for easy use) that has tailored features to manage customer or patient relations by streamlining the workflows of healthcare entities that directly influence the patient experience.
An ultimate goal of healthcare CRM software is to offer a remarkable patient experience to existing patients in order to retain them and attract new patients.
It brings down all medical staff under one room and offers them easy access to all patient data so that they can deliver a personalized patient care experience with outcome-driven and personalized care delivery.
The best part of healthcare CRM is that it automates several workflows which free up healthcare staff from repetitive administrative and clinical tasks.
On a crucial note, healthcare CRM software can be deployed on a cloud or on-premises at the clinical facility.
Additionally, it also can be integrated with any other healthcare solution to double its usability, save time, costs, and resources.
For instance, it can be integrated with EHR/EMR to manage every clinical and administrative work from a single platform.
Use cases of healthcare CRM
Be it a small clinic or large hospital, healthcare CRM software holds enough value to enhance patient care experience and satisfaction.
Here are its top use cases.
Streamlines scheduling process
Gives real-time alerts
Facilitates clinical collaboration
Faster and efficient medical equipment tracking or monitoring
Optimize case management processes
Centralized database and role-based access
Secure access to patient medical history
Easy communication with patients (calls, emails, text messages, etc.)
Adding tasks for administrative staff, care, team, and nurses
Creating custom reports
Faster and accurate billing and invoicing
Provide patients with post-discharge follow-ups
Patient intake and concerns form management
Powerful benefits of healthcare CRM
Since a healthcare CRM is equipped with several useful features, it enables healthcare centers to derive multiple benefits.
It allows healthcare staff to manage patient data in one place.
It actualizes easy and faster communication between patients and care teams.
It speeds up the billing process while minimizing the scope of error.
It generates automatic weekly and monthly reports with high accuracy.
It promotes clinical team collaboration.
It ensures patient data security with several security features including 2-factor authentication, role-based access control etc.
It simplifies the clinical and administrative task assigning process with real-time tracking of task progress and outcome.
Why should you invest in your own healthcare CRM?
If you're a healthcare provider, you must be either using 3rd party healthcare CRM software or planning to use it.
But do you know there are compliance, legal and clinical reasons to invest in your own custom healthcare CRM software rather than using 3rd party CRM by paying monthly fees?
Custom clinical and administrative workflows
When a company builds a SaaS product such as healthcare CRM, they follow a 'one-fits-all' approach.
Meaning, they consider common clinical and administrative workflows of all major healthcare entities and build healthcare CRM software around them.
However, every healthcare entity has several unique clinical and administrative workflows which a 3rd party healthcare SaaS product cannot satisfy.
But why? As it is not built as per your specific or clinical needs.
Thus, its lack of ability to address your unique workflows and leaves you with two choices,
Either you change your workflows according to that 3rd party healthcare CRM or

Y

ou use that 3rd party tool ineffectively.
Of course, either of these is a worthy choice!
But when you build a custom healthcare CRM software for your medical practice only, you build it from scratch while satisfying all of your unique workflows and clinical needs.
And such a specific healthcare tool always adds value to your medical practice and helps you to satisfy your goals in the best possible way.
3rd party healthcare CRM software charges a monthly amount. However, they charge very smartly. To make more revenue, they charge you per single patient.
This way, if they are charging $15 every month for a single patient and you are managing 200 patients, you end up paying $3000 every month. Moreover, they provide several packages with different offerings.
Their affordable packages generally include only basic features and no customer or IT support.
Thus, you always need to buy its most premium package in order to leverage it at its full potential while ensuring high uptime with 24/7 IT support.
But when you develop your own healthcare CRM software by hiring a tech company, the company provides you with proactive IT support to solve technical issues quickly.
Talking about the cost of custom healthcare CRM development, it would be as much as you paying monthly fees to 3rd party healthcare CRM for 2 years!
So, the more rational choice here is to invest in your own custom healthcare CRM and enjoy full ownership rather than paying fees to a 3rd party CRM for just using a few of its features without any kind of ownership!
In Canada, there are several provincial-level data privacy laws that healthcare providers and healthcare digital solutions should adhere to.
However, 3rd party healthcare CRMs are compliant with a federal-level and only a few other provincial-level data privacy laws.
Moreover, you cannot validate if there is any privacy vulnerability with that tool.
Such a non-compliant healthcare CRM puts the security and confidentiality of your patients' data at risk and makes your organization liable for a data breach.
But when you build your own healthcare CRM software, the tech company you hire to develop it prepares a compliance strategy to meet all technical requirements of applicable laws and carry out TRA (threat and risk assessment) to know privacy issues and mitigate them.
Top 3 healthcare CRM software in Canada and USA
1. Salesforce Health Cloud CRM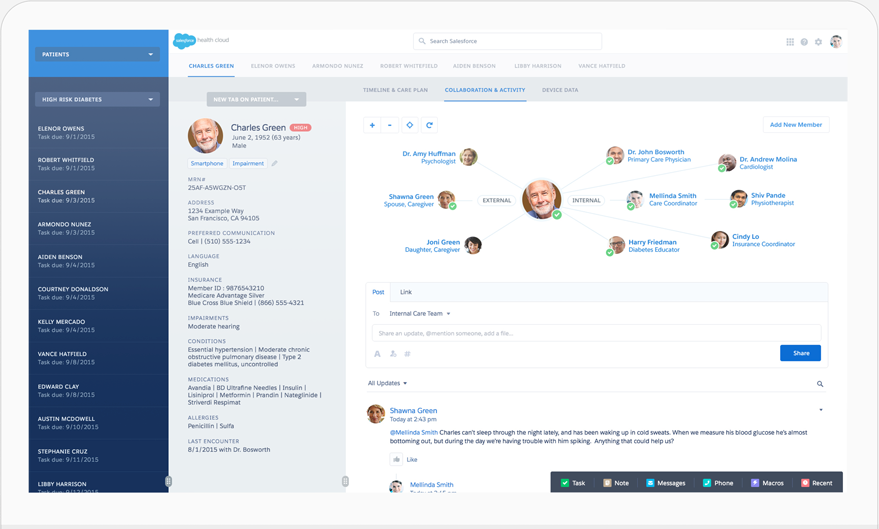 It is the best healthcare CRM software in the market right now.
As of its healthcare-specific features, it is widely usable by large-scale healthcare entities and life science organizations like United Healthcare.
Its key features include,
Monitor patient progress and status
Streamlined data sharing and clinical collaboration system
HIPAA-compliant healthcare CRM software
Client engagement for the pharmaceutical companies
Medical records management
AI-powered analytics and specialized tools
2. Zoho CRM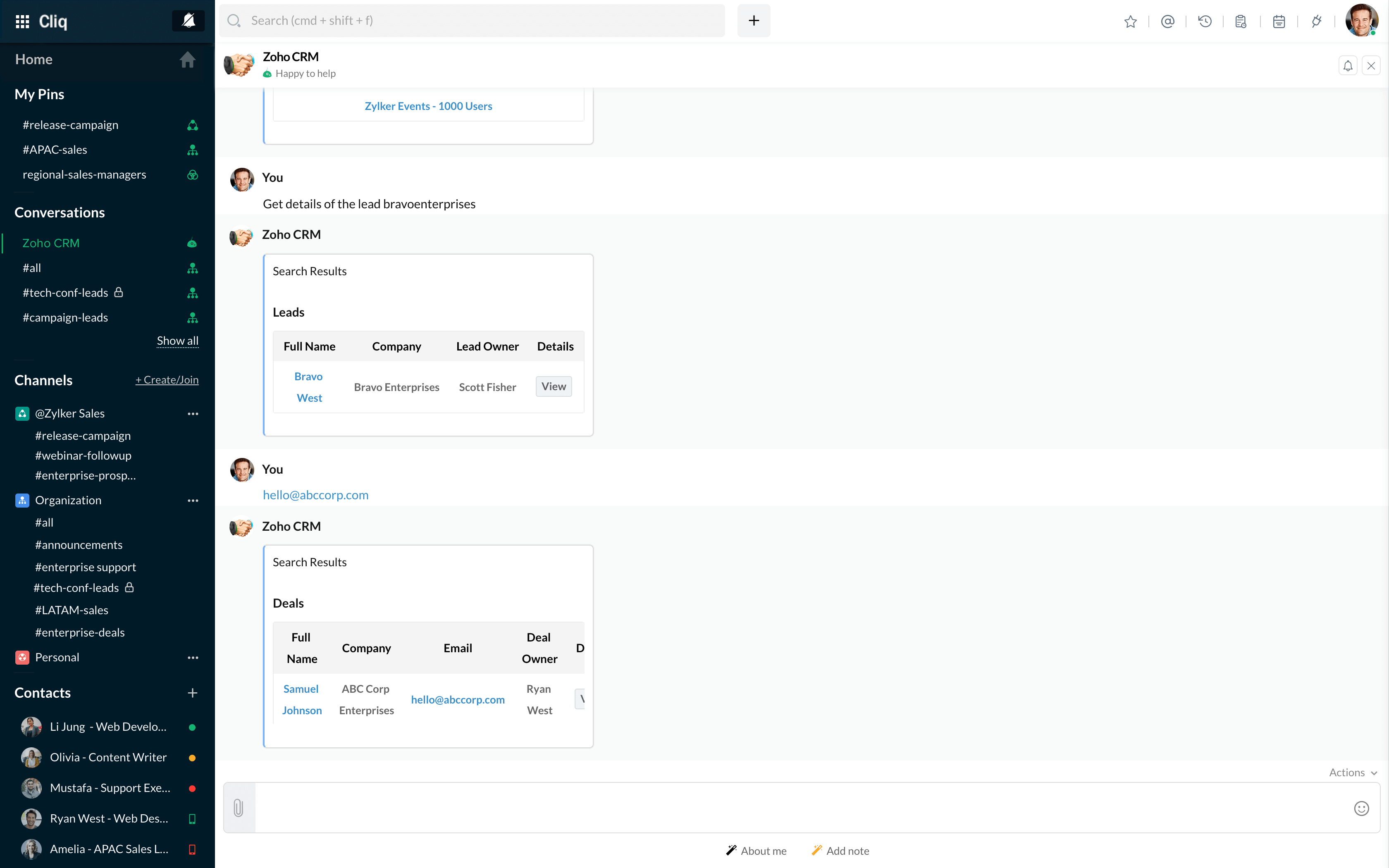 Zoho CRM is one of the most popular CRM across the globe.
As of its HIPAA-compliant app, it is widely usable in life science organizations.
What makes it unique is that it offers a wide range of customization options along with simple app or software usability.
Its key features include,
Track customer behavior
Lead management
Account management
Workflow automation
Analytics
3. Zendesk Sell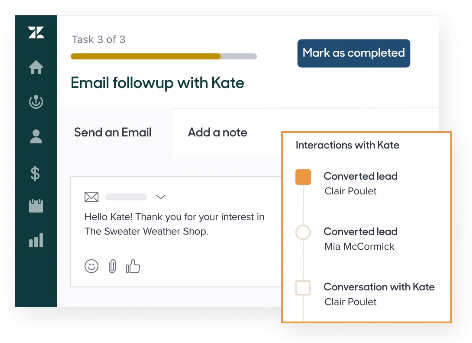 Zendesk Sell is majorly used by the pharmaceutical and medical device industries.
It is a web-based HIPAA-compliant CRM system.
Zendesk Sell is well-known for its communication tracking and pipeline visibility features as it automatically governs the email and calls.
Its key features include,
Communication tools
Lead discovery
Sales and productivity management
Send a text or email with just a few clicks
Compliance requirements you should be aware of to develop healthcare CRM software in Canada and USA
Healthcare is a highly regulated industry as patient data is a very soft target of hackers.
In Canada, there is a federal-level data privacy law named PIPEDA and several provincial-level laws imposed by each province.
For instance, PHIPA in Ontario, HIA in Alberta etc.
If you are planning to use or launch or build a healthcare CRM solution in Ontario, you have to develop it while ensuring that it works according to the requirements mentioned in PIPEDA and PHIPA.
An ultimate goal of these data privacy laws in Canada is to set a framework for storing, using, and sharing patient data in a secure and restricted manner.
Each of these laws has several technical as well as operational requirements which a healthcare facility must address at the organizational level too.
For instance, PHIPA (applicable in Ontario) protects the following data.
Data related to individuals' physical and mental health
Data related to an individual's family health history
Data related to the provision of health care
Data related to long-term care plans of individuals
Data related to payment
Data related to eligibility for healthcare
Data related to the donation of body parts
Individuals' health number
And here are some of its regulations which a development team considers and develops CRM modules accordingly
Healthcare providers can only collect, use and disclose PHI if the individual permits it.
Healthcare providers cannot collect, use and disclose the information if other information serves a purpose.
Healthcare providers must not collect, use and disclose information more than needed.
Anyone who is not a healthcare provider cannot collect and use health cards and health numbers.
Anyone who is not a healthcare provider can only collect and use health cards and health numbers for purposes such as health administration, health planning, and health research.
Healthcare providers must always ask for an individual's permit before using their data.
Healthcare providers must collect data directly from users.
Healthcare providers cannot share PHI without the permission of individuals.
If you violate these privacy regulations, the privacy commissioner can issue you a penalty worth $1,000,000 as a PHIPA violation charge.
This is why it is crucial to hire a local Canadian IT company that is well-aware of all Canadian healthcare privacy laws and develops compliant only healthcare CRM software.
Get access to our healthcare technical, business, and compliance experts and expertise in one place
We're an Ontario-based healthcare-focused IT company - making our journey in the Canadian healthcare system with an aim to solve all challenges our healthcare system has with our in-house healthcare IT solutions and technologies.
We accommodate healthcare developers, designers, compliance experts, and business analytics who all work together to build robust healthcare solutions including custom healthcare CRM software.
We have been proactive in the Canadian healthcare system for 7+ years. But since the pandemic, we have doubled our team strength and efforts to empower healthcare providers with the right tools and technology.
Being a Canadian company, we understand the gravity of compliance and thus, we only build healthcare CRM software compliant with applicable data privacy laws.
We also have a mastership in healthcare solution integrations while addressing all HL7 standards to not face any interoperability issues.
What makes us local healthcare IT experts is our healthcare-specific knowledge of how the Canadian healthcare system works, customer behavior, market segments, clinical terms, clinical workflows, billing structure, and EMR/EHR integrations.
What we are known for is providing peace of mind to our healthcare clients by solving all of their technical, business, and compliance challenges with our resourceful team.
You must also read: White-label healthcare CRM software