HIPAA Consulting Service: How to Hire Best HIPAA Compliance Consultant in USA, Canada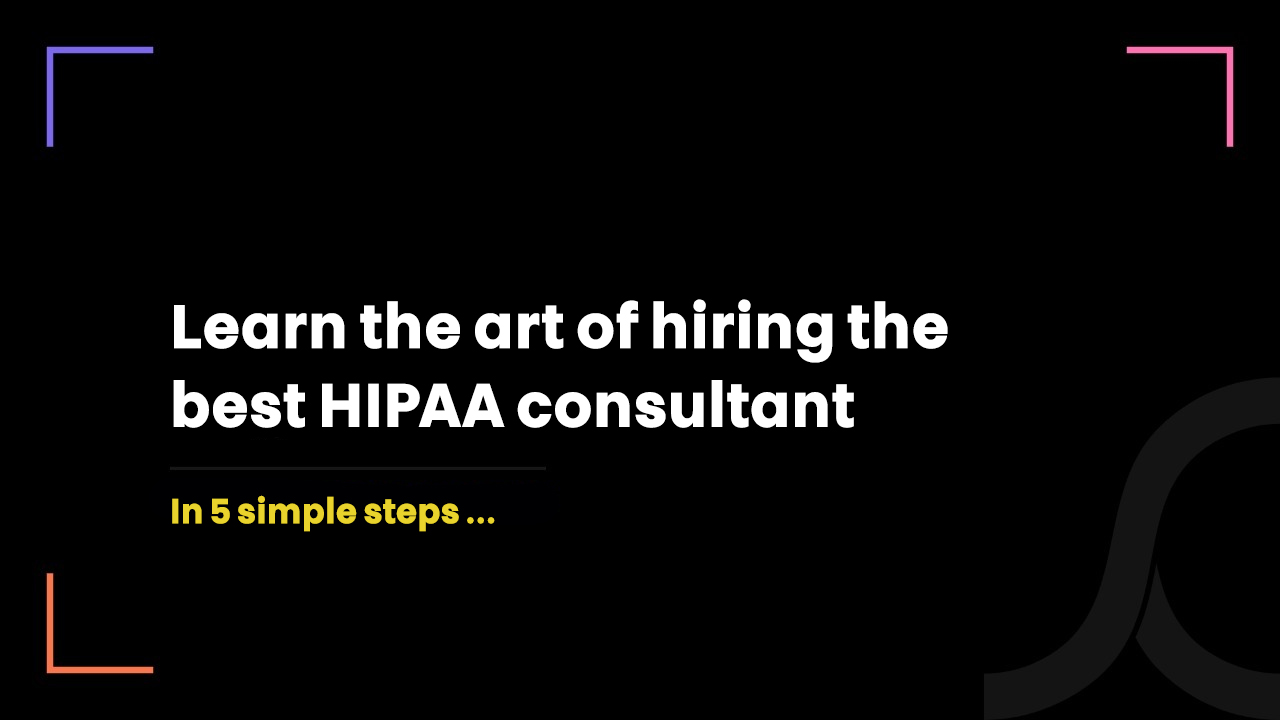 2 years ago
Hello there :)
I have been helping healthcare providers, startups, and enterprises to be compliant with HIPAA for 7 years. Today, I will share 5 best practices to hire the best HIPAA compliance consultants in the USA and Canada.
I will also share my typical day at SyS Creations and what specifically a HIPAA specialist is supposed to achieve and how.
Our other useful resources:
5 best practices to hire best HIPAA consultants in the USA and Canada
Healthcare compliance should not be achieved just because it is legally obligated, but also because it ensures ePHI privacy & security and avoids data breaches.
But when it comes to hiring healthcare compliance professionals, healthcare entities face challenges or end up hiring non-suitable professionals for their projects.
But not anymore. These 5 steps will help you a lot.
1. Always hire local HIPAA compliance consultants
Localized knowledge is crucial to achieving goals more effectively and with a higher success rate.
A local HIPAA compliance consultant is most likely to be equipped with an on-ground understanding of HIPAA requirements, challenges, different approaches and the most efficient way to solve each HIPAA requirement.
With such an important understanding of HIPAA, it makes sure to achieve HIPAA goals in a short time and without burning your pocket.
And more importantly, being Canadian or American, he can easily understand the gravity of healthcare compliance and thus, he works relentlessly to deliver you success without compromising on anything.
2. Do not hire a freelance HIPAA specialist
Hiring a freelance HIPAA specialist might save you a few dollars but he does not provide you with peace of mind and value as good as a healthcare compliance company.
A freelance HIPAA specialist also does not have any technical (development) team to technically achieve the technical requirements of the HIPAA.
Moreover, it is difficult to collaborate and communicate with freelance professionals as per your terms.
And most importantly, you can't effectively validate his knowledge and skills before hiring him.
3. Hire HIPAA consultants as per your needs only
Let me simplify this for you.
If you want to make your telemedicine app compliant with HIPAA, you must hire HIPAA specialists who have prior experience with telemedicine app compliance.
Hiring the best HIPAA expert who has no prior experience with telemedicine apps possibly affects the outcome and delivery time as telemedicine app compliance is new for him.
Similarly, if you want to hire HIPAA experts for your EHR, hire only those experts who have prior experience with EHR because HIPAA for EHR and HIPAA for telemedicine aren't totally the same. It often requires specific skills, knowledge and experience.
4. Hire healthcare-specific compliance experts
There are several industries that have dedicated compliance requirements and there are several compliance experts who are jack of all trades but masters of none.
You must avoid such compliance experts who claim to have expertise in compliance of too many industries.
Because it is very obvious that an expert having expertise in a specific area can serve you better than an expert having expertise in multiple areas.
Yes, there may be exceptions. But it is not worth taking risks when it comes to healthcare compliance and especially HIPAA compliance!
5. Hire HIPAA consultants who help you beyond compliance
Healthcare compliance is beyond what you think. It not only includes addressing regulations and requirements.
But it is all about documenting everything related to compliance as per the suggested format, carrying out regular audits, providing compliance training to staff, signing business agreements with business partners as per suggested guidelines, preparing data privacy policy and clean desk policy, implementing those policies, executing PIA and TRA, etc.
This is why it is a rational idea to hire HIPAA consultants who help you with all of these.
Now, let me share how I spend my day at SyS Creations helping healthcare entities to be compliant with HIPAA and other privacy laws.
A peek into my day at SyS Creations as a chief healthcare compliance consultant
7:30 am
I reach the office early as most of our clients are available for discussion only in the morning time.
8:00 am
After having morning coffee with my colleagues, I start my day. I read all of the emails received since last evening and reply to them.
8:20 am
We all team members gather for our first daily meeting in which we discuss today's tasks, project progress, next deliverable and challenge if any team member faces any.
8:50 am
I take virtual calls with clients to update them with the ongoing efforts in making their system or platform or app compliant with HIPAA and other privacy laws.
9:30 am
Along with my team, I carry out deep-dive analysis of healthcare IT products which we are supposed to make compliant with HIPAA to understand its workflows and tech architecture.
11:30 am
Time to take lunch.
12:30 pm
Another meeting. This time, I meet the development team to evaluate their work for achieving the technical requirements of healthcare compliance. I provide my input and help them find out the best possible solution to meet each technical requirement.
1:30 pm
I spend the next one and half hours preparing healthcare compliance documents and preparing different politics as per regulatory requirements.
3:00 pm
I spend casual time with my team. I solve their doubts, help them with their tasks, share different HIPAA strategies and together we study any healthcare entity which has violated HIPAA rules.
4:30 pm
Time to wrap up for the day!
In case you're wondering, this is what our HIPAA action plan looks like
It's always a strategy that wins the game!
Step #1: Requirement gathering
Through a series of virtual calls, we understand client requirements.
Step #2: Deep-dive analysis
We understand the workflows and technical architecture of healthcare IT products.
Step #3: Security audit and gap analysis
We find out different privacy issues or privacy gaps your current healthcare IT product has and document every privacy issue along with the most efficient way to solve it.
Step #4: Documentation
We document several policies and strategies including the post-breach strategy.
Step #5: Addressing technical requirements
Our development team achieves each technical requirement as per the suggestions provided by the compliance team.
Step #6: Compliance audit
Before declaring your healthcare IT product compliant with HIPAA or any other applicable privacy law, we carry out a comprehensive compliance audit to make sure there isn't any unattended privacy issue.
We are not just limited to HIPAA technical requirements. We help you with HIPAA administrative or business requirements too.
Overall, we provide you peace of mind and value which are rare to find when you are dealing with HIPAA.