Kareo Alternative: Scale Your Independent Practice with Best Medical Office Software for Doctors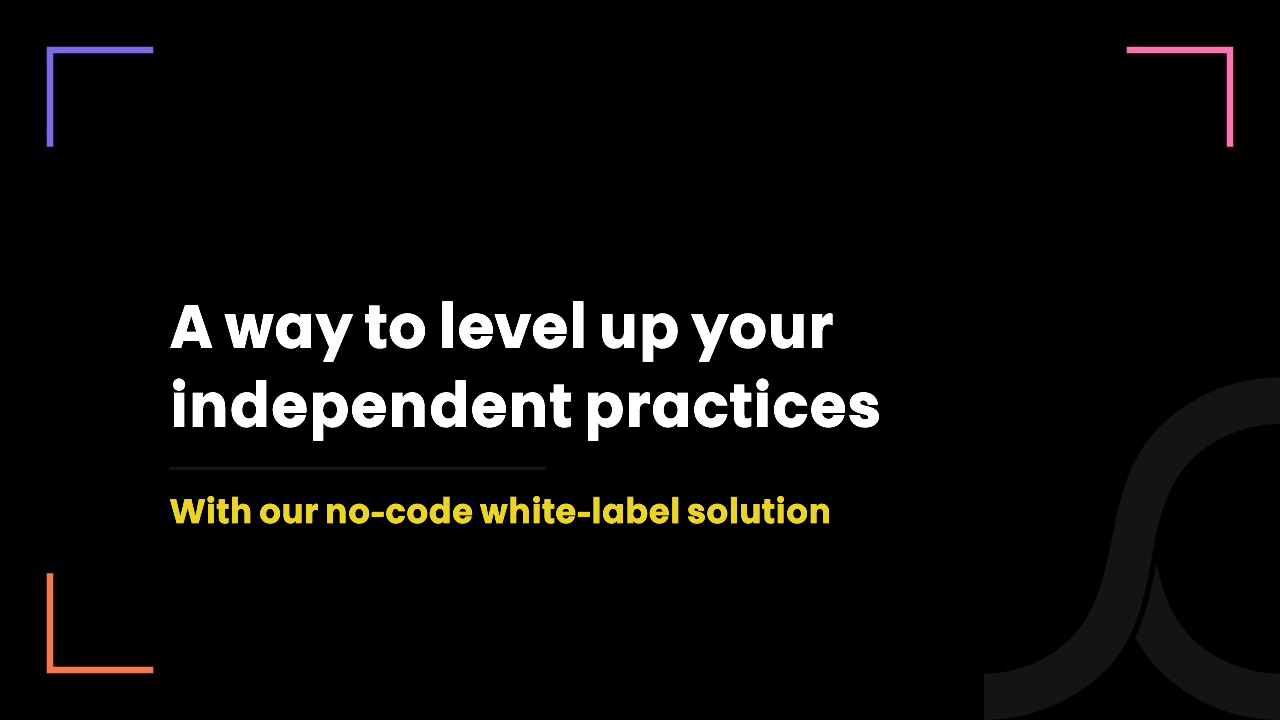 2 months ago
Kareo is built with a strong purpose.
A purpose to – level up the independent practice by offering almost everything under the same roof.
And that's why its medical software for independent practice is trusted by over 75,000 healthcare providers.
But –
Is it really suitable for your small or independent practices?
Or should you consider the Kareo alternatives?
Don't worry!
This blog has answers to both questions!
Kareo's medical software for independent practice is a smart solution! (What we explored?)
Kareo makes it easier to run independent practices with its all-in-one solutions like –
1. Patient engagement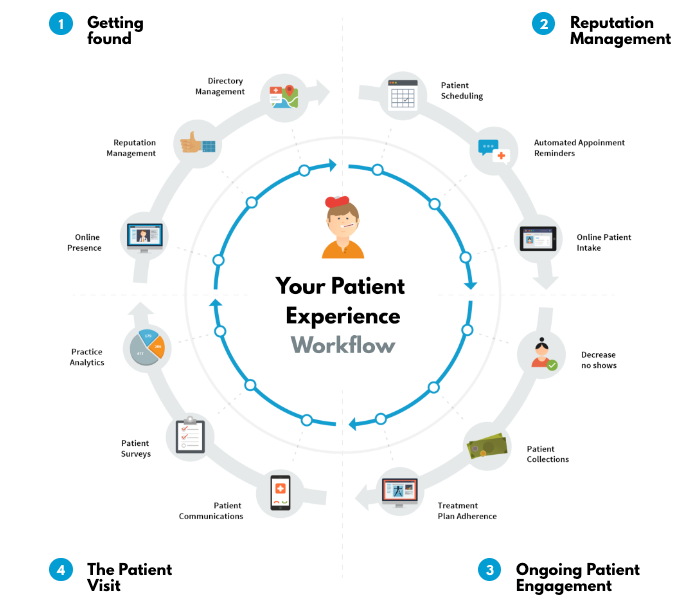 Kareo offers a 360-degree solution for patient engagement that initially helps in improving the overall care experience along with revenue.
2. Run a smart independent practice
Kareo's medical office software for doctors offers three smarter solutions – analytics, RPA (Robotic Process Automation), and medical software marketplace.
Analytics helps in identifying the revenue-generating opportunities
RPA to automate the repetitive tasks that initially save time, costs, and improves overall efficiency
You must also read: How Can You Speed Up Invoice, Report & Patient Management 10X with RPA for Healthcare?
A marketplace that gives access to some of the top medical software that helps add value to the patient care experience and overall business growth.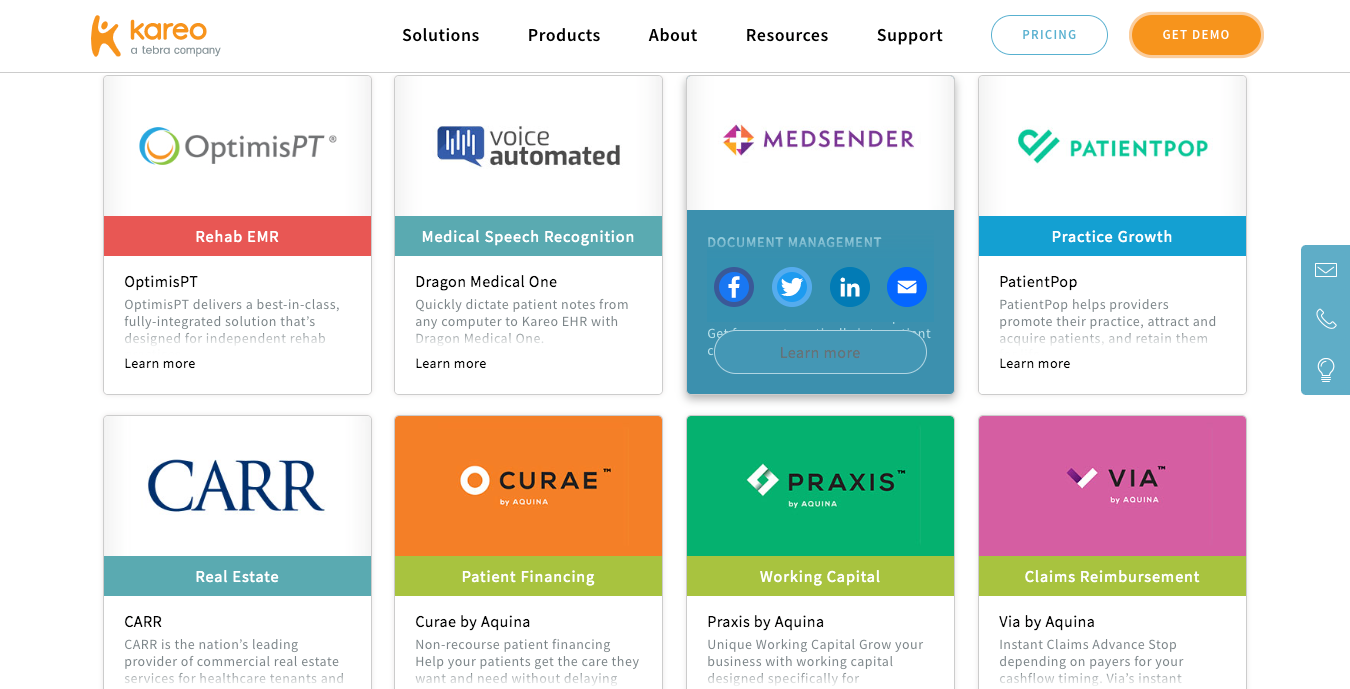 3. Provide better care
Kareo's medical software for independent practice is integrated with – EHR software, telehealth solutions, and a mobile app.
Its EHR software is specially designed for independent practices.
On the other hand, telehealth features allow healthcare professionals to provide convenient care solutions at any time from anywhere.
But what makes it special is that – it allows you to manage documents, patients, billing, and medical notes from its EHR mobile app.
Our other useful resources:
4. Easy manage your finance
It helps the independent practitioner to simplify their medical billing processes while at the same time – allows them to manage clinical practices efficiently.
What users are saying about Kario's medical office software for doctors?
Here are its ratings from the top review sites.
Software Advice: 3.95 stars with 363 reviews
G2: 4 stars with 118 reviews
Capterra: 3.9 from the 363 reviews
So, let's explore what users are saying.
Positive reviews:
Easy access and simple navigation
Multiple tabs open is a great feature
User access management is a very useful one
Shortcuts are saving time
Negative reviews:
Need to create super bills manually which is frustrating
Features are buggy sometimes
Fewer customization options in billing
So, should you consider the Kareo alternative?
Undeniably, Kareo is one of the best medical software for Independent practices.
And it allows you to manage every clinical and administrative operation in a faster, effective, and efficient manner under the same roof.
However, its pricing is a matter of concern.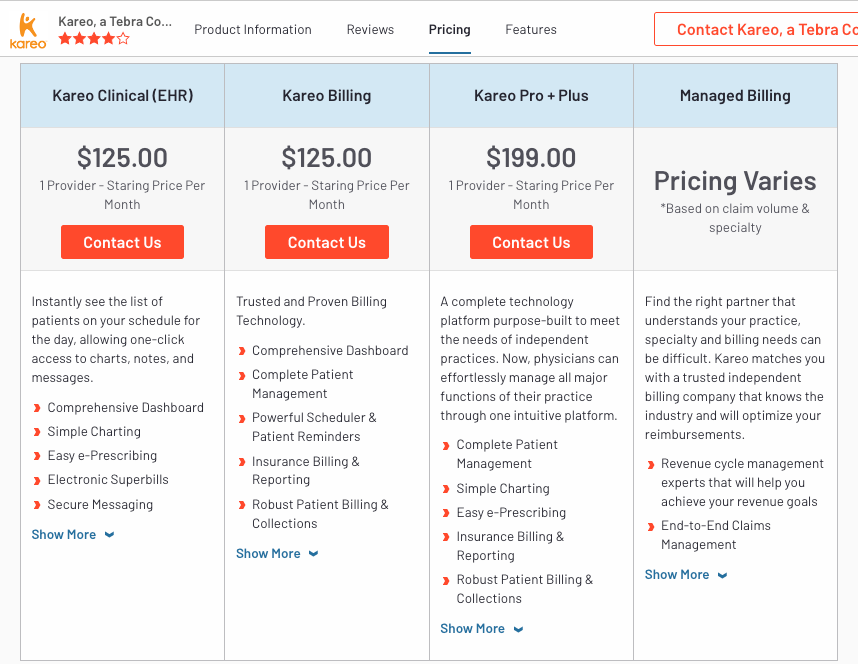 In the above image, you can clearly see that you need to spend extra for each solution you want.
What's more, it only allows one user to access the software at a time.
Besides, Kareo is also not offering customization solutions which means – you have to stick with the built-in workflow of the software.
Ultimately, it's quite difficult for the individual practitioner to go for Kareo's medical practice software.
On the other hand, if you have the vision to expand your clinical practices, the possibilities are higher for not getting the desired ROI from the Kareo solutions.
So, if you're facing such issues, here is how an alternative to Kareo can help.
The best Kareo alternative for independent medical practices – Our white-label no-code medical office software for doctors
Who are we?
We are a healthcare-specific IT company.
For the past 8+ years, we have been serving the healthcare industry with our business, technical, and compliance expertise.
Why did we build it?
We noticed that many healthcare providers are confused about choosing the best technology for their clinical practices.
For instance,
They don't want to go for the custom solutions as it requires high investment capital.
They don't want to go for the monthly base subscription plans as it gives lower ROI in the long term. Because they have to pay per user which is a costly deal.
As a result, we decided to build a solution that gives a perfect balance between custom and SaaS solutions.
So, with our 2 years of hardcore coding and 30+ health tech experts on board, we have built a no-code white-label medical software for independent practice.
And why is it the one of the best Kareo alternatives in the market?
Because –
It comes up with no-code capabilities that will allow you to configure any of your workflows as per your needs without having coding knowledge.
It is

compliant with HIPAA

privacy and security law.
Acquire it with lifetime usage rights by paying just a one-time fee. Means, no monthly or yearly base subscription hassles.
No plans or packages. Once you purchase, it's all yours.
It comes up with an unlimited number of user access.
No hidden charges. Just ultimate transparency.
It has a multi-user architecture. This means, there are separate web portals for internal team members, patients, and vendors in which patients can manage their caregivers and vendors can manage their team members.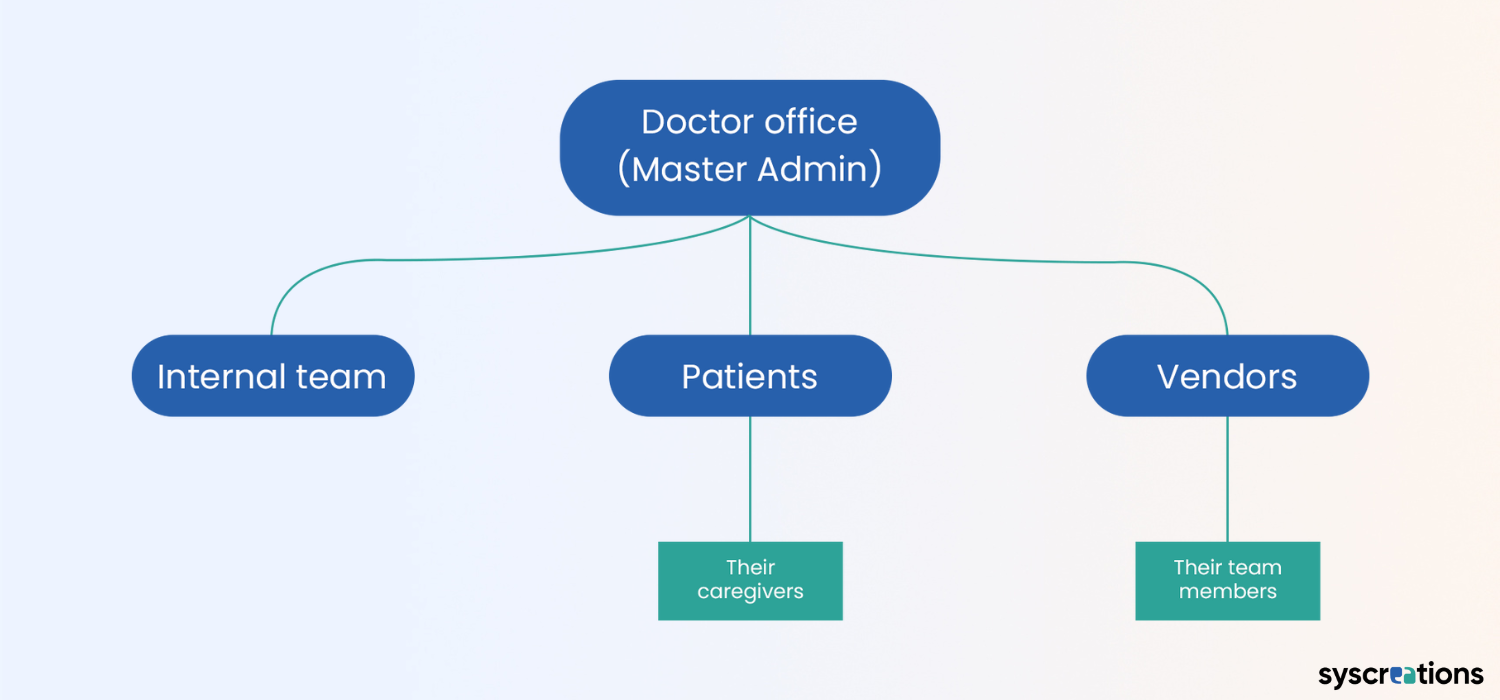 Top features of our no-code white-label medical software for Independent practice 
This is something that makes our white-label software the best alternative to Kareo.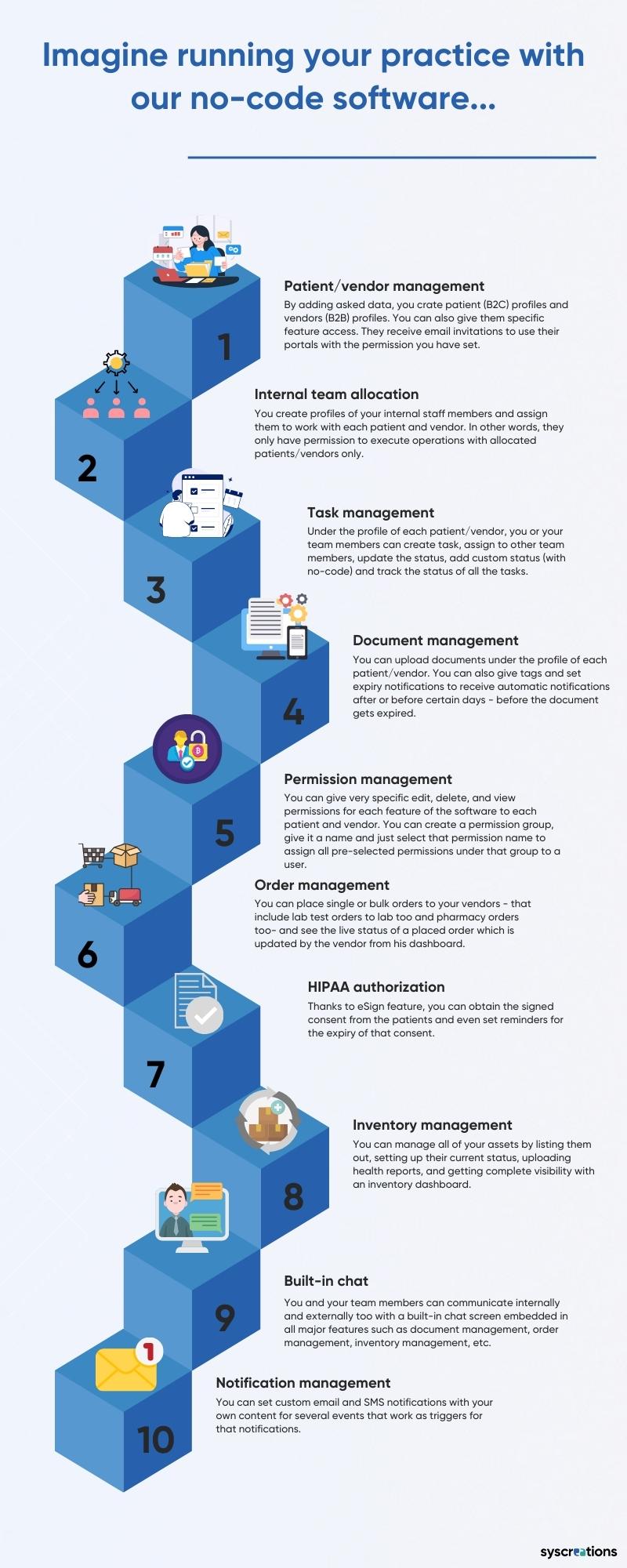 If you don't believe, let us share real-screen images of its top 6 features
1. Create a profile of the patient and vendor
2. Allocate your internal team members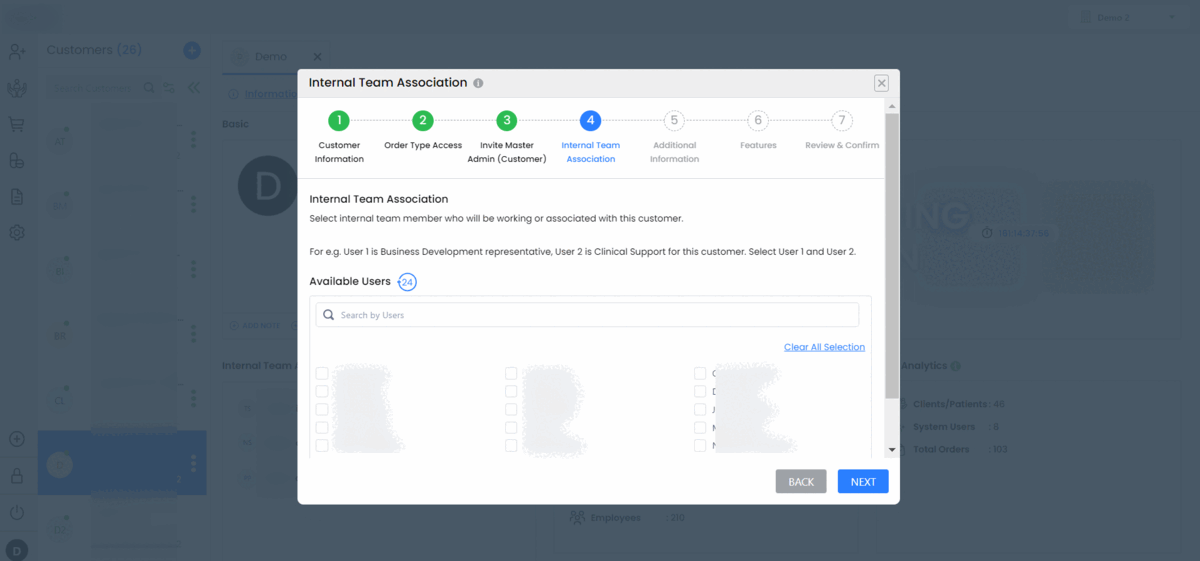 3. Chat with internal and external team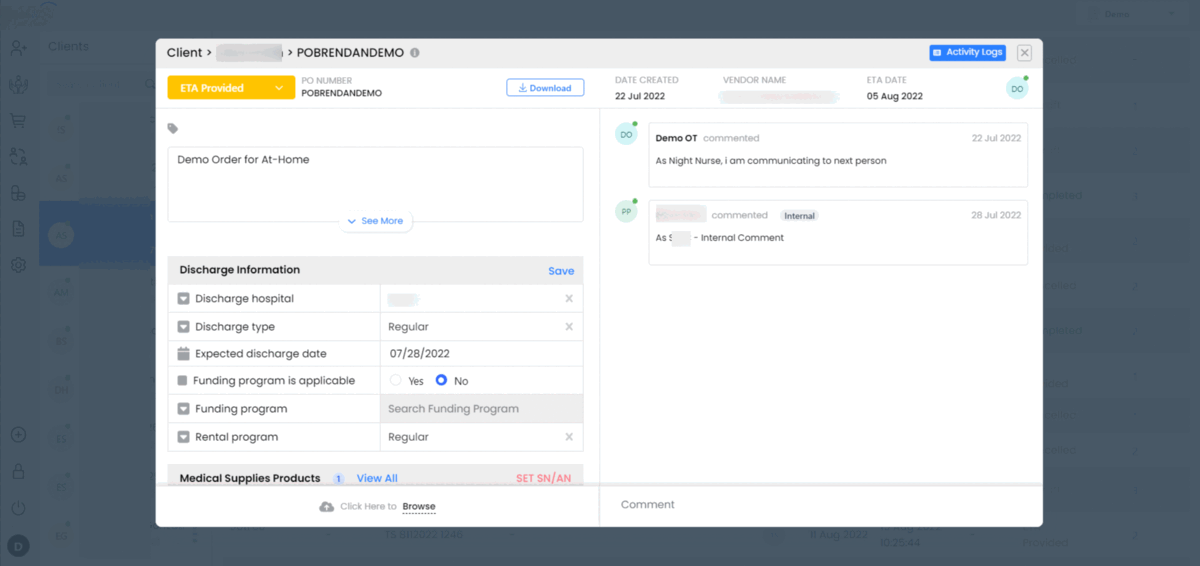 4. Document management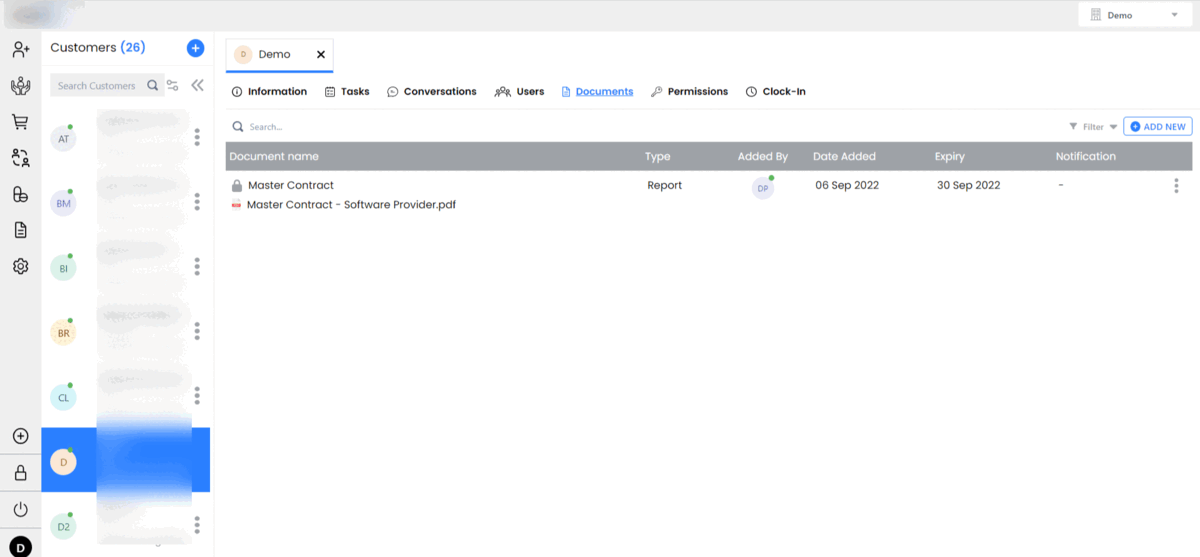 5. Task management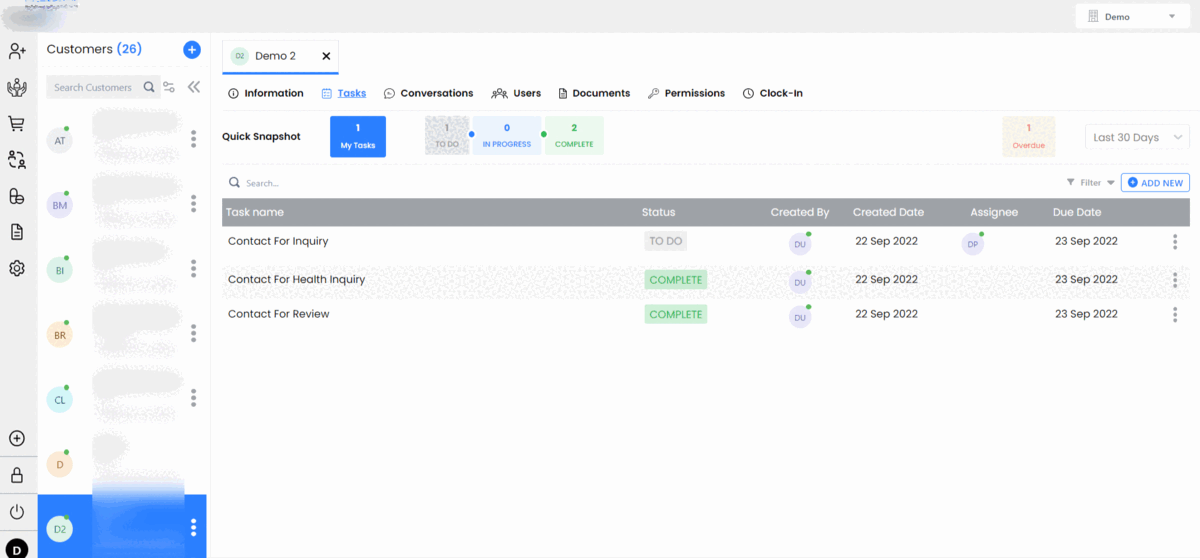 6. User permission management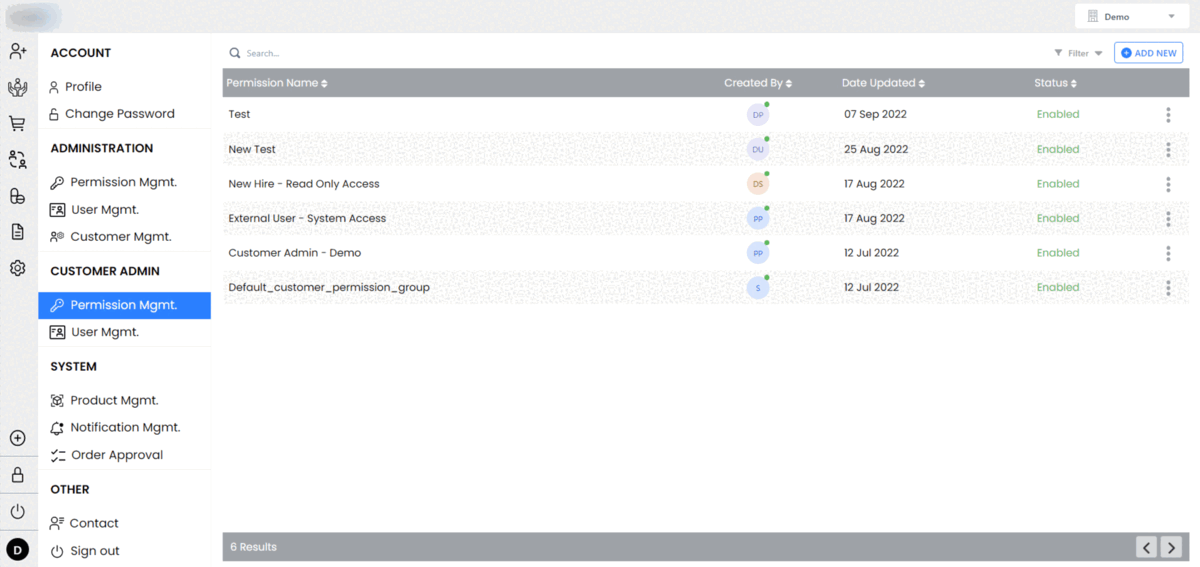 You will just love this feature - HIPAA authorization!
You must be aware of the fact that you need to obtain the consent of the patients and renew it every year.
So far you must be managing things in excel and manually communicating with patients to obtain fresh or renewed consent.
With a HIPAA authorization feature, we have solved this time-consuming task.
You can share consent forms with patients. Patients can eSign it from their portal.
Not only this but you can set its expiry reminder under which you can set notification (reminder) which is supposed to be sent automatically before or after the certain days the document gets expired.
This way, you can ensure there is always the latest version of consent - without putting up your efforts.
How to get started with our no-code medical office software for doctors?
It's a simple procedure to start with the best Kareo alternative.
Step-1: Fill up the contact form for a live demo.
Step-2: We'll reach out to you within 2 to 6 hours of time and schedule a video call.
Step-3: Get a live demo of our product.
Step-4: We'll listen to your both customization and branding needs.
Step-5: As per your needs, our healthcare-specific team of designers, developers, and business analysts will customize the software.
Step-6: Now our QA team will test the newly added code in order to eliminate all the bugs and errors.
Step-7: Our North American compliance experts will make sure that there are no data privacy and security issues in the newly added code.
Step-8: Once everything is done, we'll host the software on your server and give you the usage rights within 60 business days.