Long-term care IT consultation in Ontario from top long-term care consultant to address senior care challenges caused by COVID-19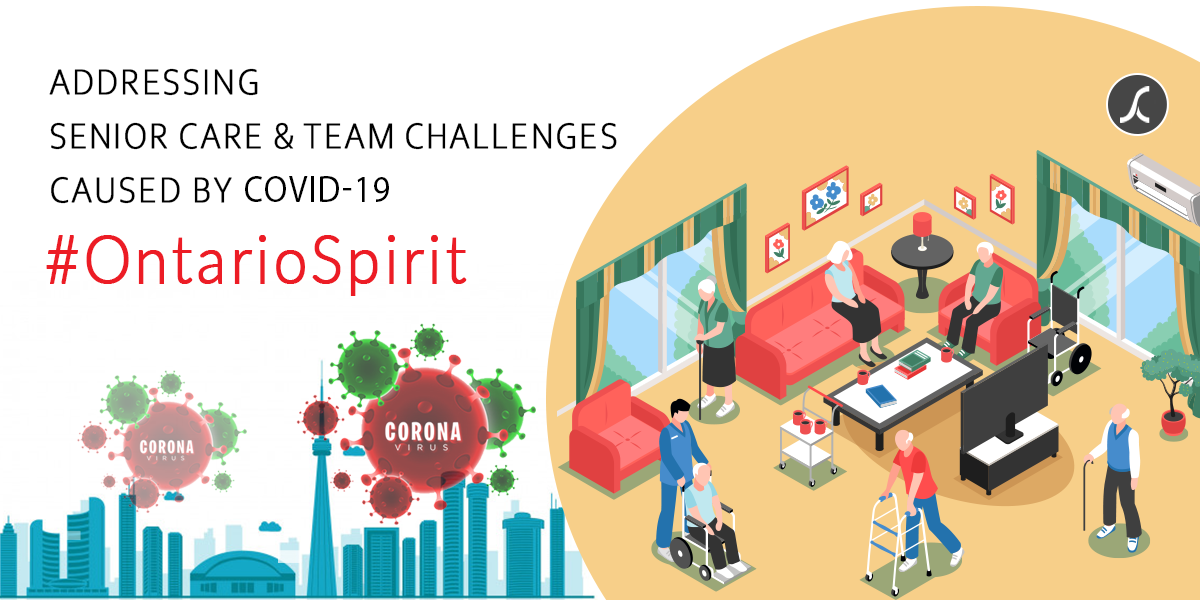 3 years ago
Long-term care homes or nursing homes in Europe and North America are struggling to deal with the coronavirus outbreak. And with every passing day, the situation gets worse in LTC homes as people aged 70 and older are at higher risk of coronavirus. 
The following are a few news from around the globe showing how poorly LTC homes are fighting against coronavirus outbreak. 
In Spain

, the army has found dead and abandoned people in their beds in care centres. 

Care homes in the Madrid

region alone have reported the deaths of 4,260 residents.

In France, almost a third of those who died due to coronavirus outbreak are from senior care homes. 

The nursing homes in New York

are so badly overwhelmed that one New York nursing home CEO is advising the families to take their loved ones back home from the nursing homes. 
This is indeed a wake-up call for long-term care homes in Ontario as coronavirus cases in Ontario are rapidly increasing. The only two ways we can combat the coronavirus outbreak are - working together for every Ontarian and utilizing the right technology to provide rapid and connected care to residents.
We are fighting for Ontarians. People around our province are stepping up to the plate and helping their neighbours. We are all in this together, and the #OntarioSpirit has never been so alive. We can do it Ontario. We will get through this. pic.twitter.com/hOVEQKHm2G

— Doug Ford (@fordnation) April 5, 2020
If Long-term care homes modernize their facility and employ a virtual healthcare solution, they can ease LTC operations and enable RN, RPN, DOC, and physicians to look after every resident remotely. 
However, modernizing the long-term care homes and employing a virtual healthcare solution aren't as easy as sound.  It requires a proper IT infrastructure which is complex by default. This is the reason why long-term care IT consultation service and long-term care IT consultants are in existence. 
In this blog, we will make you familiar with our IT consultation service for long-term care homes in Ontario. We will also share the virtual healthcare solution we provide after insightful consultation. 
Long-term care IT consultation service In Ontario to address IT challenges caused by COVID-19 
What is our long-term care consultation service?
To help LTC homes in Ontario during this challenging time, we have launched a dedicated service for them to combat COVID-19. Through our long-term care IT consultation service, we aim to provide them with insightful consultation so that they can solve any challenge effectively. We understand and assess LTC homes' IT requirements and suggest them the solution for each problem. We even make them familiar with the expected output of each solution. 
Our long-term care IT consultation service: User journey
Jack owns a LTC home, having 80 beds for residents. Out of 80 beds, residents do not get strong WiFi signals near 3 beds to access fast internet. So, he contacts us.

 
A team of network engineers visits his LTC home to carry out technical network assessment. 
After the technical network assessment, we come across the reasons behind the slow internet near 3 beds.  
We list down all possible solutions with pros and cons. 

We help Jack to decide the affordable and workable solution.  

After Jack's approval, we deploy the solution as we are not just limited to consultation! 
➟ Areas where we help LTC homes - through IT consultation service for nursing homes 
When it comes to IT consultation and IT solution delivery, we cover a wide array of IT challenges. Under our IT services for long-term care homes such as network engineering, network monitoring, cloud setup, security, VoIP and FoIP, we offer several IT solutions to help you solve IT challenges. 
IT services for long-term care homes: 
Network engineering:

Setup robust and secure wireless or wired network.

Network monitoring:

We

constantly monitor a computer network for slow or failing components. 

Cloud setup:

Host data and applications on cloud for quick data access and easy data recovery. 

Security:

Deploy security solutions to safeguard the whole IT infrastructure. 

VoIP:

An Internet-enabled phone system to make calls and route calls to residents' beds. 
FoIP:

Send and receive eFaxes over the Internet directly into the concerned person's folder.
➟ Through these IT services, we address LTC homes' following IT concerns. 
Internet: 
Routers

Desktop style server 

WiFi 

WiFi Guest Access 

Site-to-site VPN or Remote Access VPN

Firewall with content filtering
Data: 
Data security 

Data storage on cloud 

Data backup 
Virtual care and connected care: 
Virtual care solution 

Telehealth or telemedicine solution

EHR
Others: 
PA system 

Phone system (VoIP)

Security camera 

FoIP

Nurse call systems

Staff attendance system 
Benefits of our consultation for long-term care homes service
Our consultation service for nursing homes or LTC homes is goal-centric. Meaning, we follow a defined goal and help you achieve your goals. The following are the top benefits of our nursing home consultation service. 
Tap into right, quick, and affordable solution  
We are clever enough to understand the problem and solve it. We only consider the best solutions for your problem which meet your needs and satisfy your budget. Our IT consultation service reduces your lots of resource-heavy efforts. 
You can focus more on core LTC operations

 
We let you offload extra IT burdens. We remain fully responsible for the challenge you give us to solve. As an upshot, you can focus more on important LTC operations. 
You can minimize the cost
The long-term care IT consultant suggests you the best and affordable solution for your challenges. He suggests the solution quickly which saves your time and ultimately money. 
Beyond IT consultation: Affordable virtual healthcare IT solution for long-term care homes
Our expertise is not limited to consultation. We even deploy the IT solutions for long-term care homes that streamline their business operations. We decide IT solutions to deploy to solve the LTC challenges only after carrying out the assessment. For instance, if a long-term care home wants to actualize connected care and remote care, we give them consultation before deploying the virtual healthcare solution.  
However, here it is worth mentioning that the Ontario government has banned visitors from visiting long-term care facilities. Thus, we give consultation to LTC homes through virtual visits and setup components of IT infrastructure as a solution at our place. We then deliver it to the IT team of the LTC home. 
Talking about the IT solution we provide to actualize remote care and connected care, the virtual healthcare solution- Writi- bridges the gap between physicians, RP, RPN, DOC, and even pharmacies. It offers many groundbreaking features to all healthcare workers working in LTC homes. 
Features for Registered Practical Nurse and Registered Nurse:
Nurses can view the list of residents.

Nurses can view the medical history of every resident. 

Nurses can add resident details manually. 

Nurses can view all past and current prescriptions of each resident. 

Nurses can arrange virtual visits of residents with the physicians.
Features for physicians: 
Physicians can access the list of residents and their medical history. 

Physicians can write prescriptions. (The solution automatically sends a prescription to the pharmacy.) 

Physicians can talk to patients remotely through built-in video call features. 
Features for DOC (Director of Care): 
From the single dashboard, the Director of Care can view all tasks or to-do performed by nurses and physicians.

The Director of Care can also contact nurses or physicians to get more information on ongoing or completed long-term care operations.
Schedule a one-on-one meeting with top long-term care consultant in Ontario 
SyS Creations is the top Ontario-based IT consulting and development firm. We have been serving in the Canadian healthcare industry for more than 7 years with an ambition to revolutionize it with space-age technologies. Our most advanced virtual healthcare solution -Writi- depicts our mastership. 
Our CEO -Parth Patel- has worked with many LTC homes of Ontario and helped them to ensure the physical and mental health of residents during the pandemic. He even has helped authorities to modernize the coronavirus testing facility. 

To get the free demo of our virtual healthcare solution and to get the insightful consultation, feel free to
schedule a one-on-one meeting
with Parth Patel.