How Can I Build a Basic App for My Clinic?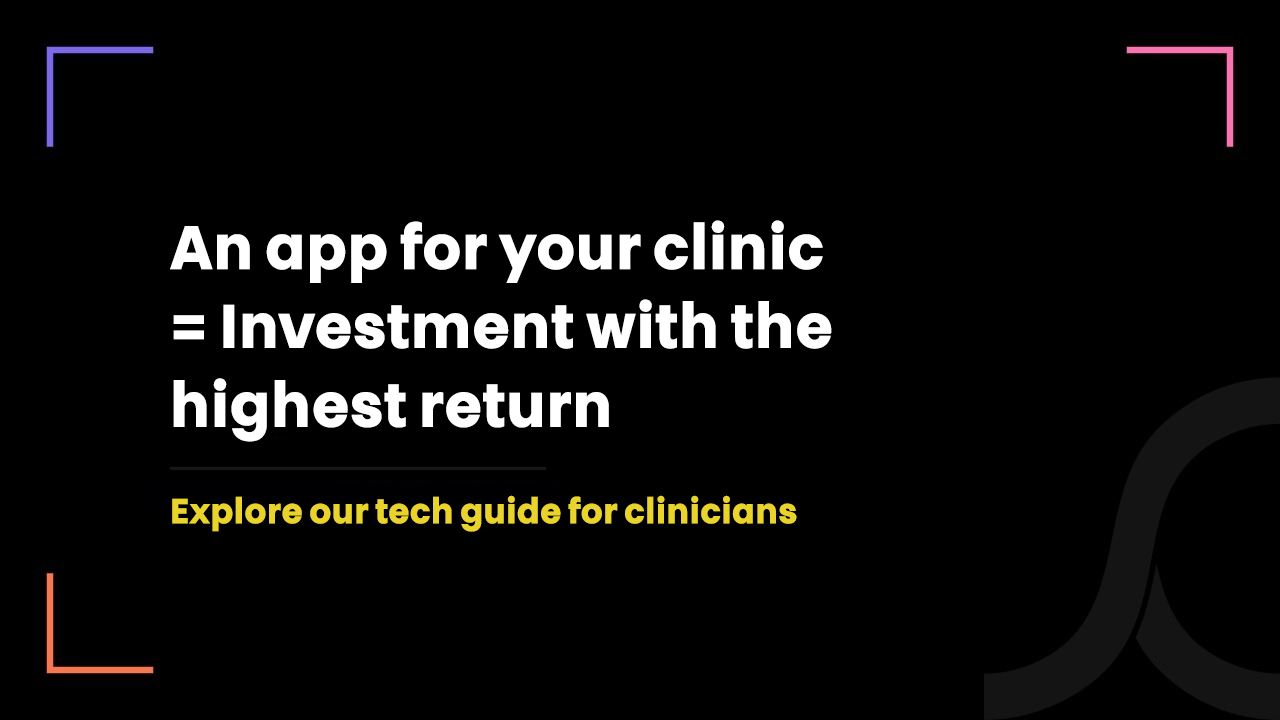 2 years ago
If you are a healthcare provider and wondering what it takes to make a basic app for your clinic, spend 4 minutes on this blog and you will have answers to your every question.
Before we move ahead, we would like to introduce ourselves. We are an Ontario-based healthcare-focused IT company. So, this blog contains only authentic information.
So, let's start with the basics. 
Our other useful resources:
Why must you make an app for your clinic?
No, it is not because everyone is building apps for all types of businesses. But there are several rational and clinical reasons. (Because we always talk which makes sense!)
A mobile app will help you acquire more patients. How?
Well, more patients - even from different localities - are most likely to find your app rather than your physical clinic.
Once they find you through your app, it is easier than ever for patients to book appointments with you as they can book and manage appointments from the app itself.
Now, when patients undergo a patient journey, they experience the highest level of comfort and convenience as they can fill out pre-visit forms online, provide insurance details online and if uninsured, can even pay the fee online.
The outcomes of you providing comfort and convenience to your patients are free marketing of your clinic through your existing patients and the highest ever retention rate.
Saving clinical and administrative time
An app makes it easy to onboard the patients, access clinical data of patients and send automatic notifications to patients.
As a result, you would end up saving a lot of clinical and administrative time while not affecting care delivery and quality care.
An easy way to book an appointment with a doctor, an easy way to communicate with a doctor, an easy way to fill out pre-visit forms, an easy way to access prescriptions and other medical data.
What else would patients need from a clinician?
You can actualize all such easy ways for tedious processes of patients with a mobile app.
Types of mobile app you can build for your clinic
You must define your purpose of building an app for your clinic to easily discover the best type of app you must build.
Purpose #1: Let patients book and manage appointments online
Type of clinic app:
You must build an appointment booking app with easy appointment management, online payment, navigation to your clinic, virtual waiting room and automatic appointment reminder features.
Purpose #2: Reduce patient onboarding time
Type of clinic app:
You must build an app integrated with EMR/EHR for easy clinical data access and with features such as online patient intake forms and a virtual waiting room.
Purpose #3: To treat patients remotely
Type of clinic app:
You must build a telemedicine app with virtual appointment booking, ePrescription, eNote and video calling features.
Purpose #4: To save medical data of your patients in-house in an organized way
Type of clinic app:
You must build a basic EMR app with a patient profile and secure data storage & sharing features.
Purpose #5: To engage patients in their patient care journey
Type of clinic app:
You must build a basic patient engagement tool to share medication plan, diet plan, workout schedule and other clinical as well as wellness information with patients to keep them engaged in their patient care journey for quicker recovery.
Purpose #6: To streamline all of the operations at your front and at patients front
Type of clinic app:
You must build an all-purpose app with all the features we discussed above.
How much should I invest in my clinic app development?
The amount you need to invest in your clinic app hugely depends on the type of mobile app you select to develop from available options - native app, cross-platform app or progressive web app.
1. Native Custom App:
To build a native app, developers have to write separate code for Android and iOS platforms. Meaning, it requires more time to build a native app and thus, it costs very high.
Maximum investment in the native app:
If only with basic features: $50K to $70K
If with advanced features: $70K to $90K
2. Cross-Platform Custom App
A cross-platform app works on both iOS and Android devices on a single codebase. Meaning, developers only have to write code once which reduces the development time, so does the cost.
Maximum investment in the cross-platform app:
If only with basic features: $35K to $50K
If with advanced features: $50K to $65K
3. Progressive Web App (PWA)
A Progressive web app runs on a web browser but it has features similar to mobile apps such as fast, animated UI, notifications, offline access, security, background update etc.
Maximum investment in the cross-platform app:
If only with basic features: $25K to $35K
If with advanced features: $35K to $45K
How to find app developers to create an app for my clinic?
Finding the app developers to build your clinic app isn't a big task. You can easily find developers from development companies or agencies.
However, the task where you are most likely to fail is to identify the link between the skill sets of developers and your requirements. Because not every developer can understand your clinical workflows and local compliance requirements.
Thus, always ask the following questions to developers before hiring them.
How will you keep me updated on the app development process?
Who will own the code?
How much should I pay in advance?
How will you test the app?
Will you make it live on Apple App Store and Google Play Store?
Will you provide me post-app-launch support?
Are you aware of privacy laws?
Will you integrate the EMR/EHR of my choice?
Have you ever developed healthcare apps?
What is the entire process to make a basic app for my clinic?
If you think app development is only about code, you are brutally wrong. Because code is only 20% of the app. Rest 80% includes,
In the discovery phase, we understand and validate your app idea and carry out both market and technical feasibility studies. This practice helps us to further innovate your clinic app idea.
Based on user persona and your clinical workflows, we define the app workflows and how it drives the user journey further.
We document everything from features to compliance requirements, scope, business models, user journeys etc.
App designers design the UI/UX of the app while keeping workflows and patient journeys in mind.
As per the UI/UX designed by the designers, frontend developers now code the frontend and backend developers code the backend using business logic.
The QA team carries out testing on the app in different environments and on different devices to check the usability and performance of the app.
Before the official launch in the market, we give you a live demo of your developed app and provide you training to use all features of the user app and admin panel.
Our developers using their developer account deploy your app on Google Play Store and Apple App Store.
We are an IT company but only works with healthcare providers to help them like no other can
We're an Ontario-based healthcare-focused IT company - has only been working with healthcare providers and startups of Canada and the USA for more than 7 years.
Since we only cater to the healthcare industry, we have on-ground knowledge of clinical protocols, clinical workflows, compliance requirements and patient needs.
From app developers to designers, business analysts and even compliance specialists, we are very resourceful to solve all your technical, business and compliance requirements with Canadian quality of work and American standards of innovation.
We have successfully saved 100000+ clinical hours for healthcare providers and empowered them with very affordable technologies.
While talking to us, you will feel like talking to a doctor who is a healthcare IT expert as well!