5 Reasons Why Maple Healthcare App is Canada's Best Telemedicine Solution in 2021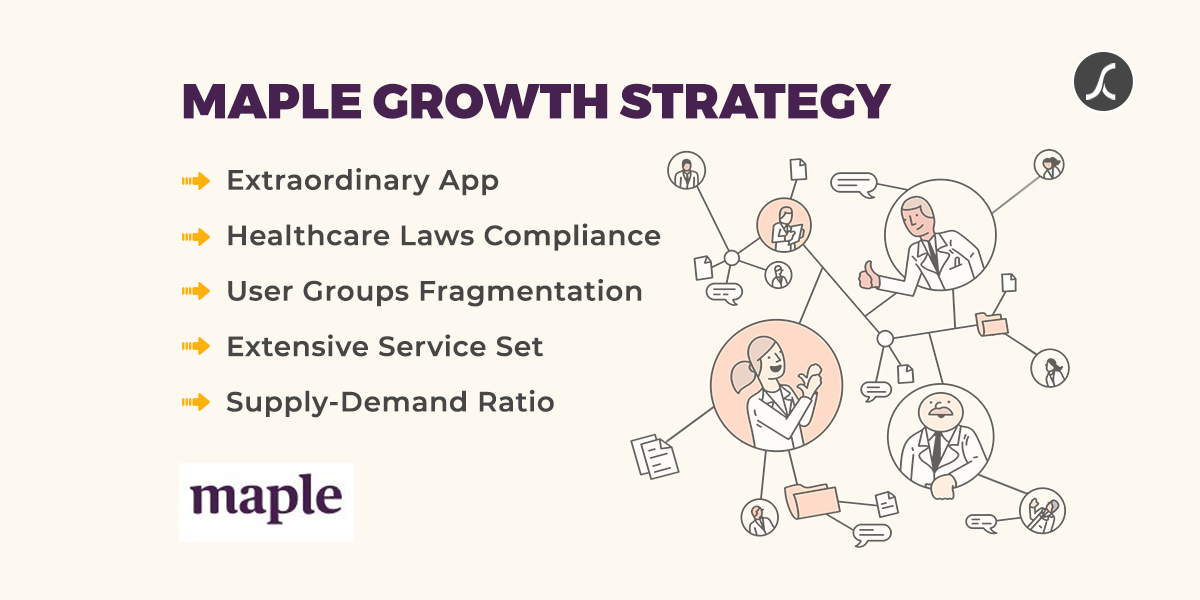 3 years ago
During my quarantine period, I have got many great opportunities to have virtual meetings with Canada's top visionary entrepreneurs and even healthcare professionals who see telemedicine as the future of healthcare.
About one telemedicine solution which we have discussed a lot is the Maple. Almost all entrepreneurs and healthcare professionals I have talked with seemed fascinated with the way Maple has been helping our healthcare system and patients during COVID-19.
Few of them were already planning to create more such telemedicine platform for public use and in-house use. Thus, they asked me about the growth strategy of Maple.
Recently, Maple has tied up with Cloud DX and Curatio to roll out Canada-wide COVID-19 home monitoring program that allow healthcare providers to 'decant' COVID-19 patients to their homes equipped with remote automated monitoring technology, efficient clinical oversight and daily disease management support via virtual care.
In this blog, I will reveal the answer I gave to them. I will share the growth strategy of the Maple healthcare app or the 5 top reasons why Maple is the best telemedicine app in Canada.
Our other very useful and interesting research:
Why is Maple Healthcare App Canada's Best Telemedicine Solution?
1. Extraordinary App
Many believe that an in-person meeting with a doctor can never be replaced by a virtual visit. Thus, the real challenge is to identify and erase the blurred line between virtual visits and in-person visits. Maple did it successfully!
The Maple healthcare app was designed and developed by keeping the expectations and requirements of 'patients' in mind. The UI of the Maple app ensures that the patients are able to connect with the doctors without getting confused in too many functionalities of the app.
The doctor version of the Maple app is also equipped with extensive features that help doctors to offer an in-house-like experience to the patients. The app even takes care of the medication of the patients by allowing them to order medications from the nearest pharmacy store.
2. Healthcare Laws Compliance
Any kind of telemedicine software which collects, stores and shares patient data needs to follow healthcare laws imposed by the government. These laws make sure that your app is secure and you are collecting, storing and sharing patient data according to government regulations.
Maple is following all such laws. Meaning, the crucial patient data is very secure on the Maple telemedicine platform. A healthcare laws compliant app gives a sense of security to the users. It makes users feel confident about the telemedicine solution and its working practice.
3. User Groups Fragmentation
There are multiple user groups that use the telemedicine platform. Since each of these user groups has different characteristics and needs, it is not possible to serve them with the same approach. Here is where user group fragmentation is needed.
Maple has first identified the different user groups, studied their individual requirements and came up with a very broad service set and fee structure.
For instance, one of the user groups of the Maple is the parents. Kids fall ill more often than adults. So the requirement of the parents would be more number of doctor visits at affordable prices. To satisfy the requirements of the parents, Maple has introduced a family membership plan that facilitates parents to claim up to 50 visits per year with doctors by paying just $50 per month.
4. Extensive Service Set
To start with the low investment, experiment with the idea and test the market, developing an MVP version of the telemedicine app is the best approach. But as time passes and you build a good position in the market, you need to scale up the business operations by adding new services and upgrading the app.
Maple healthcare app enables users to get themselves treated online for several healthcare conditions such as acne, allergies, asthma, body aches, fever, flu, high blood pressure, dermatology, headaches and many more.
An extensive service set opens up many revenue streams and builds a large user base. However, to provide multiple healthcare services, you should accommodate more licenced doctors.
5. Supply-Demand Ratio
The telemedicine app is an on-demand app in nature. And in every on-demand app, it is a challenge to maintain the supply-demand ratio in real-time.
The supply-demand ratio ensures the required availability of service providers (supply) to provide service to users (demand). To provide rapid service to users, the supply-demand ratio should be equal to or more than 1.
In the case of the Maple healthcare app, more than the required number of doctors are always available to meet the virtual visits requests raised by the users. This practice helps Maple to deliver rapid care to users which ultimately increases the user experience and user retention rate.
If your telemedicine app asks users to fix an appointment time with doctors rather than providing instant care, you should not care about maintaining the supply-demand ratio.
Are You Planning to Develop a Telemedicine Solution Similar to Maple?
At SyS Creations, my team has been working closely with many healthcare professionals and entrepreneurs to develop groundbreaking healthcare software and apps.
Because of my versatile team which accommodates app developers, app designers, business experts and even healthcare compliance consultants, we can easily develop a HIPAA/PHIPA compliant telemedicine platform within 30 days.
Our most recently developed telemedicine platform has been featured in North America's fastest-growing tech conference - Collision Conference.
We even helped a development firm to fill 47 security gaps in a healthcare app to make it HIPAA compliant. You can read the full case study here.
In case you want to know more about Maple, you can read our dedicated blog.
To know more about telemedicine platforms, healthcare laws and get an instant quote, please feel free to either call us on +1 905 635 7574 or fill the following form.

If you are still here, let's talk about something that can save your many thousand dollars!
We've recently launched a white-label telemedicine app for those entrepreneurs and healthcare entities whose major concerns are development cost, app delivery time and compliance.
Our white-label telemedicine app costs just around $30000.
And we deliver it within a week.
Most importantly, it is HIPAA/PHIPA/PIPEDA compliant app.
Read our dedicated blog to explore the screenshots and features of our white-label telemedicine app.
Get Telemedicine App Demo