Make Millions with These Top 6 Telemedicine Business Ideas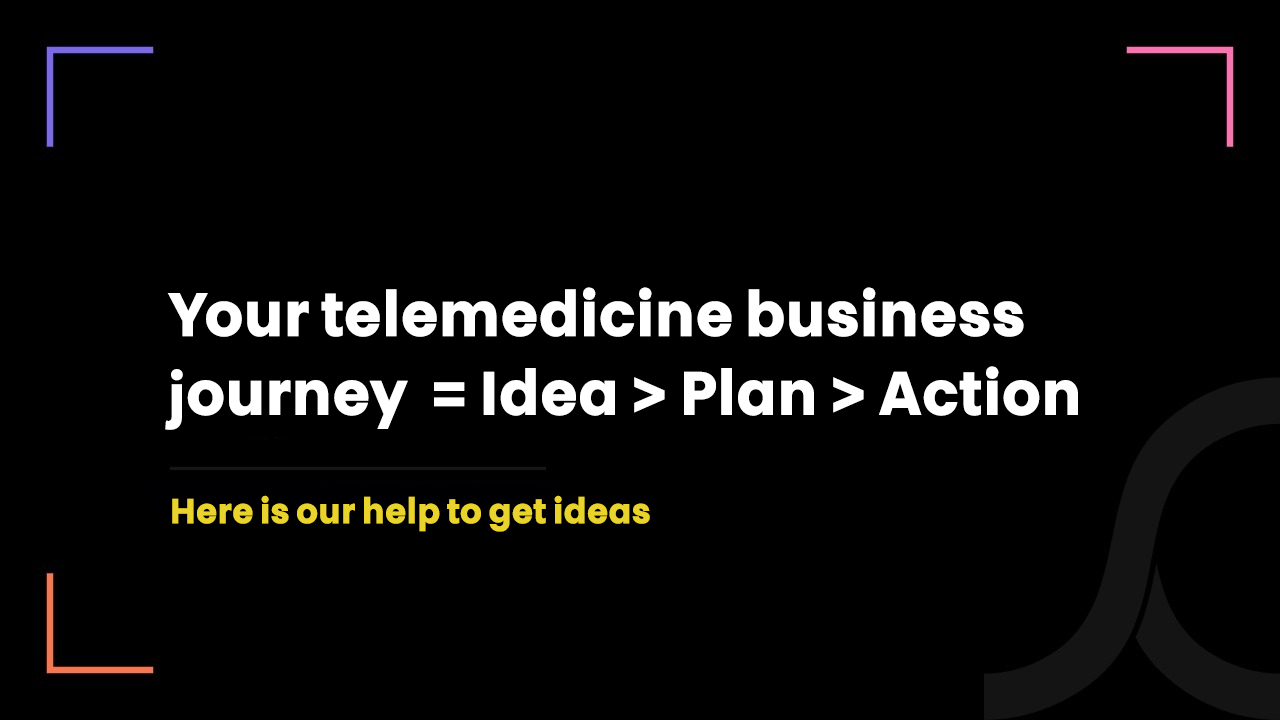 1 month ago
You'll never find fruitful telemedicine business ideas that we have listed in this blog.
Because we understand (every ins and outs) of telemedicine.
We have delivered more than 30 telemedicine solutions (only in North America).
The Untold Truth About the Current Telemedicine Business
The global telemedicine market size was estimated at $91.2 billion in 2022.
It is expected to reach $380.3 billion in 2030!
No doubt the market is booming right now.
However, the telemedicine platforms we were familiar with during 2021 and 2022 are not anticipated to survive 2023 and beyond if they don't upgrade.
Because telemedicine is not just limited to video meetings of physicians and patients now.
It is now all about offering complete remote care, from appointments to prescriptions to medication and follow-ups, under the same roof.
Sensing the unique needs of patients, many telemedicine apps have already acknowledged the new trend and launched the future-ready telemedicine platform.
Being telemedicine tech experts, we are more interested in innovative telemedicine business ideas rather than the typical video-call-based telehealth app.
The following are the top telehealth business ideas or telehealth app ideas we find will rule in 2023 and beyond.
Top 6 Telemedicine Business Ideas that Will Rule Beyond 2023
Remember, this blog is not about just ideas.
We'll also share the strategy to launch your telemedicine app within 60 days!
1. Telemedicine + Remote Patient Monitoring
One of the significant limitations of telemedicine is that it doesn't show the vital body signs of patients such as
Blood pressure
Sugar level
Oxygen
Knowing these data is very important for physicians to offer quality care.
Talking about the real-world scenario,
When asked, an Ontario-based long-term care home told us that they can't shift to virtual care as physicians or nurses need to be present at patients (residents) to collect the biometric data.
A telemedicine solution does not justify 100% virtual care delivery.
However, we can eliminate this limitation by integrating telehealth with a remote patient monitoring system (that also includes IoT or wearable devices).
The remote patient monitoring system gathers several vital signs data of the patients and due to integration, it shares that data directly with the telemedicine app.
With this, the physician can now have instant access to the biometric data of patients without being physically present during an in-person visit.
2. Telemedicine + Healthcare eCommerce
This is one of the best telemedicine business ideas!
As we see, telemedicine does not fulfill the unique care requirements of patients.
It only enables patients to get ePrescription from physicians except for some very popular telemedicine apps.
With this prescription, patients have to pick up the medications from the nearest retail pharmacy or opt-in for a different online pharmacy platform.
If the physician suggests an over-the-counter medicine that does not require a prescription, users have to go through the same tedious process to purchase it.
But instead of all this hassle, what if you integrate healthcare eCommerce into telemedicine?
With this integration, users can get everything from a single platform like
Medical consultations
Medical drugs
Wellness products
Medical devices
This not only offers ultimate convenience to the users but also lets you generate one more revenue stream.
A USA-based unicorn telemedicine startup named Hims and Hers earned unicorn status just because it offers telemedicine + healthcare eCommerce solutions.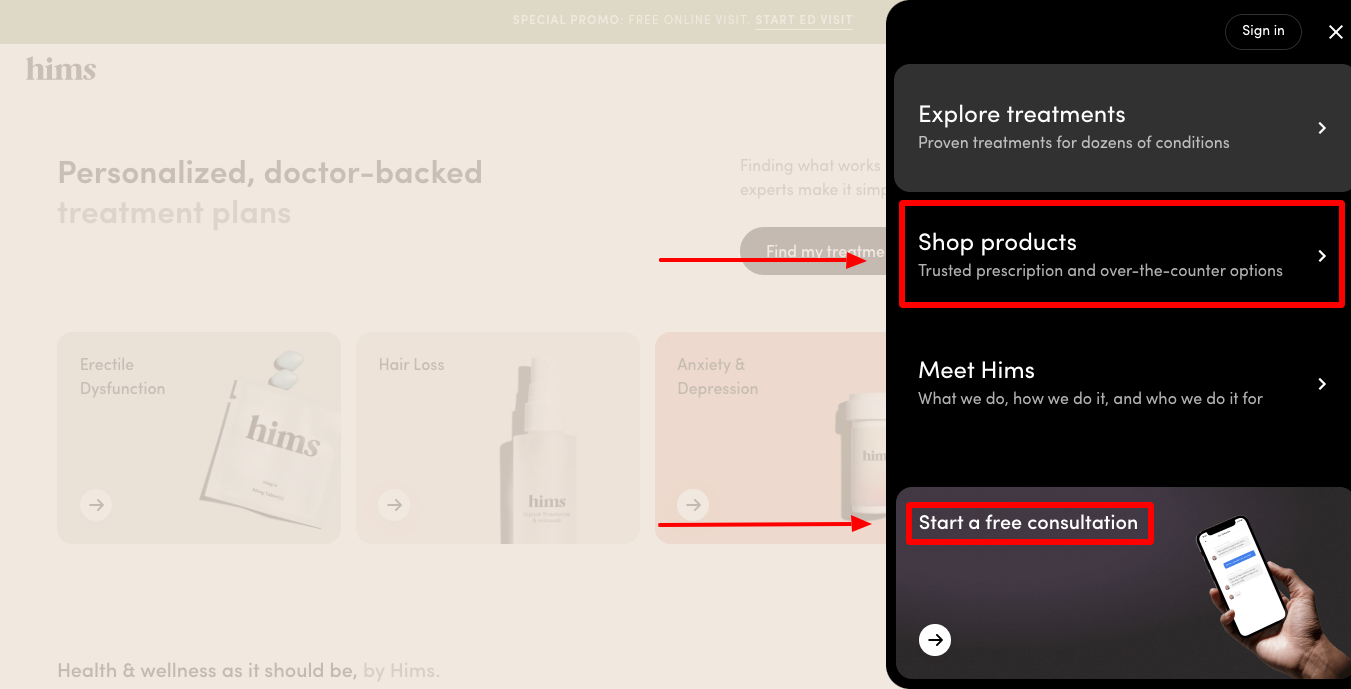 You should also read: How to integrate eCommerce with telemedicine?
3. Telemedicine for Medical Cannabis
Currently, users or patients need to go through a hectic process to get medical cannabis. 
For example,
They first need to visit a physician
The physician writes the medical document (prescription) to the patient
With this document, the patient later needs to register himself as a licensed ACMP producer to get medical cannabis
But telemedicine for medical cannabis apps streamlines this entire time-consuming process.
Using the telemedicine platform, the patient can easily connect with licensed physicians for ePrescription.
With this ePrescription, patients can buy medical cannabis through any online cannabis seller.
If the telemedicine app supports cannabis eCommerce, the patients can buy medical cannabis from the same platform.
Though this seems like a new idea.
However, there are many such telemedicine apps for medical cannabis available in the Canadian market. 
However, the online Canadian cannabis market still has a large empty room for new players and new app ideas.
Because of the rising adoption of medical cannabis, of course, it is legal in Canada.
Weedmaps is the perfect example of a telemedicine app for medical cannabis.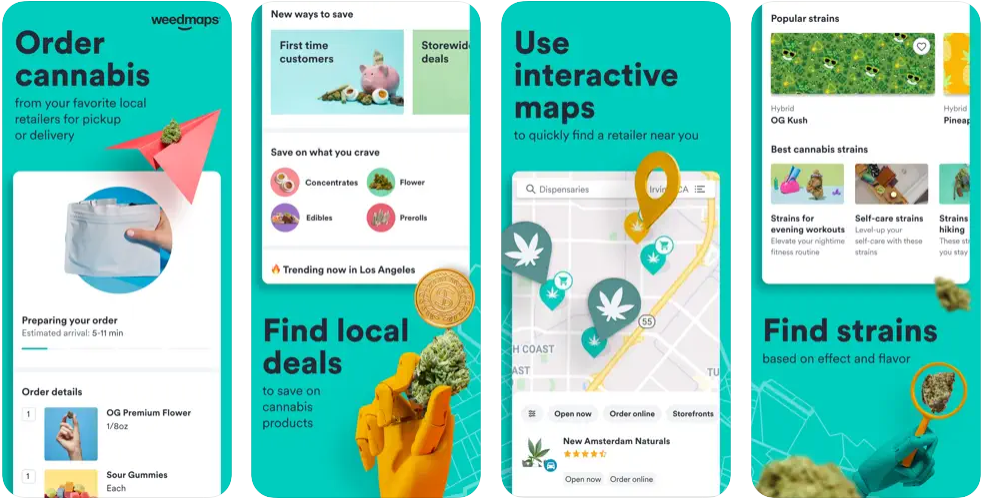 You should also read this: How to start a cannabis telemedicine app like NamasteMD?
4. Medical Specialty-Specific Telemedicine Solution
With patients preferring virtual visits over in-person visits, several medical specialties are now switching to remote practice.
However, there are no specific telemedicine solutions for individual medical specialties. 
Thus, they have to use the general-purpose telemedicine solution.
These general-purpose telemedicine solutions are developed by following the one-fits-all approach. 
Meaning, it does not satisfy the unique needs and clinical workflows of specific medical specialties.
Because of this, healthcare providers cannot leverage the telemedicine platform to its full potential and cannot provide quality care to patients. 
But you can develop a dedicated telemedicine solution for the following medical specialties.
5. Telemedicine + VR (Virtual Reality)
This telemedicine business idea is relatively new in the market.
It holds a vast potential to elevate the patient care experience for physical therapy, mental health therapy, chronic care and the list goes on and on.
Because of that reason, the healthcare VR market is skyrocketing right now.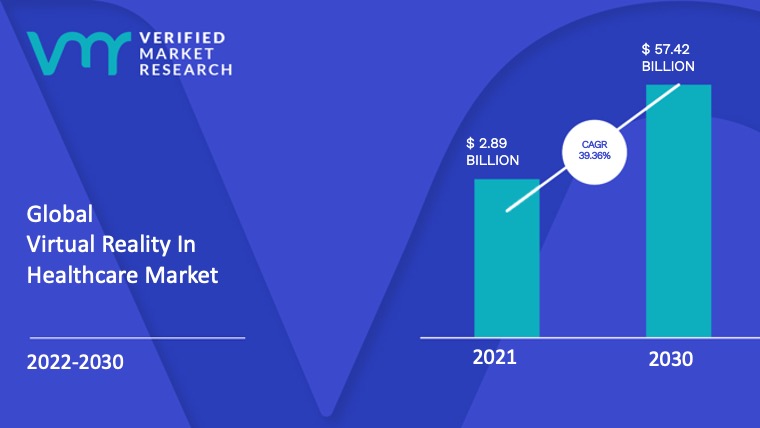 What's more important?
This telemedicine business idea is not just limited to 2 or 3 solutions.
But you can also cover 7+ healthcare areas such as,
Physical therapy and rehabilitation management
Parkinson's and Alzheimer's disease management
Speech and occupational therapy
Floreo, RecoveryVR, XRHealth, OSSO VR, and SyncThink are a few examples.
You must also read: Build healthcare VR app
6. Telemedicine marketplace
This is one of the best telehealth business ideas right now.
Why?
Because it lets patients find the most convenient and affordable virtual care solutions.
For example,
The telehealth marketplace contains all the virtual care services available in the area, province, and country.
And it enables patients to compare all the services by – reviews and pricing.
This way, patients can easily find the best telemedicine solution.
Not only this, but patients can also book teleconsultation services from the same app.

Even the Best Telemedicine Business Ideas Fail If You Don't Solve These 2 Challenges 
When anyone approaches us for telemedicine app development, they come up with not only tech challenges but many other legal, market, and business challenges.
Because, without solving these challenges, they can't claim good returns out of their investments in a telemedicine solution.
Some of the top challenges you must address are as follows:
1. Compliance
In Canada and the USA, there are federal-level data privacy and security laws.
You have to meet their requirements to ensure the privacy of patients' data.
For example, these privacy laws have many – technical, operational, and administrative requirements.
To avoid data breaches and hefty fines, your telemedicine app and your organization should work accordingly.
2. EHR/EMR Integration
Healthcare providers can't provide quality care to patients without getting access to the medical data of patients such as
Lab reports
Previous prescriptions
Allergies
To get access to those data in real-time, your telemedicine app should be integrated with the EHR/EMR software. 
Without this integration, the healthcare providers need to ask several questions regarding the medical history of the patients which is indeed a time-consuming and tedious practice.
However, integrating EHR/EMR is a technically difficult task and it requires a dedicated skillset.
3. IoT or Wearable Device Integration
IoT devices analyze the vital body signs of patients in real-time.
And to perform remote patient monitoring, it is important to have real-time access to those data.
For that, integration of IoT with telemedicine is a must needed.
But there are several challenges with that such as –
Seamless and accurate data exchange
Achieving interoperability
To avoid all these challenges, you must have to hire healthcare-specific integration specialists.
As a healthcare-focused IT company, we also perform various health tech solutions such as,
We Know Telemedicine Tech and Compliance, the Way Elon Musk Knows Space & Twitter!  
Imagine how good you would become at something if you had been doing the same thing 8 hours a day 5 days a week for 8+ years!  
We are an Ontario-based team – that has been helping healthcare providers, startups, and organizations to build affordable and game-changing health tech solutions.
We work with a vision to empower every North American healthcare provider with an affordable, compliant, and useful health tech solution.  
Telemedicine and compliance are our most trusted and tested expertise.
We have extensive knowledge and experience with – healthcare mobile and web app development, EHR/EMR integration, IoT integration, compliance, AI and ML solutions, and healthcare workflow automation.
We even provide a white-label telemedicine solution for those who want to use ready-to-use telemedicine software.
And this is the ultimate strategy to launch a telemedicine app within 6o days!
And following are the real-screen images of it along with links to its live demo for – patients, providers, and the super admin panel.
1. Admin portal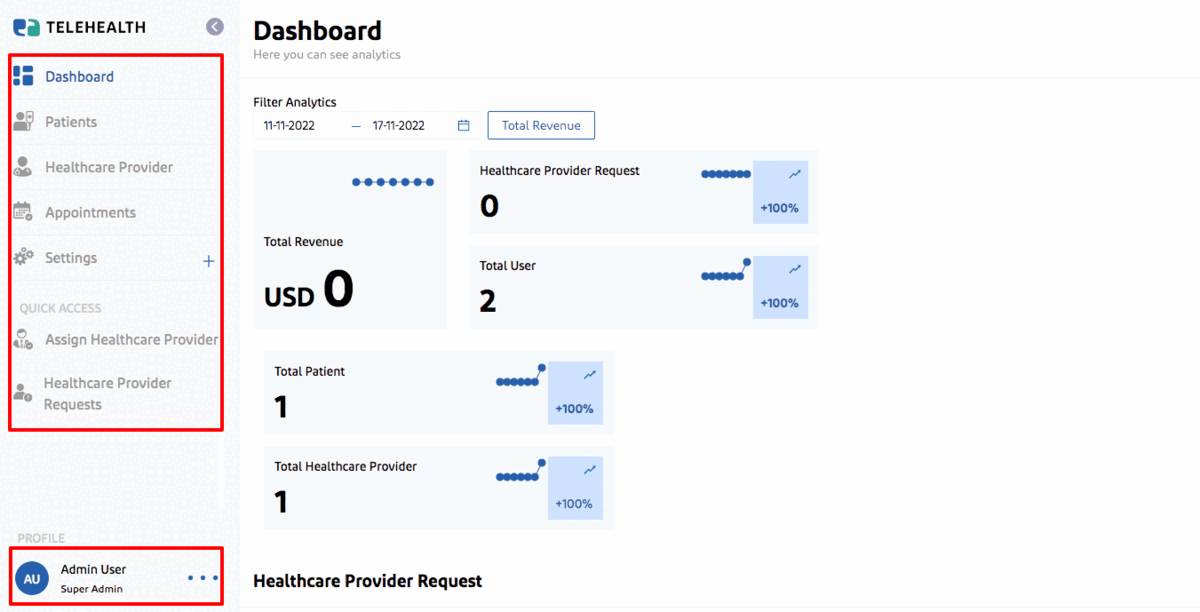 Credentials:
Username: admin@admin.com
Password: Admin@123
OTP (2-factor authorization code): 123456
2. Provider portal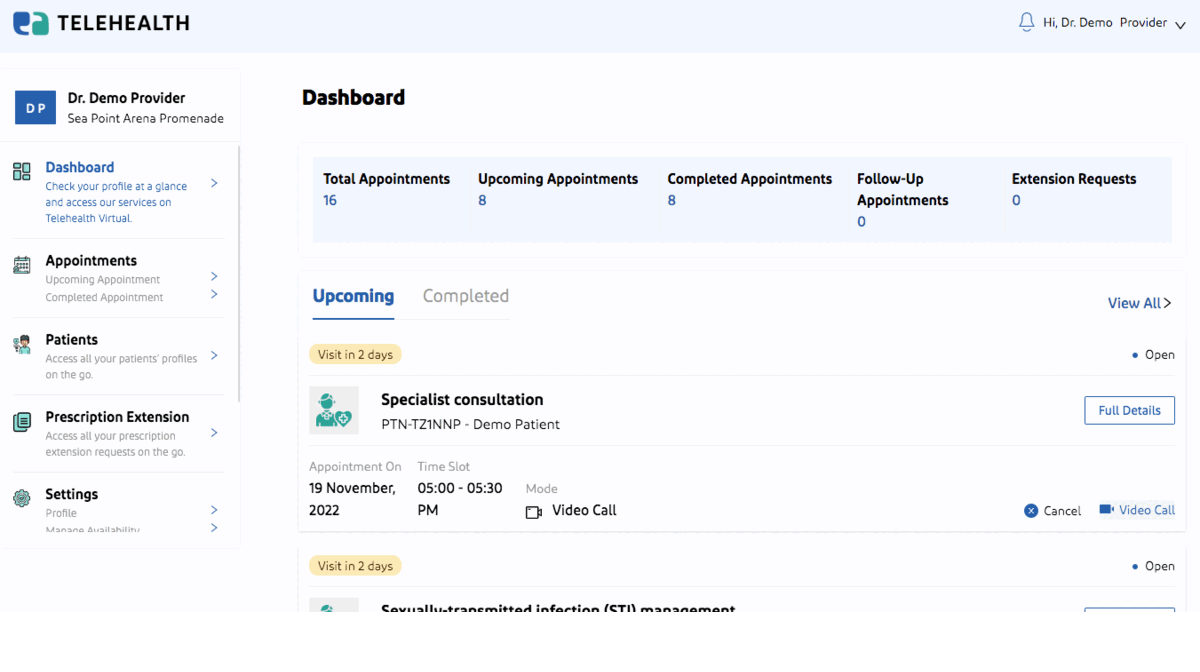 (Note: Username and password are auto-filled.)
3. Patient side portal