Build Best Mobile App for Doctors by Avoiding These 5 Common Mistakes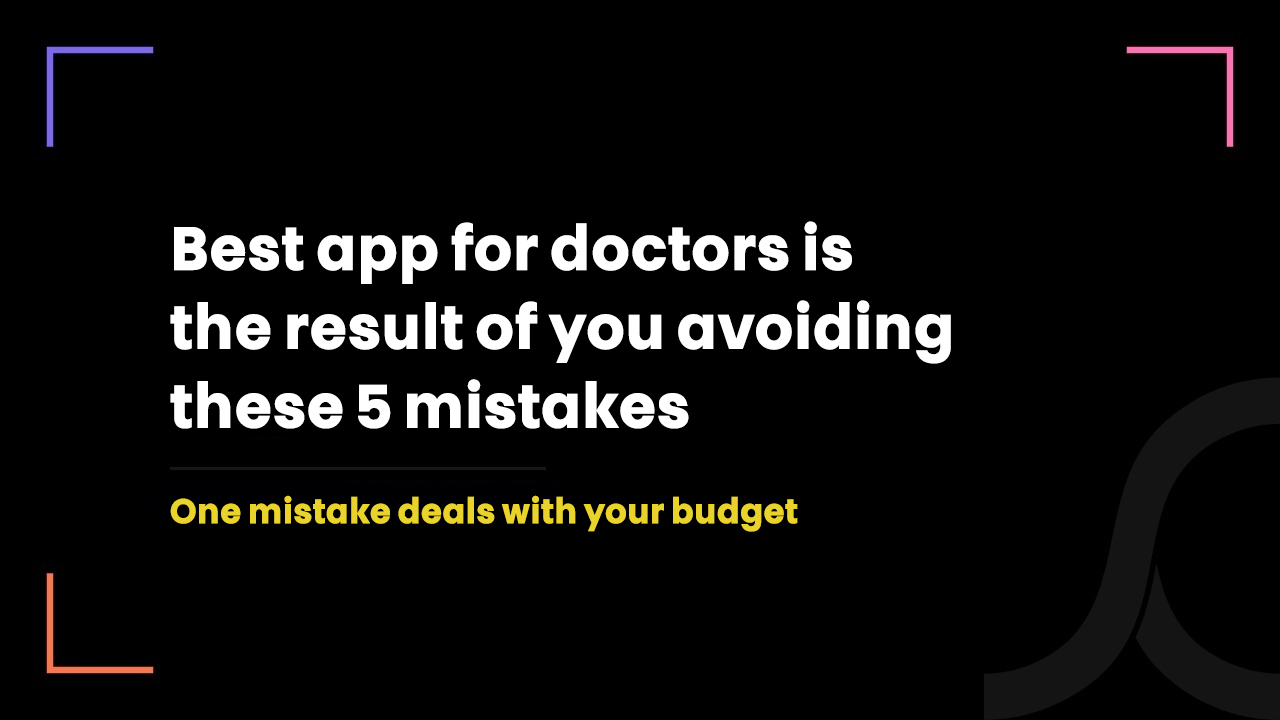 2 years ago
According to the report published in December 2020 - during one of the worst times of pandemic - the global medical apps market is estimated to reach USD 17.61 billion by 2027.
One of the major driving factors is the ongoing pandemic when different healthcare tech companies are empowering frontline healthcare workers with very useful healthcare mobile apps for ensuring continuity of care in a safe environment.
Healthcare providers are now so fascinated by healthcare mobile apps that they think of solutions to their every clinical and administrative challenge in the form of the mobile app.
Since the pandemic, we've received almost 70% of all healthcare app development inquiries from physicians and other healthcare providers.
This clearly depicts on which scale healthcare providers are using mobile apps to ease their clinical and administrative tasks.
Given the business opportunities, we are going to discuss 5 mistakes you should avoid while building the best mobile app for doctors.
But first, it is worth discussing …
How do mobile apps help doctors with clinical tasks?
Being a doctor is a serious profession. He always works in a stressful environment where he is prone to errors - capable of deciding a patient's fate!
He also sometimes feels like a data entry guy due to never-ending data entry tasks. Moreover, he needs to fetch through different software armed with confusing UI to get access to patients' data.
A mobile app eliminates all such challenges of the doctors and supports them to execute clinical tasks like breeze.
A mobile app brings clinical data from several sources to one screen and gives easy access to crucial clinical data to doctors for accurate diagnosis.
With its sophisticated algorithms, the app also analyzes the clinical data by itself and assists doctors in an accurate diagnosis by presenting data in graphical format.
According to the reports, mobile apps increase the accuracy of diagnosis by 13% which is a big deal in healthcare!
Remote and rapid care is the most popular use case of mobile apps for physicians. Using a mobile app with telemedicine or virtual care capabilities, doctors can treat patients remotely and without making anyone wait.
This not only saves time and cost for patients but also allows healthcare providers to treat more patients in a given time without being in close contact with them.
Dedicated patient engagement mobile apps with purpose-driven features facilitate healthcare providers to keep patients well-informed and engaged in decision-making, symptom tracking, medication plan, diet plan, follow-up timetable, home care instructions etc.
As the mobile app is easily accessible from mobile phones, doctors can anytime talk to patients, see their medical progress and suggest extra steps for a better patient outcome.
Such a level of engagement between clinical staff and patients leads to a quicker recovery with the highest level of confidence among patients.
Be it an appointment for a virtual visit or an in-person visit, patients are able to book an appointment with doctors within minutes using an appointment booking app.
Though this seems like a basic mobile app, the purpose it serves is very useful considering the fact that appointment booking and management is crucial for doctors but it is something humans face most trouble in the healthcare industry!
You should read this: 3 Fun Alternatives to Let Patients Book Appointments
Other use cases of mobile app for doctors include,
Clinical collaboration and communication
Healthcare staff management
Acquiring more patients
Tracking and planning
Education and training
Medical references
Collecting, storing and managing medical records
Our other very interesting research on telehealth:
Types of mobile apps you can build for doctors in 2021
We have been proactive in the Canadian and US healthcare mobile app ecosystem for more than 7 years and as per our experience and discussions with industry leaders, we believe these mobile apps for doctors are having a fruitful future.
Telemedicine app for a dedicated medical specialty

Patient engagement app

Remote patient monitoring app

Clinical decision support app

A healthcare super app (telemedicine, online pharmacy, mental health, healthcare eCommerce)

Telerehabilitation app

Social media platform for doctors

Clinical collaboration app

Chronic care management app

Appointment booking app

Healthcare CRM app
Most popular mobile apps among doctors
We would encourage you to study these most popular healthcare apps among doctors before you go for mobile app development for doctors.
Doximity is a USA-based online networking app for healthcare providers. Due to its professional use cases, it is known as LinkedIn for Doctors!
More doctors are using the Doximity app than total members of the American Medical Association!
On the Apple App Store, it has an overall rating of 4.8 based on 108.8K ratings.
Maple is Canada's most popular telemedicine app where healthcare providers register themselves as individual healthcare service providers and provide virtual medical consultations to patients.
Maple was founded by the physician himself to eliminate the long wait-time issue from the Canadian healthcare system.
On Apple App Store, it has an overall rating of 5 out of 5 based on 263 ratings.
UpToDate is the evidence-based clinical decision support system that doctors can access in the form of a mobile app and web app from smartphones, desktops and tablets.
It is equipped with a vast amount of professional info resources on almost every single field of healthcare to let doctors access the best evidence and clinical guidance.
On Google Play Store, it has an overall rating of 4.5 based on more than 9000 ratings.
MDCalc is the medical diagnosis app that suggests possible diseases and treatment plans based on symptoms added by healthcare providers.
It is capable of identifying more than 150 diseases.
On Apple App Store, it has an overall rating of 4.8 based on more than 3000 ratings.
5 common mistakes to avoid to build the best mobile app for doctors
Mobile app development for the healthcare market and the user base is complex due to the environment where your app will be using and for the purpose, it will be using.
Thus, you always need to be extra cautious to avoid these 5 common mistakes which can lead your healthcare mobile app to a dead end.
We found these 5 common mistakes through our discussions with healthcare app owners who experienced miserable failure with their mobile apps!
Never ignore healthcare compliance
There are several healthcare data privacy laws that will apply to your healthcare mobile app. To be compliant with these applicable data privacy laws, you have to address all of its technical and administrative requirements.
You can address its administrative requirements once you are done with app development. But you can't address its technical requirements after development as your app needs to be developed in such a way that it handles the data as per data privacy regulations.
This is why it is crucial to prepare a compliance strategy even before going for app development.
Those who ignore the compliance end up leaving several privacy issues within the app and becoming liable for the data breach and hefty fine from the privacy commissioner.
Never compromise on healthcare app UI/UX
Healthcare app UI/UX matters most due to two reasons. First, developers can't code without design in hand. And second, people see and feel UI/UX first.
Moreover, given the fact that users are most likely to use a healthcare app while going through clinical needs, you need to make sure to keep their user journey short and engaging with the best healthcare app UI/UX.
Otherwise, users would get bored of being unable to satisfy their intent quickly and start looking for your app's alternative.
To create the best UI/UX for a healthcare app, we would suggest using theme colour based on app types such as pink colour for women wellness apps, blue colour for telemedicine apps, yellow or red colour for medication-related apps, green colour for food or diet-related apps.
We would also like to suggest using large and simple fonts, offering personalized content on the home screen and keeping all app screens clean without clogging it up with either content or icons.
A very useful resource: Healthcare App UI/UX Best Practices
If not sure about an idea and have a limited budget, try MVP only (don't try clone)
The majority of healthcare entrepreneurs and providers planning to build a healthcare app aren't sure how the market will react to their app idea. They also have a limited investment cap.
In such scenarios, they end up developing a clone app with the same features and UI as some other apps to save cost and limit the financial risk.
This isn't a recommended approach at all as it never guarantees success. Rather, it causes major financial losses.
The best approach here is MVP in which you build a custom mobile app for your idea by adding only important and useful features to keep costing low.
And once you test it in the real market, you add more features to it based on your initial user feedback.
In other words, you only invest more once you see its fruitful results in the market which completely eliminates the financial risk while making sure you deliver the app people are looking for!
Don't develop a mobile app with a single revenue stream
The healthcare market is very uncertain and no one knows where it will reach in the post-pandemic world.
The healthcare app market is also being overwhelmed by the launch of hundreds of new apps every day.
To survive in such a competitive and ever-changing market, it is important for you to be prepared for any new unprecedented challenge.
Yes, we are talking about being prepared financially to surf through any level of rough market waves peacefully!
And for that, you have to plan more than one revenue stream and build your app according to it with features around different revenue streams.
PocketPills, which is the top online pharmacy in Canada, rolled out telemedicine services through its online pharmacy platform during the pandemic to generate one more revenue stream.
Capsule, which is a USA-based top online medicine delivery platform, has also announced converting its platform into a healthcare super app by adding telemedicine, mental health and healthcare eCommerce features.
Don't outsource your project to any random country
If you are planning to go for mobile app development for doctors in North America - especially in the USA and Canada, it is less likely that an app development agency from Asia can help you build the best app as they are unaware of the Canadian or US healthcare market, consumer behaviour and most importantly compliance requirements.
In other words, only a USA or Canada-based app agency can understand your purpose and drive it to success in a better way with their on-ground understanding of the US & Canadian healthcare ecosystem.
Thus, always hire a local app agency to build a US & Canadian consumer-friendly app, and not a general-purpose app!
We're an Ontario-based healthcare-focused innovative mobile app development company
Yes, we only serve the healthcare industry with our healthcare-specific tech and compliance knowledge.
This surely restricts our revenue opportunities.
But we strongly believe a healthcare-focused app agency builds a much better healthcare app than an app agency serving all industries - for the sake of just revenue!
Do you believe the same?
If yes, we are the best match.
If not, we encourage you to experience it by yourself!