New President of CMA Calls for Pan-national Licensure: How It Can Make the National Physician Licensure Easier?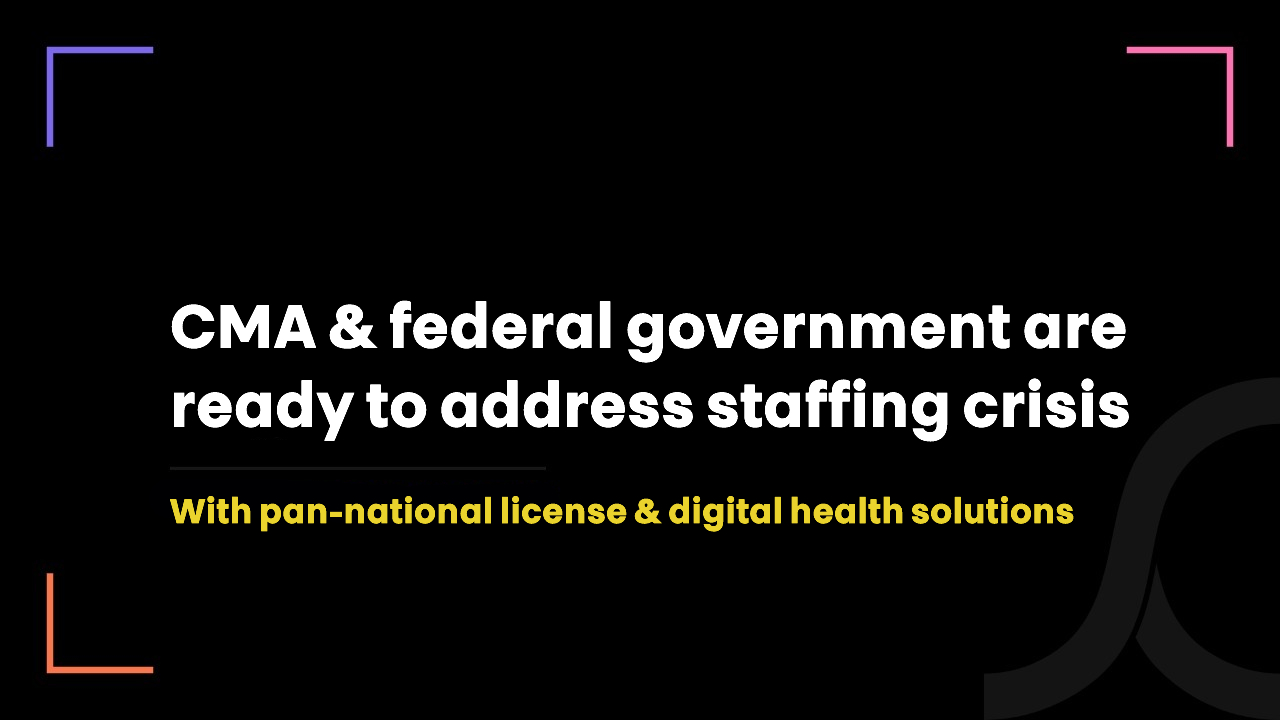 12 months ago
The current scenario of the Canadian healthcare ecosystem
It is not collapsing but it is already collapsed!
Dr. Alika Lafontaine (A new president of the Canadian Medical Association) mentioned this in his recent interview with CBC news.
Patients are not able to access the healthcare service they need.
And it is a clear sign that the Canadian healthcare system is collapsing.
The prior reasons behind this crisis –
'This is a crisis': Head of @CMA_Docs warns that the health-care system faces 'collapse.' Incoming president @AlikaMD calls for 'pan-national licensure' to make licensing doctors easier, by @JPTasker https://t.co/CwSY4ogcGS via @cbcnews #cdnpoli #cdnhealth

— André Picard (@picardonhealth) September 21, 2022
How does a new president of the Canadian Medical Association come up with the idea of pan-national licensure?
Ottawa, Quebec, southwestern Ontario, Toronto, and Montreal are facing a major healthcare staff shortage.
There are not enough physicians and nurses to deliver timely care in the majority of their hospitals.
The situation is the same in almost every province and territory.
Dr. Lafontaine believes that the high spending on the healthcare system and improving the number of physicians, nurses, and other healthcare professionals can address this another pandemic.
To do so, it is important to make national physician licensure easier including for foreign doctors in Canada.
So, he introduced the Pan-national licensure!
What is pan-national licensure and how does it help national physician licensure?
Pan-national licensure is a concept that will allow healthcare professionals to perform clinical practices across the nation with less amount of regulatory burdens.
It gives them full flexibility to provide care in the most needed areas.
What's more, it is also beneficial for foreign doctors to get the national physician licensure or doctor license easier.
In fact, several provinces are already preparing to simplify the doctor licensing procedure in order to speed up the registration process of international doctors and nurses.
For instance,
The Ontario health minister has directed the colleges to create an ideal plan to simplify and speed up the registration process of internationally educated healthcare professionals.
Nova Scotia and Newfoundland and Labrador have already started to facilitate their procedure for the Ukrainian doctors.
The role of pan-national licensure in addressing healthcare staffing gaps
The current healthcare ecosystem – in which each province has its own regulatory and licensing laws.
This is a major barrier to fulfilling healthcare staffing needs.
Because it is restricting the 13 different healthcare systems to not collaborate with each other efficiently and effectively.
But pan-national licensure can fill this collaboration gap as doctors or physicians can easily perform medical practices as per the care needs in each province.
However, to accomplish this, the federal government must conduct a meeting with provincial governments to streamline the national physical licensure and create a nationwide human resource plan for healthcare.
This approach will allow them to fill the staffing gaps without putting healthcare professionals under a high work burden.
In case you have some questions about licensure, here are some FAQs you must explore.
How to get a doctor's license or national physician license in Canada?
A complete route to licensure as per the Medical Council of Canada.
1. Have successfully completed a medical degree from a recognized school
2. Meet the LMCC (Licentiate of Medical Council of Canada) eligibility criteria
3. Have completed a postgraduate training program in allopathic medicine and an evaluation by a recognized authority
4. Have achieved certification from the Royal College of Physicians and Surgeons of Canada or College of Family Physicians of Canada or Collège des médecins du Québec. (Source)
How can a foreigner become a doctor in Canada?
Here is the process to get a doctor's license in Canada if you are a foreigner.
1. Confirm that your degree is recognized in Canada by searching it on WDMS (World Directory of Medical Schools).
2. Verification with the medical regulatory authorities.
3. Open the physiciansapply.ca account.
4. Submit the credential for verification.
5. Pass the MCCQE (Medical Council of Canada Qualifying Examination) exam
6. Submit the final documents.
What federal government is planning for the healthcare staffing crisis?
Federal Health Minister Jean-Yves Duclos has said that in the upcoming months, the government is planning to flow money as per the provincial needs.
Identifying shared priorities, this first-of-its-kind report on health spending in the 2022 federal, provincial and territorial budgets revealed that #CDNhealth continues to be a top priority.
But what does this mean for improving delivery of care?https://t.co/k79lRptzsg

— Canadian Medical Association (@CMA_Docs) September 21, 2022
And he already established the top 6 priorities in Ottawa for new healthcare spending.
1. End-to-end healthcare services
2. Hiring new healthcare staff
3. Improvement in access to primary care needs
4. More reliable system for long-term care and home care
5. Patient-centered care and resources for mental health and substance use
6. Focus more on digital healthcare services like virtual care
What do we strongly believe about federal government planning?
We have published almost 2 blogs about the current Canadian healthcare crisis.
At the end of every blog, we have mentioned that the adoption of digital healthcare solutions has huge potential to address this crisis.
And we are thrilled to know that the federal government has listed it in its top priority.
Because it comes up with three major benefits apart from speeding up the hiring process.
It will lower the work burden of the existing healthcare workers.
Patients will be able to access primary care even from their homes.
More affordable healthcare solutions
However, the government should also focus on making the healthcare system more digitized to help healthcare professionals in every possible way.
For instance,
Providing data-driven care to mental health and substance use patients remotely – using IoT or wearable device with mental health app
The time is tough for every Canadian.
But with the right amount of approach toward both traditional and digital healthcare, the possibilities are higher for getting out of this crisis before it becomes worse!